También puedes leer este artículo en:Español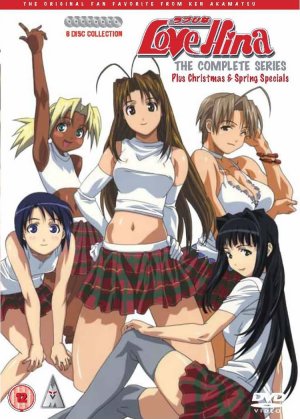 Anime fans all around the world have at least heard of Love Hina (Rabu Hina). Created by the talented Ken Akamatsu (the father of other memorable works like Magical Teacher Negima and UQ Holder!) Love Hina was released first as a manga by Kodansha in 1998.
The romantic comedy about the aspiring university student Kentaro Urashima and his promise with a girl on their childhoods kept the fans wondering who this mysterious love could be, asking for more adventures. And of course there is more! Loser male protagonists surrounded by beautiful girls/weird characters are easy to find in the otaku world. So, let's take a look to some of the best anime like Love Hina!
Similar Anime to Love Hina
1. Ichigo 100%

Episodes: 13
Aired: Apr 2005 – Jun 2005
Edited by Shueisha from 2002 to 2005, Ichigo (Strawberry) 100% is the most famous work of Mizuki Kawashita. It became a game and OAV besides the T.V. animation.
Junpei Manaka (our protagonist) loves movies to the point that his dream is to become a director. He had an encounter with a mysterious girl in the school roof, but can't remember her identity. Hence, most of the situations that happen afterwards are due to his desire to find her (pretty much like Kentaro). Junpei also loves a bunch of girls from his school who might or might not love him back. Never before a pair of strawberry printed panties triggered such a chaos!
Ichigo 100% OP
---
2. Seto no Hanayome

Episodes: 26
Aired: April 2007 – September 2007
Also known as My bride is a mermaid, it was published by Square Enix (yes, Final Fantasy's home) from 2002 to 2010. Authored by Tahiko Kimura, this story also counts with 2 OAVs.
Nagasumi Michishio only wants to enjoy his vacations by the Seto sea, but unfortunately, he almost drowned. That was just the beginning of his adventures, as he was saved by a mermaid named Sun Seto. Sun has several abilities with her voice and a sword, but is afraid of cats and can revert from human to mermaid when she gets in contact with water. This is the typical anime where the protagonists have to marry or perish, and the danger is real if you have a family full of crazy yakuza mermaids.
My Bride is a Mermaid: Complete Collection - Available on DVD - Trailer
---
3. Working!!

Episodes: 13
Aired: Apr 2010 – Jun 2010
This anime was adapted from the debut manga of Karino Takatsu, a four panel which also ran by Square Enix from 2005 to 2014.
Working!!, also known in the English speaking world as Wagnaria!!, it follows the adventures of High-school student Souta Takanashi. Souta likes cute things and apparently also cute people. As Kentaro, he has to survive the crazy girls that surround him while doing his part-time job in a restaurant. The animation quality is not the best ever, but the working atmosphere so well-known to Japanese students combined with the comical situations of the heart proved to be an instant success. There is a third season programmed for winter 2015 under the name Working!!!.
WAGNARIA!!2 Second Series - Official Trailer
---
Any Animes Like Love Hina ?
4.Nisekoi

Episodes: 20
Aired: January 2014 – May 2014
Also known as False love, Nisekoi was published by Shueisha in 2011. Highly successful, it also have several novels and a game.
This time the yakuza is our protagonist, the high-schooler Raku Ichijo. He used to have a childhood sweetheart, but can not remember who she was. We also have Chitoge Kirisaki as our Juliet (also our Naru), the daughter of a rival family. It looks like the perfect romance drama, right? Only that it's not. Their families agree for them to marry in order to make peace between the gangs, but the couple is always fighting with each other. Also, Raku likes another girl called Kosaki Onodera. Full of comical situations and even more girls fighting for Raku's attention, this harem style anime will keep you in a good mood for a long time.
『ニセコイ』少年ジャンプ公式PV
---
5. Jinsei

Episodes: 13
Aired: Jul 2014 – Sep 2014
Jinsei was born as a light novel published by Shogakukan in 2012, written by Ougyo Kawagishi and illustrated by Meruchi Nanase. A manga and a T.V. series followed shortly.
Yuuki Akamatsu is the King of the Awkwards, hence Ayaka Nikaido convinces him to enter to her journalism club in hopes to help him overcome social barriers. As we could expect, the club is full of girls, and among them, we can find our Naru in Rino Endou, who won't acknowledge her feelings for Yuuki. Although this anime has a plain and simple graphic style, it is full of hilarious daily life situations, making it memorable.
人生相談テレビアニメーション「人生」 PV
---
6. Ore ga Ojousama Gakkou ni "Shomin Sample" Toshite Rachirareta Ken

Episodes: 12
Aired: Oct 2015 – Dec 2015
The long title means Shomin Sample: I Was Abducted by an Elite All-Girls School as a Sample Commoner (ok, that explains why it is also known simply as Shomin Sample). Originally a light novel that started running in 2010, this is the brainchild of Takafumi Nanatsuki.
Our protagonist is Kimito Kagurazaka, who is the only guy in a high-school full of girls from rich elite families. The girls have never been in the outside world, so they are eager to learn whatever our "unfortunate" protagonist can teach them. On the other hand, he has been warned that any ecchi advances towards his fellow classmates will be punished with castration. Despite the restrictions, he becomes close with Aika Tenkuubashi, who unlike Naru from Love Hina, is rather shy and willing to become a commoner like Kimito. You can expect lots of tender moments, elegance and high-quality animation in this story.
【PV】TVアニメ『俺がお嬢様学校に「庶民サンプル」としてゲッツされた件』
---
If there is something we can learn about stories like Love Hina, is that it doesn't matter to have the "loser" label, neither if you are not sure of who is the girl of your dreams. If you have a big heart and work hard, you can get your happy ending… or at least learn a new lesson and survive one more day.
So, have you watched any of these series? Did you enjoy them? Which other anime similar to Love Hina would you recommend?