También puedes leer este artículo en:Español
The story of Love Live! Sunshine!! starts with our heroine Takami Chika trying hard to start an idol club for her school at Uranohoshi Girls' High. Chika has big dreams of becoming an idol after getting inspired by a popular idol group known as μ's (Muse). To her dismay, no one is interested in joining and the school council president Kurosawa Dia is putting a stop to it. Undeterred (for the most part), Chika sets out to find members for the school idol club so that one day, they can stand on the big stage like Muse.
Love Live! Sunshine!! is one of the most popular anime this season thanks to the impressive pedigree of its predecessor Love Live!. The anime is loved for its huge cast of colorful characters, great production values, attractive art and animation, and best of all, the catchy music. Also, it's slice of life about cute girls doing cute things!
While you wait for the next episode to air and want to watch something similar, then this list is perfect for you!
For this list, we're going to list down 6 anime that are similar to Love Live! Sunshine!!, an anime about a group of girls doing club activities, living out their lives at school, and girl power! Oh and if you want to check out idol anime similar to Love Live! Sunshine!!, please check out our Top 10 Idol Anime here (insert link to article).
Similar Anime to Love Live! Sunshine!!
1. Kitakubu Katsudou Kiroku (Chronicles of the Going Home Club)

Episodes: 12
Aired: July 2013-October 2013
On her first day in high school, Andou Natsuki is looking around the many clubs recruiting for new members, but she expressed no interest in joining any of them. After a friend asked her in regards to club applications, Natsuki would rather join the Going Home Club, a joke saying she won't join any clubs and just go home. Surprisingly she found out that the "Going Home Club" actually exists and ended up joining together with the eccentric and oddball, all-female club members. What do you do in the Going Home Club, anyway?
This is one of those oddball clubs that could rival Yuru Yuri's Amusement Club in terms of literally doing anything. Though it's nothing similar to the school idol club of Love Live! Sunshine!!, the clubs are somewhat unique. The Going Home Club was made because students have the freedom to make their own clubs, so the same goes for Chika wanting to make an idol club in her school, though she met some resistance at the beginning. And in all seriousness, Going Home Club isn't really serious at all and you're constantly bombarded with humor that mostly involving Natsuki taking jabs at each club member's odd views of things.
Chronicles of the Going Home Club PV
---
2. Sabagebu! (Sabagebu! -Survival Game Club!-)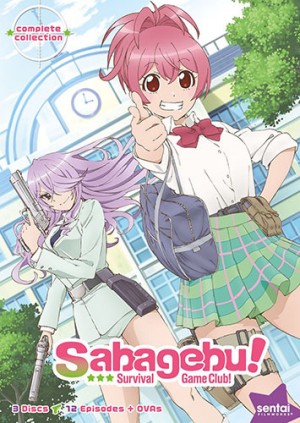 Episodes: 12
Aired: July 2014-September 2014
Sonokawa Momoka got dragged into joining the school's Survival Game club by the beautiful club leader Ootori Miou. There she meets the other club members who specialize in specific roles of combat from heavy weapons to long range precision rifles, and with Miou's rather creative personality, the club does club activities that normally aren't accepted by the school.
Sabagebu! is mainly a parody anime with 4th wall breaking jokes and a two-faced main character, and while the club isn't struggling to stay afloat due to low member counts or there's drama, it still has that all girls club theme going on with activities ranging from fighting off the virus outbreak to fighting Predators in the forest using their wide assortment of BB guns.
---
3. K-On!

Episodes: 13
Aired: April 2009-June 2009
Hirasawa Yui is a rather, uh, eccentric young girl who entered high school as a freshman and stumbled upon a poster for the school's Light Music Club, and it sparked her imagination to sign up. Being such a carefree girl, she joined the club without any experience in playing an instrument and went to the club to explain.
Disheartened, the current band members Ritsu, Mio and Tsumugi still wanted her to stay as a member to prevent the club from disbanding. Yui's imagination re-ignited once she tried out the guitar for the first time. This is the life of the Light Music Club.
The Light Music Club is generally lax and spends most of their time talking and doing non-club activities like drinking tea and eating cake. Despite that, though, these girls do learn music in the club and made some various live performances using the things they learned. Heck, Yui, an airhead with questionable IQ, managed to learn to play the guitar! So they really learn something despite the fact that the majority of their time is eating sweets and sipping tea.
---
Any Anime Like Love Live! Sunshine!!?
4. Girls und Panzer (Girls & Panzer)

Episodes: 12
Aired: October 2012-March 2013
Nishizumi Miho is born from the distinguished family of the Nishizumi Style of Sensha-dou or Tankery, an art of operating tanks, but changed schools to run away from Sensha-dou after a traumatic experience. As fate would have it, Miho is drafted to her new school's tank club.
It's safe to assume Tankery is the most unique club on this list mainly because it's all about school girls riding tanks and activities include, but not limited to, showing prowess, operating tanks, and blowing rival schools to smithereens. And in the Girls und Panzer universe, operating tanks is as graceful as arranging flowers and is considered feminine, so Tankery is exclusive to cute girls. If you're tank nut and an anime fan, this anime is probably the most utopian in the entire observable multiverses.
The story starts out with Miho avoiding Tankery and moved schools, but the student council is aware of Miho's tank experience and family reputation, they forcefully recruited her to join the revived Tankery club. The bulk of the story is all about Miho rejuvenating her love for tanks, the girls learning how to operate them, recruiting members, join nationwide and international competitions and meet new friends along the way while blowing them up to kingdom come! What good way to make friends by peppering them with lead and shrapnel!
Girls und Panzer PV
---
5. Saki

Episodes: 25
Aired: April 2009-September 2009
Even though Miyanaga Saki hates mahjong, she has an innate ability to precisely calculate her score so she always ends up not winning and not losing. This feat requires skill and some luck and this proves useful for Takei Hisa of the mahjong club who is aiming to enter the nationals. Saki is the story of Miyanaga Saki, Haramura Nodoka and the rest of the mahjong club as they master the sport, enter the nationals and battle powerful teams across Japan.
Anime for mahjong isn't really for everyone and you probably need a glossary to understand how the game works (sans the supernatural bits), but once you get past the initial hurdle of understanding the terms, Saki is an interesting story of a group of girls playing in the world of competitive mahjong. The story starts with the mahjong club recruiting Saki for her unique style of play and progress into a series of battles against other all-female teams from other schools. Saki is pretty much Love Live! Sunshine!! with a mahjong twist.
Oh yeah, there's a guy in the club, but he's more of a gofer than an actual reliable member. No one cares about him and the mahjong competition only allows girls to play.
Saki Preview
---
6. Hanayamata

Episodes: 12
Aired: July 2014-September 2014
Sekiya Naru is your average run-of-the-mill 14-year old girl with average everything. She's hoping for something to change when she starts middle school, but sadly reality isn't as willing as she'd hope. All that change one fateful day when Naru met a dazzling young girl dancing in the night sky like the fairies from books Naru loves to read. Entranced by this girl's dancing and beauty, Naru asked the girl to take her far away, to a place like those found in fairy tales.
Going back to reality, the girl Naru met is Hana N. Fountainstand and she loves dancing, especially the Yosakoi — a unique style of dancing that mixes traditional dancing with modern music. With Hana's encouraging words, the two set out in making the Yosakoi Club and dance to their hearts content.
Naru and Hana are in the same situation as Chika and You from Love Live! Sunshine!!: The girls want a club, but they have to find members and approval from the school first. Once they get all of the stuff needed to run a club, it's all about Yosakoi and how each member has to work together and make their performance the best out there. And of course, it's fun watching an all-girls group do club activities together.
Hanayamata PV
---
Final Thoughts
These are the six anime shows that are similar to Love Live! Sunshine!!. The similarities aren't point-for-point and the titles on the list aren't exactly idol anime like Love Live! Sunshine!!, but they all share a combination of themes that makes them similar: a group of school girls spending their time in mandatory school clubs that are not common, or even strange and exhibit good examples of girl power.
We could say they're all similar because, say, the one of the cast are filthy rich, the silent type, the genki type and so on, but it's cherry picking at that point. But out of the 6, Hanayamata is the most similar with a strong emphasis with a girl wanting to be someone else, form a club about something she got inspired to do, meet new friends, face hardships and a good dash of humor.
So what do you think of our list? Be sure to let us know by leaving a comment below!
---