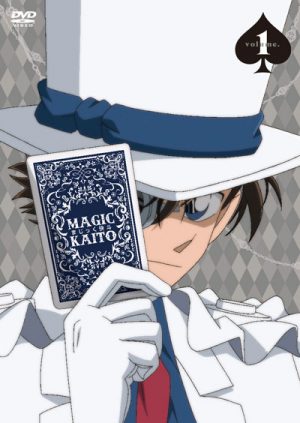 As children, many of us might have had a chance to view a magic show or go to the circus and watch an illusionist perform his tricks. We all might have dreamed our parents could be as cool as the performers we saw on stage. This was more than just fantasy for high school student Kaito Kuroba, who father was a magnificent magician until tragedy struck 8 years ago in an accident that claimed his life. Quite the illusionist in his own right, Kaito spends his days pulling pranks and performing magic for his childhood friend Nakamori Aoko. Everything is normal until he stumbles upon a secret room that held his father's alternate identity: The phantom thief, Kaito Kid. Taking up the mantle of Kaito Kid, he is determined to uncover the truth behind his father's death and the myth of the mysterious Pandora Gem, which is said to grant eternal youth.
Magic Kaito is produced by TMS Entertainment and based on the shounen, mystery and adventure manga by Gosho Aoyama, creator of Detective Conan. Using humour and charm, Magic Kaito manages to take themes of murder and thievery, fashioning it to be accessible to viewers of all ages. Naturally, when we come across an entertaining anime, we tend to search through past seasons for the next anime to binge. We hope these 6 suggestions help.
Similar Anime to Majikku Kaito/ Similar Anime to Magic Kaito
1. Durarara!!

Episodes: 24
Aired: Jan. 2010 – Sept. 2010
Durarara!! begins with high school student Mikado Ryuugamine arriving in the downtown Tokyo district of Ikebukuro to meet with his childhood friend, Masaomi Kida. Excited to start experiencing city life, Mikado is not prepared to experience the strange world of Ikebukuro that is filled with gangs, killers, and urban legends such as the Black Rider, a mysterious headless rider. Along the way, Mikado will meet some interesting characters who will become interwoven in the make-up of this story as they all seek to survive and unravel the mystery of the district along the way.
Durarara!! is an action, mystery, and supernatural anime from the studio: Brain's Base. Fans of Magic Kaito will appreciate the diverse cast of characters and the mysteries or crimes that they get involved in. While there is no Pandora Gem that grants eternal youth, you will find the urban legends aspect of the show to be quite the substitute. Durarara!! offers an exciting entry into the genre of supernatural and mystery anime. Durarara!! will bring you along for an exhilarating ride as the depths of Ikebukuro are uncovered.
Durarara!! - *UK Exclusive* Trailer
---
2. Hyouka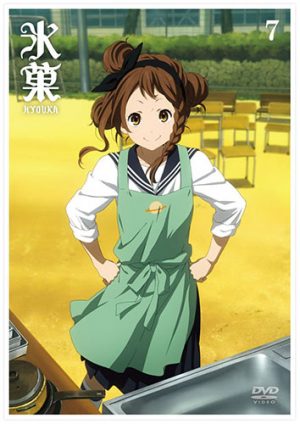 Episodes: 22
Aired: Apr. 2012 – Sept. 2012
Hyouka follows the story of Houtarou Oreki, an intelligent low-energy high school student who lives by his personal motto: "I don't do anything I don't have to. What I have to do, I do quickly." Houtarou was living a relatively quite and unexciting life until he was made to join the Classic Literature Club at the behest of his sister, to make sure it does not shut down. There he and his friend, Satoshi Fukube, meet a spritely classmate named Eru Chitanda. Together, Houtarou and his classmates investigate daily mysteries all while delving deeper into the long history of the club and the space in which they reside.
Hyouka is a slice of life, school, and mystery anime. Though there isn't any magic in this one, if you enjoy Magic Kaito for the high school protagonist and the mystery aspect of that show, then you'll enjoy Hyouka, especially if you want a step away from anime with heavy action or crime. Kyoto Animation's style is evident in the look and design of each episode, so you can be sure in the quality of the anime production.
Hyouka: Part 1-Trailer
---
3. Bungo Stray Dogs

Episodes: 12
Aired: Apr. 2016 – Jun. 2016
When Nakajima Atsushi turns eighteen, he is kicked out from the abusive orphanage that suspects him of being behind attacks perpetrated by a white tiger. Confused, hungry, and nowhere to go, Nakajima is on his last legs when he comes across Osamu Dazai, a suicidal supernatural detective who Nakajima saves from drowning. Osamu just so happens to be attempting to uncover the mystery behind the tiger and its attacks. Not looking back, Nakajima is made to join a firm of supernatural investigators who take on strange tasks. Together, with an eccentric cast of characters based on real-life literary figures, Nakajima and his colleagues work to solve odd events while fighting those who seek to do them harm.
Produced by Studio Bones, Bungo Stray Dogs is regarded as a seinen, supernatural, and mystery anime with some humour sprinkled in. It entangles many themes in its storytelling. The characters and humour are an acquired taste, but it integrates themes of underworld crime and adventure like Magic Kaito, that are entertaining to watch. It should be noted, this anime has more mature elements that may not be suitable for younger viewers as it is a Seinen anime.
Bungo Stray Dogs
---
Any Anime Like Magic Kaito / Any Anime Like Majikku Kaito ?
4. Kokoro Connect

Episodes: 13
Aired: Jul. 2012 – Sep. 2012
Kokoro Connect follows five friends Taichi Yaegashi, Yoshifumi Aokiat, Iori Nagase, Himeko Inaba, and Yui Kiriyama. They attend school at Yamaboshi Academy. Together, they establish the Student Cultural Society to have a place away from the noise of school, extracurriculars, and life. "StuCS" is a place where they can fit in and just hang out. However, what is supposed to be a fun and relaxing way to hang out with friends turns awry when one day, two of the friends suddenly switch bodies, the beginning of a series of body switching events that forces friends across each others' boundaries. How will they live, and will they ever figure out who or what is behind this?
Kokoro Connect can best be described as a supernatural, slice of life, romance, and mystery anime. While this anime does not have heists or magicians, it is unique in its use of supernatural elements to propel the development of characters and relationships forward. You would enjoy this if you like Magic Kaito for its characters and conflict where supernatural/magical elements are being utilized as a plot device.
Kokoro Connect Anime Trailer
---
5. Detective Conan (Case Closed)

Episodes: 900+
Aired: Jan. 1996– Ongoing
Shinichi Kudou was a regular 17-year-old genius sleuth dubbed "The Sherlock Holmes of the 90's" until one fateful night he is witness to a criminal exchange, knocked out and drugged. Shinichi awakens no longer a young adult but a 7-year-old boy due to the strange substance he was given. Maintaining his sleuthing prowess, he now chooses to use an alias: Conan Edogawa. Shinichi will live under this new alias at the home of his childhood friend, Ran Mouri and her father Detective Kogoro Mouri, the two of which are completely none the wiser to his real identity. Whether 17 years-old or 7 years-old, Shinichi will continue to use his brilliant detective skills to solve tough cases while learning more about the people behind his attack and his transformation into a 7-year-old boy.
It simply is not possible to have a list of recommendations based on Magic Kaito without having the anime that help put Magic Kaito on the map. From the same studio and creator of Magic Kaito, comes this staple in the mystery genre. Utilizing the same sort of humour and art style, Detective Conan is a sure to please anime for any fans of Magic Kaito.
Case Closed-Digital Launch-Official Trailer
---
6. Kaitou Joker (JOKER)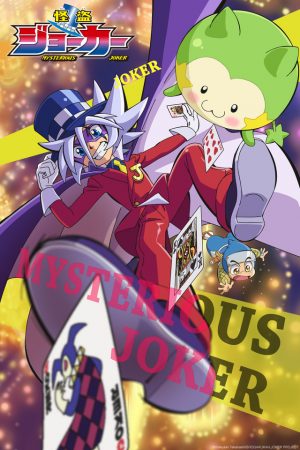 Episodes: 13
Aired: Oct. 2014 – Jan. 2015
The show follows the criminal adventures of Jack Jones A.K.A. Joker and his ragtag group of phantom thieves as they perform amazing tricks and pull off great capers to snatch treasure after treasure right from under the nose of police. They travel the world while avoiding all sorts of traps and characters along the way.
The best way to describe this is to take Magic Kaito, remove the serious plot, and turn the comedy/gags up to eleven and here you have Kaitou Joker. Kaitou Joker is a kid-friendly comedy anime based on the manga by Hideyasu Takahashi. Its protagonist, much like Magic Kaito, is a masked thief with a top hat who utilizes illusions and tricks to pull off heists and avoid police. If you are looking for a good chuckle, this is certainly a show to turn on.
Kaitou Joker PV
---
Final Thoughts
We hope that you found an anime on this list that peaked your interest. While we all wish there were more anime with magicians, we must settle for anime with headless riders, 7-year-old detectives, or a body swapping group of teens. Is there something we missed that should have made the list? Are there any on this list that you have seen and would recommend to others? Let us know in the comments.