También puedes leer este artículo en:Español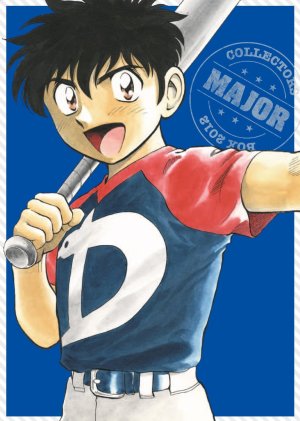 Passion. Teamwork. Effort. Training. Friendship. Life.
All of those words are used to describe the stories behind sports all over the world. No matter the sport, or the country where the story is told, we can find those six words somewhere in the summary. Because sports are all that, and so even if we are not fans of said sport, we become hooked on the stories of those who love the sport so much that it becomes their whole life.
Such is the case with Major, where we follow Goro Honda through his life as a baseball player, from Little League to the Majors, and all the hardship that comes with the territory. But once you have fallen in love with this kind of stories, what other series can give the same hits as Major did? Because all sport stories may touch the same ideas, but not all of them do it the same way.
Similar Anime to Major
1. Diamond no Ace (Ace of Diamond)

Episodes: 75
Aired: Oct 2013 – Mar 2015
Eijun Sawamura loves baseball. But more than baseball, he loves his team. When they lose their final middle school baseball game after a pitch that was a bit wider than what could be called a "wild pitch", he swears he will carry his team to the national tournament in Koshien in high school. And if you are expecting an underdog tale of how he manages to get his subpar team to the championship, you would be really surprised in the second half of the first episode when he is scouted by a prestigious high school and his teammates convince him to go: He may reach Koshien, but it won't be with his friends.
Where Major shows us Goro, who is very talented and driven all the time, in Diamond no Ace we see Eijun who has a different set of priorities. And yet, they both have the same passion. Eijun wants to get his team to the championship, and he wants to carry everyone there. Goro wants to live baseball, make his father proud, and get all the way to the Majors, so he understands that sometimes one has to leave a team behind.
However, if what you loved about Major were the high school games, the teammates who were also sure they'd always be together, and the youthful passion for the game, Diamond no Ace is the series you need to watch to enjoy more baseball.
Diamond no Ace PV 1
---
2. Haikyuu!!

Episodes: 25
Aired: Apr 2014 – Sep 2014
At the beginning of the article we mentioned that all sports share the same passion. So we move from baseball to volleyball with this series. There's also a slight difference in how the passion begins: While Goro in Major loves baseball from day one thanks to his father, here, Shoyo Hinata falls in love with volleyball after watching the national championship match. But passion is something both have to spare, and is what makes them amazing characters to follow.
Hinata faces two big challenges: One is his own height, as he is not tall enough to be considered a possible volleyball star. The other is that while he promised himself that he would surpass Tobio Kageyama, the "King of the Court" in middle school volleyball, when he gets to high school he finds out that Kageyama is now his teammate. And while rivalries are a common enough theme in sport stories, it is not that common to have both rivals in the same team. The relationship between Kageyama and Hinata drives a lot of the story's drama, but we also get to see their true passion to succeed no matter the obstacles. And also, the way in which rivalries can also be good for a team in order to move forward and reach our goals.
Haikyu!! Official Trailer
---
3. Moshidora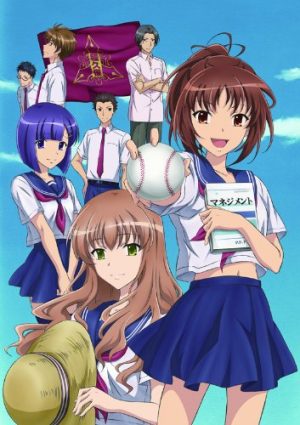 Episodes: 10
Aired: Apr 2011 – May 2011
Usually, main characters in sports anime love their sport. It's their passion that fuels the series, what inspires the rest of the team; and of course, the audience, in order to reach the end of the series. Moshidora is a rare story in which the protagonist despises the sport with all her heart. Minami is the female manager of her high school team –a position which means she is in charge of practically everything from making sure they have uniforms to deciding the lineup in every game- because her best friend Yuuki is deadly ill and can't fulfill her duties anymore. Problem is that she not only hates Baseball with a passion, she also doesn't know a thing about how to manage a team.
To solve this problem, she decides to buy a book about managing baseball teams. Unfortunately in her haste, she ends up buying a book about managing business, which she can't return. And here is where Moshidora crosses paths with Major: It is about making the best of any situation. There's also the common point where Goro and Minami would do anything for their loved ones, especially for those they may loose soon.
Of all the titles in this list, this one is the best for those who loved the personal relationships in Major, but weren't that sold on the baseball concept. At first, it may look like the whole idea is to make fun of Minami for her mistake, but instead it shows how she can make good choices with little to no information. A good series for those who want to taste a bit of the sports genre but don't want to commit to a longer series.
---
Any Anime Like Major ?
4. Ookiku Furikabutte (Big Windup!)

Episodes: 25
Aired: Apr 2007 – Sept 2007
Most baseball series focus heavily on the pitcher, who is usually the ace of the team. This is the case of Major, of course, as we can see Goro's amazing talent as he grows up. Ookiku Furikabutte shows us a different approach, because Ren Mihashi, our main character, has an interesting pitching skill but is considered by everyone around him as a bad pitcher at the beginning of the story. We are still going to see the team interactions, and how they support each other, but instead of being the Pitcher lifting everyone to his level, here the Team has to lift Ren's confidence in himself.
We've been making a lot of emphasis on teamwork and how the team is a family of its own. Besides Major, one of the anime that follow this is Oofuri. While Asa, the catcher, seems to care more about his own glory as the best catcher of the area, the truth is that he cares for his team, and comes to see Ren as a friend and a really worthy pitcher. Finally, if you loved the long games in Major, Oofuri will also give you long and thrilling games, as the team moves forward to the Koshien.
Big Windup! Trailer
---
5. One Outs

Episodes: 25
Aired: Oct 2008 – Apr 2009
Moving on to the major leagues, we have One Outs. This one may seem out of the norm on this list as it's the only one that focuses on professional players, rather than high school teams. This changes the perspective a lot, since the stakes are different. Here we don't have a Koshien and if they lose a game, the season is over for them until next year, but the stakes are even higher. In fact, there is a particular bet between Toa Tokuchi, our main character, and Saikawa, the owner of the Lycaons. The bet goes like this: For every out that Toa pitches, he'll get 5 million yen; however, for each run he gives, he'll lose 50 million.
One Outs is a very strategic anime, as we see Toa consider every one of his actions. He's playing against the opposite team, his boss, and sometimes, even against his own team. It's an anime that focuses more on the strategic part of the game –and any fan of baseball will tell you that strategy is about 80% of each game- rather than the teamwork aspect, although that doesn't mean it doesn't have a team that will go to extremes to stand up for each other.
If you were curious about the darker side of baseball and gambling in sports, especially after seeing how Goro starts in the minor leagues, One Outs is definitely the anime you want to watch.
---
6. Kuroko no Basket (Kuroko's Basketball)

Episodes: 25
Aired: Apr 2012 – Sept 2012
And here we end with high school basketball. Kuroko no Basket is a bit difficult to explain. At first glance, it's the story of Taiga Kagami, a highly talented basketball player who came back to Japan after living in the United States and thus was frustrated with the relatively low level of skill in the sport that he found in Japan. When he's told of the players of a "Generation of Miracles", a group of five players who are considered to be the best in the country, he decides he's going to play and win against all of them. Luck would have it that the generation of Miracles actually consisted of six players, and the sixth, Tetsuya Kuroko, happens to be in the same team as Taiga.
However, Kuroko no Basket is as much about the other players in the Generation of Miracles as it is about Taiga and Kuroko. They were a team, they played together and then, when junior high was over, had to go their different ways. And now they face each other in opposite teams, which of course, makes them feel confused. This is part of what makes Major's story interesting as Goro moves up from high school baseball to the minor leagues; but in Kuroko no Basket we see the situation as the main conflict. What happens to long time friendships when suddenly one of them is in the opposite team? Where do your loyalties lie when you are new to a team, and are playing against your old team? These kinds of questions come up in the subtext of Kuroko no Basket, and if you loved Major, you will love them here.
Kuroko no Basket Trailer
---
Final Thoughts
Whether you love sports or you love the drama around them, all these series focus on the love for the sport and the drama it can cause around people's lives. Thus, we are sure that you will love them as much as you liked Major. However, if you disagree and think we're missing some series, we'd love to hear your opinion down in the comments.