También puedes leer este artículo en:Español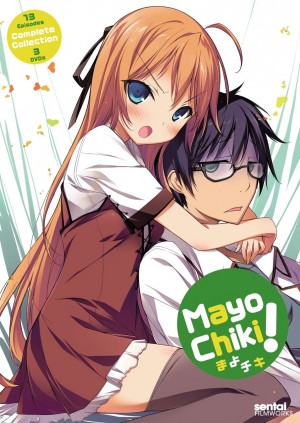 Mayo Chiki! is a funny and charming examination of adolescent sexuality and all of the fear and confusion that accompanies it. Mayo Chiki's story focuses on the high school lives of gynophobic Jirou, cross dressing butler Konoe and her mistress Suzutsuki in their quest to treat Jirou's embarrassing condition which causes him to have nosebleeds upon contact with any female.
Openly embracing and having fun with classic moe and ecchi anime tropes, the series manage to be charming beyond mere fan service. The overarching romance that blossoms amongst Jirou and Konoe which challenges gender definition is touching and entertaining enough. Fans of this series might want to check out the following 6 anime that are like Mayo Chiki!.
Similar Anime to Mayo Chiki!
1. Maria†Holic

Episodes: 12
Aired: Jan 2009 – Mar 2009
This series is the reversed gender companion version of Mayo Chiki!, Maria†Holic swaps the gender of the main protagonist and central love interest as well as transforming the butler into a maid. Kanako Miyamae hates boys so much that she breaks out in hives after any physical contact with them. So when she transfers to the Ame no Kisaki Girls School she is overjoyed that she can meet her ideal yuri partner. But after her super hot new roommate turns out to be a guy and the many unbelievably attractive girls turn out to have way too many questionable sexual persuasions, all different kind of amusing comedy and ecchi scenes take off in this reverse harem anime.
This series is the reversed gender companion version of Mayo Chiki!, Maria†Holic swaps the gender of the main protagonist and central love interest as well as transforming the butler into a maid. The quest for true romance is far from simple but much in the vein of Mayo Chiki, Maria † Holic is able to blend, perverted comedy with an underlying romance that feels rewarding to watch develop.
Maria Holic OP (Clean)[HD]
---
2. Ouran Koukou Hosutobu (Ouran High School Host Club)

Episodes: 26
Aired: Apr 2006 - Sep 2006
A reverse harem style anime, which features gender bending characters Ouran High School Host Club focuses on main character Haruhi Fujioka, who is a bright scholarship candidate with no rank or titles to speak of. When she opens the door of the Music Room #3 hoping to find a quiet place to study, Haruhi unexpectedly stumbles upon the 'Host Club'. Led by the princely Tamaki, the club is where handsome boys with too much time on their hands entertain the female students of the academy. In a frantic attempt to remove herself from the hosts, Haruhi ends up breaking a vase worth eight million yen and is forced into becoming the eccentric group's general errand boy to repay her enormous debt. However, thanks to her convincingly masculine appearance, her naturally genial disposition toward girls, and fascinating commoner status, she is soon promoted to full-time male host and plunged headlong into a glitzy whirlwind of elaborate cosplays, rich food,
Fans of Mayo Chiki's central female protagonist Kanoe will find a lot to like in Haruhi in her struggles with her own gender identity. Both animes feature a main female character posing as a male butler to hide their true identity and the subsequent romantic relationships that develop. The cunning and charming Tamaki will remind fans of Suzutsuki from Mayo Chiki and his ability to toy with Haruhi's insecurities. The characters are excellently developed and the voice acting is stellar in both dub and sub.
Ouran High School Host Club Trailer
---
3. Kaichou wa Maid-Sama! (Maid-Sama!)

Episodes: 26
Aired: Apr 2010 - Sep 2010
Aptly nicknamed "Demon President" by the boys for her strict disciplinary style, Misaki Ayuzawa is not afraid to use her mastery of Aikido techniques to cast judgment onto the hordes of misbehaving boys and defend the girls at Seika High School. Yet even the perfect Ayuzawa has an embarrassing secret, she works part-time as a maid at a maid café to help her struggling family pay the bills. Her secret is safe however until one day, the most popular boy in the school, Takumi Usui enters the café. He could ruin her terrifying reputation by revealing her secret, or he could choose to use this to his advantage to get closer to her.
Maid-Sama! is recommended for fans of Mayo Chiki! as they both share male protagonists that discover the hidden identity of a female counterpart. The female characters are also both desperate for the rest of the school to remain unaware of what they view as a disparaging secret. The romance that eventually develops is very reminiscent of Kanoe and Jirou's relationship in Mayo Chiki.
Kaichou wa Maid-Sama! Fan Trailer
---
Any Animes Like Mayo Chiki! ?
4. Toradora

Episodes: 25
Aired: Oct 2008 - Mar 2009
Ryuuji Takasu has an eventful life, his classmates' think he's a delinquent due to his 'killer eyes' and he has no luck in the realms of love or lust. Class rearrangements on his second high school year put him together with his best friend, Yusaku Kitamura, and his hidden crush, Minori Kushieda. Along with these two, Kushieda's best friend, Taiga Aisaka arrives on the scene. Her delicate appearance contrasts with her brutal personality. Secretly in love with Kitamura, Taiga agrees to help Ryuuji with his love interest as long as he helps her get closer to hers.
With large helpings of comedy, ecchi and secret love obsessions, Toradora is one of the best modern anime adaptations of a genuine high school love story that fans of Mayo Chiki will find plenty of similarities to enjoy. The unique and genuine relationship between Ryuuji and Taiga has a lot in common with the of Mayo Chiki pair Kanoe and Jirou. Both Ami and Kanoe are very similar characters and are in fact voiced by the same actress in the Japanese language version.
Toradora Trailer
---
5. MM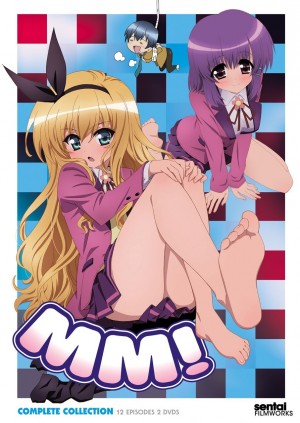 Episodes: 12
Aired: Oct 2010 - Dec 2010
Sharing the core themes of Mayo Chiki!, that of a main protagonist (Taro Sado) with an embarrassing condition, in this case a masochistic fetish, and a group of provocatively clad females who are more than willing to attempt to cure him of his depravity. However these young ladies are far from perfect themselves, for example, the hyper-aggressive club president Isurugi not only has a violent fear of cats, but also believes herself to be a god! Then there's Yuno, who's terrified of men; the Nurse, who forces other people to perform cosplay; and Hayama, Sado's best friend and a compulsive cross-dresser, who's also the girl that Sado is infatuated with.
Funny, ecchi and complete with an ultimately endearing love story that shows us it's ok to embrace your darker side, MM is a must for any fans of Mayo Chiki! It shares a protagonist with an embarrassing illness he is desperate to hide, an a gorgeous cast of females that want to help cure him of his ailment. The main male character is also in the unfortunate situation of having is butt kicked on a regular basis by his costumed female foils.
MM AMV + Full Opening
---
6. Monster Musume No Iru Nichijou (Everyday Life with Monster Girls)

Episodes: 13
Aired: Jul 2015 - Sep 2015
Kurusu Kimihito (henceforth referred to as Darling-kun) is a typical average guy, until his world is turned upside down by the 'Cultural Exchange between Species Act'. What begins with Darling-kun providing a home stay service for Lamia (half snake, half beautiful woman), Mia, and ends with him fighting of the aggressive affections of not one, but 6 monster girls, complete with mermaid, harpy and sexy slime fetishes. Monster Musume is a raunchy harem anime with the unique twist of the female cast being sexy monster hybrids trying to blend into human society
With over the top comedy and hilarious sexual scenes, Monster Musume is one of our top recommendations from last seasons anime and for any fans of Mayo Chiki! Darling-Kun is forever on the receiving end of purposeful or indirect beatings, stingings, crushings and every other possible kind of physical punishment. Monster Musume is also filled with female characters struggling to fit and blend into society despite their startling appearances.
Monster Musume No Iru Nichijou Full Opening
---
That wraps up our recommendations of anime that are just like Mayo Chiki! And share core themes of romance, high school, harem and gender ambiguity. What did you think of our selections? Please leave a comment to let us know if you have other anime you think deserve a place on our list!