También puedes leer este artículo en:Español
Gundam Tekketsu is showing off a lot of what makes us love Gundam and mecha shows. Warring factions, intricate plot lines and lot's of characters with diverse motivations and interests. And of course, great Mecha fights. Here are 6 other series which have similarities, and which you might enjoy if you've been liking Gundam Tekketsu!
Similar Anime to Kiddou Senshi Gundam: Tekketsu no Orpahns/ Similar Anime to Mobile Suit Gundam: Iron-Blooded Orphans
Similar Anime to Mobile Suit Gundam: Iron-Blooded Orphans / Similar Anime to Kidou Senshi Gundam: Tekketsu no Orphans
1.Code Geass: Hangyaku no Lelouch(Code Geass: Lelouch of the Rebellion)

Episodes: 25
Aired: Oct 6, 2006 to Jul 29, 2007
The world is dominated by the Empire of Britannia, which has set it's sight on Japan. Britannia swiftly overpowers the Japanese forces with it's Knightmare frames, and occupies the Country. Japan's identity and right's are swept away, and the area is dubbed Area 11. Lelouch Lamperouge is an exiled Britannian prince, who find the power of Geass, the power to dominate the will of one person, and plots to bring down Britannia.
Code Geass and Gundam Tekketsu are similar in that both shows have protagonist's that are mostly children. Lelouch Lamperouge might be a different type of character than Mikazuki and Orga, but they seem to be similar enough in that they have some deep, secret pasts and are trying to liberate an area from foreign rule. Code Geass also had a lot of intense, factional plots and counter plots, with individuals vying for control of different groups trying to exert their will on the grand picture of things. Definitely a show Gundam Tekketsu fans should watch.
Code Geass: Lelouch of the Rebellion Season 1 Trailer
---
2. Sidonia no Kishi (Knights of Sidonia)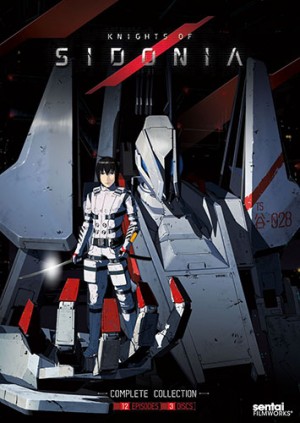 Episodes: 12
Aired: Apr 11, 2014 to Jun 27, 2014
It's been long since that humanity faced it's greatest threat, the threat of the Gauna, which consumed earth. Sidonia, a huge ship with a city in it's hulls, drifts through spaces. Nagate Tanikaze, raised in the underground of Sidonia, trains to pilot a Garde, and fight Gauna to protect Sidonia.
Knights of Sidonia has some of the best Mecha action scenes in the last couple of years. The 3d might take a little getting used to, but this series makes as good of use of it as any other out there, with 'camera' movement and panning shots that really showcase what 3d animation can do. They also have a real sense of stake, and you feel at any moment that a main character might lose their life. The story and character development also majorly picks up in the series second season.
Knights Of Sidonia - Official Trailer - Only on Netflix July 4)
---
3. Break Blade (Broken Blade)

Episodes: 12
Aired: Apr 6, 2014 to Jun 22, 2014
Rygart Arrow is an 'Unsorcerer', a one in a million person who can't harness energy from Quartz stones which are being used as an energy source for everything in the world. Rygart is looked down upon for his lack of ability by the rest of the world. However, this enables him to pilot an ancient golem, which becomes essential when his country Krisna is invaded by neighboring Athens.
Break Blade is a TV series but there's also a series of movies that are adapated from the same Manga. If you like Gundam Tekketsu, you'll enjoy the setting and world design of Break Blade, which is full of the same feuding factions and individuals caught between them as Gundam. Break Blade also uses traditional hand-drawn animation for it's Mechs, just as we see in Gundam Tekketsu. It's a technique that, sadly, seems less and less common. So if you like hand-drawn Mechs like the good ol' days, check out Break Blade.
Broken Blade - TV Series Trailer (Production IG / Xebec)
---
Any Animes Like Mobile Suit Gundam: Iron-Blooded Orphans ? / Any Animes Like Kidou Senshi Gundam: Tekketsu no Orphans
4. Kidou Senshi Gundam 00 (Mobile Suit Gundam 00)

Episodes: 25
Aired: Oct 6, 2007 to Mar 29, 2008
Fossil Fuels on the earth have run dry, and Humaity has aligned itself into 3 main factions which eath have an orbital elevator with which to generaGute energy. Those nations left out of these pacts are left to widespread mistrust, and conflict. Seemingly out of nowhere, an organization called Celestial Being appears which seeks to forcibly prevent war using their mobile suits, the Gundams. The Gundams are extremely powerful, however, taking on the whole world might be more than they can chew.
Beyond the obvious similarity, they're both Gundam shows, there's more that connects Gundam Tekettsu and Gundam 00. Mikazuki and Setsuna F. Seiei, the central character of Gundam 00 are very similar personalities. The setting of the world is also similar, with the Earth in Gundam 00 and Gundam Tekketsu split up in to large macro-nations or economic blocks. It's probably the best original gundam series to come out in the last 10 years, and Gundam Tekketsu will have done well for itself If it can approach it in quality.
Gundam 00 US/English Trailer #1)
---
5. Tengen Toppa Gurren Lagann (Gurren Lagann)

Episodes: 27
Aired: Apr 1, 2007 to Sep 30, 2007
Kamina and Simon live in Jeha village, and dig tunnels endlessly. Kamina though, desires a better life beyond in the surface and an escape from their dark, dreary and cramped environs. Simon finds a mysterious drill and mysterious robot called Lagann, when suddenly the beast men show up, who rule the world above, and put the entire village in danger. Kamina, Simon and their friend, Yoko, must fight the beast-men and reclaim the world above for humanity.
Kamina and Simon have a type of relationship that has some similarities between Mikazuki and Orgus. At the very least, you can tell they deeply care about eachother and look to eachother a lot when a decision needs to be made. It also has the plotline of trying to throw off an occupying power. There's a much different tone and atmosphere, but TTGL is definitely a must see for all Mecha fans and if you like Gundam Tekketsu you should watch TTGL.
Gurren Lagann DVD and Blu-ray Box Set Trailer)
---
6. Aldnoah.Zero

Episodes: 12
Aired: Jul 6th 2014 to Sep 21, 2014
After a dimensional gate was found on the moon to Mars, and a energy substance called Aldnoah was discovered which made life on Mars possible, the Kingdom of Vers was established which ruled over the red planet. Earth and Vers, which have already fought a long, brutal war are on the brink of a new conflict. The plot follows Inaho Kaizuka, a young recruit for the earth forces, Princess Aseseylum, who want's peace between earth and vers as well as her attendant, Slaine Troyard.
Aldnoah Zero's biggest strength is the initial conception of it's world. Mars is resource starved and want's to take over the Earth Sphere to flourish. The Aldnoah drive gives the Vers forces a huge technological advantage, but they're outnumbered by the Earth Forces. It's kind of a more extreme example of how the original Mobile Suit Gundam balance of power in the early days of the one year war. There's lots of plots, counter-plots and scheming, similar to Gundam Tekketsu, and good mecha battles as well. The writing is shoddy at that times, but you will come to care for some of the characters and their fates.
アニメ「ALDNOAH ZERO(アルドノア・ゼロ)」PV公開 #ALDNOAH.ZERO #Japanese Anime
---
There you have it. We hope you enjoy Gundam Tekketsu as it goes on and have time to check out some of the shows on our list. There's definitely a lot to be enjoyed in the 6 shows above. Be sure to let us know what other shows you think someone might enjoy if they're enjoying Gundam Tekketsu. Make sure to give us your thoughts in the comments below and let's get a conversation going.
---