También puedes leer este artículo en:Español
What does it take to be a good parent? It is a very common word but many of us really do not fully understand being one. Being a parent means serious business but the experiences of it can be quite fulfilling and rewarding. Loving, supporting, and sacrificing for their children are needed in order to help their young ones turn into people who can stand by themselves and Ookami Kodomo no Ame to Yuki or known as Wolf Children showed us just that.
Enter the world of Hana who fell in love with a wolf man and had two lovely children named Ame and Yuki. All seems perfect and well until tragedy strikes that lead Hana and her children move into the countryside to start afresh. Trying to meet both ends, Hana learns how to take care of her werewolf children on her own without guidance and help from anyone else.
Now let us look at 6 heartwarming anime like Ookami Kodomo no Ame to Yuki that will surely give a tug in your hearts.
Similar Anime to Wolf Children / Similar Anime to Ookami Kodomo no Ame to Yuki
1. Usagi Drop (Bunny Drop)

Episodes: 11
Aired: Jul. 2011-Sept. 2011
Being a single parent to your own child is hard enough as it is but how about taking care of a child that is not even yours? Meet 30 year old Kawachi Daikichi who went to his grandfather's funeral only to find out that his already dead grandfather has an illegitimate child named Kaga Rin whose mother is unknown. To make things worse the family argues who will take the child as they do not like the obligation that comes with it. Feeling pity towards the hazel nut girl and to his utter disgust from his family, Daikichi took it upon himself to adopt little Rin not knowing that being a parent isn't so easy at all.
Wolf Chldren and Usagi Drop presents the hardships and responsibilities of being a single parent. Hana and Daikichi both slowly learns how to take care of their own children and in turn this kids learn from them. You will basically see how this two adults change themselves into parenthood. If you want some light slice of life anime, better watch this and bask in the cuteness that is Rin.
bunny drop - Official Trailer
---
2. Clannad: After Story

Episodes: 24
Aired: Oct. 2003-Mar. 2009
Better ready your tissues for this one because this anime will really make you cry. Seriously, take my advice. Following the end of Clannad, Tomoya Okazaki couldn't be more happier, after all his girlfriend Nagisa Furukawa has become his lawful wife, supporting each other for better or worse, and in sickness and in health, maturing together into adulthood. But Tomoya didn't saw it coming that death do us part will come earlier than what he expected when his wife succumbed to her illness after giving birth to their daughter Ushio.
You could say Hana and Tomoya's experiences are very much alike. Both fell in love in their school days, had a child, dealt with the death of their spouse and trying to know the ways of how to be a parent. But unlike Hana who used her husband's death to be more stronger for her children, Tomoya had some difficulty coping up with the death of his wife, leaving his daughter behind with her grandparents. It took some time before he faces Ushio again and the way they support and heal each other is truly bittersweet. Clannad: After story is much more dramatic and more heavier than Wolf Children but give it a try, it's worth it.
---
3. Momo e no Tegami (A Letter to Momo)

Episodes: 1
Aired: Sept. 2011
After the death of her father, Miyaura Momo with her mother moved into the remote island of Shio bringing with her the latter that her father left containing only two words "Dear Momo". As she tries to adjust living in the countryside, Momo discovers that her new home includes three Yōkais whom she can only see. Through befriending them, she learns what truly is the meaning behind of her late father's letter.
They are very similar in a way that both mothers are faced with taking care of their offspring alone because of the death of their respective husbands. Both mothers also decided to move in the country side to start their new life there. Although Wolf Children focuses heavily more on how to be a single parent to their child, Momo e no Tegami focuses more on how a child accepts the death of her father. It also shows the coming of age of Momo as how Ame and Yuki did in Wolf Children. She learns to accept her former mistakes, learns from it and became more open to the people around her.
A Letter To Momo Official US Release Trailer 1 (2014)- Animated Movie HD
---
Any Anime Like Wolf Children/ Any Anime Like Ookami Kodomo no Ame to Yuki?
4. Tonari no Totoro (My Neighbor Totoro)

Episodes: 1
Aired: April 1988
Who doesn't know Totoro? If you haven't watched this yet then you are greatly missing a lot as this is surely one of the greater master pieces of Studio Ghibli. Two sisters Satsuki and Mei found themselves in a new home in the countryside with their father Tatsuo Kusakabe. This is so they can live near their mother, Kusakabe Yasuko,who is in the hospital battling her own illness. As the two girls enjoy the wonders of rural life, they meet Totoro and together they go on an exciting adventure and meet more other mythical creatures along the way.
Both shows are set in the countryside where the parents move in with their children for personal reasons. Since Tatsuo Kusakabe's wife is in the hospital, he currently has to take the responsibility on himself of looking after their children like Hana. Being parents of two children, they are very caring and loving who encourages their kid's curiosity and imagination. The show also depicts the bond of two siblings, much like Ame and Yuki but in this case Satsuki and Mei, as they grow up. Want some magical adventure? This is an anime that you surely wouldn't want to miss.
My Neighbor Totoro- Official Trailer
---
5. Kaguya-hime no Monogatari (The Tale of Princess Kaguya)

Episodes: 1
Aired: Nov. 2013
Ah~ Another movie from the powerhouse Studio Ghibli. The story of Kaguya-hime no Monogatari is based on the folktale of the Bamboo Cutter. An old bamboo cutter from the rural area found a tiny girl in a glowing bamboo shoot and decided to raise her as their own with his wife. As the child grows abnormally fast gaining precious friends, the bamboo cutter finds gold and expensive silk in the same fashion as he found the little girl. Believing it as a sign from the heavens, he took his family and ventured out to the capital forcing his adoptive daughter to leave her friends and start grooming her fit for nobility. She was thus known as Princess Kaguya but even though a princess, she feels trapped and caged in her new environment.
The most prominent similarity of these two anime is that both shows how to be a parent to a non-human child. Hana took care of two werewolf children while the bamboo cutter and his wife took care of a child from the moon. All parents would do anything to give their child a better life and this plays well with Hana and the Bamboo cutter very well. Hana at some point became too overprotective with Ame for she fears that he will leave her. As for the Bamboo Cutter, he made Kaguya into a princess believing that is her fate. Ame and Kaguya felt restrained and wanted freedom to do what they want, so Hana and the Bamboo cutter had to learn to let go and let their children be who they really are. The Art in this anime is definitely amazing and superb! You should check it out!
The Tale of The Princess Kaguya Official US Release Trailer #1 (2014)- Studio Ghibli Film HD
---
6. Colorful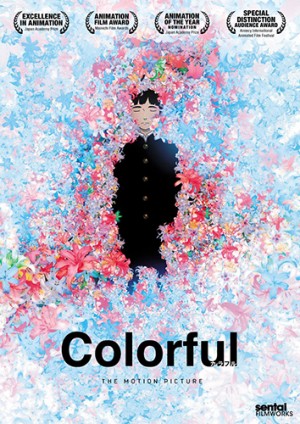 Episodes: 1
Aired: Aug. 2010
If you were given a chance to reincarnate, wouldn't you be so lucky? Our protagonist was given that chance when Purupuru told him he was lucky for being chosen to reincarnate again. But things comes with a price, through unwilling but unable to refuse, he has to be in the body of 14 year old Kobayashi Makoto who committed suicide just recently. He must help change the life of Kobayashi so the tragedy won't happen again while trying to remember his greatest sin.
This anime tackles more about the true essence of a family like how Wolf Children does. In Colorful, each family member has to change themselves and correct their mistakes they had before to make their family work again. Hana also reflects Kobayashi's mom who both greatly showed their motherly love and concern for children. Hana who let her her children forge their own path, Kobayashi's family gave Makoto a chance to choose what he likes and listened well at his intentions for his future. Colorful is a wonderful film that showcases the importance of family, friends and appreciating ones life.
---
Final Thoughts
Wolf Children will always be a memorable anime. The 6 anime anime listed here will surely give you that warm feeling or even more than that Wolf Children gave. Now after reading this, wouldn't you just want to run and hug your parents who helped you grow as you are and gave their unconditional love to you? Since Mother's Day is approaching near, what kind of surprise will you give them? If you know more similar anime to Wolf Children or you have some remarks let us know in the comment section below! Well till next time! Singing off!
---