También puedes leer este artículo en:Español
With the winter season rolling in, many anime fans are cuddled up in their comfortable beds awaiting the next episode of their favorite show. Males and females alike seek to find the right genre that suits their needs, and here at Honey's Anime we have that covered. While the sports genre generally chases after the male audience with titles like Hajime no Ippo, there is a larger audience called "bishounen" that focus on the female presence. In today's list, we focus our spotlight on the very popular Prince of Stride: Alternative
Prince of Stride stars Riku, who is a student at Honan Academy who just couldn't seem to find his stride, until future team mates Takeru and Nana recruit him to join their club. From there his epic adventure begins, as the team forms together to compete and win the "end of summer" competition. Here are 6 anime that both male and females can enjoy, and share similarities with Prince of Stride: Alternative.
Similar Anime to Prince of Stride: Alternative
Similar Anime to Prince of Stride: Alternative
1. Prince of Tennis

Episodes: 178
Aired: October 10, 2001 – March 23, 2005
Prince of Tennis continues to represent a very large community of fans for the series, as it has seen many spin offs and seasons of the original. You could say that, Prince of Tennis is what gave birth to the Prince of franchise and helped it lift off in a positive way. It helped to inspire and bring in new fans to the sports genre, but also to reinvigorate the very popular Tennis scene in Japan.
Prince of Tennis stars Ryoma, a young tennis player who by many, is considered to be a prodigy. His consecutive wins and various championships have garnered him a strong reputation, but are still overshadowed by his father who also was a pro himself. With this in mind, he decides to join a club in hopes that his training will help him to not only overcome his father, but to strengthen himself in the process. This story is very similar to the story of Prince of Stride where Nana comes across Honan Academy in hopes to create a club to compete and win the prestigious "end of summer" spectacle. Both Nana and Ryoma share a passion for their respective sport, and join a club in order to overcome the obstacles in front of them, but into within themselves. It's a great thing to watch, as it demonstrates ambition and a commitment to what they love, and to become the best at it.
---
2. Free!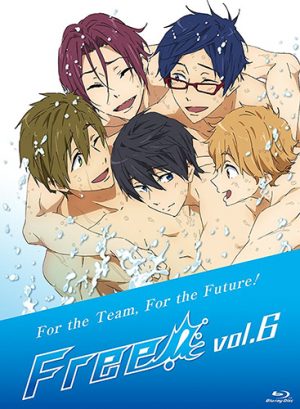 Episodes: 12
Aired: July 4. 2013 – September 26, 2013
Bishounen anime have always shown a growth in popularity, especially with shows pertaining to sports of young men. Free! is another anime that falls right into the category because it has a blend of sports and young men out for a dream. Haruka Nanase has always had a passion to swim, making sure to immerse himself around water as much as possible. He participated in various tournaments along with his close friends before decided to part ways and move on. Several years later as fate would have it, Haruka reunites with his close friend Rin who then shows him his overwhelming power in the water. Having none of this, Haruka then recruits his friends to help establish the Iwatobi Swimming Club to help defeat his rival.
What is very similar in both Prince of Stride and Free! Is that both main characters display an overwhelming passion to strive for perfection. They both do not yield to the challenges that confront them, and will do whatever it takes to overcome their rivals. Teamwork is seen all throughout both shows, as it is what drives both main characters to reach their potential while forming a strong bond along the way.
---
3. Kuroko no Basket

Episodes: 25
Aired: April 8, 2012 – September 22, 2012
While many may be familiar with the now popular Kuroko no Basket series, before that was the very famous Slam Dunk. Slam Dunk brought in a lot of attention to the basketball scene in Japan, as the sport didn't have the same popularity compared to baseball and soccer. However, Kuroko no Basket revamped the genre yet again bringing in new blood and a new adventure.
Kuroko no Basket represents the battle between light and dark, which are defined in the characters, Kagami and Kuroko. Much like Prince of Stride, the goal is to take precedence over your opponent with the help of teammates to push you along the way. Kuroko was seen as a plain and bad player, but his team kept him motivated enough to challenge. Once Kagami became part of his team to overcome the miracle generation, it showed a very cool chemistry much like Nana and Ryoma and it became a very rewarding thing to watch.
---
Any Animes Like Prince of Stride: Alternative ?
4. Baby Steps

Episodes: 25
Aired: April 6, 2014 – September 21, 2014
Baby steps is a fantastic anime that invites us into the world of tennis, but this time with a much softer side compared to that of Prince of Tennis. In baby steps, Ei-chan finds himself to be unhappy with his position in life and insists that it be changed for the better. Due to his lack of exercise, his energy levels are low, and really isn't able to keep up with the rest around him. This was until one day he comes across a flyer advertising a tennis club, that his life would change forever. The story shows how one person, despite their pasts, can truly make a difference to become a better person and take part in an activity that they're so passionate about.
In Prince of Stride, Ryoma struggled in the beginning to find a club that really suited him. He ran around from club to club with hopes that perhaps, he could join all of them. It was at that point that Nana introduced him to the world of running that changed it all for him. Ryoma and Ei-chan share a similar position, in that they had to search for an answer, but when they arrived at it, the decision changed them forever. Both have a strong bond with their female counterpart throughout the show, who also helps them both as mentors to become stronger at their respective sport. Truly beautiful to watch, so we highly recommend it!
---
5. Haikyuu!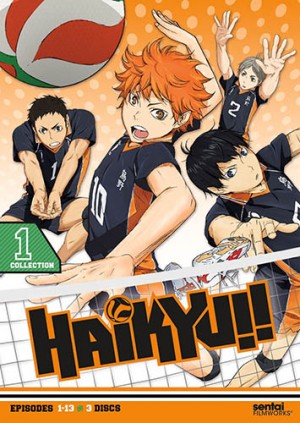 Episodes: 25
Aired: April 6, 2014 – September 21, 2014
Being inspired by things is always a primer to help kick start the engine that waits in our hearts. Shouyou received this inspiration after watching a special event on T.V. which showcased his volleyball idol "little giant" play at his best. After watching this, he decides to revamp the volleyball club at his middle school. Eventually Shouyou comes face to face with another challenge, and that is his rival Kurasuno. Tasting defeat at the hands of his rival, Shouyou sought out to over take his opponent, but as fate would have it, the two would meet again but this time on the same team. The two eventually put their differences aside and work together to become the best volleyball team in the league.
Rivalries play a major part in every series on our list, and it is what really captures the essence of the genre itself. Ryoma eventually comes across his own rival who is also a part of his team. This rivalry becomes more of a test to his potential, as he constantly strives to overcome not only his own inner battles but the ones in front of him. Shouyou shares a similar destiny where he has to finally come to terms with reality, and work together with his rival and strengthen the team altogether. It's a testament to all us that ambition beats adversity in every single way. Ryoma and Shouyou are also in a school environment, where other schools are fighting toe to toe for the top spot. It's a wonderful show to watch as well, and so we suggest you give it a shot.
---
6. Yowamushi Pedal: Grande Road

Episodes: 24
Aired: October 7, 2014 – March 31, 2015
Cycling has always been a sport that held a high prestige in the sports world, due to its strict regimen and determination. Lance Armstrong proved to the world that despite the adversities that confront us, we can battle through anything to become champions. Yowamushi Pedal: Grande Road provides that similar energy, but now in the form of animation. Onoda was just an ordinary student with a love for the otaku lifestyle; video games, anime, and Akihabara. He would always use his bulky bicycle to make his way to Akiba (the short term for Akihabara) in order to collect his prized items, and it was then he was confronted by Naruko who is a freshman and road racing cyclist. After much analysis, Naruko decides to convince Onoda to join his cycling team because he recognized how talented he was, and from there the Grande road begins.
Most bishounen enjoy demonstrating hard work and determination with a splash of emotion. We all love to cheer for our favorite character, and in Yowamushi Road you can't help but feel the passion burning throughout Onoda. Onoda and Ryoma share common traits in that they really take their passions seriously, and will always sacrifice time for it at every opportunity. They have no fear of outcome, and are driven by commitment to ensure that first is the only result they achieve. This is such an exciting anime to watch because it truly shows us that, great ventures lead to greater rewards.
---
Prince of Stride is one of those anime that really demonstrate that anything is possible so long as we find the possibilities within ourselves, and muster the strength to push forward. It is only then, through the adversities that we discover our true calling, and become the champion that we have desired to be in our hearts. We hope you enjoyed our list of anime similar to Prince of Stride. If you have any other anime that you feel should make the list, be sure to let us know in the comments section down below! And also follow us on twitter for the latest article updates and tweets!
For all of your sweet anime needs, keep it locked here on Honey's Anime.