También puedes leer este artículo en:Español
When a person is asked to describe "Anime", they usually say things like "giant robots", "fantasy", or perhaps even "comedy/drama". However, the word "sports" usually does not come to mind, which is a shame, since anime like Prince of Tennis exists.
With it's unique take on the popular racket sport, Prince of Tennis brings both Drama and Comedy to the world of tennis. With it's unique characters, with their own strengths and weaknesses throughout the series, the introduction of the real rules and terminology used in tennis, and semi-realistic matches between players, it becomes all too easy to be drawn into Prince of Tennis while feeling a strong desire to suddenly pick up a racket and hit the courts.
While we, at Honey's Anime, encourage trying new things and improving one's health, we also understand that some of you, like us, prefer to spectate in the comfort of our climate controlled homes. But regardless of you either relaxing at home, or taking a quick break between matches, we at Honey's Anime would like to share 6 Anime Like Prince of Tennis, to help you fulfill your sports needs!
Similar Anime to Prince of Tennis
1. Kuroko no Basket (Kuroko's Basketball)

Episodes: 25
Aired: Apr 2012 to Sept 2012
Kuroko no Basket tells the story of Tetsuya Kuroko, a small and dismissive high school basketball player with no discernible skills, and Taiga Kagami, a gifted and aggressive high school basketball player who just returned from the United States. Both Tetsuya and Taiga agree to have their team become the best basketball team in all of Japan, by competing and winning the "Interhigh Championship". But standing in their way are several other school with their own star players, who were once an unstoppable team known as the "Generation of Miracles". Can Tetsuya and Taiga overcome these unstoppable foes and lead their team to victory or is their desire for stardom only a unreachable dream?
Kuroko no Basket and Prince of Tennis share similarities, as both Taiga Kagami in Kuroko no Basket and Ryoma Echizen from Prince of Tennis seem to be "prodigies" at their respective sport. Both series contain a cast of characters who have their own unique play styles and specialties, making each one a necessity to have on their respective teams. The drama that occurs during the matches in Prince of Tennis is transferred over to Kuroko no Basket as well. This is definitively worth a watch for those who enjoy basketball. Even if you don't really like basketball, Kuroko no Basket is guaranteed to keep you entertained and make you at least admire the sport.
Anime "Kuroko's Basketball" Bansen CM30 seconds ver
---
2. Haikyuu!!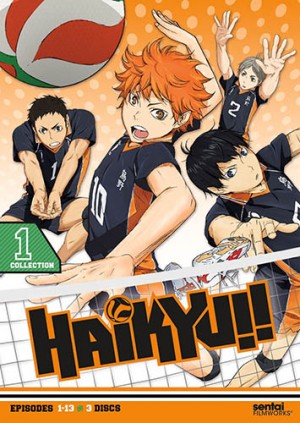 Episodes: 25
Aired: Apr 2014 to Sept 2014
Haikyuu!! Is about a young middle school l student named Shouyou Hinata, who dreams of becoming a great volleyball player. Sadly, he is rather small. And VERY clumsy. Despite suffering a crushing defeat during his first tournament match, Shouyouu decides to become the best volleyball player there is. To do this, he marks Tobio Kageyama, an arrogant, self-centered but extremely skilled player, as his rival and swears to one day surpass him. As fate would have it, the two become teammates once they reach high school, being forced to work together or else be kicked off the team. Can the two put aside their differences and bring their team to victory?
Haikyuu!! and Prince of Tennis share a similarity in their cast of characters. Both Tobio Kageyama from Haikyuu!! and Ryoma Echizen from Prince of Tennis are masters at their chosen sport, being both arrogant and self-centered, but eventually learning the importance of teamwork and friendship. The artwork between the two is eerily similar to one another as well. Great detail is drawn in both series, specifically during the action scenes. Muscles flex, sweat droplets fall, and characters actually get tired during the matches. If you enjoyed Prince of Tennis, then Haikyuu!! is a must watch!
TV Anime "Haikyū !!" PV first series
---
3. Hajime no Ippo: The Fighting! (Fighting Spirit)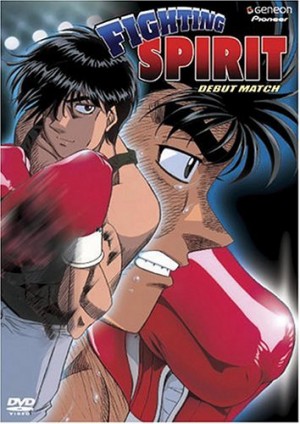 Episodes: 75
Aired: Oct 2000 to Mar 2002
Hajime no Ippo revolves around the meek and timid character Ippo Makunouchi. Young Ippo works everyday on a boat with his widowed mother, when not attending school. Because of his meek nature and busy schedule, Ippo has no friends, and is frequently bullied. During one bully session, Ippo is seriously injured, but saved by a random jogger, named Mamoru Takamura, who ends up taking him to a gym to recover from his wounds. While there Mamoru goads Ippo into hitting a punching bag, showing the gym (and Ippo) that he has some surprising power in his punches. This motivates Ippo to learn boxing in order to protect himself. Eventually, Ippo learns he might have what it takes to become a great boxer. Perhaps, even one day, a boxing champion.
Both Prince of Tennis and Hajime no Ippo contain a wide cast of characters, with each person being a fully fleshed out character, and not a simple "filler" person. Both stories revolve around a young man who finds great happiness when playing the sport they love, as well as both stories contain great attention to detail between matches, building up the perfect amount of tension for its viewers. This along with the amazing character development and action scenes makes Hajime no Ippo a great watch!
---
Any Anime Like Prince of Tennis?
4. Ookiku Furikabutte (Big Windup!)

Episodes: 25
Aired: Apr 2007 to Sept 2007
Ookiku Furikabutte is the the story of Ren Mihashi, a young and very under confidante high school student with a love for baseball, but a fear for playing it. It ends up, that Ren was once a pitcher for his middle school team, something that he loved. Unfortunately, his team had a huge losing streak, and blames Ren for it, citing that the only reason he was even on the team, was because of his family connections. This of course, leaves poor Ren Mihashi crushed, who vows to never play again. That is, until he literally gets dragged into the sport again during his first year of high school. Here, we get to watch Ren develop not only as a pitcher, but as a person as well, finding friends, teamwork and confidence with each game played.
Ookiku Furikabutte and Prince of Tennis share some similarities, especially in its willingness to explain rules and concepts of the sport to the viewer. This makes it perfect for those who don't understand the rules or terminology in baseball or tennis, respectively. They both also share a unique art style, with emphasis on the actual matches. Ookiku Furikabutte is perfect for those who enjoyed Prince of Tennis, but want a little more comedy added into the mix.
【Animation】Big Windup! (Trailer)【English】
---
5. Area no Kishi (The Knight in the Area)

Episodes: 37
Aired: Jan 2012 to Sept 2012
Area no Kishi is the soccer fueled story of Kakeru Aizawa and his brother Suguru. Kakeru acts as a manager of sorts for his brother Suguru, who is a promising young athlete, with his goal of winning the World Cup. Both brothers have a passion for soccer and always motivate one another to do their best. That is, until fate intervenes. Due to a sudden accident, Kakeru must abandon his role as a manager, and fulfill his brother's dream of winning the world cup. But is he just as talented as his brother? Can he bring home the cup? Or is it just a fleeting dream?
Area no Kishi and Prince of Tennis are similar in the aspect that both rely heavily on the actual matches to develop the characters and explain the rules and terminology in soccer. Also in both series, the characters play sports in a realistic manner (for the most part), AKA; no super human flying soccer/tennis blasts. Almost all moves done are plays or moves that can be seen in real life. This is perfect for those who wish to see a realistic game instead of an "over the top" one. With its strong story, detailed growth of Kakeru Aizawa, and realistic feel, Area no Kishi is easily a good anime to watch and genuinely enjoy.
Every Saturday six o'clock in the broadcast by TV Asahi, "Area no Kishi"
---
6. Baby Steps

Episodes: 50 (25 for season 1, and 25 for season 2)
Aired: Apr 2014 to Sept 2015
Baby Steps is about a young overworked high school, honor role student named Eiichiro Maruo. After a series of study sessions, Eiichiro decides he needs to do something that will allow him to maintain his health and take his mind of of studying. He eventually decides to start playing tennis, slowly gaining a love for the game. At first he is actually no good at it. But he eventually starts to become adept at the game, and even starts to add in his study habits into the game, allowing him to calculate chances and create advanced plans to give him an edge in the game. But the viewer has to wonder, will it be enough for to succeed at the sport? Or should Eiichiro Maruo just stick to his studies?
Baby Steps, like almost every other anime mentioned on this list, has an art style that is very similar to Prince of Tennis. In Baby Steps, the main character Eiichiro Maruo has a similar skill/talent to Sadaharu Inui from Prince of Tennis, as they both use data and calculations to give them an edge in the game. And of course, Baby Steps is similar to Prince of Tennis, as they both are, about tennis. A great watch for those who want to see a person with no talent become a pro at the game.
---
Final Thoughts
So, this wraps up our list of 6 Anime Like Prince of Tennis. We hope you enjoyed it. Hopefully, this list will help you silence that voice in the back of your head, asking for more great sports anime. And if in the event that you watch an anime, and decide to become a pro star of your selected sport as a result, please remember us here at Honey's Anime. With that note, please tell us what you think of our list and what your favorite scenes in Prince of Tennis are! Until next time, sports friends.
by "Kouban" Justin
---