Although a classic harem anime by nature, Princess Lover! is more than panty shots and accidental nudity. It brings into question the class divide, and how wealth and greed can make or break a person. Not only that, this ecchi romantic comedy is also full of action-packed twists, which might make the twelve episodes seem a bit too short. Whether it's comedy, action, or a harem of cute girls you're after, if Princess Lover! left you with an ecchi itch that needs to be scratched, look no further than this list of similar series.
Similar Anime to Princess Lover!
1. Love Hina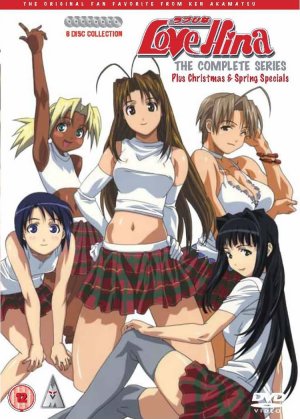 Episodes: 24
Aired: April 2000 - September 2000
Keitaro Urashima has failed the mock exam for Tokyo University. Spectacularly. But despite his parents' complaints, he doesn't want to give up - after all, he made a promise with his childhood sweetheart that they would reunite there. So, he takes up his grandmother's offer to continue his studies at her inn, only to discover (in a rather embarrassing way) that it's been turned into an all-girls dormitory, and that his grandmother has left her position as manager to go on a trip. One thing leads to another, and Keitaro ends up becoming the new manager of Hinata House and (barely) in charge of a harem of five girls.
A classic shonen ecchi anime full of slapstick comedy and risqué situations, Love Hina is a must-see if you you're a fan of other series of this genre. If you also enjoyed the setting and romantic progression in Princess Lover!, you're in luck, as Love Hina has a similar tempo, with the protagonists of both series facing similar challenges. Much like Teppei, who is suddenly thrust into a whole other social class, Keitaro is pushed into accepting his new position as head of house, meaning he has to move out of his parents' place and start a new life. Also, just as Teppei struggles to see eye-to-eye with many of the girls around him at first, Keitaro too has to overcome many misunderstandings and mishaps in order to be accepted by the girls he lives with.
Love Hina - Trailer (DVD):
---
2. Nisekoi (Nisekoi: False Love)

Episodes: 20
Aired: January 2014 - May 2014
Boasting not just one but two seasons (the twelve-episode-long sequel having aired April 2015 - June 2015), Nisekoi follows high schooler and reluctant yakuza family heir Raku Ichijo on his quest to be reunited with the love of his life. As a child, he made a promise to share his future with a girl - the only issue is, he can't remember her name or face. He hopes that it just might be his crush since middle school, Kosaki Onodera, but all is not fair in love and harem anime. Raku is soon dragged into a forced engagement to enemy yakuza group heir Chitoge Kirisaki, in order to preserve the peace and prevent a war from breaking out. Before long, Raku is surrounded by potential first loves and new flames, including a frail fake princess and a hitwoman with a guy's name.
Although both Princess Lover! and Nisekoi are technically school love comedies, many of the scenes in both take place outside of the school setting, making the characters more rounded. The main male leads in both are forced into engagements, although Teppei has a say in where his relationship will lead, whereas Raku must keep up a lovey-dovey pretense. Raku too is not well-liked by most of the girls at first, especially his fake fiancée. But through showing his sincere side, he manages to win over even the most defensive of tsunderes. If you're after more of the romantic comedy that Princess Lover! provided, this shonen harem anime is bound to deliver.
TV Anime "Nisekoi" PV #Nisekoi #Japanese Anime:
---
3. Kono Naka ni Hitori, Imouto ga Iru! (Nakaimo - My Little Sister Is Among Them!)

Episodes: 12
Aired: July 2012 - September 2012
Big changes are happening in Shougo Mikadono's life. After his father's death, he's named the heir to the family's world-famous enterprise. In order to prepare him for the role, he is transferred to Miryuin Private Academy, which his father attended in the past. However, that's not the only preparation Shougo has to do - according to his father's will, he will only inherit the business if he manages to find a suitable wife to support him before he graduates. With Miryuin Academy having a suspiciously high percentage of female students, you'd think this would be an easy task. But with the Mikadono name and a hefty inheritance tag attached to him, Shougo quickly finds himself in the midst of a battle of affection between several girls. As if that wasn't bad enough, Shougo discovers that one of them may be his half-sister with whom he was separated at birth. With the graduation deadline looming and an incestual marriage to avoid, who will Shougo choose as his bride?
The central male characters in both Kono Naka ni Hitori, Imoto ga Iru! and Princess Lover! tread very similar paths. Both move home and transfer to prestigious schools after the death of a parent or parents, and suddenly become the centre of attention due to their name and status. Their romantic lives are also alike, with Teppei being engaged and Shougo searching for a wife, and both are pursued by several girls who share their own similarities. For example, Konoe Tsuruma, the first girl to pursue Shougo, has a playful teasing personality and believes in fateful encounters, which calls to mind Princess Lover!'s Charlotte Hazelrink. If you enjoyed Princess Lover!, Nakaimo is definitely worth checking out!
[PV] Kono Naka ni Hitori, Imoto ga Iru! The second promotional video:
---
Any Animes Like Princess Lover! ?
4. Ouran Koukou Host Club (Ouran High School Host Club)

Episodes: 26
Aired: April 2006 - September 2006
Haruhi Fujioka does not fit in at school. A poor student at the elite Ouran High, all she wants to do is find a quiet place to study so she can keep her scholarship. However, during her search she ends up quite literally stumbling into the Host Club's room and smashing an incredibly expensive vase. With her androgynous appearance and gender-neutral name, Haruhi is mistaken for a male student and forced to work at the host club in order to pay off her debt. Possibly the most popular reverse harem series, OHSHC has both hilarious and touching moments throughout.
Ouran High School Host Club might seem out of place on a mostly shonen, harem, ecchi anime list, but the similarities between this shojo romantic comedy classic and Princess Lover! can't be denied. Much like Teppei, Haruhi, who had avoided connecting with the snobby students at Ouran High, is suddenly pushed into the deep end of high society. Out of her depth at first, Haruhi learns to deal with the quirks of the rich, whilst teaching them that being poor is not the end of the world. The romantic school comedy elements are incredibly similar, but with the harem being reversed, Ouran High School Host Club is also perfect for those who enjoy cute guys instead of (or as much as!) cute girls.
Ouran High School Host Club Official Trailer:
---
5. Ladies versus Butlers!

Episodes: 12
Aired: January 2010 - March 2010
Appearances can be deceiving, and despite how he looks, Akiharu Hino is not a delinquent. His new classmates, however, might need some convincing, especially after his first meeting with fellow student Sernia Iori Flameheart results in him accidentally groping her. This first day at Hakureiryou Academy, a boarding school that trains dignified ladies, lords, and their future servants, suggests that Akiharu's new high-school life is going to be anything but easy. After unintentionally landing his hands on the majority of the girls, and being reunited with his childhood tormentor Tomomi Saikyou, how will Akiharu adapt and make a name for himself as a reliable future butler?
The setting of Ladies vs Butlers may vary to that of Princess Lover!, but the foundations of the two series share several similarities. Both Akiharu and Teppei move house and transfer into schools that have a definite class divide - in which they stand on the opposite side to the girls that form the main harem. The ecchi scenes are also constructed in a similar way, taking the form of accidental fumbles and comedic misunderstandings as opposed to intentional come-ons. If you enjoyed the storyline and pace of Princess Lover!, you're bound to enjoy this series just as much.
PV Ladies vs Butlers Trailer:
---
6. Kanokon (Kanokon: The Girl Who Cried Fox)

Episodes: 12
Aired: July 2012 - September 2012
The city is scary, and city girls are something else altogether. Or so thinks country bumpkin Kouta Oyamada, who has just moved from his grandfather's house in the sticks to attend metropolitan Kunpo High School. With no romantic experience until now, this shy first-year high schooler soon finds himself at the unrelenting mercy of upperclassman Chizuru Minamoto, a girl as touchy-feely as she is energetic. Which would all be well and good, except Kouta soon discovers that Chizuru is quite literally as high-spirited as her personality - in fact, she's a fox spirit. And she's not the only one who's willing to break a few spirit-world rules for her human beau. Soon, wolf spirit Nozomu Ezomori is on the scene, interfering in Chizuru's flirtations and trying her own style of stoic seduction. With two teenage girls trying to feel him up at any given moment, and various spiritual creatures creating havoc, how will Shouta make it out of high school alive, or for that matter, human?
This school romantic comedy is full of the fanservice you'd expect from an anime similar to Princess Lover! with the highlight of having very forward female leads. The romance and competition of the love-triangle in Kanokon brings to mind the harem in Princess Lover!, and bright and bubbly Chizuru shares several personality traits with lively Princess Charlotte. But the strong female characters aren't the only thing that makes this anime worth watching. Much like the divide between the rich and the working class in Princess Lover!, there too is a worldly divide in Kanokon, between humans and spirits. In both anime, the differences between the position of the male lead and the girls in the harem leads to conflicts and exciting action. If you want some fantasy fighting to go with your panty shots, this is the anime to watch next.
[PV] Kanokon (Kanokon Trailer):
---
Closing
So, there you have it. Ecchi harem anime may have a reputation for being repetitive, but as this list showcases, that's simply not the case. Whilst the anime in this list have their similarities, each has its own elements of individuality that make it stand out from the rest. So whether it's a classic light-hearted school romcom you're after or a fantasy, action-packed harem, this list should have something right up your street. If you've got any other suggestions or thoughts, make sure to leave them in the comments below!