También puedes leer este artículo en:Español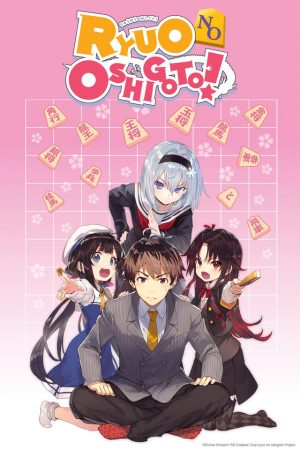 What do you get when you mix cute lolis and shogi? What else, Ryuuou no Oshigoto! from studio Project No.9. Based on a manga series, Ryuuou no Oshigoto! has been a quite enjoyable anime adaptation and we know many anime viewers are enjoying Ryuuou no Oshigoto! this winter 2018 season. Ryuuou no Oshigoto! already is halfway through the season though which has some fans wanting more like it. Luckily, your friends at Honey's Anime have a solution for your problems.
Welcome everyone to our 6 Anime Like Ryuuou no Oshigoto! list! Today we'll be exploring anime that does one of several things that echo the elements found in Ryuuou no Oshigoto! Not only does the show have to be funny and silly but it also has to have either lolis and or sports in some form. It didn't take our crew here at Honey's Anime too long to find similar anime to Ryuuou no Oshigoto! and we know you'll be happy with our choices. Now let's get some anime recommendations going so you will have a series to watch while Ryuuou no Oshigoto! is currently airing or to watch/binge when it ends.
Similar Anime to Ryuuou no Oshigoto!
1. Ro-Kyu-Bu!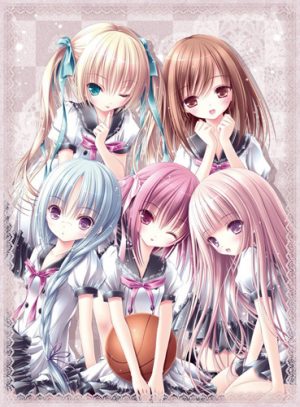 Episodes: 12
Aired: Jul, 2011- Sept, 2011
Hasegawa Subaru was pretty excited to play on the basketball team at Nanashiba High School. Unfortunately, when the coach gets suspended for questionable acts, Subaru's chances to play basketball seem all but lost. Then out of nowhere, Subaru gets another chance to play ball thanks to his aunt and her team. Subaru is about to play some basketball finally but little does he realize its with a bunch of young girls. Can Subaru play basketball in this odd situation?!
Loli girls and basketball seem like a weird combination, right? It might be in most anime but in Ro-Kyu-Bu! it's actually funny and makes it quite similar to Ryuuou no Oshigoto! The funny antics of a female cast of lolis and the awkward situation it makes for the main man Subaru remind us of the issues faced by Ryuuou no Oshigoto!'s main protagonist Yaichi Kuzuryuu. If you want some cute lolis and funny anime sports antics then check out Ro-Kyu-Bu! Just remember this is anime sports and not real ones, don't expect realistic basketball games.
---
2. Tenshi no 3P! (Angel's 3Piece!)

Episodes: 12
Aired: Jul, 2017- Sept, 2017
Vocaloid enthusiast Kyou Nakui is use to uploading his works online but rarely with anyone commenting on them. Despite being a hikikomori, Kyou listens to his fan's request to meet him in real life. When Kyou arrives at the location, he sees something quite strange. Instead of one fan, Kyou ends up meeting three elementary girls! These girls wish to make a band together and they want Kyou to help them make it a reality.
Stepping away from sports for a moment, we look at Tenshi no 3P! done by studio Project No.9 the same team who animates Ryuuou no Oshigoto! Like many of the dudes on our list, Kyou also deals with a bunch of lolis which leads to some very questionable moments. However, that is what makes Tenshi no 3P! so laughable as you'll laugh seeing Kyou's odd reactions to three young girls being sometimes overly close. Are you liking the sometimes-questionable antics of Ryuuou no Oshigoto!? Then we fully recommend checking out summer 2017's comedic loli anime called Tenshi no 3P!
---
3. Saki

Episodes: 25
Aired: Apr, 2009- Sept, 2009
Mahjong is a pretty popular sport in most Asian countries. There are many who consider mahjong to be one of the ultimate games. Saki Miyanaga though isn't one of these lovers of mahjong and basically doesn't like it thanks to her past experiences losing New Year's money to her family during mahjong games. Despite Saki's hate for mahjong, she still knows ways to play and how to never lose but equally never win. Despite Saki's lack of interest in playing mahjong she finds herself forced to join the mahjong school club and now must once more enter the world of a game she utterly hates.
In the anime world, we've seen popular board games like go, shogi and even chess be used as central sports for various reasons. However, we truly haven't seen mahjong be a main component until Saki. While Saki might not have lolis everywhere, it does have cute girls playing mahjong and acting quite goofy at times. Saki really surprised us when it was released back in 2009 but we think it has fallen in obscurity ever since. If you need an anime to bide over waiting for weekly releases of Ryuuou no Oshigoto!, then we think you'll like Saki. Then you can comment which of Saki's female members is your absolute favorite girl in the comments below.
---
Any Anime Like Ryuuou no Oshigoto! ?
4. 3-gatsu no Lion (March comes in like a lion)

Episodes: 22
Aired: Oct, 2016- Mar, 2017
In the world of shogi, Rei Kiriyama is pretty well known for rising up the ranks when he was only in middle school. While many would revel in this fame and popularity Rei unfortunately suffers from a surreal amount of depression and has found himself isolating himself from those around him. Thankfully, Rei's adopted family hasn't given up on him and try their best to comfort him and make Rei feel as if he is truly part of their family. Rei will slowly begin to open up from his shell as life begins to show him the beauty of friends and family. However, will Rei be able to rid of himself of his past traumas and survive the tough shogi battles he's about to face? Join Rei on his journey between the world of shogi and family in 3-gatsu no Lion.
While cute anime like Ryuuou no Oshigoto! might be fun and take shogi semi-seriously at times, we know that you might want a more serious anime to enjoy. If that is the case, let us turn your attention to 3-gatsu no Lion by studio Shaft. 3-gatsu no Lion is a drama filled title with a mixture of moral themes and of course shogi playing, but never does one element outshine the other. Many of us here at Honey's Anime HQ absolutely love the emotional rollercoaster 3-gatsu no Lion delivers week after week—the first season is over with but season 2 is currently airing—and we know you folks will, too. That's why we recommend a small reprieve from the cute lolis and silly antics of Ryuuou no Oshigoto! and recommend watching 3-gatsu no Lion. Trust us, there are also cute elements in 3-gatsu no Lion but they wouldn't overload you and are used sparingly.
March comes in like a Lion Trailer (Official Trailer)
---
5. Hikaru no Go

Episodes: 75
Aired: Oct, 2001- Mar, 2003
Shindou Hikaru found his 12-year-old life changing abruptly one day when he found an old Go board in his grandfather's attic. Once Hikaru picked up the board, he found his body taken over by a once famous go player who killed himself in the past but desperately wanted to play Go once more. Introducing himself as Sai, Hikaru finds that this ghost wants Hikaru to play Go in his stead. Decided to give into Sai's pleas, the young Hikaru decides to enter a Go battle but with a prodigy known as Touya Akira. Now Hikaru must become an ultimate Go player to help Sai fulfill his last wishes in Hikaru no Go.
Sports anime have always been hit or miss in the anime world. Some people love the ridiculous nature of how sports are played while others find it too ridiculous. Hikaru no Go, however, blends reality with fiction as it well known for being one of the more popular shounen board games. While Hikaru no Go might not be filled to the cusp with loli females, it does have similarities in mixing comedy with a board game and that's why we like it a lot. Hikaru no Go was one of the more popular shounen anime and manga series to release in the world so why not check it out to see why it was so loved for yourself?
---
6. Teekyuu

Episodes: 12
Aired: Oct, 2012- Dec, 2012
What do you get when you mix four girls who rather have fun than play tennis? You get Teekyuu an anime that sometimes forgets people have limits and can't fly around or pull off impossible feats. Watch as friends Kanae, Nasuno, Marimo and Yuri go to tennis club and usually goof around more than play. Expect the unexpectable in Teekyu. Seriously, some of the actions of these girls really would probably get them thrown out of school…
Let us end our 6 Anime Like Ryuuou no Oshigoto! list with Teekyuu. Teekyuu's enjoyment comes in numerous forms like the fact that each episode is only 2 minutes long and is filled to the brim with amazing amounts of crazy comedy. Teekyu might not focus on tennis—the main sport within the show—on even a small amount in comparison to Ryuuou no Oshigoto!, but that's okay. We know for a fact you won't even care about the girls playing tennis as you'll be holding your sides laughing at some of the absurd antics they perform on their friends, strangers and even on themselves in Teekyuu. Though, tennis is played once in a while…but seriously only once in a while.
---
Final Thoughts
Ryuuou no Oshigoto! has been one interesting comedy this winter 2018 season. While Ryuuou no Oshigoto! hasn't hit numbers—in terms or reviews or ratings—Ryuuou no Oshigoto! has been enjoyable to many of us here at Honey's Anime and in the anime community in general. That's why we know you'll love our recommendations above if you're currently enjoying Ryuuou no Oshigoto! What are your thoughts on the anime we mentioned or Ryuuou no Oshigoto!? Share with us your inner mind down below and for all your recommendation needs be sure to keep coming back to our hive here at Honey's Anime.
---