También puedes leer este artículo en:Español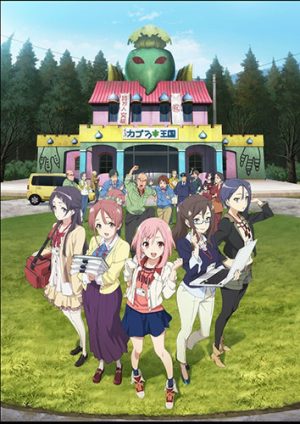 Introduction
"I was born in a small town, and I live in a small town . . . My job is so small town, provides little opportunity," John Mellencamp wrote those words about middle America, but they ring true for people who live in the small towns and villages around the world. The places that have pride in what they produce, despite what they make and how they make it has changed, moved on or is simply no longer in high demand, leaving the town struggling. Sakura Quest is about a town that is trying to find itself in the new economy, an economy where artisan woodworking and farming just aren't the prosperous careers they once were. The town of Manoyama has a plan for revival of its "mini-kingdom" -- the kingdom of Chupacabra. It's a tourist trap, and for that they need a Queen.
Yoshino Koharu is a recent college graduate and she has been out on 30 job interviews and struck out 30 times. She is referred by a modeling agency to the tourism department of Manoyama. Yoshino arrives thinking it's a one-day job, but realizes too late the contract was for a year. She is stuck being Queen of Chupacabra, a.k.a. the tourism ambassador of Manoyama. She is joined by four other young women, some from town and some from Tokyo, as they find ways to drive tourism and promote the businesses of this country town on the edge of disappearing. The girls work hard and gain experience about the job, the town and about life and themselves. Let's look at six anime that are just like it!
Similar Anime to Sakura Quest
1. Shirobako

Episodes: 24
Aired: Oct. 2014- Mar. 2015
Shirobako, the shiro (white) and bako (box) referring to the blank page an artist fills, is an amazing anime about making anime. The president of P.A. Works, the production company that made the anime, said he "wanted to make an anime about the industry as it exists in present." The result is storytelling at its best. We watch the tale of five young women, former members of their high school animation club, as they begin their careers in the anime industry. Aoi Miyamori, a production desk assistant, provides the lens we see the story through, since the desk tends to touch all parts of the process of making an anime.
The two anime, besides both being from P.A. Works, are extremely similar. Sakura Quest and Shirobako both have a cast of adults, young and old characters each with their own unique perspective on things. The core casts of both programs are all female as well. You will easily see similarities in character design as well. You won't get any truly exaggerated proportions with the female members of the cast. You'll see some eccentricities in the cast, but eccentric people generally are more interesting to write about. One of the biggest similarities is the story; both could easily have been dramas with living, breathing actors. The settings are realistic and the situations relatable, making them both connect with the audience on multiple levels.
Shirobako Trailer:
---
2. Hanasaku Iroha

Episodes: 26
Aired: Apr. 2011- Sep. 2011
Ohana Matsume never really had a care in the world. She was a Tokyo girl living a busy city life filled with school and friends. The harsh reality of the world crashes down on her when she is left to fend for herself when her mother and her mother's boyfriend skip town to avoid debt collectors. She is forced to move to the countryside and stay with her stern grandmother who runs a small inn. Her grandmother doesn't give her a free ride, she is required to work as a maid at the inn to earn her keep. Ohana must find ways to adapt to her environment, not only to survive but also to thrive in a new town and with new friends.
We once again have a P.A. Works anime, just like Shirobako and Sakura Quest. A difference is we do focus on a high schooler this time, but the theme is still the same. The lead character is asked where she fits in the world. The stories are both anime about realistic young women and the jobs and relationships they have. Both Yoshino and Ohana are struggling to succeed in an industry they never imagined themselves in; Yoshino in tourism and Ohana in hospitality. We could easily see these stories taking place in the same universe considering their similar themes and art styles.
Hanasaku Iroha Trailer
---
3. Bakuman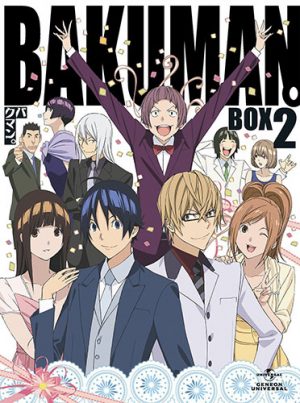 Episodes: 25
Aired: Oct. 2010- Apr. 2011
The life of a mangaka is not an easy one to start. You can work hard for years and never make it big. Moritaka Mashiro has the talent as an artist but gave up on his dream after a tragedy in his life. He decided instead to prepare for a life as a 9-to-5 corporate worker. Akito Takagi, a classmate and aspiring writer, notices the sketches in Moritaka's notebook. Akito convinces Moritaka that they should become mangaka and work to create a manga series. The two dedicate themselves to achieving their dream of creating the greatest manga series ever. They adopt the pen name of Muto Ashirogi and pour their passion into the project.
Bakuman and Sakura Quest have some similarities that are worth pointing out. The stories each provide a glimpse of what it can be like to work in a particular industry; in Sakura Quest it's working for the tourism board of a small town, and in Bakuman it's the struggles of getting started in the manga industry. We do see a little inverse in the two series, while Moritaka feels at the beginning he is forced to give up his dream to become a salary man, Yoshino's whole goal was to become a 9-to-5er working for a company. Moritaka and Yoshino both find themselves in an unexpected career and are willing to do their best and make the most of what they are given. The two characters are also supported by strong ensemble casts whose own stories fill out the universe.
Bakuman Trailer
---
Any Anime Like Sakura Quest ?
4. Amagi Brilliant Park

Episodes: 13
Aired: Oct. 2014- Dec. 2014
A date that turned into a job is how the story of Amagi Brilliant Park begins. Kanie Seiya is an extremely smart and attractive high school student. He is asked out on a date by the beautiful Sento Isuzu to Amagi Brilliant Park. It's an amusement park, a rather run down amusement park as he finds out. Sento's true motive is to recruit Kanie as the new manager. The story is classic, a greedy land developer wants to exploit the land use contract to redevelop the land if they don't reach a quota of 250,000 guests in the next three months. The catch is the park is a haven for the other-worldly Maple Landers. No, Maple Landers doesn't mean they are Canadian. The Maple Landers are beings, refugees, who live in the human world and live off the magical energy of people having fun. Kanie likes a challenge and goes to work trying to revitalize the failing park.
What do a show about an amusement park and a local tourism board have in common besides the hospitality industry? The anime both have excellent artwork and character design. Amagi Brilliant Park may not be as down-to-earth in character design and plot, but the design is brilliant. We get a large ensemble cast in both stories with expressive characters that each have their own jobs and personalities. Yoshino and Kanie are both young protagonists that are just at the beginning of their careers. Kanie is still in high school and being saddled with enormous responsibility. The two stories are also about the daily tasks required to run an organization, from staff meetings and employee conflicts to budgets -- and not letting those obstacles get in the way of becoming a success.
Amagi Brilliant Park Trailer
---
5. Locodol (Futsuu no Joshikousei ga [Local Idol] Yattemita)

Episodes: 13
Aired: Jul. 2014- Sep. 2014
At one time, Nanako Usami was an ordinary high school girl, that is until she is pretty much forced to become a "Locodol" (Local Idol) for the town's tourism board. She is joined by her sempai Yukari Kohinata and they become Nagarekawa Girls, an idol unit whose purpose is to highlight the city's businesses and attractions. The anime is a bit slice-of-life and a big part comedy.
The first and most obvious thing that Sakura Quest and Locodol have in common is they are about the tourism industry. Nanako and Yoshino are completely unprepared for the jobs they have just been drafted into and don't really have an exit plan. The two young women are willing to do what it takes, even if it involves embarrassing themselves to get the job done. We also get to watch both characters tackle the challenges of taking the everyday and ordinary and trying to sell it as something special. Or the challenge of taking something special, that the town lives with every day, and convince them it's worth bragging about. The two stories both challenge many of us to look around at our home towns and realize there is something special there, something we'd like to share with the rest of the world.
Locodol PV
---
6. Ristorante Paradiso

Episodes: 11
Aired: Apr. 2009- Jun. 2009
A chance for revenge fades into a beautiful life for Nicoletta. Olga, Nicoletta's mother, ran off when Nicoletta was a child to remarry in Rome. Nicoletta wanted revenge for being abandoned and now a young woman tracks her mother down to the Casetta dell'Orso -- a restaurant in Rome. She steps through the doorway and the fury begins to fizzle. She is enchanted by the native dances, the charming songs, the food and atmosphere. She is quickly seduced by the life surrounding her and begins to forget the negative feelings that brought her to the door. Nicoletta doesn't realize what's happening until it happens; she has fallen in love with the romance of everyday Italian life. We know if you've been to Italy this has probably happened to you, so it's not too far-fetched.
You may have noticed one of a couple of themes that connect these shows. The service industry is definitely one of them, be it tourism, theme parks, or restaurants. Ristorante Paradiso and Sakura Quest are both reliant on a strong cast, not just a main character, to carry the story. We are easily enchanted by the staff of the restaurant just as Nicoletta is and feel like we can form a bond with the girls at the tourism board in Sakura Quest. Yoshino, like Nicoletta, has a quick change in purpose as well. Yoshino thinks she's only going to be there for a day and ends up staying for a year, Nicoletta stewed for years on how to get back at her mother and finds herself falling in love with Rome. Sakura Quest and Ristorante Paradiso are both stories about discovering what you're good at and what makes you happy.
---
Conclusion
Sakura Quest is about a town and its industries trying to find its place in the greater economy of the world. The people are trying to figure out where their traditions fit into the encroaching fast-paced modern world. The tourism director is constantly trying to prove his town is just as worthy of respect and visitors' time as Tokyo. Sakura Quest is about the girls, Yoshino, Shiori, Maki, Sanae and Ririko, trying understand who they are when the lives they each had dreamed of never materialized. Sakura Quest is about new beginnings for people and towns and how they have to change and adapt to new challenges.
---