También puedes leer este artículo en:Español
Upon first glance, School Days looks like an innocent enough anime. Its slice-of-life and harem themes carry on throughout the series, until events start to become twisted. This is the reason that School Days is infamous – it takes the classic harem anime we have come to understand and turns it on its head, exploring the darkest parts of the human heart. The series ends in a unique, unexpectedly dark turn that no one could have seen coming. You're not quite sure who you should hate, whose side you should be on, or what you should be feeling. Because of this, many people are left dissatisfied with School Days. But if you're among those who leave the last episode wanting more, where can you turn to?
We'll be honest here – School Days is an anime set apart by itself. There aren't many others genuinely like it that give you that shocking, crazy ending. That being said, we here at Honey's Anime have found several anime that you might be able to enjoy if you wanted more of School Days. While the anime on this list might not be as shocking or twisted as School Days, they still offer the same themes and genres, and can be just as surprising.
Similar Anime to School Days
1. Kimi ga Nozomu Eien (Rumbling Hearts)

Episodes: 14
Aired: Oct. 2003 – Jan. 2004
Kimi ga Nozomu Eien is from the perspective of an unsuspecting male protagonist, a contrast from School Days' Makato Itou being the instigator of the romance. Kimi ga Nozomu Eien follows Takayuki Narumi as he and two different girls are tangled up in a romantic drama. Mitsuki Hayase agrees to befriend Takiyuki for her friend Haruka Suzumiya, who has a crush on Takiyuki. Sound familiar? The problem comes when Takiyuki and Haruka finally begin dating, but Mitsuki and Takiyuki realize they have feelings for one another. And when things suddenly get much worse, the group will find their lives changed forever.
Kimi ga Nozomu Eien follows a plot incredibly similar to School Days, just without all of the gory violence of its ending. It still has its emotional moments, but losing the psychological element of School Days is certainly noticeable. You can expect a much tamer series, though this anime still manages to draw you in, giving good personality and emotion to each character. Much more than in School Days, you will root for your favorite characters to end up together, all the way until the end. Be prepared for intense feels!
Rumbling Hearts Box Set Trailer
---
2. Yosuga no Sora: In Solitude, Where We Are Least Alone. (Yosuga no Sora)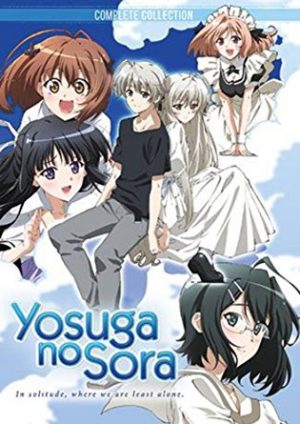 Episodes: 12
Aired: Oct. 2010 – Dec. 2010
If you are looking for another anime with complicated romantic drama, look no further than Yosuga no Sora! The series begins with twins Haruka and Sora Kasugano coming back to their home in the countryside. The two decide to return after their parents both die in a car accident, leaving them to start over, returning to a place of memories. Old childhood friends Nao Yorihime and Akira Amatsume, as well as new friend Kazuha Migiwa, welcome them back. Yet, soon, emotions threaten to overwhelm the twins and their friends, as their past collides with their present. And as a secret begins to be revealed, questions of what is right and wrong will be brought into play.
Yosuga no Sora is another anime where sex and emotions become entangled, bringing about romantic drama. Both Yosuga no Sora and School Days involve harems – yet while School Days studies the darker aspects of humanity, Yosuga no Sora looks at how people judge each other and decide what is right or wrong. It should be noted that Yosuga no Sora is for a mature audience, as School Days is, yet Yosuga no Sora doesn't contain the violent aspect of School Days. However, if you loved School Days, you will love Yosuga no Sora's thought-provoking series.
---
3. Myself; Yourself

Episodes: 13
Aired: Oct. 2007 – Dec. 2007
Myself; Yourself is an anime following Sana Hidaka, a young boy who moves away from his childhood friends and then returns when he is 16. He expects to pick up his relationships with his friends where they left off. The town itself seems to be exactly the same. But upon his return, Sana finds that his friends have changed, and the new secrets that they hold will threaten the group's ties. This anime may not seem as dramatic or surprising as some of the others on this list. Yet, its appearance is deceiving. More than the typical romantic school drama, the need to know what will happen next in Myself; Yourself will keep you watching until the end!
Myself; Yourself and School Days share the romantic drama theme equally, even while School Days is certainly more dark. While Myself; Yourself is not necessarily a harem in the typical sense, it has the feel of a harem. What we mean by this is that the relationships formed in this anime are not all strictly romantic, but there are still plenty of tangled webs of ties between characters. And the drama in Myself; Yourself is certainly felt! Each character has important development, and is vital to the overall story. So while Myself; Yourself and School Days may not have the same psychological twist, we think you will still be pleased with the ending. Give it a shot!
---
Any Anime Like School Days ?
4. Kuzu no Honkai (Scum's Wish)

Episodes: 12
Aired: Jan. 2017 – Mar. 2017
Hanabi Yasuraoka and Mugi Awaya seem, to the rest of the world, like a perfect couple. Yet these two are together simply because they share the same lonely pain – they are in love with people they cannot be with. Hanabi is in love with her homeroom teacher Narumi Kanai, whom she has known since they were children. But Narumi is noticed by the music teacher, Akane Minagawa, and a relationship between the two begins to form. Meanwhile, Mugi has loved Akane since middle school, and is also upset by the current arrangement. In trying to figure out how to deal with the pain of their loneliness, Mugi and Hanabi turn to each other. However, will a substitute of another body be enough?
Kuzu no Honkai is a romantic drama which shows how the "use" of other people will not help one's own pain. This is similar to School Days – the main character in School Days uses girls for sex, while trying to decide what his true feelings actually are. In Kuzu no Honkai, Hanabi and Mugi use one another as surrogates for the ones that they love, choosing each other simply because they are in the same situation. While School Days has a very tangible dark side, Kuzu no Honkai's dark side comes more from within, being eminent in the emotions the characters show. Kuzu no Honkai is certainly tamer than School Days, but still has its own worth. And the animation is beautiful! The newest anime on our list, Kuzu no Honkai is a hidden gem.
Kuzu no Honkai (Scum's Wish) PV
---
5. White Album

Episodes: 13
Aired: Jan. 2009 – Mar. 2009
What happens when a regular college student is dating an idol singer? Touya Fujii is just an average student trying to get through his college work, but one of his biggest problems is the lack of time he gets with Yuki Morikawa. Yuki is a new idol singer with her own drama to deal with. As she continues to get more popular, Yuki faces the cutthroat industry and her veteran rival, Rina Ogata. Will she be able to survive and thrive as a successful idol? And will her relationship with Touya last, or will the new people he meets and Yuki's career get in the way?
White Album is a harem anime with a more realistic outcome, much like School Days (although that series is a bit extreme). And with White Album, you even get the added bonus of a great soundtrack! White Album and School Days also share the aspect of a dramatic tragic ending. The best part of these series is that they try to break the mold of the typical and go their own path with the storyline.
---
6. Nagi no Asukara (A Lull in the Sea)

Episodes: 26
Aired: Oct. 2013 – Apr. 2014
Nagi no Asukara follows a group of childhood friends who were raised in an underwater city, and go to school on the mainland. Hikari Sakishima, Manaka Mukaido, Chisaki Hiradaira and Kaname Isaki must learn to deal with the prejudices that people raised on land have for those who live in the sea. The group soon befriends Tsumugu Kihara, another student whose family has close ties with the sea. Just as they are beginning to unite with the people of the land, the friends learn of an event which could endanger all of their new comrades. Not only do they have to deal with the approaching storm, but they also must face their own emotions. Can Hikari and his friends find the balance between the rolling waves and their hearts? We won't spoil it for you, but trust us – the romantic drama in this show is everywhere!
Nagi no Asukara and School Days are both romantic dramas through and through. And while nothing can match the dark intensity of School Days, Nagi no Asukara deals with other themes like discrimination and self-sacrifice. Hikari has an almost harem-like experience, as most of the girl characters in the series are in love with him at some point. Fans that are looking for an interesting plot to add to the romantic entanglement should look no further! This anime is much tamer, but that does not make it any less good.
Nagi no Asukara PV
---
Final Thoughts
Well, that does it for our list! While nothing can ever quite match the unique flavor that School Days has, we believe that the anime on our updated list can at least come close. Have you seen any of our new options? Did we miss any anime you think might be closer to School Days? Let us know in the comments!
---
---
School Days has become an anime whose reputation far exceeds its fame. Dubbed by many as a masterpiece, and dubbed by just as much people as a convoluted mess, it has nonetheless become an anime that is simply impossible to forget. With a storyline that takes a very dark turn to a set of characters that become archetypes of the darkest sides of the human psyche, School Days is one anime that will stick with you no matter what.
Despite its reputation, one cannot deny the fact that the creators of School Days were very courageous to some extent, taking the slice of life and romance genre and deconstructing it to an extreme level. As the end credits of the final episode starts rolling, you as the viewer will surely experience catharsis like never before. Maybe that very fact is the reason why the anime is just that notable. It's because it is the one series that was able to draw out real, even primal emotions from its viewers.
So if you liked School Days, or at least find the emotions it triggered within you interesting, these six anime may very well be for you. Here then, are 6 Anime Like School Days!
Similar Anime to School Days
1. Higurashi no Naku Koro ni (When They Cry)

Episodes: 26
Aired: April 2006 – September 2006
Higurashi no Naku Koro ni involves the story of Maebara Keiichi, a young boy who has just moved into the quiet town of Hinamizawa. While there, he becomes close with a number of local girls, but when a grisly murder takes place in the quiet town, Keiichi realizes that his friends may not be what they seem after all.
What makes Higurashi and School Days quite similar is the way that they use they outward appearance and presentation as a way to catch the viewer off guard. Both anime utilize an art style that has usually been reserved for innocent, lighthearted titles. However, as the story unfolds on both series, one realizes that the anime goes into the deepest, darkest depths of the human heart. Overall, very few people have managed to watch these two titles without experiencing a shock of some sort. And for good reason too.
---
2. True Tears

Episodes: 13
Aired: January 2008 – March 2008
True Tears tells the touching story of a young man, Shinichiro Nakagami, and his childhood friend, Yuasa Hiromi, who has been living with his family after her father passed away. Though close when they were growing up, Shinichiro starts noticing that the beautiful Hiromi is starting to become a shell of her usual self. As he tries to get her to open up to her once more, their lives become entwined in a story that will ultimately change them both.
True Tears and School Days have similar elements in the way that both anime deal with characters that are of the same age and are having the same struggles. The theme of unrequited love is common in both anime, as well as the concept of love being able to change a person. Both also have very good production values. In a way, True Tears is a lot like School Days, filtered many times over until the plot has achieved its purest state.
---
3. Shin Seiki Evangelion (Neon Genesis Evangelion)

Episodes: 26
Aired: October 1995 – March 2006
Evangelion tells the story of 14-year-old Shinji Iraki, a young man who was summoned to Tokyo by his father after being abandoned for many years. Upon arriving in Tokyo, Shinji is forced to fight for humanity's survival using the Evangelion, a gigantic, organic mecha. However, it isn't long before Shinji begins to find himself in the middle of a series of events that may very well decide the fate of the human race itself.
You might be wondering why Evangelion is in this list, which is populated usually by horror/slice of life titles. Within the plot of Evangelion and School Days lies a literary concept that has been attempted very few times – Deconstruction. As Evangelion is the deconstruction of the mecha genre, School Days is a deconstruction of the slice of life and romance genre. Apart from this, both anime are also very psychological in nature, delving into the inner struggles of the characters' subconscious in the midst of life-changing events.
---
Any Animes Like School Days ?
4. Mahou Shoujo Madoka Majica (Magical Girl Madoka Majica)

Episodes: 12
Aired: January 2011 – April 2011
Mahou Shoujo Madoka Magica centers on the story of 14-year-old Madoka Kaname, a young girl who treasures both her family and her friends beyond all else. After the arrival of a mysterious student in her school, she meets a mysterious creature, Kyubei, who offers to grant her one wish in exchange for her to become a magical girl. As Madoka is soon to find out however, things are usually not as simple as they may seem.
This anime and School Days are quite similar in the way that they are visually deceptive. Both anime presented themselves as innocent series that are no different from the countless others in their respective genres. However, as viewers eventually found out, they are all but that, as they featured a storyline that was borderline naturalistic. Also, both series explore the theme of doing what is right and doing what is convenient, as well as the underlying consequences, the butterfly effect if you may, of decisions that one chooses to make.
Puella Magi Madoka Magica Trailer
---
5. Nana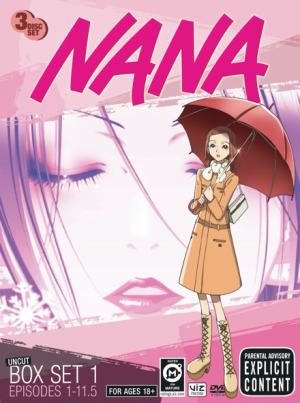 Episodes: 47
Aired: April 2006 – March 2007
The story of Nana involves two very different young women who share the same name. One is a selfless young woman following her boyfriend to Tokyo to live a life she has always dreamed of, while the other is the liberal, lead vocalist of a punk rock band who also wants to make it big in the capital. Soon, the two women find themselves living under the same roof and with that, a remarkable friendship begins.
Nana and School Days actually have a lot of common themes. Both deal with the complications of relationships, as well as the darkness of deceit. Cheating on a significant other is also explored in both anime, as well as the point at which one loses his/her innocence. If True Tears is School Days in its purest form, Nana is, in a number of ways, School Days in a very sophisticated, polished and mature form. This is one title that, if you enjoyed School Days, you should never miss.
---
6. Mirai Nikki (The Future Diary)

Episodes: 26
Aired: October 2011 – April 2012
Mirai Niki tells the story of Amano Yukiteru, an extremely introverted young man who spends his day writing a diary entry of everything that happens around him. Soon, he finds himself in a deadly survival game where only one will survive, and where the prize of victory is the honor of being the god of time and space. With the innocent-looking, yet just as deadly, Gasai Yuno, Yukiteru discovers that human beings are capable of doing anything in order to get what they want, regardless of the cost.
What is very notable about Mirai Nikki and School days is the fact that they both share the elements of the yandere genre, with Kotonoha of School Days being a prototype and Gasai Yuno of Mirai Nikki being the perfected profile of the psychologically-twisted anime female. Also, both series feature a number of dark and mature themes, such as traumatic experiences and even gore to some extent. Overall, both anime are designed to shock the viewer at some point, and in a lot of respects, they have done just that.
---
School Days is truly an anime that has achieved what it set out to do. It was created as a deconstruction of the slice of life and romance genre, and as it story unfolded, it gave its viewers a deconstruction of such degree that has not been seen in anime hence. Of course, the six mentioned here are but the tip of the iceberg, so if you have any other recommendations, feel free to mention them in the comments below!
Till the next list, everyone!
---