También puedes leer este artículo en:Español
A new idol anime is airing and it's crazier than anyone could have expected.
For those of you that are not familiar with Sekkou Boys, let me give you a quick overview. We have Miki Ishimoto, a young girl who just graduated college, ready to take on any challenge standing in her way. She just landed her first job and is excited to be the manager for a new boy band. But everything goes down from the moment she meets those boys. Why, you ask? Because they are all stone busts! Get ready to meet Saint George, Medici, Mars and Hermes.
If you are still reading this and haven't given up on Sekkou Boys yet, we want to give you six anime that are somewhat similar to this unique little gem. Enjoy!
Similar Anime to Sekkou Boys
1. Arakawa Under the Bridge

Episodes: 13
Aired: April 2010 - June 2010
First up is a show that just has to be mentioned when talking about crazy, over-the-top stories.
Arakawa Under the Bridge is your not-so-average love story. It all starts with Ichinomiya Kyo, prospective president of a highly successful company, almost drowning after falling off a bridge and having to ask a passing girl for help. Because of his life motto to never be indebted to anyone he is ready to do anything to make it up to the girl called Nino. As it turns out, she lives underneath the bridge, claims to be an alien from Venus and wants him to experience love with her. Get ready to pay your debt back, Kyo!
Arakawa Under the Bridge is as much a romance anime as Sekkou Boys is an idol anime. They are both setting up a "normal" storyline, only to turn everything upside down with their main cast. Speaking of them, both shows have characters that get more than just a few laughs with their weird personalities. If you are looking for an adventure you won't forget, give this show a try.
Arakawa Under the Bridge - Official Trailer
---
2. Thermae Romae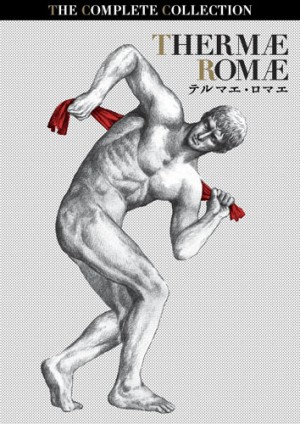 Episodes: 3
Aired: January 2012 - January 2012
Our next recommendation is as unknown as it is entertaining. It's time for Thermae Romae!
As you might have already guessed from the title, this anime revolves around ancient Roman bathhouses and one guy who loves them more than anyone else: Lucius. He is an architect for public bathhouses and is always ready to improve his skills. Lucky enough, he gets to time-travel to modern day Japan and experience their bathhouse culture first hand.
This recommendation goes out to everyone who loves the combination of ancient Roman history with Japanese anime. Even though this show only has a couple of episodes to offer it is still entertaining and definitely worth a try, just like Sekkou Boys. These shows are not afraid to stand out and that's why you should check them out.
THERMAE ROMAE -NoitaminA Animation- 【Fuji TV Official】
---
3. Miss Monochrome: The Animation

Episodes: 13
Aired: October 2013 - December 2013
Let's bring this list back to the realm of idol shows, and what anime would be more suited for that than Miss Monochrome?
Miss Monochrome started out as an original character design for a 3D virtual singer. The girl that loves everything monochrome and despises color quickly gained popularity and after countless merchandise has now made the jump to Japanese TVs. This anime consists of episodes that are only four minutes long and will guide you into the black-and-white world of Miss Monochrome.
Not only does this show revolve around singing idols, but it will give you the same "what did I just watch" feeling like Sekkou Boys. Since each episode is so short, the producers didn't waste time to come up with a deep or touching storyline. Instead, you will get lots of random moments with fantastic humor. Give this charming girl a try; I am sure you won't be disappointed.
Miss monochrome -The Animation- 2 Bansen ver video 30 seconds
---
Any Animes Like Sekkou Boys ?
4. Osomatsu-san (Mr. Osomatsu)

Episodes: 24
Aired: October 2015 - March 2016
Fans of Japan will already know him and everyone else, allow me to introduce you to Osomatsu-san.
The original story of Osomatsu-san or rather Osomatsu-kun was first published in the 1960s and became one of the most well-known stories in Japan. Just like the manga, the newest anime adaptation revolves around the everyday life of the Matsuno siblings, six brothers who look identical but greatly differ in their personalities. This show will make you laugh like no other!
Osomatsu-san is great when it comes to sustaining a story with amazing characters. These boys don't go on a great adventure, but their weird personalities and the way they interact with each other are entertaining enough to make this anime worthwhile. If you like the randomness and humor of this show, chances are you will also enjoy Sekkou Boys.
TV anime "Osomatsu's" teaser PV
---
5. Danshi Koukousei no Nichijou (Daily Lives of High School Boys)

Episodes: 12
Aired: January 2012 - March 2012
You cannot get enough of boys facing their everyday challenges? Don't worry; we have another great recommendation with Danshi Koukousei no Nichijou.
The name says it all. Daily Lives of High School Boys will introduce you to three students at an all-boys academy who just cannot wait to grow up. They are at that age where they have to face all the struggles of everyday life including love, hobbies, sports and friends, while still finding a way to study and succeed at school. No wonder that these boys seem to slowly lose their minds.
This anime is simply hilarious. Not because of its setup which could easily be a common Slice of Life shows, but because of all the random jokes and situations that the boys are thrown into. Sekkou Boys and Daily Lives of High School Boys both revolve around - you name it - boys, but show them in two completely different situations. What remains the same though is the way they interact with each other and all the hilarious jokes you can get out of their encounters.
Daily Lives of High School Boys - Official Trailer
---
6. Show by Rock!!

Episodes: 12
Aired: April 2015 - June 2015
Last but not least we have another show revolving around music and crazy characters.
Welcome to MIDICITY, capital of the music industry. Here you will meet a girl group that consists of more than unique characters. We have Cyan, a kitty girl with lolita fashion, rabbit girl Chuchu, dog girl Retoree and of course an alien sheep named Moa. Can this girl band beat their opponents and make their way to the top of the music industry?
A boy band with stone busts or a girl band with animal characters - you choose which idea is the crazier one. Fact is, both shows don't take the idol and music genre too serious and that is what makes them so charming. You still get to enjoy music and the struggles of working in the music industry, but at the same time there is this weirdness factor that makes both shows so much more entertaining. Our final recommendation!
TV anime "SHOW BY ROCK !!" main PV first step
---
Conclusion
Well, that was a weird list, wasn't it? But if a show is as weird as Sekkou Boys, we simply had to go down the rabbit hole and present you with some of the most unique shows that you can find online. All of our recommendations might be a little bit over-the-top, but they will definitely make you laugh with their random moments and unique characters.
Which recommendation was your favorite and which shows do you want to try out? As always, your comments are more than welcome down below.
---