También puedes leer este artículo en:Español
Shigatsu wa Kimi no Uso (Your Lie in April) certainly caught the anime industry by storm. With its creative fusion of the music and romance genres, Shigatsu brought about an unparalleled tale of tragic love with the influence of music to substitute human speech and harness the spirit of human emotions. It shot up the ranks after just a few weeks of airing. The success of Shigatsu can be attributed to its masterful play on directing and manipulating the propensity of human emotions towards love - the supreme force that can transform a human being.
No doubt it was the concept of tragic love that was ingrained into our memories, the complementing classical pieces that were chosen also blends perfectly into the story. The individual styles of each musician can be heard and seen, expressing grief, happiness, anger or disappointment. The light comedy that was injected also provided a breather after several 'flags' were raised to signal the inevitable vicissitude that was to follow. All in all, Shigatsu was definitely a masterpiece of our modern times, one that took us by surprise and awe. So for today's list, we will be comparing 6 other animes that touches on the concepts that was displayed by Shigatsu - tragic love, sad romance, music and its transformative effects on humans. It's going to be hard but let's give it a shot!
This is an updated list. Please scroll down to see the old one!
Similar Anime to Shigatsu wa Kimi no Uso
1. Sakamachi no Apollon (Kids on the Slope)

Episodes: 12
Aired: Apr 13, 2012 to Jun 29, 2012
A reserved and classical piano player Kaoru Nishimi had just recently transferred to a Kyushu high school. Due to the constant movement of his family, he lost all hopes of blending and fitting into his new environment. That is until he meets a delinquent named Sentarou Kawabuchi. Sentarou's endless love for the jazz genre piqued Kaoru's interest. Slowly but surely, he started to play the piano for the sake of jazz. With his skills, he realised that he had the power to bring joy to others listening to his music. Sakamachi is a story about the relationships that forms through the power of music.
Sakamachi is quite similar to Shigatsu in the way that we see an uninspired musician finding joy in playing his instrument again. Aided by another individual, the characters manage to play music that not only transforms their audience, but themselves as well. Whereas Shigatsu emphasizes love, Sakamichi emphasizes friendship but both uses music as a catalyst for forming relationships. Both music animes taught us that music is the expression of the soul and how through using music, we can understand ourselves better. This is clearly seen when the music in both animes also portrays the emotions of the characters. Definitely a must try if you loved Shigatsu!
Kids On The Slope Trailer
---
2. White Album 2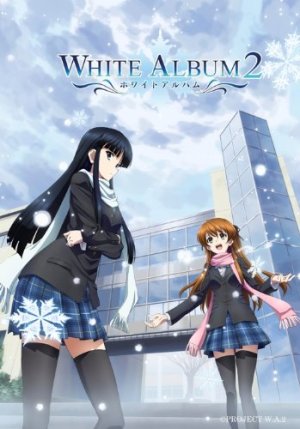 Episodes: 13
Aired: Oct 6, 2013 to Dec 29, 2013
Haruki Kitahara's beloved light music club was about to be disbanded. With the dissolvent of the club, so too does his dreams of playing at the stage of the school festival. Powerless and unsure of what to do, Haruki strummed along to a piece named White Album. Little does he know that this piece was about to be the first piece he would ever play. As soon as he does that, an unknown voice began to harmonize and resonate with this guitar. This inspiring, ad hoc performance marks the beginning of Haruki's dreams.
Both White Album 2 and Shigatsu use music as a plot device to progress the story as well as the relationship between characters. White Album 2 purely focuses on the romance genre though not as tragic. Both protagonists are also struggling in an aspect in their lives when a female protagonist comes along and changes their outlook on life. OSTs wise, both uses music to express the character's feelings and emotions and eventually, how it harnesses the power to transform individual lives. While not as tragic as Shigatsu, White Album 2 is equally as popular and you should definitely give it a try!
WHITE ALBUM2 TV Anime CM Setsuna Ogiso Version
---
3. Plastic Memories

Episodes: 13
Aired: Apr 5, 2015 to Jun 28, 2015
Giftias are android robots that are created to possess human emotions. The downside to this is that they come with a fixed expiry date. Thereafter, all of their memories are wiped clean. Tsukasa Mizugaki had failed his college entrance exams but because of his connections, he manages to secure a job with a corporation that deals with Giftias. Particularly, Tsukasa is assigned to collect Giftias that have lapsed their service time. His partner, Isla also happens to be a Giftias. Both of them will have to come to terms with their feelings for each other before she is finally put to rest.
Although Plastic Memories does not use music as a central theme, one of the themes exhibited in Shigatsu is extremely depicted well in Plastic Memories. The theme of tragic love is heavily explored in this anime. Both animes shares the same deep level of character development in order for the concept to be fully realised. Instead of music, the emotion of love is used as the plot device to showcase its transformative effects on a human. Despite being a story of tragic love, the story does have quite a positive ending and effect for the main protagonist similar to Shigatsu.
Plastic Memories Trailer
---
Any Anime Like Shigatsu wa Kimi no Uso?
4. Kiniro no Corda: Primo Passo (La Corda D'Oro: Primo Passo)

Episodes: 25
Aired: Oct 2, 2006 to Mar 26, 2007
Kahoko Hino is a student enrolled in one of the most prestigious school. Divided into 2 sections - the Normal Branch which she is in, and the Music Branch. However, Kahoko does not possess any musical knowledge until the appearance of a fairy named Lili. She was bestowed a magical violin that plays directly from her emotions. Due to this encounter, Kahoko became the only Normal student to play in the musical competition organized by the school. Now, she becomes embroiled in a competition amongst fellow competitors and her peers.
Kiniro no Corda explores the struggles of being a musician. Likewise in Shigatsu, where its characters are shown to be in internal conflict with their play style, Kiniro emphasizes on the importance of using feelings and emotions to play a piece. The protagonists for both animes also feature a violinist. The romantic aspect was not touched in Kiniro, but the level of music chosen for the anime beautifully complements the story line as well with classical music being the choice and style of music used. If you're a fan of music anime and the musical component of Shigatsu, you can give Kiniro a try!
---
5. Tari Tari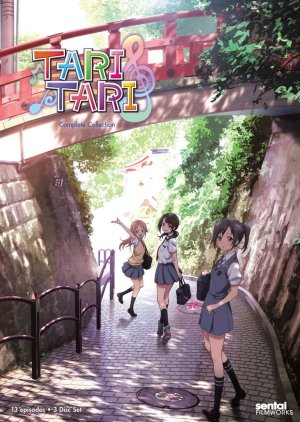 Episodes: 13
Aired: Jul 1, 2012 to Sep 23, 2012
A recital is held every year at Shirahamazaka High School for music students to showcase their musical talents. Konatsu Miyamoto was a choir student but because of her performance in the previous year, she had since been barred from taking part in this recital. Earnest and sincere however, she sets up a second choir to pursue her dreams. Konatsu realises that it is harder than she thought. She has to reach the minimum number of students to form a club. Will she be able to find the people she needs and become good enough to sing at the recital this year?
Tari Tari is a touching story on how singing in unison has the effect of bringing a group together as well. Once again like Shigatsu, it shows us the transformative effects of music in developing and nurturing ourselves. Wakanai Sakai in Tari Tari also shares the jaded view of music and has since sworn off it. But with circumstances and a little push, she comes back stronger than ever and even more inspiring than ever. Truly, music has become synonymous with the human emotions such that it breaks the boundaries of words. If you loved the effect that music has on the protagonists in Shigatsu, Tari Tari has a similar plot to showcase the effects of music.
---
6. Nodame Cantabile

Episodes: 23
Aired: Jan 12, 2007 to Jun 15, 2007
Chiaki Shinichi is a perfectionist in the field of music. With his talents, he aims to play amongst the virtuosos in Europe. His life was about to change with his meeting with Noda Megumi - a free spirited pianist who simply can't follow the music sheets. Chiaki is baffled at Megumi's take on music and is appalled by her. However, Chiaki starts to change when he hears her playing every time. The music, although the same piece, sounds and feels different. Is this difference in playing due to skills or can it be something else that makes it sounds magical? He will have all the time to find out as he finds out that Megumi happens to be his neighbour, adding to his chagrin.
Nodame does not have the same tragic love concept in Shigatsu. However, it utilizes music to further the blossoming relationship between the two protagonists. We see similar characters like the perfect and pianist and the free-spirited musician that changes the outlook and perspective of music for the former. Similarly, it showcases how injecting emotions into a score transform it into music. Both animes revolve around music and the pieces selected fits the mood perfectly. Nodame like Shigatsu is an inspiration to budding musicians and is a must watch if you love the music genre!
---
Conclusion
Did you enjoy Shigatsu wa Kimi no Uso? What are your fondest memories of the show? Has the show inspired you to take up a musical instrument or appreciate music? Was the romance in Shigatsu developed well? Did Shigatsu earn its reputation for being the top anime for its season? What are you hoping to see in the animes in this list that is reminiscent to Shigatsu? Leave a comment below and we will see you next time!
---
---
Shigatsu wa Kimi no Uso was hands down, one of the brightest anime of its season! The animation was spectacular while the musical compositions were masterfully done. Coming in as a musical romance drama with extremely bright, colorful animation, you would almost be fooled to think it's smiles all around, but this series will definitely leave you with butterflies in your stomach after each and every episode.
Arima Kousei meets a blonde haired girl named Kaori Miyazono and is instantly entranced. He's a prodigy, he suffered a great trauma and can no longer bring himself to play the piano. But, after meeting Kaori, things started to change. She's innovation while he's perfection. Namely, she's the spring to his winter.
While this series is beautifully mastered and hard to compete, there are series that deliver certain feelings with a musically inclined theme.
Similar Anime to Shigatsu wa Kimi no Uso / Similar Anime to Your Lie in April
1. Nodame Cantabile

Episodes: 23
Aired: January 2007-June 2007
If anything is like Shigatsu, hands down it's Nodame Cantabile. The maturity and the passion alone parallels well and the sweet romance is the icing on the cake. It's as appearingly light and fluffy as Shigatsu with every deep moment as it has as well.
One huge similarity is Chiaki and Kousei, both perfectionist players who meet a girl who sweeps them off their feet. We watch as the two find their way in the world of music. Nodame Cantabile is a musical classic and one every fan of music anime should watch.
---
2. Full Moon wo Sagashite (Searching for the Full Moon)

Episodes: 52
Aired: April 2002 - March 2003
Coming in with 52 episodes is none other than Full Moon, which was a big hit and for a lot people, what came after Sailor Moon when you found out as kids that it was from Japan! Arina Tanemura, the original manga artist, has spawned many successes. This is a story about a young girl with beautiful voice, silenced by a malignant tumor. Enter in two shinigami who tell her she has a year to live but she plans to make the most of it.
I think Full Moon really captures the essence of Shigatsu because of the underlying deep drama dealing with the main blonde girl, despite that, they remain cheerful through it all. Both are passionate about music and use it to reach people's hearts.
---
3. Kinniro no Corda: Primo Passo (La Corda d'Oro: Primo Passo)

Episodes: 25
Aired: October 2006 - March 2007
Hino Kahoko, after encountering a music fairy, is the only normal student to enter into the Music Branch's music competition and, with no prior knowledge, starts playing the a magical violin that only plays if she truly believes in herself and the music.
Despite the magic elements in this series, like Shigatsu it is very slice of life. There's relationships, romance, friendships and musical competitions galore. With music competitions comes the drama and fear along with it. Will I win? Or will I play my music to my hearts content and not let fear of losing control me?
---
Any Animes Like Your Lie in April / Any Animes Like Shigatsu wa Kimi no Uso ?
4. Hibike! Euphonium (Sound! Euphonium)

Episodes: 13
Aired: April 2015 - July 2015
Hibike may be the closest to rivaling the wonderful animation of Shigatsu and adorable characters. The premise is about Kumiko who doesn't want anything to do with the brass band but somehow gets pulled in anyway and runs into a girl she accidently insulted in junior high.
Hibike shares numerous themes with Shigatsu, including drama/romance/comedy but also ties in music hand in hand with relationships and life. KyoAni's animation work did it justice as well, from the fingering of the instruments to the characterized, realistic expressions. Both series really pull you into the setting and make you believe these characters are real.
---
5. White Album

Episodes: 13
Aired: January 2009 - March 2009
Fujii Touya is living the dream, dating a oncoming idol named Morikawa Yuki. Of course, there's many challenges in the idol world, causing plenty of drama at school and work. The best part of this series is the realistic, flawed characters who go about life making decisions that, well, a lot of us might make because we are all only human after all.
The intensity in this series is so very similar to Shigatsu, where it may be lacking in colorful joy, it makes up for with a fairly engaging storyline. I think it's also similar because both series probes similar questions; "what would you do in this situation?"
---
6. Piano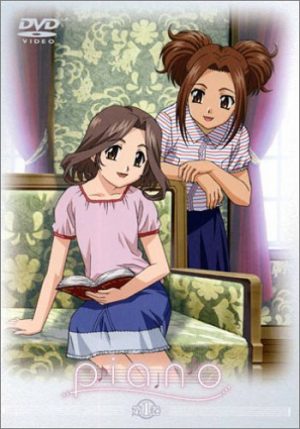 Episodes: 10
Aired: November 2002 - January 2003
Piano is a touching slice of life that might also be just too close to real life. Dealing with the realities of teenage life and piano playing, it's relatively slower in pace just like Shigatsu. If you like classical music, you'll find it in here as well.
When Miu was young, she was entranced by the piano and started taking up lessons. Eventually she gets good but is so soft spoken and unconfident, she can't put her heart into her music. She falls for a boy too, and like Kousei in Shigatsu, it has it's slower pace.
---
I promise, above all else, if you marathon these series you will probably be motivated to do what you love as well. The beauty of the music theme tends to be the sheer passion the characters have for their craft. In all these series, regardless of art style, plot, etc., you will see all the pure devotion everyone gives to music; it consumes them, and us.
Is there any series you wish was on here? Let us know in the comments below!
---