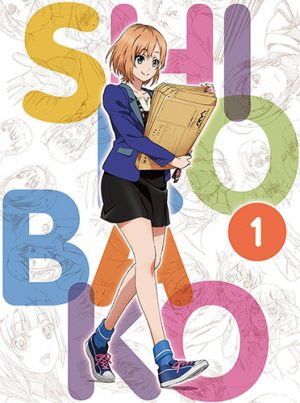 After graduation, Aoi Miyamori, our protagonist, and Ema Yasuhara, one of the friends, work for Musashino Animation, a famous production company. However, life is not all beer and skittles and the road to success is harder than they thought.
Aoi Miyamori has a bright and breezy personality. In spite of hard times or work problems, she always tries to stay positive and pushes the stress away through her determination and hardworking attitude. Shirobako leads us into the world of anime entertainment through the life of these young girls.
If you want to learn more about what is behind the scenes of anime production and the like, don't look any further, we have listed six slice of life anime that have similar themes to Shirobako. Check it out!
Similar Anime to Shirobako
1. Bakuman.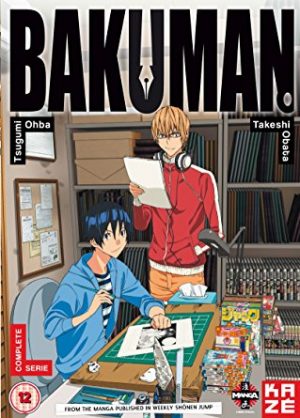 Episodes: 25
Aired: October 2010 – April 2011
Bakuman is based on the famous shounen manga written by Tsugumi Ohba and drawn by Takeshi Obata (yes, the talented combo of Death Note). Bakuman tells the story about Moritaka Mashiro, who in his childhood wants to become a famous mangaka like his uncle was. However, after a tragic event, Mashiro gives up on his dream in order to study hard and become an ordinary salaryman.
At school, Takagi Akito, who finds out about Mashiro's talent for drawing manga, proposes to form a writer/illustrator mangaka duo with him. But before Akito receives Mashiro's answer, he tricks him into accepting his proposal in front of his crush, Azuki Miho who wants to become a seiyuu. So Mashiro bravely tells her that if their manga is successful and it becomes an anime, the main voice role would be hers.
Bakuman, differently from Shirobako, shows us the aspects and difficulties of creating a manga, but tells us in the same way to never give up on our dreams.
Bakuman PV
---
2. NEW GAME!

Episodes: 12
Aired: July 2016 – September 2016
Here we are with New Game! An anime about the gaming development industry.
The main character, Suzukaze Aoba, is a short eighteen-year old girl that looks like a middle-schooler. So if you like moe-like girls this should be a nice choice. After graduation, Aoba applies for a job at Eagle Jump, the production company that makes her favorite game, "Fairies Story".
She obtains the job of her life! In fact, her assignment is to create characters as a character designer. In her department, she has the chance to know her coworkers and to learn more about this wonderful world.
This slice of life, in a different way from Shirobako, shows us just the general idea of the making of a game, and focuses much more on the different skills of each character. Another difference between the two is that New Game! is more comedic as opposed to Shirobako, which is more realistic.
New Game! PV
---
3. Sore ga seiyuu! (Seiyu's Life!)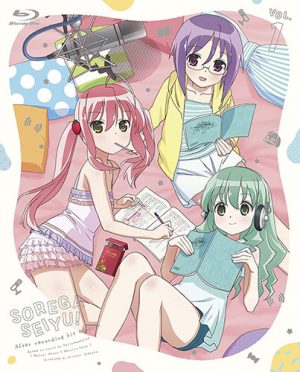 Episodes: 13
Aired: July 2015 – September 2015
Moving on, if you're curious about the voice acting industry and want to know everything about it, this anime would be the perfect one.
Also here, the atmosphere and the appearance of the characters are cute and fluffy. The three protagonists; Ichinose Futaba, Kohana Rin and Moesaki Ichigo have very different personalities. Futaba is a voice actor at Aozora productions. She's shy, polite and hardworking. Rin has been an actress since she was a little kid, and now that she's fifteen years old, she works as a voice actor in her talent agency group. Ichigo, with her pink striking hair, is the hyperactive kid. She dreams of becoming an idol seiyuu with the ability to dance and sing.
Like in Shirobako, we go "behind the scenes" of the entertainment industry, which has many different sides. As we know that voice acting is a very important aspect of characterizing an anime character.
Seiyu's Life! PV
---
Any Anime Like Shirobako ?
4. K-ON!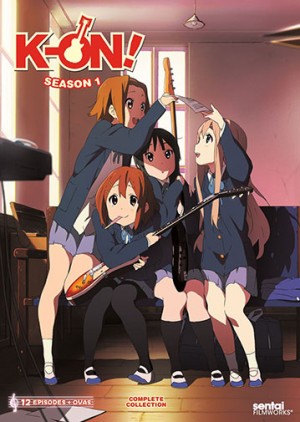 Episodes: 13
Aired: April 2009 – June 2009
In K-ON!, our protagonist is Hirasawa Yui. She's a high school student that enters the Light Music Club after seeing their poster. Joining the club, Yui meets the other members, a group of cute girls: Akiyama Mio, Kotobuki Tsumugi, Nakano Azusa, and Tainaka Ritsu. Each one of them is really talented. What about Yui? Well, when she joined the club, she picked up an instrument that she can't even play. But with her intuition and dedication she learns how to manage it, even though she can't read an arrangement nor tune the guitar.
Yui is really clumsy and scatterbrained. She's a crybaby, but when she eats something, sweets especially, her mood turns happier. Also, she really cares for her electric guitar and she's a good singer.
K-ON! deals with the same themes as Shirobako: friendship, teamwork and dedication. Here we can find the same atmosphere, but from a music club perspective.
K-On! Trailer
---
5. Genshiken

Episodes: 12
Aired: October 2004 – December 2004
Genshiken is an anime based on Shimoku Kio's manga. This is a story about Kanji Sasahara, a college student that decides to enter the Gendai Shikaku Bunka Kenkyuu Kai (Society for the Study of Modern Visual Culture), a.k.a Genshiken. In spite of that, he doesn't think of himself as an otaku, because he has to learn more about what it really means to be an otaku. This anime doesn't only focus on Kanji Sasahara, but on the activities of the society, which involves different characters. So we can hear about gaming, cosplay, model building, anime festivals and doujin. A very realistic slice of life, with the right amount of humor.
If you are an otaku or you're just curious about it, you shouldn't miss this anime.
Shirobako is surely different because it's a new anime and it has better graphics. However, these two anime have both adult and realistic characters, and in both situations, they become friends within the school clubs days.
Genshiken Second Generation Trailer
---
6. Mangirl

Episodes: 13
Aired: January 2013 – March 2013
Our last recommendation is Mangirl. Here we come again with moe-style slice of life anime. This one is about a group of friends that wants to create the most famous manga-magazine ever. They have no experience, but it doesn't matter at all! They fight with all their enthusiasm to achieve their goal.
Well, if you're expecting a regular 25 minutes per episode anime, you might be a little disappointed because each episode is only 3 minutes. Aside from this, in its simplicity, this anime goes straight to the point.
So here, like in Shirobako, there is a group of girls that want to reach their dream in the most optimistic way . Certainly, Mangirl is more of a comedy, but even though it's short, we are sure that it'll be a hit with you.
---
Final Thoughts
So this is the end of our recommendations. What do you think about them? Have you seen any of these anime? Have you ever thought about working in one of these fields? If yes, let us know in the comments below!
We hope you can feel the same energy of Shirobako in at least one of these anime. See you in the next article.
by Navi
---