También puedes leer este artículo en:Español
We know that we are not watching a regular Harem anime when the options for the protagonist include becoming a god or a demon. This is the premise of Shuffle! , a Harem anime with characters "out of this world", literally. Tsuchimi Rin lives with her childhood friend, the sweet and beautiful Kaede, who secretly loves him. Sia (the daughter of Lord of Gods) and Nerine (the daughter of Lord of Demons) want to marry Rin. The Harem is completed with Asa senpai and Primula.
If you are looking for another Harem anime, with a little bit of Ecchi, some Comedy and why not, a Supernatural touch, we are pleased to introduce you "6
Anime Like Shuffle!". Hope you have a lot of fun watching them!
Similar Anime to Shuffle!
1. Rosario to Vampire (Rosario + Vampire)

Episodes: 13
Aired: Jan 2008 - March 2008
Tsukune Aono, is a 15 year old boy with a mediocre academic record.. As he has failed his high school entrance exam, his parents do their best to enroll him at an academy. But ... the academy is quite particular since it's the Youkai Academy. There, creatures like vampires, werewolves and witches, learn how to coexist with humans. On his way to school, Tsukune meets the attractive Moka, and then decides to stay at the academy. However, Moka is more interested in Tsukune's blood than his personality because she is a young vampire. Tsukune will also be the object of desire for a succubus and a very kawaii witch. Interesting characters for a harem right?
Both anime share the characteristic of having an unusual Harem. In Shuffle!, girls are gods, demons, humans and demi-humans. While in Rosario to Vampire, among the candidates we can find a vampire, a succubus, and a witch. There's a lot of fanservice for everyone since both are Ecchi, though Rosario to Vampire takes the prize for his "panty shots".
---
2. Kanon

Episodes: 24
Aired: Oct. 2006 - March 2007
Kanon is an anime adaptation of a visual novel. Yuuichi Aizawa returns to the city where he grew up, after spending seven years living abroad. But something has happened to him, and he can't remember anything from his past. Memories are vacant from his mind. Yuuichi is now attending the same school as his cousin Nayuki. There, he will find several girls who seem to know him and have a special connection with Yuuichi's past. He will gradually recover his memories and remember who he was and the promises that he once made.
Both anime share fantastic and supernatural backgrounds. In Kanon, there are strange phenomena happening around the school, such as transformations and spirits., while in Shuffle! Gods and Demons interact with humans all together in the school. The main similarity is that in both anime the girls are somehow linked with the protagonists past. On the other hand, the main difference is that Kanon is softer, tender and has innocent story, but with more drama than Shuffle!
---
3. Ichiban Ushiro no Daimaou (Demon King Daimao)

Episodes: 12
Aired: Ap. 2010 - June 2010
Akuto Sai always dreamed of becoming a High Priest and to change the world to make it a better place. With this purpose, he enters the Constant Academy for Magic Arts. His life twists when the school's Oracle reveals his destiny: to become the Demon King. He's not excited at all about this idea, but the girls from school are. He will soon be harassed by a female android designed to seduce him, the most popular girl in school, and by Soga Keena, a girl with the power of invisibility.
These anime share the Fantasy, Ecchi and Harem genre, formed by a group of extraordinary girls with such conflicting personalities. The main characters also share the dilemma between good and evil. In Shuffle!, Rin can choose to be a god or a demon; depending on which girl he will be with, while in Ichiban Ushiro no Daimaou, even though Akuto is a good person, everybody fears him because of his potential.
---
Any Anime Like Shuffle! ?
4. To LOVE-Ru

Episodes: 26
Aired: Apr. 2008 – Sep. 2008
Everyone who's watched once ecchi harem anime knows To LOVE-Ru. Rito Yuuki is secretly and deeply in love with Haruna Sairenji since junior high. But he always finds an obstacle in his way which prevents him declaring his love to her. Rito's life takes an unexpected turn when one night while taking a bath, a naked girl appears before his eyes. She is Lala Satalin Deviluke, an alien princess who has run away from her planet, and determined to become Rito's wife.
These two anime have supernatural beings interacting daily with humans. Both Rin and Rito have non-human suitors within their harem and both suffer from their father's pressure to marry his daughter and become the heir to a throne. But To LOVE-Ru has a lot of funny moments, while in Shuffle! there is more drama because of the tragic past of the characters.
---
5. High School DxD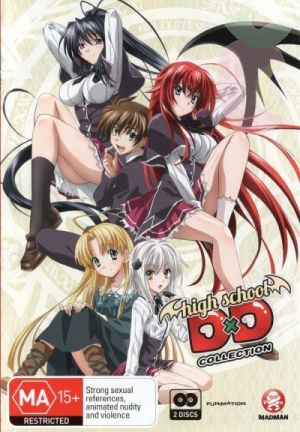 Episodes: 12
Aired: Jan. 2012 - March 2012
Issei Hyoudou is a pervert. His main interests lie in peeping on the girls and one day having his own harem. Luck seems to be on his side when a beautiful girl named Yuuma asks him out on a date. But Yuuma turns out to be a fallen angel who kills him by driving a lance through his chest. The next morning, Issei wakes up in his bed thinking it was all a bad dream. However, he's not alone. In his room is also the sexy student Rias Gremory, who's actually a demon and now he must become her servant.
Here we got two anime where angels and demons have a similar human appearance, and actually live their daily lives together. In both series, the main character is dragged into an extraordinary situation by some weird circumstances, and both somehow deserve it: Rin, because he's good-hearted and Yuuma, because he's an idiot.
---
6. Mashiro-iro Symphony: The Color of Lovers

Episodes: 12
Aired: Oct 2011 – Dec. 2011
Traditional Yuihime Private Academy was always exclusively for women. Now it's going to be merged with the Kagamidai Private Academy for boys. That's why a group of male students are going to be used as guinea pigs in the school. Shingo Uryu is one of the Kagamidai students chosen to attend Yuihime. The problem is that the girls are not used to interacting with men and most of them will not receive Shingo with open arms.
Both anime are different from the rest of Harem anime because the final choices of the protagonists are not obvious from the first minute of the show. The male ends up with an unexpect girl. Rin surprisingly ends up with Asa, and here… of course, we won't tell. Also, both are school romantic Harem, far from the slapstick comedy of the genre.
---
Final Thought
As we said at the beginning, Shuffle! is not a standard Harem anime. Why? Because it's different in several meanings: it involves gods and demons, the final decision of the protagonist is not obvious from the beginning (in fact it's quite surprising), has twists in the story and changes in the character's behavior along within the plot.
If you enjoyed this series, surely you will find several hours of entertainment in the anime that we presented today. Although all of them are Harem, they have a "peculiar" variety among the girls who want the love of the protagonist.
But remember, these are just our suggestion. What do you think about them? Have you already watched any of them? Are we skipping any similar anime? Please leave us a comment and we can discuss it.