También puedes leer este artículo en:Español
6 Anime Like Sousei no Onmyouji (Twin Star Exorcists) [Recommendations]
Shounen stories belong to the most popular anime out there and with every season we get new action-filled shows for our entertainment. Sousei no Onmyouji or Twin Star Exorcists is the Fantasy/Shounen/Action mix of this season and we thought it was about time we introduced you to it.
Rokuro Enmado's life is dictated by destiny. He would love to be a normal teenager, but his skills at exorcism force him to use his abilities for a greater good and fight monsters crawling out of a spirit realm known as Magano. It is only until he meets Benio Adashino, a girl whose abilities are equal to his, that his life really takes a turn for the worse. They receive the title Twin Star Exorcists and now it is their duty to not only fight monsters together, but also give birth to a baby which will be the strongest exorcist in existence. How will their story continue?
Twin Star Exorcists could go one of two ways. It will either be an easily forgettable Shounen story or one of the greater hits of this season. Until we can make a judgement we have compiled a list of six anime that are similar to Twin Star Exorcists. Enjoy!
Similar Anime to Sousei no Onmyouji / Similar Anime to Twin Star Exorcists
1. Ao no Exorcist (Blue Exorcist)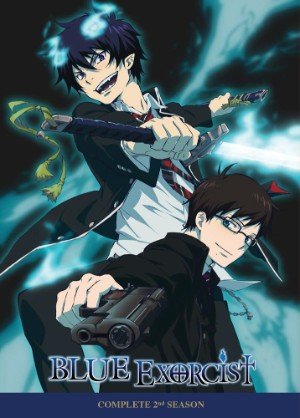 Episodes: 25
Aired: April 2011 - October 2011
It is only appropriate that we start this list off with the most famous exorcist anime out there, right?
Rin Okumura is known as a rebel who cannot get his life straight no matter how hard he tries. What he doesn't know though is that greater things are waiting for him and he is much more than just a troublemaker. Rio is in fact the son of Satan and has to learn the art of exorcism if he wants to prevent the destruction of this world, the death of his loved ones and ultimately falling into the hands of evil.
We didn't include Ao no Exorcist on this list simply because it also revolves around the art of exorcism even though there is a clear parallel. What makes this show similar to Sousei no Onmyouji is the mixture of comedy with action and occasional drama that runs throughout the storyline. The main heroes both have a temperament while still trying to do their best and fight for the people close to them. Fans of action-filled fights against demons should check it out!
Ao no Exorcist Trailer
---
2. Shakugan no Shana

Episodes: 24
Aired: October 2005 - March 2006
Next up is an oldie but a goodie, the well-known Shakugan no Shana.
As it is often the case in anime, this show starts with a normal high school boy leading a normal life. This idle lifestyle changes pretty quickly when Yuuji Sakai runs into a mysterious girl with flaming red hair. He finds out that he is in fact dead and his whole existence is reduced to a Torch that will soon disappear. Together with Shana, a Flame Haze, he embarks on a journey into a world he couldn't even have imagined existing.
It is true that Sakai was thrown into a world he knew nothing about while Rokuro from Twin Star Exorcists was born into his role. However, they both didn't have a choice about what happens to them and are equally powerless. Also, both heroes have to team up with mysterious girls that they are slowly building a connection to. Shakugan no Shana and Twin Star Exorcists both feature a couple fighting against powerful enemies and are definitely worth a try.
---
3. D.Gray-man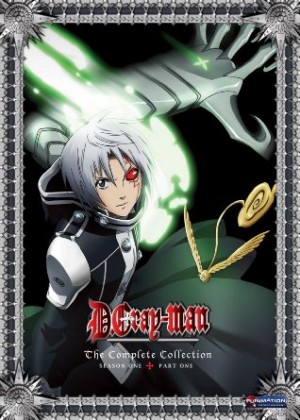 Episodes: 103
Aired: October 2006 - September 2008
Another exorcist, another Shounen show. But each anime is its own unique little butterfly, so let's see what D.Gray-man has to offer and how it compares to Twin Star Exorcists.
Allen Walker was abandoned by his parents and had to find his own way in life. With the help of his cursed eye and the special powers of his left arm he joins an organization of exorcists in their fight against the ultimate evil. An even bigger enemy is about to emerge and it is up to Allen to defeat him and prevent the destruction of the world.
Just from the synopsis it's already pretty clear that D.Gray-man has a lot of action to offer. True, the fights in this show are outstanding, but what makes it really great - and also similar to Twin Star Exorcists - is the comedy that is mixed into this action-filled show. It can be hard to find a good balance between the two genres, but both anime seem to master this task gracefully. D.Gray-man brings exorcism back to the 19th century and is our third recommendation.
TV anime "D.Gray-man" the first series PV | 2016 years new series broadcast decision !!
---
Any Anime Like Twin Star Exorcists/ Any Anime Like Sousei no Onmyouji?
4. Noragami

Episodes: 12
Aired: January 2014 - March 2014
Exorcists aren't the only ones fighting against demonic powers. Gods are also responsible for keeping mankind safe, just like Yato in Noragami.
Yato isn't a normal god. Even though he was once one of the most respected and powerful deities out there, he is now known as the "Delivery God" who will do any job in exchange for a handful of coins. Together with his undead assistant Yukine and cheerful middle school girl Hiyori Iki he embarks on constantly new adventures to fulfill his ultimate goal of gaining millions of worshippers.
Here we have another show with a supernatural theme. Noragami is loved for its comedy and great characters and just like Twin Star Exorcists the action scenes will keep you on the edge of your seat. Similarly, Noragami raises the question of duty and commitment and how you sometimes just need to get a job done without being able to make your own choices. This show is a must-watch even if you are not a fan of the supernatural.
Noragami - Official Trailer
---
5. Tokyo Ravens

Episodes: 24
Aired: October 2013 - March 2014
When talking about exorcists there is one more show that just needs to be mentioned and that show is Tokyo Ravens.
Set in another timeline, this anime shows you a different version of Tokyo where spiritual beings are part of everyday life. The prestigious Tsuchimikado family of onmyoudou-users (a Japanese form of occultism) has been known to take care of them for generations, but now a new problem arises: son Harutora is born without any magical abilities. Despite his lack of powers he becomes a familiar to Natsume, another member of the Tsuchimikado clan and a powerful wielder of onmyodo magic. Can they defeat their enemies together?
Tokyo Ravens is a less dramatic version of Twin Star Exorcists and focuses more on its comedy and school aspects. Still, both stories share common elements like mythical beings and magic-filled fights. Most importantly, both shows revolve around two teenagers born into a life they cannot escape from. Our heroes work together as teams and despite not being able to control their fate, they fight each battle as if it were their last. Check out Tokyo Ravens if you haven't already!
Tokyo Ravens
---
6. Nurarihyon no Mago (Nura: Rise of the Yokai Clan)

Episodes: 24
Aired: July 2010 - December 2010
It's time to end this list, but there is one more show we want to throw into the mix. It's time for Nurarihyon no Mago!
This is the story of Nurarihyon's grandson, Rikuo Nura. He would be able to lead the normal life he always wanted to have if it wasn't for the fact that he was quarter youkai and has to become head of the Nura clan. Now he leads a double life: schoolboy by day and powerful youkai by night.
We wanted to include this little gem for all fans of the supernatural that prefer a more traditional setting over futuristic weapons and character design. Nurarihyon no Mago offers you just that while also featuring a main protagonist who is troubled by his destiny and an eternal fight between good and evil just like in Twin Star Exorcists. Also, both Rokuro and Rikuo have to balance their responsibilities with their private lives while remaining true to themselves. Definitely give Nurarihyon no Mago a try.
Nura - Rise of the Yokai Clan Season 1 Part 1 Trailer
---
Final Thoughts
Evil powers, a boy with special abilities, a destiny that needs to be fulfilled - we admit, the concept of Twin Star Exorcists isn't revolutionary and concerns whether it can bring anything new to the table are justified. But the storyline of a show shouldn't stop you from giving it a chance. Some anime don't reinvent the wheel, but are still entertaining in the way that they use well-known elements. This being said, check out our recommendations and let us know what you think of them down below.
Which other shows should be included and what do you think of Twin Star Exorcists so far? Share your opinions and recommendations with the community!