También puedes leer este artículo en:Español
Spice and Wolf is the story of a trader, Kraft Lawrence who meet's a wolf-god named Holo. Holo accompanies him on his travels and help's his dream of becoming wealthy and opening a store. Spice and Wolf is a beautiful series with strong characters that develop romantic feelings for each other. It's easy to see why after seeing it that you'd want to find a similar type of series and with character dynamics.
So here are six to get you on track!
Similar Anime to Ookami to Koushinryou / Spice and Wolf
1. Katanagatari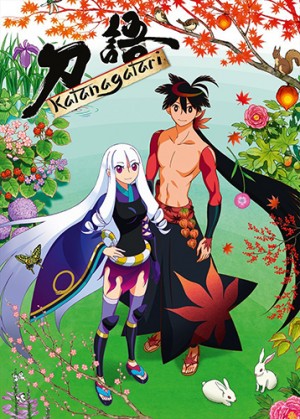 Episodes: 12
Aired: Jan 26, 2010 - Dec 11, 2010
Katanagatari is the story of Yasuri Shicika and Togame, and their travels around feudal Japan in the search of 12 powerful swords. Shichika is the head of an school of an ultra-powerful fighting style which utilizes the body as a sword. Togame is a strategist in the employ of the Shogunate who's tasked with finding the swords. The two learn more about each other, their motives, and the world in which they live as well as the truth about the swords and meet some colorful folks along the way.
Both Katanagatari and Spice and Wolf are travel-centric, dialogue heavy shows which have a romance between the two main characters. Just like in Spice and Wolf, the dynamic between Shichika and Togame is pretty magnetic. They may be very different people than Kraft and Holo, but they're just as fun to watch together.
Katanagatari is also very dialogue heavy, but has some very nice fight scenes added to the mix which make this more of an action series then Spice and Wolf. And while it's look and feel is more eccentric and more memorable (If you'd ask me), the design sense for both shows is very well done.
---
2. Bakemonogatari

Episodes: 15
Aired: Jul 3, 2009 - Jun 25, 2010
Bakemonogatari is the story of Koyomi Araragi, a high-schooler who survived an attack from a vampire. After the attack, Araragi now finds himself mixed up with all sorts of ghosts and otherworldly creatures. One day after an hostile encounter with a classmate, Senjougahara, Araragi asks around his supernatural friends to help cure a condition which ails her. What follows is a series of mysteries and stories about the various supernatural conditions which are affecting those in Araragi and Senjougahara's life.
Similar to Katanagatari in a sense that it's a very dialogue heavy show where the two mains share a romance. Also similar to both is that the dialogue isn't really boring or slow-paced, but witty, often funny and also packed with deep meaning. Bakemonogatari is one of the most unique shows to come out of the anime industry in the last 10 years, and again, it has a very different look and feel to spice and wolf.
However, the unique flavors that each show have are backed up by a very similar structure, a dialogue heavy show with a strong, quirky romance that show's a lot about the world and people surrounding them.
Bakemonoatari Blu-Ray trailer
---
3. Kino's Journey (Kino no Tabi: The Beautiful World)

Episodes: 13
Aired: Apr 8, 2003 - Jul 8, 2003
Kinos Journey is based off of a series of light novels by Keiichi Sigsawa. Kinos Journey follows the titular main character, Kino and her talking motorcycle, Hermes. The two travel from place to place, seeing the locales and meeting a potpourri of people across their travels. Kinos Journey is less about having a dramatic plot and more about atmosphere and thought provoking encounters, making it one of the more unique series in Anime History.
Kino's journey may be a tad more meditative and philosophical than Spice and Wolf. However, they're both about travelling from place to place and what we learn about ourselves and the experience we have through our journeys. It's just that in Kino, it's more about contemplation and Spice and wolf there's a more concrete goal that needs to be achieved, and how the characters overcome a variety of obstacles.
---
Any Animes Like Spice and Wolf / Any Animes Like Ookami to Koushinryou ?
4. Kamisama Kiss (Kamisama Hajimemashita)

Episodes: 13
Aired: Oct 2, 2012 - Dec 25, 2012
Kamisama Kiss is the story of Nanami Momozono, who's homeless and all by herself after her dad leaves town to evade the debts accrued on his home and his gambling. Nanami saves a man from an attack by a dog and he graciously offers his house to her. She accepts but she then learns that his house is actually a Shrine and now Nanami is responsible for taking over his duties as a local deity. Nanami now has all the old responsibilities of the old deity and is accompanied by a familiar, Tomoe, with dog ears.
Spice and Wolf and Kamisama Kiss share a similarity in that the love interest of the main character is essentially a wolf spirit. Kamisama Kiss has a female and MC and is much more in the Shoujo demographic than Spice and Wolf. However, Tomoe and Holo share a lot of personality traits. Both Holo and Tomoe make it apparent that they're from much different worlds than the main character, and can have kind of an arrogant, teasing demeanor.
Kamisama Kiss - Goddess Edition - Coming Soon – Trailer
---
5. Seirei no Moribito

Episodes: 26
Aired: Apr 7, 2007 - Sep 29, 2007
Seirei no Moribito is the story of Balsa, a women bodyguard and a master spear wielder. By chance, Balsa happens upon and rescues a prince from drowning. The prince, named Chagum, is being targeted in a court-plot aimed to kill him because it's believed that he is going to be possessed by a malevolent spirit, and his mother begs Balsa to look after him. Balsa accepts and the two start a long journey together, learning the truth about the spirit that resides in Chagum and getting closer to each other.
The biggest similarity between Spice and Wolf and Moribito would be the detail paid to the setting itself. In Moribitio, like Spice and Wolf, you get a strong sense of the culture of different lands as well as some of the popular folklore. Also like Spice and Wolf, the folklore isn't just lore, a lot of it is based on beings and spirits that actually exist in the world. Both series have a lot of different vignettes of various places in their respective settings that are really fun to watch.
Aside from this, Spice and Wolf and Moribito are just excellent, must-watch series for fans of the fantasy genre, which also look beautiful and have strong soundtracks.
MORIBITO - Official Extended Trailer -
---
6. Crest of the Stars (Seikai no Monshou)

Episodes: 13
Aired: Jan 2, 1999 - Mar 27, 1999
Crest of the Stars is the story of Jinto Lin, who's world was taken over by the expansionist Abh empire. Jin's father, the prime minister of the planet, gives control of the world over to the Abh in exchange for social and political standing in the new empire. Since this makes him a local prince, Jinto is sent off for an Abh style education. There he meets the princess of the empire, who's name is Lafiel, the two become friends and Jinto follows her in her ambition to rule Abh.
Now the overarching plots of Crest of the Stars and Spice and Wolf are pretty similar. But in terms of the personal relationship, Crest of the Stars is sort of like a reversal of those in Spice and Wolf. If you'd imagine a situation where Lawrence was following around Holo and her ambition, it'd be sort of like this. Holo and Lafiel also have a lot of similarities, they both aren't humans but obviously very similar and they both have a sort of Tsundere, teasing mentality. Most importantly, the two mains kind of fall into a romance that's easy to root for.
---
I know that there's something on this list for everybody! Be sure to give these series a try if you're looking for a Spice and Wolf fix. If you saw any of the series listed above, be sure to tell us what you think of them. Did you love them? Did you hate them? What others would you recommend for fans of Spice and Wolf? Be sure to sound off in the comments below and let's get a conversation going!