También puedes leer este artículo en:Español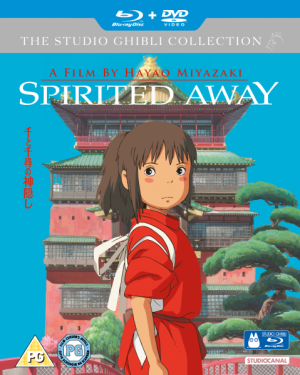 Holy moly, we've hit the jackpot: Spirited Away. Released by the anime powerhouse Studio Ghibli from the master Hayao Miyazaki in 2001, Spirited Away is the most celebrated anime in the Western world of all time. If you haven't heard of Spirited Away, please crawl out from under your rock and dust yourself off. Besides winning an Academy Award and holding a coveted 97% rating on Rotten Tomatoes, this adventure and supernatural anime may very well have been your very first, the one that introduced you to Japanese anime as a whole.
With a hint of creepiness and steeped in Japanese folklore, Spirited Away is an intriguing tale of a rite of passage for Chihiro. Initially a cautious 10-year-old girl, Chihiro is trapped in a world inhabited by spirits and gets separated from her parents who have been turned into pigs. She works in a Japanese bathhouse that caters to the spirits, so that she can find a way to save her parents and return to the real world. With the help of new friends, Chihiro bravely faces every new challenge before her and, along the way, learns the importance of retaining her own identity and finds the true value of friendship and love.
Now, you're expecting us to say, "Ghibli is boss. Ghibli is king. Now go watch Howl's Moving Castle." Actually, we won't because you probably already watched everything from Ghibli anyway. Here are six anime like Spirited Away.
Similar Anime to Sen to Chihiro no Kamikakushi / Similar Anime to Spirited Away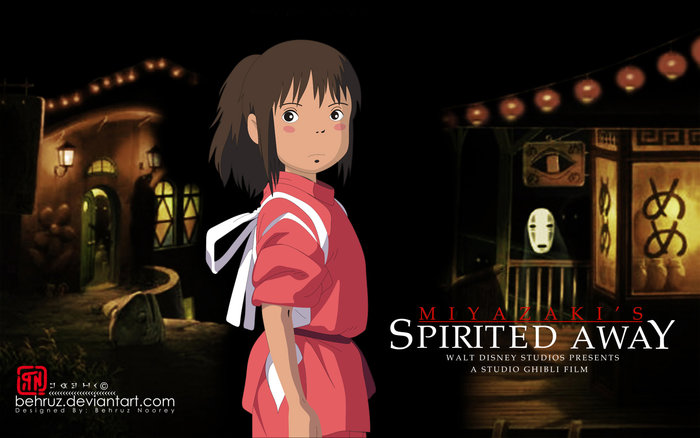 1. Mushishi

Episodes: 26
Aired: Oct. 2005 – Jun. 2006
If you enjoyed Spirited Away in your younger days, the Mushishi series is what you watch fifteen years later. Mushishi is a supernatural, adventure, mystery anime that was first released in 2006, until it was restarted with two more seasons as Mushishi Zoku Shou (Mushi-shi Next Passage) in 2014. In the world of Mushishi, there are supernatural creatures called "mushi," strange-looking and beautiful but nothing like the natural world that humans know. The mushi are intertwined with nature and can affect human life around them, but not everyone can see the mushi. Thus, there are specialists, called "mushishi" (mushi masters), who can deal with the mushi that negatively affect human lives. We follow one man Ginko, a mushishi who has no place to call home and wanders all over Japan to help people live peacefully with the mushi. Although largely episodic, we travel with Ginko in his quest to learn more about the mushi and also peek at Ginko's scattered and long forgotten past on a journey that can best be described as "spiritual."
Bizarre, mysterious, and sometimes creepy, the mushi can easily reignite that strange sense of wonder you felt while watching Spirited Away. The mushi also represent nature, as the spirits do in Spirited Away. Mushishi shines a speculative light on the actions of humans who take advantage or misuse nature or the supernatural. Yet, the most striking similarity with Spirited Away is that Mushishi employs beautiful artwork of Japan's mountainous landscape in gorgeous watercolor. If you're interested in Japanese culture and haven't peeked at this anime yet, you are doing a huge disservice to yourself.
Mushishi Vol. 1 Trailer
---
2. Hotarubi no Mori e (Into the Forest of Fireflies' Light)

Episodes: 1, Movie
Aired: Sept. 2011
If you really enjoyed the Japanese-style supernatural part of a young girl's journey in Spirited Away, but wished there was a little bit more to the romance element, look no further than Into the Forest of Fireflies' Light. Hotaru is a young girl who gets lost in a forest that is inhabited by various kinds of supernatural beings. Scared and alone, she meets Gin, a spirit who resembles a young man wearing a festive mask. Gin leads her out of the forest to safety. From then on, every summer Hotaru visits the forest to play with her masked friend and meets many of the other spirits of the forest. Hotaru always looks forward to her time with Gin, but she is forbidden to ever touch him. The mountain god has cursed Gin so that if a human touches him, he will disappear.
Although this supernatural, romance anime film is considered to be shoujo, existential themes add depth to this take on a young girl falling in love with a spiritual being. On one side is Hotaru, who has always only looked to Gin with a childhood crush, but what will happen as she gets older? On the other side is Gin, a spirit who has always avoided humans until meeting Hotaru, but why is he the only spirit in the forest who cannot touch a human? You can relive all those wonderful feelings of Spirited Away with Into the Forest of Fireflies' Light, a timeless tale of a forbidden love embellished with Japanese folklore. Short and sweet, this heartfelt tale will make you want to run to your nearest enchanted forest.
Hotarubi no Mori e - Trailer
---
3. Boku dake ga Inai Machi (ERASED)

Episodes: 12
Aired: Jan. 2016 – present
Usually rites of passage occur during childhood or adolescence, but it could happen when you're 29 years old and trapped in a 10-year-old body. Boku dake ga Inai Machi is only a few episodes in but already has quite a fan following. In this supernatural mystery, Satoru leads an unremarkably ordinary life, except that he experiences "revival," a supernatural phenomenon that sends Satoru moments back in time before something bad happens. Because of revival, Satoru has prevented deaths and other various accidents from occurring. Nonetheless, Satoru has trouble expressing himself, rarely smiles, and can't seem to make his mark in any particular way. One day, Satoru finds himself framed for murder, and revival sends him back to when he was a grade-schooler before the tragic disappearance and death of a fellow classmate Hinazuki. Now, Satoru is trying to put together the pieces of his past, save Hinazuki, and rewrite the future.
Some of the charm of Spirited Away is being able to re-evaluate our own lives by going on an adventure through the lens of a child, perhaps even revealing our hidden regrets of friendships lost and opportunities missed. In Boku dake ga Inai Machi, the main character does exactly that, but actually becomes 10 years old again. Satoru identifies his childhood weaknesses and tries to bring back memories he's long forgotten in hopes to create a future without regrets. Meanwhile, we get to glimpse at a microcosm of Japanese culture of childhood in Hokkaido in the late 1980's. The mystery is still unraveling, the kids are adorable, and the animation is marvelous. Try to catch this anime while it's still fresh!
Boku dake ga Inai Machi Official Trailer
---
Any Animes Like Sen to Chihiro no Kamikakushi / Any Animes Like Spirited Away ?
4. Mahou Shoujo Madoka★Magica (Puella Magi Madoka Magica)

Episodes: 12
Aired: Jan. 2011 – Apr. 2011
Spirited Away has an interesting kind of dualism that makes it appealing to both young and old. On the outside, it's a fun little romp through the spirit world; but if you dig a little deeper, you can see a world corrupted by greed, pollution, and apathy. In a similar manner but definitely more adult in content, Puella Magi Madoka Magica looks very much like a bright, happy, and typical magical girl adventure featuring a cute but arguably creepy cat sidekick. The anime starts as a magical slice-of-life anime, but if you stick around for few episodes you realize something is very, very wrong with the universe in the most mind-boggling way.
Puella Magi Madoka Magica is credited with single-handedly redefining the magical girl genre. Rather than playing to the genre, Puella Magi Madoka Magica instead uses the magical girl motif to deliver a hard-nosed messages about life, love, and how our decisions can affect the lives of others. Just as in Spirited Away, we follow the titular character, Madoka, into a dark unknown world that we slowly learn about throughout the show. Madoka, who is similar to Chihiro in personality, is just an average and cheerful junior high school student until a strange series of events leads her to meet a magical cat that gives Madoka an offer that's too good to refuse. If Madoka becomes a magical girl and fights off evil witches, the cat will grant her any wish. Mothers often say, "if it sounds too good to be true, it probably is," and this is no exception. What lies ahead for Madoka are the heart-wrenching realities of life in this strange coming-of-age thriller. Puella Magi Madoka Magica will take you on an emotional and psychological ride into a world of magic girls that you never knew existed with animation sequences so crazy you will need to watch them in full HD.
Puella Magi Madoka Magica Official Trailer
---
5. Hoshi wo Ou Kodomo (Children Who Chase Lost Voices)

Episodes: 1, Movie
Aired: May 2011
Director Makoto Shinkai is often thought to be a second Miyazaki, and Children Who Chase Lost Voices will show you exactly why that is. Children Who Chase Lost Voices is a fantasy adventure, starring a young girl Asuna who is both bright and courageous. She enjoys spending her free time playing in the forests of the mountain near her house and listening to a radio powered by a strange crystal. One day she hears a hauntingly beautiful melody from the radio and meets a mysterious boy who disappears almost as soon as they meet. He is thought to be dead. Asuna is compelled to meet him again and embarks on an adventure into the underworld where she learns important lessons about life, death, and love.
The unfamiliar will often say, "Wait, that wasn't Ghibli?" because
Children Who Chase Lost Voices takes you to a new, strange world inhabited by even stranger creatures and filled with both beauty and terror. Melding together ancient mythology and a little romance, this anime feature-length film also manages to include everything about Spirited Away that hit you in all the right places: beautiful artwork, adventure at every turn, and adorable creatures all wrapped up in a timeless story. It's safe to say, Children Who Chase Lost Voices will be an enjoyable journey for all who enjoyed Spirited Away.
Children Who Chase Lost Voices Official Trailer
---
6. Natsume Yuujinchou (Natsume's Book of Friends)

Episodes: 13
Aired: Jul. 2008 – Sept. 2008
Beautiful, touching, charming, these are just a few ways Natsume's Book of Friends is described by fans. Natsume is a young man who had been ostracized as a child for acting strangely. That's because he could see yokai, supernatural monsters that are usually invisible to human eyes. Orphaned, Natsume bounced from house to house, and finally has moved to grandmother's hometown to start a new high school life, but the yokai of the area chase after him demanding that he return their names. Natsume learns that his grandmother had collected the names of many yokai and could subsequently control them. Thus, he decides to return all the names his grandmother collected. In each episode we meet a new yokai with his or her own story.
Much like Spirited Away, one main theme of Natsume's Book of Friends is forging meaningful friendships that cross supernatural boundaries. The book in question holds quite the treasure trove of names, but each story touches your heart and uplifts your soul in a very feel-good way. Through Natsume's interactions with the yokai and his classmates, this relaxing slice-of-life series with a supernatural twist reminds us of all the little beautiful things life has to offer.
Natsume's Book of Friends Season 1 & 2 - Official Trailer
---
Spirited Away is a classic and a legend. It's the crème de la crème rite-of-passage anime filled with breathtaking scenes and unforgettable supernatural characters. Even if you believe it's incomparable to any other anime, we strongly beg to differ! Here, we brought together a list of anime that will touch your heart, enrich your soul, and haunt your dreams, as soon as you let go of your fears and take that first step forward. We hope your next anime adventure is a good one!
---