También puedes leer este artículo en:Español
At first glance, the anime Suzuka looks like it might be your average sports anime. We know that sports are filled with triumph, tragedy, excitement and drama. The best parts of real-world sporting events are the amazing stories of underdogs, the comebacks, and the unlikely heroes. Suzuka's story has all those elements, and sport is merely a backdrop to this romance drama.
The 26-episode anime focuses on Yamato Akitsuki, a young man who moves from the country to Tokyo for high school. Young Yamato moves in with his aunt and his cousin who operate a women's public bath and apartment building. You get the feeling that this is going to turn into your classic harem comedy with plenty of "lucky pervert" opportunities.
One day Yamato sees a girl on the school track practicing the high jump. He is immediately transfixed by her beauty and is shocked to find out that the girl, Suzuka, is living in the apartment next door. You get to experience the life of a boy many consider a goof and unreliable as he attempts to win the object of his affection.
The drama isn't completely focused on Yamato; we get the chance to watch one girl fight to earn and keep the love of her long-term crush. The viewer also gets to watch another girl wrestle with her emotions as she tries to come to terms with a tragedy in her past.
The following are six anime that follow similar themes as Suzuka.
Similar Anime to Suzuka
1. Ao Haru Ride (Blue Spring Ride)

Episodes: 12
Aired: July 2014 - Sep. 2014
Blue Spring Ride is focused on Futaba, a beautiful high school girl who changed her life and personality after being ostracized by the girls in her middle school class. She tossed away the girly ways she was known for and embraced a louder, brasher version of herself in an effort to gain friends. The romance in this story starts several years before her reinvention. Like so many other stories that deal with young love, it starts with a chance encounter on a rainy day. Young Futuba and young Tanaka both take shelter from a storm under the eaves of a shrine. We don't get to see much of their early relationship, but young Tanaka's transfer to a new school is one of the catalysts for her change to the brash girl.
The first twist comes when the older Futuba and the older Tanaka, now called Mabuchi due to the divorce of his parents, meet again in high school. The viewer as well as our heroine immediately wonders "Can you turn back time?"
Blue Spring Ride has its comedic moments, but isn't what we would call a romcom. We really think it is best defined as a shoujo school romance with some slice-of-life elements. The more specific way it's similar to Suzuka is the pacing. The story doesn't take off at a sprinter's pace; it takes a while to develop. We also watch Futaba and Yamato -- both considered to be sloppy, unreliable and fun to be around -- chase after cool and distant love interests. You get see the experiences of the hero and heroine of their respective stories examine their lives and consider what the changes in their lives (for Yamato joining the track team and Futuba becoming less girly) got them if it doesn't get them the romantic partner they desire.
Ao Haru Ride (Blue Spring Ride) Anime Trailer
---
2. Mashiro-iro Symphony (Mashiroiro Symphony –The Color of Lovers)

Episodes: 12
Aired: Oct . 2011 - Dec. 2011
Our protagonist is Shingo Uryuu, a second-year student at Kagamidai Private Academy. The Academy is about to be integrated into Yuihime Girls School. Shingo is part of the first class of boys ever to attend the old all girls' school. We quickly see that not all the "little princesses" at the school are open and accepting of the change. The story revolves around Shingo as he makes friends at school and in the Neko Club, a club dedicated to taking care of stray animals.
You get a lot of harem elements in Mashiro-iro Symphony as it centers on a guy attending a girls school and it doesn't take long for Shingo to collect quite a few friends who all happen to be female. We also see quite a few ecchi moments in the beginning as boys, mainly Shingo, adjust to a world where a girl's privacy had never before been in question.
The romance elements develop slowly, much like in Suzuka. You also get a big hint about Shingo's main love interest in the very beginning he spots a 3rd year girl named Amaha Miu playing with a rather strange looking cat in the grass near one of the classrooms. Their tale is sweet; we watch them slowly warm up to each other. We think the biggest connection Susuka and Mashiro-iro Symphony share is their ability to take the classic trope of the transfer student and look at the difficulties of trying to fit in to a new environment and make new friends. In Suzuka's case, Yamato joins the track and field team; in Mashiro-iro Symphony's case, Shingo's attempts to melt the icy heart of the school director's daughter, Airi Sena, who opposes the integration of schools.
Mashiro Iro Symphony the color of lovers Opening
---
3. Ore no Kanojo to Osananajimi ga Shuraba Sugiru (Oreshura)

Episodes: 13
Aired: Jan. 2013- Mar. 2013
Eita Kidou is a smart guy on a mission. He plans to devote his life to medicine and, after his parents decide to split up, he decides that love and romance are just nuisances, too. We also know, however, that this is a romance and the protagonist is bound to change his mind on the subject of love. The cool, somewhat aloof role is played by two characters in this drama. The protagonist, Eita, and the prettiest girl in school, Masuzu, both play it cool even though it is all a lie. In a way the story is an anti-version of Suzuka, where there is a confession by the cool beauty, an initial rejection by the nice guy and – eventually – a contentious dating relationship.
The most significant similarity to Suzuka is the way Eita's childhood friend Chiwa does everything she can think of to be popular with guys, changing the way she looks and the way she acts all to get him to notice her as more than a next door neighbor. The story may not be filled with the angst-ridden teen drama of Suzuka, but the romance and the love triangle involving the protagonist, a childhood friend and a school beauty who can be quite mean-spirited is all there in this harem romcom.
Ore no Kanojo to Osananajimi ga Shuraba PV OP Version
---
Any Anime Like Suzuka ?
4. Kawai Complex Guide to Manors and Hostel Behavior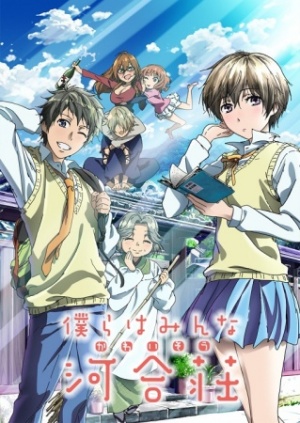 Episodes: 12
Aired: Apr. 2014 – Jun. 1014
Kazunari Usa is a high school freshmen who has the amazing opportunity to live on his own after his parents' jobs are transferred. The young man takes up residence as the Kawai Complex, a boarding house filled with a rather interesting cast of characters. The rooms host the likes of masochistic Shirosaki, a beautiful Mayumi who is hopeless with men; a college girl named Sayaka; and cool and aloof Ritsu, the Senpai whose attention he's trying to attract.
Kawai Complex offers a bit more slapstick than Suzuka, but it at its heart has a few real similarities. The most obvious is the parallel of a young high school boy living on his own in an apartment. The second major similarity is the protagonist living in the same complex as his love interest. The two also often have meals together since meals are part of the boarding house benefits. A final similarity is that the beautiful object of the protagonist's affections, Ritsu Kawai, is shy, cool and often alone when she is not at school.
アニメ「僕らはみんな河合荘」 BD・DVDのCM4種類
---
5. Itazura na Kiss (Teasing Kiss)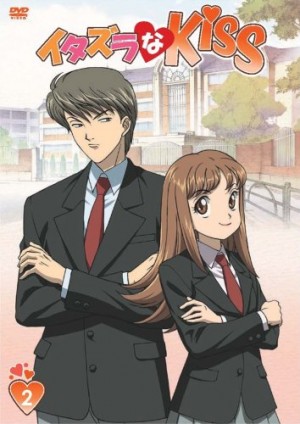 Episodes: 25
Aired: Apr. 2008 - Sep. 2008
The story starts with a confession two years in the making, a rejection, and an earthquake that levels our main character's brand new house. It's just the beginning of the misfortune for Kotoko Aihara, who soon finds herself moving in with the boy, Naoki Irie, who just rejected her. The disasters would break most people, but not Kotoko. She soldiers on and, like a great heroine, finds a spark of hope and decides there is a chance for her with Naoki Irie.
The theme that makes Itazura na Kiss similar to Suzuka is the idea of transformation. Kotoko and Naoki both evolve and change in the course of the story. That's what good characters do, especially over the incredibly long story arch in this anime.
We watch Yamato and Kotoko both use their significant others as catalysts and attempt to change themselves. For Yamato it's committing himself to track and field. For Kotoko it's deciding to become a nurse. A simple similarity is both Yamato and Kotoko are looked down on by their love interests for not measuring up to the standards that they, Naoki and Suzuka, set for themselves.
Itazura Na Kiss Ending 1 (ED)
---
6. Kimi no Iru Machi: Tasogare Kousaten (A Town Where You Live)

Episodes: 2
Aired: Mar. 2012 – Jun. 2012
Haruto Kirishima leads an uncomplicated life in his small town in the country. He goes to school. He is a member of the cooking club. He even has a girl he likes. He then has his world turned upside down when a girl named Yuzuki Eba comes to live with him. She doesn't take too long to confess her love to him, complicating his life as he still tries to win the love of another girl, Nanami Kanzaki.
The set-up is very similar to Suzuka. You have a character that moves in from out of town, in this case Yuzuki and in the former Yamato. You have the new character, Yuzuki or Yamato, living under the same roof as their love interests. You also have a very early confession, so like Suzuka, Haruto knows that despite the agreement to just be friends they are still the object of unwanted affection.
Kimi no Iru machi Trailer
---
Conclusion
Suzuka brings a lot to the table as a romance. The viewer gets all the excitement of a sports anime without it overwhelming the subtleness of the human drama. Those with track and field experience may cringe a little at the animation of Suzuka's high jump, but we can push past it as the real story is about the relationships and the lengths we go to to change how others see us.
You do get some stand-out characters like Suzaka's best friend Miki Hashiba and her moments of advice to her friends as she tries to help smooth over rough patches in their relationships. You also get some under-used characters like Miho, Yamato's twin-tail wearing middle school cousin. Miho loves her cousin even though her opinion of him as a man might not be very high at times. It would have been nice if that relationship had been explored more, if only for comic relief. The story is subtle, just like the role of track and field as a plot device. If you want a drama and not a typical teen romcom, the bar is set high by Suzuka.
---