También puedes leer este artículo en:Español
Kyou Nukui is your fairly standard hikikomori. Due to the fact that he was bullied by his classmates in his past, he has decided to retreat into his home and stay away from everyone other than his little sister Kurumi. He spends a lot of his days online and on skype talking to someone. When he is not doing that, he works on music. You see, he is actually a musician and uploads what he creates online.
One day, a message comes saying that a fan wants to meet him and he agrees. When he arrives there, he is greeted by Jun, Nozomi, and Sora: Three elementary school girls. Thinking this could be a pedo trap, he tries to step away but is cornered with the threat that they will scream if he runs. He learns that these girls are actually fans of his music and want his help with their band, Baby's Breath. Thus, the closed heart that he used to have is slowly beginning to open again.
This is the loli anime we have been waiting for for a long time, so whether you are a scaredy-cat fan, a tsundere fan, or a laid back loli fan, you are in luck. Let's take a look at six more anime like Tenshi no 3P! that deal with lolis, music, and more!
Similar Anime to Tenshi no 3P! (Angel's 3Piece!)
1. Ro-Kyu-Bu! (Ro-Kyu-Bu ~ Fast Break!)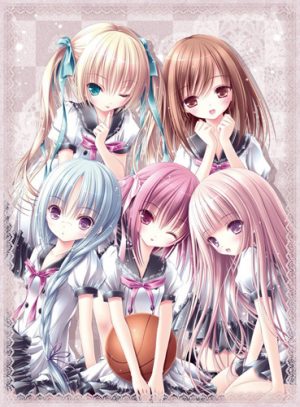 Episodes: 12
Aired: Jul 2011 – Sept 2011
Ro-Kyu-Bu! Tells the story of Subaru Hasegawa who, now that he is a student at Nanashiba High School, has finally gotten on the basketball team. He is ready to become a superstar! Or not… the team is shut down after the captain of the basketball team is busted for having the hots, and possibly more, for the coach's daughter. Bye, bye dreams of being popular. With nothing to do, his aunt finds something for him! There is a basketball team that needs a coach and a lot of help. He walks in and finds a group of girls. Okay, this is getting better for him! He then realizes that these girls are very young. They are loli-level young. Suddenly things could be looking up for him. Now he needs to lead these girls to glory. But can he?
Ro-Kyu-Bu! Is here for a myriad of reasons and the art is offender #1. Just kidding. The creator for Ro-Kyu-Bu! and Tenshi no 3P! is the same person, Sagu Aoyama. So of course, the lolis needing help setup will be the strongest bond here. There are many times where what is appropriate and what is not is trodden carefully. There is also the high schooler who is a loser or down on their luck magically being given the opportunity many an otaku would murder someone for aka getting up close and personal with small children. This is for those who want Tenshi no 3P! but with sports instead of music!
---
2. Kodomo no Jikan

Episodes: 12
Aired: Oct 2007 – Dec 2007
Daisuke Aoi has just been given a new mission in life: Teach the 3rd grade for elementary school students. A piece of cake. However, he starts the class in a very awkward fashion after learning that a previous student was bullied by their former teacher. Then, Rin Kokonoe decides that she too has a new mission in life: To get Daisuke to fall in love with her as her first love. However the rest of the class is already disillusioned about reality at age 7, and now Daisuke needs to motivate these children while making sure that he steers clear of Rin. If only it was so easy.
Again here, we have a very convenient setup where the main male character has a group of lolis simply fall into his lap. The girls in Tenshi no 3P! are a bit more mild though and less aggressive than the girls from Kodomo no Jikan. Again though the male character is central to helping the girls and assisting them in overcoming their issues. If you are ready for a more scandalous version of Tenshi no 3P! then dive on in.
---
3. K-On!

Episodes: 13
Aired: Apr 2009 – Jun 2009
K-On! is about Yui Hirasawa who has just entered high school. Looking for a club, she finds one in the Light Music Club and signs up immediately. The only problem being that she cannot play an instrument. She goes to the room to explain herself only to be sucked in and coerced to learn to play an instrument. The other girls need her too as, without her, the club will have to disband. Agreeing, Yui is to learn to play the guitar while juggling her busy high school life and studies. Can she do it though?
K-On! and Tenshi no 3P! both start out with the common foundation of both being about essentially cute girls in rock bands. While K-On! has a lot more music screen time than Tenshi no 3P!, the bond there is undeniable. There are bountiful amounts of cute moments, fanservice and just being plain moe. Just know that if you were looking for a boring male character to inject yourself into, that K-On! lacks one as it is just about the girls. Check it out though for a classic Kyoani show!
---
Any Anime Like Angel's 3Piece! / Any Anime Like Tenshi no 3P! ?
4. Papa no Iu Koto wo Kikinasai! (Listen to Me, Girls. I Am Your Father!)

Episodes: 12
Aired: Jan 2012 – Mar 2012
Do you like lolis? Do you like a random male character taking care of them? Then Papa no Iu Koto wo Kikinasai! is just for you. Yuta Segawa was just a small child when his parents died. He was raised by his older sister and then when she married, she left and he lived alone. Years later, she appears out of the blue and asks him to take care of her three daughters while she goes abroad. During the flight though, the plan does down and Yuri tragically loses her life. Now, this freshman in a university has to raise Sora, Miu, and Hina since otherwise, they would be split up. Their story begins here.
The setup is a lot like Tenshi no 3P! where we have a central main character looking after little girls. Sora, Jun, and Nozomi are orphans and Sora, Miu, and Hina are orphaned rather quickly. While the girls do have their differences, the girls are super attached in both series to their male character counterparts and rely on them greatly. Expect lots of cute loli moments and logic that would fail in the real world, but work great in the anime world.
---
5. Mitsudomoe

Episodes: 13
Aired: Jul 2010 – Sept 2010
Satoshi Yabe has just been hired at his local school. He has been put in charge of three 11-year-old girls that are an absolute nightmare. The triplets are Mitsuba, Futaba, and Hitoha and they are all opposites of each other in a weird triangular relationship. These girls have plans and are ready to accomplish them at any cost. They have also decided that it is time to hook up Satoshi with the school nurse Aiko. While it was not his intent, he cannot stop these girls....
Mitsudomoe is slightly different from Tenshi no 3P! in that the girls are in control in the first one while Kyou is in the latter. This one swaps out the moe for the comedy but keeps you laughing. Tenshi no 3P! is about mild humor and there are some compromising moments and phrases, while Mitsudomoe takes everything to the extreme. If you like out of control lolis and laughs, you are set!
---
6. Usagi Drop

Episodes: 11
Aired: Jul 2011 – Sept 2011
Daikichi is a 30-year-old man with no girlfriend but he has a good job. With no real goals other than that, his grandfather passes away one day leaving an illegitimate child behind. The family is mortified and wants nothing to do with her. Facing abandonment, Daikichi takes her in and is angry at the rest of his family for how they have acted. The problem is this: he has no idea how to raise a child. Thus, Daikichi and Rin set out on a journey together to become closer and understand what family can actually mean.
First of all, we have yet again, an orphaned girl, or girls in Tenshi no 3P!, who is the focus of the story. The family moments between the girl's father figure in T3P is just drummed up more in Usagi Drop. While you should not expect anything close to music with Usagi Drop, you can experience and enjoy a lot more heartfelt discussions and friendliness as well as a few laughs along the way.
Usagi Drop Trailer:
---
Final Thoughts
Thank you so much for reading to the end of this post. While there are a lot of anime out there, we felt by overall similarities shared and feel that these six anime relate best to Tenshi no 3P! in one way or another. However, we would love to hear what shows you find similar. Please let us know in the comments below!
---