The first time that A Certain Magical Index came into existence was in 2004 as a light novel series written by Kazuma Kamachi and illustrated by Kiyotaka Haimura. Over the next four years book after book were released until it became too big to ignore and a twenty-four episode anime adaptation was released into the wild in October 2008. It was pretty much an instant hit with fans who loved the quirky characters, unique stories and dark animation created by studio J.C. Staff. Since then the series has spawned a second anime series and a movie.
In this series, the setting is a science based metropolis named Academy City whose population mostly consists of students many of whom have special powers which make them range all the way from the powerful level 5's to the powerless level 0's. The main character, Kamijou Touma, happens to fall in the latter camp and is virtually powerless except for his right hand which has been dubbed 'Imagine Breaker'. While he doesn't possess any real offensive skills like some of the other characters in the series, his right hand does have the defensive capability of completely nullifying any magical or psychic power that it comes into contact with.
The good news is that if you've seen this series before or think that you'd rather watch something else that are along these lines, there are plenty of series to choose from which will do you right.
Similar Anime to A Certain Magical Index / Similar Anime to To Aru Majutsu no Index
1. Unlimited Psychic Squad (Zettai Karen Children: The Unlimited – Hyoubu Kyousuke)

Episodes: 12
Aired: Jan. 2013 – Mar. 2013
Kyousuke Hyoubu is one of the most powerful beings on the planet due to his psychic powers but he's also a fugitive. His mission is to save other people with psychic abilities who are mistreated by humans.
When you're dealing with series that have psychic powers as a central theme, there's bound to be some overlap in the abilities in the characters. In this case both series feature teleporters and a male character who is able to nullify the power of others. In this case though, the tone of the series is much darker than the usually light hearted and often times humorous Index.
Unlimited Psychic Squad Promo
---
2. Shakugan no Shana

Episodes: 24
Aired: Oct. 2005 – Mar. 2006
Mysterious beings from another universe are making their way to Earth and feasting on the life energy of humans. Only one fighting force can destroy them and they are called Flame Hazes. The main character of this series is Yuuji Sakai who finds himself attacked by one of these creatures but is rescued at the last moment by a girl named Shana and thus begins his strange new life with a mysterious girl.
Also animated by studio J.C. Staff, the look and feel of Shakugan no Shana is very similar to Index. They both revolve around a guy who gets involved with a mysterious girl (though Index isn't anywhere close to Shana in terms of being a tsundere) which is followed by tons of action and suspense. The primary difference between the two series is that Index is more magic based while Shakugan no Shana is more based on supernatural powers in general. That doesn't change the fact that the two series are essentially spiritual anime siblings and will please fans who are looking for more of the same thing.
Shakugan no Shana - Season 1 - Trailer
---
3. Guilty Crown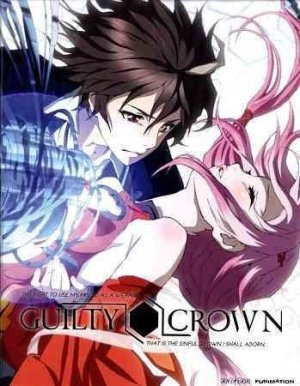 Episodes: 22
Aired: Oct. 2011 – Mar. 2012
In the year 2029, Japan suffered through the deadly outbreak of the Apocalypse Virus. Ten years later the country is now under the control of a military force called the GHQ while another group known as Funeral Parlor fights to free the people from their rule. The story really begins when Inori Yuzuhira, a member of Funeral Parlor, meets Shuu Ouma which leads to him obtaining a strange power which allows him to pull objects out of people which are manifestations of their personalities.
Another action-mystery series that features a teenage male hero who is fighting against an organization while trying to help a mysterious girl that he recently met, this is another series that will satisfy fans who want more of the same or at least want something similar that is told in a vaguely different way. The most coincidental feature about the two series though is that the heroes both have special powers in their right hands which will come into play throughout the entire run of the series.
Guilty Crown: The Complete Series - Trailer
---
Any Animes Like A Certain Magical Index / Any Animes Like To Aru Majutsu no Index ?
4. The Irregular at Magic High School (Mahouka Koukou no Rettousei)

Episodes: 26
Aired: Apr. 2014 – Sept. 2014
The setting for this series is Magic University First Affiliate High School, where students are separated into two groups: the "bloom", who excel in their studies, and the "weed", who don't do so well. The main characters are a brother and sister pair who couldn't be more different academically as the sister, Miyuki, is a bloom and the brother, Tatsuya, is a weed. The only problem is that once the school year starts, Tatsuya starts to display abilities that far exceed what is expected of him.
One of the biggest themes of Index is the war between magic and science. It's a theme that comes up again and again throughout the run of the series and this is the thread that ties it to another series, The Irregular at Magic High School. In this series, magic and science are thrown together and is discussed at length. While Index has much more action than Magic High School, the theme of magic vs. science and how they can be brought together is explored much more in depth in this particular series.
The Irregular at Magic High School Trailer
---
5. The Mystic Archieves of Dantalian (Dantalian no Shoka)

Episodes: 12
Aired: Jul. 2011 – Oct. 2011
Hugh Anthony Disward has inherited a mansion that comes complete with a personal library. While exploring, he wanders into the basement and discovers a girl named Dalian who serves as a guardian for Dantalian's Bookshelf which houses forbidden books of demons.
While there aren't a lot of similarities between these two series, there is one big one which ties the two together quite strongly and that would be their lead female characters. In Index, the lead female has 103,000 magical texts in her head. In this series however, the lead female named Dalian protects a large library of forbidden texts and books in a mystic library.
Having a female lead who stores or protects forbidden knowledge and texts isn't an incredibly common theme within anime or manga so when searching for similar titles this one stuck out quite a bit. While Index tends to be more shounen action however, Dantalian is more of a slow paced mystery.
TV animation "The Mystic Archives of Dantalian" PV
---
6. Kurokami The Animation

Episodes: 23
Aired: Jan. 2009 – Jun. 2009
Ibuki Keita is haunted by bad luck and tragedy. He has shut himself off from the world and refuses to let anyone get close to him because he is afraid that something will happen to them. Eventually though he meets a girl named Kuro who guards the flow of "terra" or life energy that is split between three identical looking people.
Another solid action series, this is another series that is solid in terms of action and drama which makes it a nicely comparative series to Index. In both series the male lead meets a female lead possessing special magical powers and a huge appetite which leads to action packed adventures and a dark, twisting story that slowly unravels to reveal many hidden truths.
Kurokami [1/8/2009] Official Trailer
---
Science, magic and religion are topics that many series tend to stray away from (particularly in the west) due to their controversial nature. Anime and manga not only dives into these topics head first but are able to do so with respect and class as these series prove over and over again.
by L.B. Bryant
---