One of the planned anime adaptation for the hit game franchise Touken Ranbu, handled by Doga Kobo and aptly called Touken Ranbu: Hanamaru, is finally airing! More than a year after the game popularity exploded and the fandom flourished, we're finally getting the anime that we've been wishing for! We can see our sword boys living peacefully in the Honmaru, going for battles every now and then, working and doing the chores in their special outfits, and of course, finally seeing their Shinken Hissatsu forms animated!
Just like its title said (and of course, as both Kiyomitsu and Yasusada said at the beginning of every episode), Touken Ranbu: Hanamaru tells the story of a certain Honmaru's sword boys "hanamaru" days—"just like flowers", peaceful, light-hearted, cheerful, but also beautiful and heartwarming. In the year of 2205, in order to counter the attacks of "Historical Revisionists", The Saniwa who holds the power to give life into objects, brings into life famous historical swords as male warriors, known as Touken Danshi. From time to time, the Touken Danshi would charm the audience with their prowess in battle, but really, mostly, they charm us with adorable shenanigans and cheerful daily lives in the Honmaru
In the excitement of finally being able to see our favorite sword boys being animated every week and to fill the downtime between each week as we wait for the new episode, we have compiled a list of anime that fans of Touken Ranbu: Hanamaru might love as well. Take a look, and see if you'd enjoy them!
Similar Anime to Touken Ranbu: Hanamaru
1. Hakuouki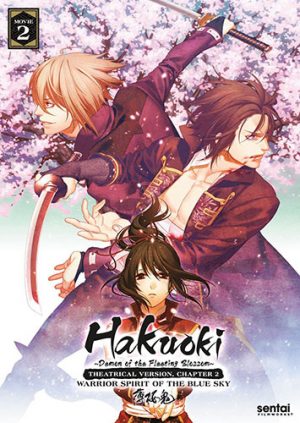 Episodes: 12
Aired: April 2010 – June 2010
Set in the Bakufu era, Hakuouki series centers around Yukimura Chizuru, who set out on a journey to Kyoto in order to find her missing father. Unexpectedly, Chizuru finds herself getting mixed up in Shinsengumi's business as they realized that Chizuru's father is the man they have been looking for. In order to continue looking for her father, Chizuru joins the Shinsengumi, but what sort of dark secrets surrounding her father would they discover? Delivered by Studio Deen, Hakuouki is a popular series with three anime adaptations, two manga adaptations, and two movies, aside from its original otome game franchise.
While their genre is slightly different as Hakuouki leans more towards romance and serious plot, those who love Hanamaru for its light historical aspects would also enjoy Hakuouki, especially for Touken Ranbu fans who love the Shinsengumi swords in Hanamaru, and more specifically for the Okita-gumi swords, Kiyomitsu and Yasusada lovers! Hakuouki, just like Touken Ranbu, had made its success as a female-oriented game franchise before making its anime debut. This means you're guaranteed not only an abundance of good-looking male characters in the series, but also impressive seiyuu line-up! You'll also get to hear Toriumi Kousuke, who is none other than the voice of the rare Mikazuki Munechika, as Saitou Hajime in Hakuouki.
Hakuouki Official Trailer
---
2. Chouyaku Hyakuninisshu: Utakoi

Episodes: 13
Aired: July 2012 – September 2012
Widely known simply as Utakoi, Chouyaku Hyakuninisshu: Utakoi is a series that tells "super-liberal interpretation" of the Hyakuninisshu anthology; a compilation of 100 poems out of 100 different poets during Japan's Heian period. Fujiwara no Teika, who compiled the Hyakuninisshu in order to decorate the villa of his monk friend, Utsunomiya no Yoritsuna, narrated the stories behind the poems that made it into his compilation, and brought the audience into the world of Heian palace, the people who live in it, and the friendship and romances that bloom behind the beautiful words.
At the first glance, Utakoi perhaps has very little similarity to Hanamaru, except in the sense of Japanese historical setting atmosphere. Utakoi does focuses more on the romance aspect, one which Hanamaru doesn't care for, but what would remind you of Hanamaru if you watch Utakoi would be the sense of humor in the story. There's a quiet slice-of-life, slightly dreamy quality in every episode, and the humor presented in both Utakoi and Hanamaru are subtly woven into the silly antics and interactions among the characters, and later wrapped into heartwarming conclusion that would make you smile. Besides, Utakoi has really great music, and the seiyuu line-up might just be better than Hanamaru so far; it has Suwabe Junichi, Kaji Yuuki, Shimono Hiro, and even Ishida Akira! If you like Touken Ranbu: Hanamaru for its slice-of-life, quiet but adorable episodes, there's a good chance that you'd like Utakoi as well!
---
3. Kimi to Boku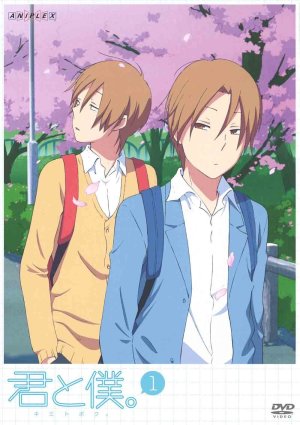 Episodes: 13
Aired: October 2011 – December 2011
Adapted from a manga with the same title by Hotta Kiichi, Kimi to Boku is a light slice-of-life series that focus around the lives of five high school boys: the proper student Tsukahara Kaname, the sweet and gentle Matsuoka Shu, the handsome, popular Asaba twins, Yuuta and Yuuki, and the half-German transfer student, Tachibana Chizuru. Spending their peaceful, perhaps nothing-to-do high school days, the five teenagers learn little things from people around them and deal with (or more often, cause) chaos and shenanigans that spice up their daily lives. From cutting your friend's hair, random sleepover, to school festival where you have to dress up as Snow White, the shenanigans offered by this series would definitely steal a place in your heart!
What makes Kimi to Boku very similar to Hanamaru is probably the peaceful, almost lazy atmosphere that every episode has. Both series are of slice-of-life genre, and even though Kimi to Boku has sprinkles of romance here and there, like Hanamaru, it mostly focuses on the relationships among the boys and their characters. Just like we get to see Mutsunokami Yoshiyuki taking pictures of the other sword boys having fun, Kimi to Boku offers the same sort of peaceful daily life happenings through Chizuru, Yuuta, Yuuki and Shun taking a selfie after cutting Shun's hair. Of course, the fact that both series have a lot of cute boys doing cute things is another point! Not to mention that the seiyuu line-up are exceptional as well—among the seiyuu in Kimi to Boku are Irino Miyu, Uchiyama Kouki, Kimura Ryouhei, Toyonaga Toshiyuki, Ono Yuuki and Kaji Yuki.
---
Any Anime Like Touken Ranbu: Hanamaru?
4. Danshi Koukousei no Nichijou (The Daily Lives of High School Boys)

Episodes: 12
Aired: January 2012 – March 2012
A collaboration between Sunrise and Square Enix, what would it be like? Mobile suits in a Dragon Quest-esque adventure, maybe? The beginning of this anime might trick you into thinking so, but really, a collaboration between Sunrise and Square Enix is apparently the story about the daily lives of three completely normal high school boys: Hidenori, Yoshitake, and Tadakuni. With their imagination running rampant and their friends whose antics are oftentimes extremely incomprehensible, Danshi Koukousei no Nichijou presented you with a hilarious, slice-of-life stories centering around the daily lives of high school boys—from trying out a friend's sister's skirt, pretending to be the hero character in an RPG game, to an extreme version of kick-the-can game—get ready to laugh until your stomach hurts!
Both series deal with slice-of-life and humor genre, leaving the same fondness you'd feel familiar with the characters. If Hanamaru gives you the quiet, amusing kind of slice-of-life, Danshi Koukousei no Nichijou takes it up another notch and doubles the silliness, hilarity, and crazy. Both anime have a lot of male characters, and for Touken Ranbu fans who love to see the random interactions between the sword boys and enjoy seeing them be such good friends, Danshi Koukousei would be a great choice for them. Like Hanamaru, it doesn't only focus on the three main characters, but also give a considerable spotlight to the supporting casts and their own group of friends and families. Except, this time, with ten times more the comedy!
---
5. Nobunaga Concerto

Episodes: 10
Aired: July 2014 – September 2014
An interesting mix of shounen, humor, and historical genre, Nobunaga Concerto tells the story of a normal high school boy named Saburou, who never planned to actually get thrown back in time all the way back to the Sengoku era, much less to find that he has the same exact face as none other than Oda Nobunaga himself. Or that because of this and that reason, Saburou himself has to be Oda Nobunaga and take the mission to unite the whole Japan, because that's what Oda Nobunaga is supposed to do in order for history to remain the way it is. Being the carefree, my-pace kind of guy, Saburou takes the mantle of Oda Nobunaga and, with his limited knowledge of history, tries to unite the whole Japan under the banner of Oda clan (because the history books said so. No, really.).
If you're intrigued by Touken Ranbu Hanamaru's historical aspects and time-travel genre, you might just enjoy Nobunaga Concerto. Even more so if you're into Japanese history and are one of the Touken Ranbu fans who likes to look up the history of the sword boys—Oda-gumi swords lovers would have a lot of fun watching and giggling over Nobunaga Concerto. The brand of humor offered in Nobunaga Concerto might be a different kind from Hanamaru's slice-of-life humor, but it's still silly and heartwarming. Both shows deal with time-travel and history in a rather light-hearted fashion, unlike most of anime with time-travel genre, which honestly is quite refreshing. You can also enjoy popular seiyuu's voices such as Miyano Mamoru, Kaji Yuki, Nakamura Yuiichi, Sugita Tomokazu and Aoi Yuuki!
---
6. Working!! (Wagnaria!!)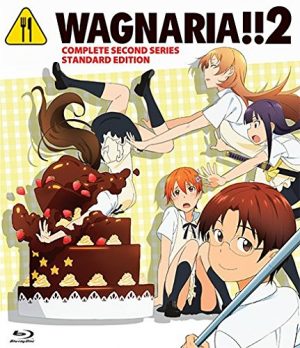 Episodes: 13
Aired: April 20120 – June 2010
Working!! is a popular series with two sequels and another anime adaptation with an alternate setting, due to its booming popularity. Bumping into Taneshima Popura might or might not be the best mistake in Takanashi Souta's life. Who knows his love for tiny, cute things would get him recruited as another worker for Wagnaria, a family restaurant in Hokkaido whose owner is always gone in search of his wife? Brought to you by A1-Pictures, Working!! Centers around the lively happenings and eccentric workers in Wagnaria—from the scary head chef Satou Jun, the lazy Shirafuji Kyouko, the sadistic sous chef Souma Hiroomi, to Inami Mahiru who is scared of men. What sorts of hilarious shenanigans would Takanashi be involved in this rather interesting workplace?
Even though Working!! doesn't have an all-male cast like Touken Ranbu: Hanamaru, perhaps it's the one anime that is closest to Hanamaru's brand of silly shenanigans. Both series' humor stems from their characters' antics instead of situational humor, and shows us how the characters' relationships develop from there. Both has slice-of-life genre and focuses on very little, if none, romance. Just like how we expect Uguisumaru's constant love for drinking tea causes amusement in Hanamaru, we can also expect shenanigans to be born from Todoroki's habit of bringing katana everywhere. If you're expecting big name seiyuu in Working!! as well, no worries! Among its line-up includes the Dream Girl Stories duo, Ono Daisuke, and Kamiya Hiroshi, alongside Fukuyama Jun, Kitamura Eri, Hikasa Youko, and Asumi Kana.
---
Conclusion
A female-oriented slice-of-life, cute anime with an all-male cast and zero romance aspect is, surprisingly, doesn't happen very often in the industry of anime. Hopefully the excitement for Touken Ranbu: Hanamaru would catch on, and we'd have more anime like this in the future! In the meantime, has you favorite sword appear in Hanamaru, yet? Of perhaps, like this writer, one of your favorite but less popular swords has unexpectedly made it into almost all of the available episodes?
Have more recommendations, or simply want to comment on our selections? Let us know down in the comments!
---