Growing up sucks—we all know it. Sure, there are some perks, but the crushing cycle of overwork and stress can suck the joy out of anyone's life... even if they work on a cutesy kids TV show. Such is the case for Uramichi Omota, the fitness instructor for the somewhat beloved children's program Together with Maman. His plastered-on smiles do nothing to hide the thousand-yard stare he gets when he thinks about how his hectic adult life is killing him just a little more each day. If you've been enjoying Uramichi-Oniisan's particular brand of dark humor this anime season, why not check out these six other anime that also explore how draining the real world can be. Here are six anime like Uramichi-Oniisan!
Similar Anime to Uramichi Oniisan / Similar Anime to Life Lessons with Uramichi-Oniisan
1. Sayonara Zetsubou Sensei (Sayonara, Zetsubou-Sensei)

Episodes: 12
Aired: July 2007 – September 2007
What do you get when you put a manically depressed (and very melodramatic) man in charge of a class of oddball and/or psychologically damaged students? You get Sayonara Zetsubou Sensei, of course! This is by far the oldest anime on this list, but it's a vital companion piece for Uramichi Oniisan because it has the same surreal approach to dark humor and pitch-perfect comedic timing as its more modern counterpart. Then again, this anime did once feature a live-action man running through a train station in his underwear and a bra as the animated characters watch in disbelief, so maybe it's more surreal than Uramichi Oniisan ever has been...
Sayonara Zetsubou Sensei OP
---
2. Saiki Kusuo no Ψ-nan (The Disastrous Life of Saiki K.)

Episodes: 120
Aired: July 2016 – December 2016
Kusuo Saiki is one of the most powerful psychics on the planet—he could wipe out all of humanity in just a few days if he wanted to. But all he really wants to do is have a normal life, something that his crazy friends and family aren't going to make easy for him. Although Saiki is much younger than Uramichi, they're both so jaded and weary that it takes a truly incredible event to break through their cynicism. For Uramichi, it's seeing the kids on his show genuinely enjoying themselves, and for Saiki, a perfect glass of coffee Jell-O will bring him close to tears of joy! We hope they both get to enjoy easier lives one day.
The Disastrous Life of Saiki K. Trailer
---
3. Nami yo Kiitekure (Wave, Listen to Me!)

Episodes: 12
Aired: April 2020 – June 2020
If you've ever felt like a lonely sadsack with no real purpose in life but to just keep hobbling along until you find one, then you'll vibe perfectly with Minare Koda from Wave, Listen to Me! After her drunken rant to a stranger gets played on public radio, this hotblooded 20-something stumbles into a career as a radio storyteller and accidentally gets involved in some shady business along the way. She speaks her mind much more than Uramichi, which is refreshing if you're looking for someone who vents their frustrations instead of holding them in for an unhealthy amount of time. Plus, her seiyuu absolutely nails the part!
Wave, Listen to Me! Trailer
---
Any Anime Like Life Lessons with Uramichi-Oniisan / Any Anime Like Uramichi Oniisan ?
4. Aggressive Retsuko (Aggretsuko)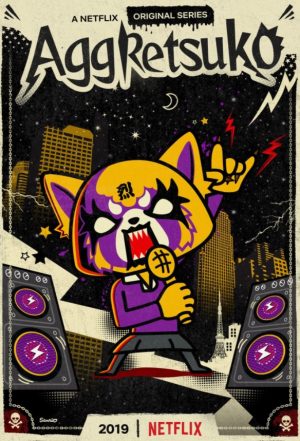 Episodes: 10
Aired: April 2018
There's something sublime and hilarious about Sanrio—the brand that makes Hello Kitty and pretty much every other kawaii mascot you've ever seen—creating an anime about a frazzled office lady who can only express her rage at the world through death metal karaoke. Retsuko, a red panda styled just like any other Sanrio character for maximum tonal dissonance, works at a soul-crushing job with a manager who doesn't respect her and pines after romance because she feels like she'll be a failure if she doesn't get married soon. We bet that she and Uramichi would get along well since she could teach him about death metal therapy and he could teach her how to care less about what other people think.
Aggretsuko Trailer
---
5. Amagi Brilliant Park

Episodes: 13
Aired: October 2014 – December 2014
Theme parks are supposed to be some of the happiest places on Earth, right? But the decrepit and near-abandoned Amagi Brilliant Park isn't bringing joy to anyone right now, which spells imminent doom for the fairy folk who work there (they might seem to be costumed actors and people in knockoff Full Metal Panic mascot costumes, but that's really what they look like). It's up to new manager Seiya to bring the park back to life, although he'll have to prove to the jaded employees that he can actually make a difference. It goes in a more optimistic direction than Uramichi Oniisan, so if you'd like to see these tired souls actually catch a break every now and then, this is the anime for you.
Amagi Brilliant Park Trailer
---
6. Kakushigoto

Episodes: 12
Aired: April 2020 – June 2020
From the same author as Sayonara Zetsubou Sensei comes Kakushigoto, a story about an ecchi mangaka named Kakushi Gotou who desperately tries to shield his precious daughter Hime from knowing about his risqué line of work. Kakushi has a difficult life that beats him down at times and his overprotective nature gets him in hot water with Hime's guardians when he takes his doting antics too far, but he and Hime are still a happy little family together. For a zany dark comedy that hits many of the same beats as Uramichi Oniisan but also has an adorable daughter whose smile makes all the pain worth it, check out Kakushigoto!
Kakushigoto Trailer
---
Final Thoughts
You should also add Tiger & Bunny, Honey and Clover, and (if you feel like getting really depressed) Goodnight Punpun to your list of "growing up sucks" anime—best viewed with ice cream bucket in hand and dog on lap. But, are there any other anime like Uramichi Oniisan that you love? Let us know in the comments, and thanks so much for reading!
---