También puedes leer este artículo en:Español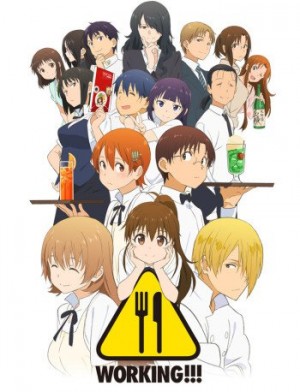 Light-hearted, slice-of-life comedy might not be everyone's cup of coffee, but when you're tired of watching anime with dark and complicated plots, or simply wanting a break of all the explosions and over-the-top action anime, this genre will never fail to bring you bits of laugh in your life.
Working!!, for example, gives you a peek into the hilarious daily life of the workers of Wagnaria, a family restaurant whose owner is almost always gone to look for his missing wife. With a cast full of funny quirks that might make you burst a lung from laughing, a very fluid animation that pays a lot of attention to movements provided by A-1 Pictures, and very good comedic cues, this anime managed to win the fans' hearts and score two sequels: Working'!! and Working!!!, and a final episode soon-to-be aired on December 26th 2016: Working!!! Lord of the Takanashi.
If you have fallen in love with Working!! and wished you could have more, well, in the meantime, why not fill the space it left with several anime that are just as light-hearted and funny? They say laughter is the best remedy of life, after all. Here are six anime similar to Working!! that you might find interesting:
Similar Anime to Working!! / Similar Anime to Wagnaria!!
1. Servant x Service

Episodes: 13
Aired: July 2013 – September 2013
Adapted from another 4-koma manga by Takatsu Karino, the same creator of Working!!, this anime would be the next obvious choice to watch if you loved Working!!. Set in a particular City Ward's health and welfare section, this anime follows the daily life shenanigans of the laidback Hasebe Yutaka who turns out to be very capable, Miyoshi Saya who isn't very good at communicating but is very popular as a life problems consultant among old people, and Yamagami who aims to exact revenge on the man who allowed her name certificate to pass.
Like Working!!, this anime is pitched as a workspace comedy and slice of life genre. Of course, the comedic quality of it is not a question; the quirks of each character guarantees to threaten you to choke on your own laugh. Not only is it written by the same author of Working!!, the animation for Servant x Service is also handled by A-1 Pictures, giving it a very familiar feeling of Working!!, especially with its very colorful and fluid animation.
It really isn't a stretch to say that Servant x Service and Working!! are siblings. If you enjoyed Working!!, it is very likely that you would love Servant x Service as well.
TV Anime "Servant x Service" PV 7 (English Subbed)
---
2. Hataraku Maou-sama! (The Devil is a Part-Timer!)

Episodes: 26
Aired: April 2013 — June 2013
Adapted from a light novel, Hataraku Maou-sama! half-fooled its audience with a grand shounen anime opening scene: in the world of Ente Isla, The Demon King Sadao, well on his way to conquer the world, is beaten by the Hero Emilia. Barely managing to flee with his Demon General Alciel, Sadao stumbles into the real world of Japan, and begins to plan his strategy to take back Ente Isla—except that he needs to blend in the human world first without his magic capabilities, which means he has to assume a new identity of Maou Sadao, live in a very cheap apartment, and… work as a part-timer in MgRonald's.
Hataraku Maou-sama brings us the shenanigans of Sadao's life as a part-timer in MgRonald's, including his new dream to be the Best Employee of the Month. Like Working!!, it highlights the everyday workplace situations and blows it up with a grand silliness that would rip laughter straight out of your belly. The clever combination of shounen anime-like exaggeration actions and comedy makes it fun to watch through all the 26 episodes, and is definitely a great choice if you want to watch another anime like Working!!.
TV Anime "Hataraku Maou-sama!" PV
---
3. Tamako Market

Episodes: 12
Aired: January 2013 – March 2013
Workplaces don't always mean a restaurant, or a public service office. Sticking close to the daily life and communities of Japanese society, Tamako Market is an anime set on a shoutengai—a shopping district community—focusing on Kitashirakawa Tamako and the local shopkeepers. Having a family who owns the mochi shop on the very back of the shoutengai, Tamako goes through the shoutengai every single day to go home, greets the other shopkeepers, and would sometimes buy groceries from them as well.
With everyone within the shopping district being so tight-knit, it sets the tone of the show where it relies on the relationships that comes with many people coming together to work in one place. Like Working!!, the colourful, large cast of characters turns the workplace situations into a comedic setting. Tamako Market also has a very vibrant and colorful animation that reminds you of Working!!, except with Kyoto Animation's emphasis in character animation. Even with its subtle comedic cues, Tamako Market doesn't fail to bring you laughter the way Working!! does.
TVアニメ『たまこまーけっと』PV
---
Any Animes Like Working!! / Any Animes Like Wagnaria!! ?
4. Soredemo Machi wa Mawatteiru (And Yet the Town Moves)

Episodes: 12
Aired: October 2010 – December 2010
Going back to restaurants setting, Soredemo Machi wa Mawatteiru follows the story of a mystery-lover and trouble-magnet Arashiyama Hotori, who has to work at the Seaside Maid Café by leaning on the advices from her friend Tatsuno Toshiko. Being the unpredictable, if clumsy, girl that she is, Hotori attracts hilarious strings of problems from ghosts to aliens, and through her extraordinarily ordinary daily lives and work, the audience is taken through a great journey of laughter as well as several thought-provoking life lessons to learn.
Soredemo Machi wa Mawatteiru's best point would be its fluid animation provided by Shaft. If Working!! has Wagnaria with its quirky workers and regulars, then SoreMachi has Seaside Maid Café with its interesting visitors and employees, as well as great comedic cues and exaggeration that makes it really interesting and fun to watch, highlighting the silly extraordinary points of Hotori's ordinary life, whether it be alien attacks or a simple love triangle—or perhaps, square. Just by watching the opening sequence, this anime would remind you of Working!!. Also supported with an excellent seiyuu line-up such as Irino Miyu and Sakurai Takahiro, SoreMachi gives you a rather interesting feel by the combination of exaggerated comedy and light philosophical daily musings, and is definitely worth a try!
Soredemo Machi wa Mawatteiru OP (HD)
---
5. Gekkan Shoujo Nozaki-kun (Monthly Girls' Nozaki-kun)

The newly booming high school comedy anime, adapted from a 4-koma manga with the same title, Gekkan Shoujo Nozaki-kun peeks into the daily shenanigans of Sakura Chiyo, who falls in love with Nozaki Umetarou, an aloof and at times scary-looking schoolmate who turns out to be the mangaka of an immensely popular shoujo manga series. After her attempt on confessing fails and she ended up being one of Nozaki's assistants, Chiyo's school life begins to turn very interesting as she learns how far Nozaki would go in the name of his manga, including recruiting their friends to help him as manga assistants, and turning her art club activity into a chance to gather materials for his next chapter.
The quirks of each characters and how it influences their relationships with one another as well as how it brings belly-laughter to its audience has a very similar feel to Working!!, as Gekkan Shoujo Nozaki-kun takes a mangaka workplace even into the school life: from the shenanigans that stem from taking pictures for background references, to a mangaka all-nighter struggle and effects the next day, and dealing with traumatic editors. Doga Kobo manages to capture and even takes the comedic aspects of the manga into a new level—the rodeo scene, for example, is done and blown up very well in the anime. For Nakamura Yuuichi, Okamoto Nobuhiko, and Sawashiro Miyuki's fans, this anime is a must-watch, as these seiyuu bring their characters flawlessly into life. A fine choice for another slice of life comedy anime for a fun marathon.
Gekkan Shoujo Nozaki-kun Anime Trailer (PV)
---
6. Shirokuma Café (Polar Bear Café)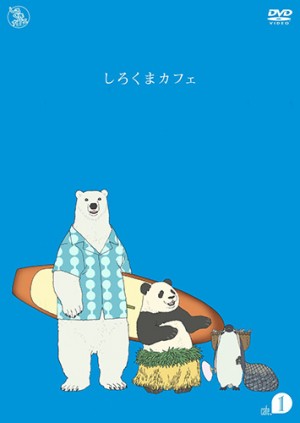 Episodes: 50
Aired: April 2012 – March 2013
The first thing that might pop in your head when you see this anime would be bizarre. Really, a Canadian polar bear opening a café, with its regulars being humans and—a Panda, a Penguin, and even a Llama and a Sloth? Not to mention that said polar bear apparently likes to tell tall tales and is also a master of pun. Balancing slice of life comedy and the cuteness of various animal characters, Shirokuma Café brings you into the hilarious daily life of its characters as they gather in the café for a break after work (or just all the time, really), and, at times, might even bring you into tears with the occasional heartfelt episodes.
Studio Pierrot does a simple but beautifully colorful animation with Shirokuma Café, which, similar to Working!!, is set on a food service business. The comedic cues it uses are slightly different from that of Working!!, but it also doesn't only bring you laughter, but also embarrassing coos at its characters, as well as inexplicable attachment to each and every one of them. Fukuyama Jun, who also plays Takanashi Satou in Working!!, holds the role of Panda-kun here perfectly, along with Sakurai Takahiro, Kamiya Hiroshi, Endou Aya, and several other top-tier seiyuu such as Konishi Katsuyuki and Hanazawa Kana.
In short, if you love animals and puns-related jokes, this would also be the perfect choice of watch.
「しろくまカフェ」CM
---
The great thing about light-hearted, comedic anime is that they could be watched any time you wish. Half-exhausted and overwhelmed by life in general, wishing for laughter without a care? A fun all-nighter anime marathon with your friends? Or simply a light watch when it's raining outside, with blankets and a cup of hot tea? Anime like Working!! will always be a good choice for any situation—it gives you laughter, less tension that requires you to marathon it, and there's no need to think too much about the plot. So lean back and enjoy some of the best laughter in your life!
Let us know what you think about our selections! Have you watched several—or all—of them? Which of them piqued your interest, and what are your thoughts? Any other similar recommendation you think should be on our list? Let us know in the comments below!
---