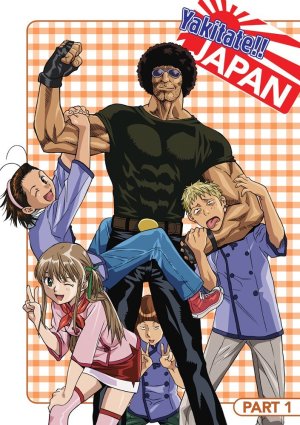 Here at Honey's Anime, we love a good story about a boy realizing his dreams in creating the ultimate freshly baked bread. What more can one want out of life than to do something one has loved since they were young?
Perhaps the over use of clever jokes and hilarious puns awakens your deep innate hunger for more ridiculous scenarios and fiery competition. If you can't get enough of Azuma competing his way to the top of the 'food chain' and are looking for more anime like this one.
Well, you've come to the right place, so without further ado! Here are 6 anime like Yakitate!! Japan.
Similar Anime to Yakitate!! Japan
1. Shokugeki no Souma (Food Wars! Shokugeki no Soma)

Episodes: 24
Aired: Apr. 2015 – Sep. 2015
Shokugeki no Souma is an anime about a fifteen-year-old boy called Souma Yukihira, a young and talented son of a world-renowned chef, Joichiro Yukihara. Souma follows in the footsteps of his father in hope to one day surpass him and take over his restaurant. However, just as Souma is about to enter high school, his father decides to shut down the restaurant and sends Souma to Totsuki Culinary Academy. A school famed for it's less than 10% graduation rate, where he is faced with the challenge of competing against other equally talented young students to rise to the top of his class.
Similar to Yakitate!! Japan, Shokugeki no Souma focuses on the development of a young boy as he uses his skills to fight his way through the intense culinary battles to one-day achieve his dream. Whereas Yakitate!! Japan is more specifically about bread, Shokugeki no Souma is about all types of cuisine from around the world. They both revolve around a determined protagonist who battles against a wide range of competitors, aiming to improve their culinary skill as each face-off is more challenging than the previous.
With great drama, fan service and comedy, this anime will get you up on your feet wondering how Souma will be able to use his innovative abilities to overcome each challenge as he is pushed to the limit with every single duel.
---
2. Chuuka-Ichiban! (Cooking Master Boy)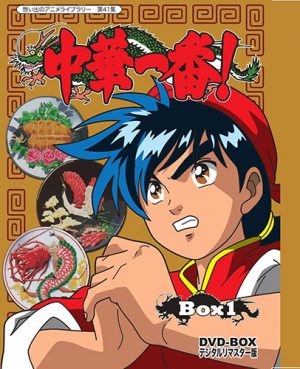 Episodes: 52
Aired: Apr. 1997 – Sep. 1998
An anime that takes place in a fictional 19th Century Imperial China, Chuuka-Ichiban! is about the story of a young Chinese boy called Liu Mao Xing. Mao aspires to follow in the footsteps of his late mother, the 'Fairy of Cuisine' - Pai. Taking the highly competitive examinations to become a Supreme Master chef and to travel all around the country to improve his culinary skills. Though Mao is very young, he has the ability to remember the ingredients of every dish he has ever eaten with his incredible taste buds, which makes him a worthy contender that shouldn't be taken lightly because of his looks.
Set in a world where cooking is taken with utmost seriousness, one can be heavily punished for insulting the art. Various chefs from around China come together to compete in fierce cooking battles to gain the fame and respect of others, however losing is not an option as it can cost a chef their entire life's work.
Though Chuuka-Ichiban has a more serious tone than of Yakitate!! Japan, it has a lot of similarities. Both protagonists have special abilities that aid them on their journey to become the best in the world and they both have intense competitions. If you like cooking mixed with a side adventure then this is an Anime for you!
---
3. Yume-iro Patissiere

Episodes: 50
Aired: Oct. 2009 – Sep. 2010
This particular anime centers around a 14-year old female protagonist named Ichigo Amano, an extremely clumsy girl who loves eating sweet things, most notably cakes.
One day Amano stumbles upon a sweets festival where she meets a man called Henri, a world famous patissier and teacher at St. Marie Academy, the culinary school for sweets. Henri sees potential in Amano when he notices her incredible palate, and invites Amano to enroll to the academy.
Amano has no other particular abilities and has trouble adjusting to the academy, but finds luck as she encounters a sweet spirit by the name of Vanilla. She also gets placed in a group of 3 elite patissiers that are known as the Sweet Princes (Makoto Kashino, Satsuki Hanabusa and Sennosuke Andou). Amano with the help of her friends, gains confidence and learns many new skills on her journey to become a patisserie.
Yume-iro Patissiere's similarity to Yakitate!! Japan lies in the protagonist's both following the love of their childhood, cakes and bread respectively. Their dreams of doing what they enjoy the most show off in their positive attitudes in making delicious food!
---
Any Anime Like Yakitate!! Japan ?
4. Moyashimon

Episodes: 11
Aired: Oct. 2007 – Dec. 2007
For the next recommendation, we chose Moyashimon, an anime based on the agricultural arts. Tadayasu Sawaki is a freshmen college student who has a unique ability to see and talk to bacteria and other microorganisms that appear to him as cute little creatures, a good ability to have especially for agriculture. Though at first they seem harmless and adorable, however they soon wreak havoc to Sawaki everywhere he goes. Destroying the carefree college life that he had hoped for, as he has to hide his ability from his childhood friend Kei, his fellow students and professors. What will become of his life when they eventually find out?
This is short anime that has uniqueness to it that you won't find anywhere else. Though it's not specifically about the culinary arts, Moyashimon brings a similar vibe and tone to that of Yakitate!! Japan. In which they both revolve around a protagonist, who has a special ability that gives them the edge over their craft. If you're looking for a break on all the intense action of mainstream anime, look no further!
---
5. Saki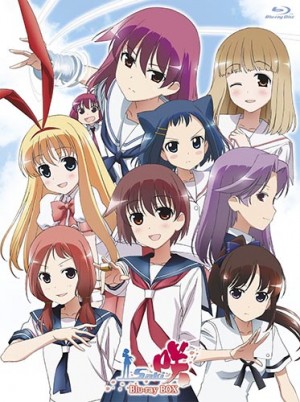 Episodes: 25
Aired: Apr. 2009 – Sep. 2009
Next up, we have an anime about the competitive scene of mahjong. It may seem like a game that appears dull and boring to most people, but Saki will change your perception of the game.
Following the story of Saki Miyanaga, a high school freshman who doesn't like mahjong because of bad experiences during her childhood with her mahjong-obsessed family. When she would win, they would get upset. If she lost, then she would get some sort of a punishment. Therefore, Saki had learned to play in a way that keeps her score on zero, so not to win or lose.
Upon entering Kiyosumi high school her middle school friend convinces her to join the mahjong club. Saki hates mahjong but is convinced to stay due to her unique ability; she eventually re-finds her love for the game and heads off with her newly found friends to compete in the national mahjong tournament.
Saki is another anime that changes everyone's perception of something that isn't recognized as having a very competitive presence. In many aspects, it's similar to Yakitate because of the over the top use of abilities and the over exaggeration of movements that brings a light-hearted kind of humor to it.
---
6. Koufuku Graffiti (Gourmet Girl Graffiti)

Episodes: 12
Aired: Jan. 2015 – Mar. 2015
Our last recommendation is Koufuku Graffiti, a heartwarming anime that follows the story of a girl named Ryou Machiko, who is a second-year high school art student that lives alone. She loves to cook after learning from her late grandmother, who taught her to be a fine wife one day when she gets married. Ryou has good cooking skills but has lost her drive as she thinks her cooking doesn't taste as good as it used to. This all changes one day when her second cousin, Kirin, decides to attend the same art school as Ryo and comes to stay with her during the weekends.
With the arrival of Kirin, Ryou completely changes her whole concept of cooking and learns that good meals are to be shared with the ones you care about. This re-ignites Ryou's passion as she rediscovers the taste in her cooking that her grandmother once taught her.
The similarity in Koufuku Graffiti lies within the protagonists both wanting to follow their passion for food and create mouth-watering dishes that receive comedic over the top food eating reactions. If you can't have enough of looking at delicious food being made, then this is the anime for you!
---
Final Thoughts
There we have it, a list of anime that will be sure to keep your hunger for more adventures like Yakitate!! Japan going. Just be sure to refill your stomach before you go watching these or else you're going to feel very hungry after watching just a few of them.
So what did you think of our list? Be sure to leave a comment below and tell us your recommendations before you go off to fill up your growling stomach after reading about all this food!