INTRODUCTION / OPENING PARAGRAPH
All of those who are fan of Yoko Matsushita's works, raise your hand! And all of us who were annoyed by the fact she has never completed the work she is most known for, Yami no Matsuei, letting us poor believers wait for an end that is probably never coming, wave your arms widely. Yami no Matsuei has been one of the works that has enthralled BL anime lovers from the Nineties the most. Not only because it's good and well-drawn, but also because it has a very intriguing plot filled with dark elements, mystery and supernatural creatures such as vampires and spirits, that are a boon for those people who are searching for more than a story about a trivial love affair.
Yami no Matsuei develops around Asato Tsuzuki and Hisoka Kurosaki's relationship, but the tie that grows strong between the two characters throughout the narration is not the main focus of the story, as it often happens in BL anime. An important part is also played by their activity, being them sort of detective-like shinigami busy with both afterlife and the living world affairs. They, in fact, work together to make sure those who are dead stay dead and investigate on criminals' activities to prevent them from manipulating spirits and corpses in order to harm human beings. In particular, Tsuzuki and Hisoka are on the traces of the mad doctor Kazutaka Muraki who's always causing troubles and putting them into danger.
With such an intriguing plot is it a shame that Matsushita-sensei was never able to finish it, isn't it? But don't worry, because Honey's Anime is here to recommend you some anime that tastes like Yami no Matsuei and that will intrigue you as much as Matsushita's story was able to do. Do you want to know what anime are we talking about? Then, keep on reading the article, because we have a list of anime similar to Yami no Matsuei that we are sure you will fall in love with!
Similar Anime to Yami no Matsuei/Descendants of Darkness
1. Shinrei Tantei Yakumo (Psychic Detective Yakumo)

Episodes: 13
Aired: Oct. 2010 – Dec. 2010
Haruka Ozawa's university life isn't that simple as any other normal student's; one of her dearest friends went crazy all of a sudden and is now in the hospital, another one has committed suicide, and who knows what will happen next? Haruka believes that her friends' accidents and mysterious changes are some spirit's possessions fault, so she decides to ask for help to investigate on the causes. There's a club in Haruka's university in which a certain Yakumo Saito, who is said to possess paranormal powers, wastes his time using cheap tricks to extort money from gullible students. After an initial reluctance, Yakumo decides to give Haruka a hand and reveals her about his special capability: born with a red eye, Yakumo is able to see spirits.
If you're searching for a horror anime that resembles Yami no Matsuei in many aspects, then Shinrei Tantei Yakumo is exactly what you need to try. As Hisoka and Tsuzuki, also Haruka and Yakumo are partners tailing traces of dangerous criminals and, of course, we are not talking about conventional criminals, but violent spirits or people involved with the world of supernatural. The atmosphere in Shinrei Tantei Yakumo is darker than the one in Yami no Matsuei in which funny things are happening all the time, but it's not less bloody. Homicides and grim strange events are the point the two anime have in common, together with the close relationship developing between the main characters while the narration is proceeding. So, if your goal is a light story with a charming plot full of action scenes just as Yami no Matsuei was, Shinrei Tantei Yakumo is exactly what you're craving for!
---
2. Uragiri wa Boku no Namae wo Shitteiru (The Betrayal Knows My Name)

Episodes: 24
Aired: Apr. 2010 – Sep. 2010
Has the need for bishōnen characters in action left a hole in your heart when Yami no Matsuei had finished airing? Don't worry, because Uragiri wa Boku no Namae wo Shitteiru has everything a fan of both BL and supernatural stories could ask for! Indeed, Uragiri follows the adventures of Yuki Sakurai, an orphan with a mysterious ability: by a single touch, he's able to connect with a person's emotions, darkness, and the reasons which caused it. Scared by the powers he has no control of, Yuki becomes cold and lonely, but his attempts to stay away from people and stop being a burden to them fails every time. With the sudden appearance of a beautiful man who claims to be his brother, Yuki's life will get even more uncertain than before.
Yuki reminds of Hisoka in many ways, from his appearance to his introverted personality that makes him act as an unlikable person, at least in the beginning. Indeed, Yuki is just scared to become a burden to other people and does his best to be able to rely only on his own strength instead of others. As for Hisoka, the reasons for Yuki to be that cold toward people are his unfortunate past and his powers, but he will soon or later become more and more attached to his partner, ending up developing a strong and sincere empathic bond with him. After all, every hazel-haired young boy needs a strong-willed dark-haired guy to live happily, doesn't he?
---
3. Kuroshitsuji (Black Butler)

Episodes: 24
Aired: Oct. 2008 – Mar. 2009
Here's another anime for all the fans of BL horror stories craving for good-looking boys who are in a complicated relationship. Settled in Victorian England, Kuroshitsuji is the story of the "Queen's Guard Dog", Ciel Phantomhive, and his mysterious butler, Sebastian Michaelis. Together, they were assigned by Her Majesty with the duty of taking care of unsettling events occurring in her country that seem to have a supernatural origin. Actually, Sebastian's existence too, is unsettling itself; being the good-looking butler a demon who has formed a contract with Ciel at the end of which he will consume his soul, the bond Sebastian creates with his young master is even darker than creatures that hide inside the town.
Darkness, possession, strange events the main characters has to take care of, Kuroshitsuji has all of that and even more. Although being different in style from Yami no Matsuei and far more serious, the two works have many points in common especially when it comes to Ciel's job and BL elements that can be easily found throughout the series. Maybe Ciel and Sebastian's relationship is less sentimental than Tsuzuki and Hisoka's, but a sort of attachment to his young master can be read in Sebastian's actions when he comes to Ciel's rescue anytime he gets into trouble. This element in particular makes Ciel kind of relatable to Hisoka; both of them are endowed with amazing powers, but both of them are still too young to control them properly and aren't perfectly able to rely on their own. If you liked Yami no Matsuei's youngest hero and its darkest tones you won't be disappointed in giving Kuroshitsuji a try!
Kuroshitsuji (Black Butler) trailer
---
Any Anime Like Descendants of Darkness / Any Anime Like Yami no Matsuei?
4. Ghost Hunt

Episodes: 25
Aired: Oct. 2006 – Mar. 2007
Talking about the passion for supernatural horror anime recalling Yami no Matsuei, fans shouldn't miss the chance to take a look at Ghost Hunt. Ghost Hunt's plot revolves around Mai Taniyama and Kazuya Shibuya's adventures in the field of paranormal phenomena. Mai and her friends are lovers of ghost stories and they often gather to tell each other about odd events occurring their school campus building. Kazuya, just like her, is fond of these kind of things, at the point he was elected president of the Shibuya Psychic Research Company (a ghost hunting agency) although being only seventeen years old. After their meeting, Kazuya will forcefully hire Mai as his assistant on the pretext she needs to pay him back for one of his cameras she had broken before.
Just like Hisoka, Mai is the newest employee of a paranormal agency who will work in couple with a more expert detective, Kazuya, her partner in action. But there's more between Mai and Kazuya than the eyes can see. Though their love relationship will be less evident than Hisoka and Tsuzuki's, Mai and Kazuya's bond will develop around profound respect and affection that will get them closer and closer to each other. But Mai and Kazuya's feelings are not the only point in common between the two series. People who watched it will surely agree with the fact that Yami no Matsuei is a bloody story that's very easy to follow, being full of hilarious scenes and characters. In this sense, among horror anime, that are mainly dramatic, Ghost Hunt is a breath of fresh air. Kazuya and Mai's adventures have the same comic tone of Hisoka and Tsuzuki's, whose funny moments are perfectly balanced with more serious scenes. Be sure you don't miss it if you are a fan of Matsushita's work!
---
5. UN-GO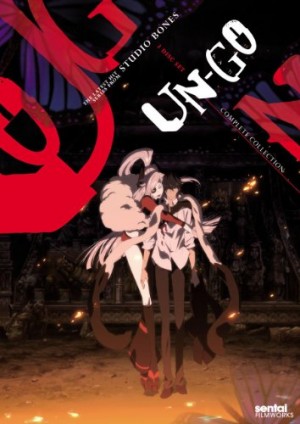 Episodes: 11
Aired: Oct. 2011 – Dec. 2011
There are many elements in UN-GO that resembles Yami no Matsuei. Starting from the setting, that's the same Tōkyō city but in a dystopic after-war future, UN-GO is "Defeated Detective" Shinjūrō Yūki's story. The mission he has to fulfill is to solve all sort of mystery hidden throughout Tōkyō's streets, in particular the ones concerning murders. Shinjūrō won't be alone in accomplishing his mission, but he will be shouldered by his partner Inga, a sinister man with strange powers and disturbing intentions for people they were able to catch whose secrets and dark past are shrouded in mystery.
As for Yami no Matsuei, you'll never miss action scenes and troubles waiting for the main characters in UN-GO. Shinjūrō and Inga work in pair to investigate on unexplained phenomena involving magic and criminal activities, even if dead people's souls play a key role only after they get captured by the two detectives. Plus, Shinjūrō and Inga are not undead as shinigami in Yami no Matsuei, but in their world they are the closest people to the afterlife, from which Shinjūrō is brought back thanks to Inga's special powers. Does Inga's raising the dead ability remind you of someone else's? Exactly, it reminds of Muraki's and his experiments to revive his brother Saki! But this is just another of the elements characters in UN-GO and Yami no Matsuei have in common, so you'd better not to miss it if you want to find out for more of them while enjoying a good story!
---
6. Bungou Stray Dogs

Episodes: 12
Aired: Apr. 2016 – Jun. 2016
Last but not least of our recommendations is Bungou Stray Dogs, well-received by anime fans and that will definitely keep you glued to the screen! Bungou Stray Dogs is Atsushi Nakajima's story after his encounter with the otherworldly dimension. Atsushi has a complicated past; kicked out of the orphanage he had grown up into because suspected of being the cause of strange events involving a tiger occurred for weeks inside the building, Atsushi has no other choice left than to wander through the city with no place to go. While starving on a riverbank, Atsushi finds himself being the savior of a suicidal man named Dazai Osamu who, together with his partner Doppo Kunikida, reveals to the young boy he's part of a paranormal investigation team on the traces of the same tiger that got Atsushi to be abandoned in the streets.
As for Yami no Matsuei, in Bungou character's investigations are most of all focused on one main task: while Tsuzuki and Hisoka's was to find doctor Muraki, Atsushi and Dazai's is to find out about the mysterious tiger that seems to have a connection with him. Meanwhile, they use their powers to solve cases too dangerous for the police and military to take care of, in the same way Yami no Matsuei's main characters summon their shikigami when Enmacho's Shoka Division assigns them a new trail to follow. Odd events caused by abnormal creatures and detectives capable of using special abilities are definitely that Yami no Matsuei-factor that fans of Matsushita's series could find super interesting in Bungou Stray Dogs! It can't probably be defined as the most BL work ever, but still lovers of the genre will find some elements in the series that will make the characters shippable.
---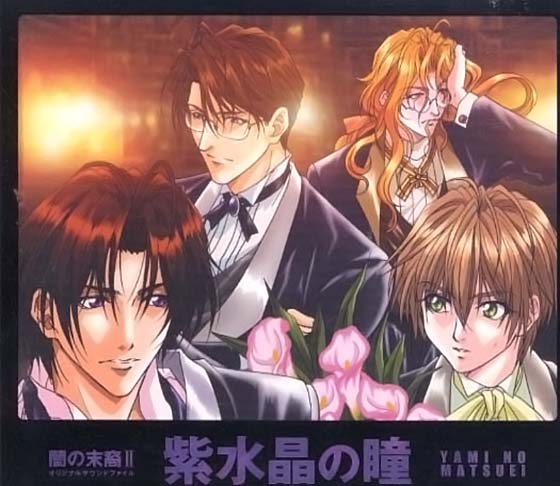 Final Thoughts
So, fans of Matsushita's supernatural masterpiece that were waiting for a similar story worthy of being experienced, now you have all the necessary elements to live more fantastic adventures in human's worlds divided between life and death. Young detectives with special powers will make you witness unsettling but sometimes even funny moments while fighting against the most dangerous inhuman creatures and developing close bonds because of that fate they were destined to.
We hope you will enjoy all of these anime and let us know if you liked them or not with a comment!
See you in the next article!