It's that time again, and after some fun filled summer OVAs (See: Yuru Yuri Nachuyachumi!) the girls from Yuru Yuri have once again returned to grace our screens. New series can be exciting but sometimes it's nice to curl up in the warm arms of a familiar slice-of-life sequel, and that's just what you can expect from Yuru Yuri. Yui remains surprisingly sane and Chinatsu is, as ever, head-over-heels for her, Kyouko is still a massive troll and if anyone has seen Akari they should probably tell her the new season has started.
But as the saying goes "You can never have too much good slice-of-life anime", or something along those lines. So despite Yuru Yuri's moe magnificence, you might soon find yourself wanting more. With that in mind, we've put together a list of shows that are bound to keep you entertained in the long, cold nights between Yuru Yuri's episode releases.
Similar Anime to Yuru Yuri San☆Hai!
1. Love Lab

Episodes: 13
Aired: July 5th 2013 - September 28th 2013
With her boyish looks and laid back attitude, Riko Kuruhashi is considered the wild, rebel of Fujisaki Girls Academy, but the popularity this brings her doesn't hold a candle to that of flawless student council president Natsuo Maki. With such different personalities, it would take something pretty big to bring the two together, for example, seeing said president kissing her pillow in the student council room. To ensure her secret is kept from the world, Maki ropes Riko into joining the student council in addition to her newly devised "Love Lab", where she plans for the two of them to practice everything from holding hands, to doing strange things to pillows.
Love Lab has the same silly humour and yuri elements as seen in Yuru Yuri, only with a lot more crazy. Maki has a habit of taking otherwise normal situations, most of which involve drinking tea in the student council office, and making them downright bizarre. Despite the main casts of the shows having fairly different personalities, the two share very similar themes and atmospheres, no doubt helped by their all-female casts and school settings. Love Lab is great if you're after some laid back fun, but want something a bit more up-beat than the gentler ride of Yuru Yuri.
Love Lab Official Trailer
---
2. Gochuumon wa Usagi Desu ka? (Is the Order a Rabbit?)

Episodes: 12
Aired: April 10th 2014 - June 26th 2014
Welcome to the Rabbit House Café, where there's delicious coffee, a variety of teas, and cute waitresses. After moving to the café for a homestay, Cocoa quickly takes up her role as new waitress and owner's daughter Chino's big sister, though Chino would have something to say about that. Along with Rize, another part-time waitress, and their friends Sharo and Chiya from nearby café's, follow the girls as they go about their daily business, from serving customers to visiting hot springs.
One of the big charm points of both Yuru Yuri and Gochuumon wa Usagi Desu ka is the moe, round faced character designs and cute clothes to match, making both series very pleasant to watch. Both have a strong focus on silly, slapstick humour along with their comedy duos, in the form of Yui and Kyouko, and Chino and Cocoa. On top of that, although not quite as obsessive as Chinatsu, Sharo's girlish adoration of Rize is heart-warmingly adorable to watch. With the next series of Gochuumon airing this season, now is the perfect time to give it a shot.
TV Anime "ordering your rabbit?" AJ2014PV
---
3. Yuyushiki

Episodes: 12
Aired: April 10th 2013 - June 26th 2013
Moving up to high school can be a pretty scary experience, but having some good friends by your side sure makes it a whole lot easier, even if they are particularly skilled at driving you up the wall. After starting high school Yui, Yuzuko and Yukari decide to join the Data Processing Club, which seems to mostly involve googling different animals and poking fun at their teacher, "Mom Sensei". As with any school girl slice-of-life anime you can expect a lot of hanging around the club room, mind-blowingly silly puns and, much to Yui's displeasure, a bit of yuri fan service.
Both Yuyushiki and Yuru Yuri have us following a seemingly ordinary protagonist, and she tries to deal with the somewhat strange friends that surround her. Yui's character in Yuyushiki bears a striking resemblance to Yuru Yuri's, Yui, in terms of personality, being the sensible and mature, but adorable when embarrassed. To add to that Yuzuko and Yukari are like Yuru Yuri's Kyouko split into two people, one clever, one ditzy, and both lovable yet relentlessly annoying. Despite its much smaller cast, if you enjoyed Yuru Yuri, it's hard to go wrong with Yuyushiki.
Yuyushiki ACE2013PV
---
Any Animes Like Yuru Yuri San☆Hai! ?
4. Sakura Trick

Episodes: 12
Aired: January 10th 2014 - March 28th 2014
Wanting to have more good memories of high school isn't unusual, but when Haruka and Yuu decide that sharing a kiss is the best way to do it, things get understandably more complicated. Sakura Trick centers around six high school girls and their relationships, ranging from best friends to something much more intimate. With everything from nosy older sisters to their own confusion getting in the way, the series is filled with an abundance of both hilarious and awkward situations.
Sakura Trick is something recommended to those who want a true yuri anime, rather than the light-hearted joking between friends seen in Yuru Yuri. Both share a very silly sense of humour, with much of the show focused on the whimsical daily lives of the cast, and so make for a very relaxing watch. If you want to see what real yuri looks like along with a bit of silly humour, Sakura Trick is definitely worth a watch.
Sakura Trick PV English subtitles (turn on CC)
---
5. Azumanga Daioh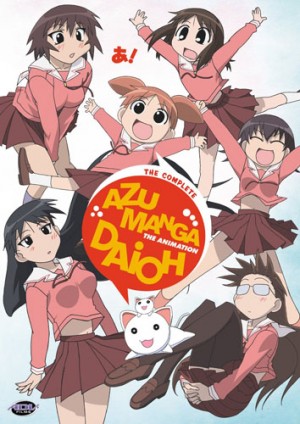 Episodes: 26
Aired: April 9th 2002 - October 1st 2002
Azumanga Daioh follows the daily lives of a group of high school girls, each with their own quirks, as they proceed to do fairly ordinary high school things. Like all slice-of-life anime though, despite it's simple premise, Azumanga Daioh brings a lot of laughs, as the girls somehow make the ordinary into the extraordinary on a regular basis. With a varied cast, from grade skipping, child prodigy Chiyo, to tall, dark and unusually quiet cat lover Sakaki, Azumanga has its good share of stories to tell.
Despite its lacking in the yuri department, Azumanga Daioh shares a very similar premise to Yuru Yuri, if with slightly more eccentric humour. Both having such a large cast, there's a variety in the characters and situations which makes every episode feel fresh and each joke as funny as the last. Despite its age, as a purely slice-of-life comedy anime, still really shines so if you went to Yuru Yuri for the laughs the Azumanga is a great pick up.
Azumanga Daioh OP
---
6. K-On!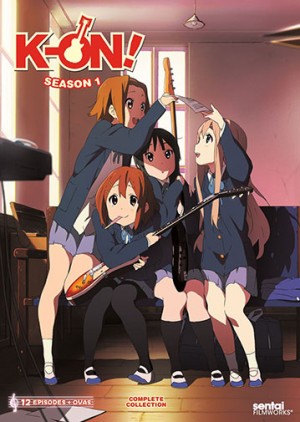 Episodes: 13
Aired: April 3rd 2009 - June 26th 2009
Hoping that her castanet abilities are up to par, high school freshman Yui Hirasawa, decides to join the school's light music club, only to find that they were really hoping that she could be their lead guitarist. Thankfully other members Mio, Tsumugi and Ritsu are there to lend a hand as Yui tackles the task of getting her guitar skills up to a reasonable level before the club's first concert.
An inevitable candidate for any slice-of-life related list, despite K-On's yuri only existing inside Mugi's head, it's the show's laid back, easy going nature that make it and Yuru Yuri feel so alike. The two share a very similar comedy style, with the characters constantly playing off each other, along with the Manzai (straight man & funny man) style used by Yui and Kyouko, and Ritsu and Mio. If you enjoyed Yuru Yuri but somehow managed to avoid watching K-On, now would be a good time to start.
K-On! OP
---
Series like Yuru Yuri can make the difference between ending the day on a high or a low. Whilst they may not be as heavy on plot or character development as some more serious shows, they certainly know how to put a smile on a person's face. For that reason, having more than just the one episode of Yuru Yuri a week can hardly be a bad thing.
This is the age of moe, where cute girls are everything and not a season goes by without at least one new slice-of-life series to enjoy. With such an abundance of it about, these are but a few of the awesome shows out there that are similar to Yuru Yuri. So what shows will you be watching? Or better yet, let us know your suggestions.