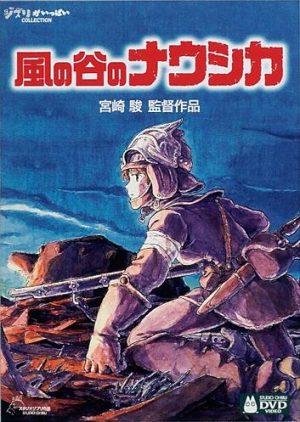 It was the eighties, before the official founding of that legendary anime studio called Studio Ghibli. There was the need to produce a movie that could put them on the map, but the movie would get a better chance if there was a manga to back it up. Therefore, legendary director Hayao Miyazaki would dedicate 13 years of his life to drawing Kaze no Tani no Nausicaa. This is the post-apocalyptic journey of a princess torn between her love for all the creatures and the war that endangers her nation.
Adapted into a movie in 1984, Nausicaa was an instant success. To date, our heroine's image is still recognizable on the streets of Japan. Way before the remake of Disney Princess as heroines, Nausicaa was a fully fledged young warrior, scientist and leader. What other stories make human beings face the harsh truths about what we are doing in this world like Nausicaa's? What other young heroes have confronted perils above their age and had a heart sincere enough to conquer friends and enemies like Nausicaa? Keep reading to find it out!
Similar Anime Movies to Kaze no Tani no Nausicaa
1. Kaze wo Mita Shounen (The Boy who Saw the Wind)

Episodes: Adventure, Drama, Fantasy
Aired: Jul 22, 2000
C.W. Nicol was born in Britain, but by the eighties, he was well travelled through the world. He studied forestry in Japan and became a Japanese citizen himself. Nicol has written many literary works in Japanese, advocating for the environment. One of his works was the children's book Kaze wo Mita Shounen, which inspired this movie.
Amon is a boy with strange powers. His dad has invented weapons for his country, the Empire of the Golden Snake. However, when Amon's powers awaken, his father decides that the family should run away… with fatal consequences. Now that Amon is alone in the world, he travels to an island where he finds a tribe that helps him learn how to fly and talk to animals. When Amon meets Maria and the Golden Snake army comes after them, they decide to stop them once and for all. Sounds super exciting, right? Well, let us tell you that this is an anti-war film, just like Nausicaa. The young cast is self sufficient but flawed enough to be realistic as well. Both films also have fantasy elements combined with old-style technology. Oh, and they are all for the environment.
---
2. Arete Hime (Princess Arete)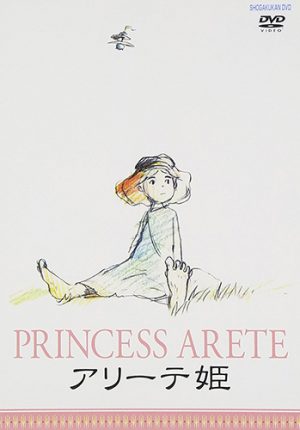 Episodes: Fantasy, Magic
Aired: Jul 21, 2001
There was, once upon a time, a little princess in her castle. All the knights of the kingdom compete for her hand in marriage. However, the only thing Princess Arete wants is to travel and meet real people, instead of just reading books. What will she do when the old sorcerer Boax arrives promising to make a proper princess of Arete?
Yes, we know this sounds so stereotypical that you might want to vomit, but wait a little; we promise things get better! Arete has to take her own decisions in a super epic journey with all the magic and adventure that she and us are craving (just as epic as Nausicaa). The story is focused in the female protagonist and in her coming of age who besides that is a princess as well. And did we mention the cute animals that you find around? If you like retro fairy tales, both Arete and Nausicaa will satisfy your appetites.
---
3. Gin Iro no Kami no Agito (Origin: Spirits of the Past)

Episodes: Adventure, Drama, Fantasy, Romance, Sci-Fi
Aired: Jan 7, 2006
What happens when you play too much with your plants in the lab? Well, they could get back at you, just like they did in this film. In Gin Iro no Kami no Agito, humans are declining in a post-apocalyptic world, where they have to fight against the forest to survive. Our protagonist is Agito, who one day meets Tula, a girl who comes from the past. When the village of Ragna finds out that Tula has the key to completely destroy the forest, they kidnap her, forcing Agito to make a pact with the forest in order to save her.
Did someone mention a forest vs. humans? Yes, that is Nausicaa for you again. The protagonist also has to grow up and understand the other living creatures in order to "win" the war. Both films are essentially antiwar and wow, they do have some great music. Let's not forget the combination of fantasy like magic and technology, too!
---
Any Anime Like Kaze no Tani no Nausicaa?
4. Hoshi wo Ou Kodomo (Children Who Chase Lost Voices)

Episodes: Adventure, Romance, Fantasy
Aired: May 7, 2011
Asuna Watase is a model student who takes care of the house while her mom works. Her favorite hobby is to go up the mountains with a snack and tune in a strange radio where she can listen mysterious melodies. One day, a boy named Shun saves her from a dangerous creature on her way up to the mountains. However, the more Asuna wants to know about the boy, the more dangerous the adventure becomes.
Hoshi wo Ou Kodomo is a film with a protagonist who will not sit waiting to be saved, just like Kaze no Tani no Nausicaa. Although the story is full of fantasy and the beauty of nature at the beginning, it becomes much more serious as it progresses in both films. Adults also are a contrast with the younger protagonists, posing their obsessions and ambitions versus a more compassionate view of life. With rounded characters, action and universal questions, both movies do a great job at entertaining and marvel at the same time. The main difference is that Hoshi wo Ou Kodomo goes more into the ancient tribes territory.
---
5. Sakasama no Patema (Patema Inverted)

Episodes: Sci-Fi, Seinen
Aired: Nov 9, 2013
Patema is part of the royalty in an underground civilization that has a complex network of tunnels. She is often curious about everything, so she enters in a forbidden zone and ends up falling into the sky. Then she is caught by Age, a nonconforming student from Aiga, a totalitarian nation. Patema finds out that she is considered an "Invert" and an aberration, but Age protects her. Together they will find the origins of their worlds.
War and anti-war message? Oh, yes. Young protagonists? Of course. Travel and adventure? You bet it. However, the main point that Nausicaa and Patema may have in common is not that obvious. The characters in both films have to work hard to overcome their fears of the unknown and work together with everyone involved. Everything is connected and both worlds are beautiful.
---
6. Mononoke Hime (Princess Mononoke)

Episodes: Action, Adventure, Fantasy
Aired: Jul 12, 1997
This is Japan, in a time when the spirits walked together with the people. A young Emishi prince called Ashitaka is cursed when he shots a poisoned spirit. Therefore, he gives up his village and goes to the West in hopes of finding a cure. This is how he will encounter the Iron Village, its powerful leader Lady Eboshi and the creatures of the forest. However, everyone has to keep an eye out for San, a girl raised up by the wolf spirits who is at odds with the Iron Village.
We could not avoid mentioning one of the most legendary films by Studio Ghibli. As Hayao Miyazaki also crafted this one, the parallels between Nausicaa and San are many. They are powerful female protagonists that bring the films together, but that are at odds with other powerful and grown up female leaders. These grown ups are not evil perse, although usually advocate for violent measures. Also, the allegories of the conflict between nature and technology are too many to mention. Nausicaa and Mononoke Hime are both Ghibli stories at their best, moving and passionate. Oh, and please do not forget the awesome music by Joe Hisaishi in the two films!
---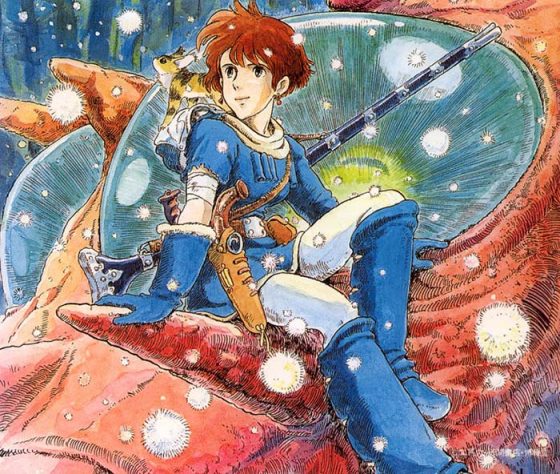 Final Thoughts
Kaze no Tani no Nausicaa's messages are still alive today. A girl can be the one that saves the day, but not through being just violent. Let's not forget how Nausicaa's compassion was born from understanding and exploring the world around her. Which other anime movies remind you of Kaze no Tani no Nausicaa? Don't forget that we are open to all your comments and suggestions. See you soon!
---