The one theme we don't often see in the anime world is anything that depicts realistic war or historically accurate wars. That doesn't mean they aren't done mind you, but often anime will try to alter real-world wars and make them more fictional and magical. However, Kaze Tachinu—better known in the west as The Wind Rises—takes an early look at the prequel life of a man behind the Zero Jet Fighters and shows how his dream of a powerful plane becomes a dark tool to be used in one of the world's worst wars ever seen. That's what makes Kaze Tachinu so powerful though. Instead of a fairy tale story, we see a whimsical plot with a dark future. There aren't many anime movies like Kaze Tachinu but we here at Honey's Anime have found some that might be to your liking.
Welcome one and all to our 6 Anime Movies Like Kaze Tachinu list. Here we will show you folks several movies that capture the elements of war in both dark realities and sometimes more light-hearted themes. These stories are sometimes hard to bear witness to, but they equally keep the memories of how hard it was to survive in the war and how we as a people learned from those darker days. If you love Kaze Tachinu and the message it portrays then this list will be perfect for you. Now let us begin our list of 6 Anime Movie Like Kaze Tachinu!
Similar Anime to Kaze Tachinu / Similar Anime to The Wind Rises
1. Kurenai no Buta (Porco Rosso)

Episodes: 93 min
Aired: Jul, 1992
Once Marco Pagot was a WWI fighter pilot, but since then, he has become a bounty hunter with a strange curse. Marco's body has been transformed into a pig-like being and thus he has decided to change his name to Porco Rosso or Red Pig. Porco's life after the war would have him reuniting with a longtime friend Gina and ends up falling in love with her. However, Porco must defeat a fellow rival by the name of Curtis and this leads to him, at one point, being shot down by his rival and is thought to be dead. Luckily, Porco survived but finds himself now a target and must somehow find Gina, get revenge on Curtis, and be prepared for a new war that is looming over Europe.
Beginning our list of 6 Anime Movies Like Kaze Tachinu, we look at the whimsical but drama filled Kurenai no Buta. While Kurenai no Buta doesn't look at war too seriously, it does show a world that has just recently survived WWI and how people are just moving on with their lives. Kurenai no Buta shares not only the Studio Ghibli name—as both movies were made by the same studio—but the art style and themes. If you want to enjoy a solid war movie but one without being too serious, then you'll enjoy Kurenai no Buta. We fully recommend Kurenai no Buta and we're sure you'll love it.
Porco Rosso- Official Trailer
---
2. Hadashi no Gen (Barefoot Gen)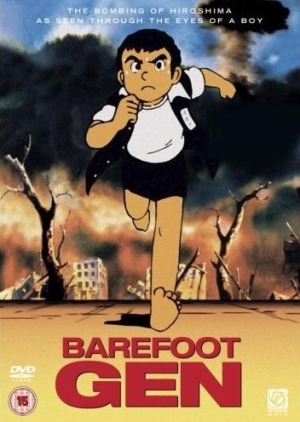 Episodes: 83 mins
Aired: Jul, 1983
The year is 1945 and the war has been going for now three years between the USA and Japan. While many parts of Japan have been hit hard by the war, Hiroshima has so far been spared from the bombs runs. However, life in Hiroshima is far from peaceful as food is getting more and more scarce and people are suffering lack of nutrition. Gen is a young boy who lives in Hiroshima with his parents and younger brother Shinji. Gen is trying his best to survive but little does Gen and his family know of the true horror that will change Hiroshima forever…
Hadashi no Gen is one of the few WWII movies that explores the war from Hiroshima and examines the tale from a young boy's eyes. Watching Gen stay strong despite being so young is both uplifting and inspiring. We could only imagine how hard it must have been for civilians to survive during WWII but with movies like Hadashi no Gen we get a glimpse of it. Even though Hadashi no Gen is old—it did come out in 1983—we still loved this classic title. Join Gen in his struggles to keep his family strong during WWII in Hadashi no Gen.
---
3. Hotaru no Haka (Grave of the Fireflies)

Episodes: 88 mins
Aired: Apr, 1988
WWII has begun to reach its climax but Japan is struggling from never ending bombing raids causing cities to fall one after another. Two children named Seita and Setsuko have recently become orphaned after a bombing raid killed their parents and destroyed their home. However, neither one of the siblings is willing to curl up and give up. Both Seita and Setsuko decide to travel Japan to try and survive but see the horrors of starvation, disease and helplessness. Can these two boys avoid the fate of many around them?
Hotaru no Haka is a truly heart gripping suspense story that centers on a fictional set of brothers but in a very realistic take on the horrors seen in Japan during the war. Hotaru no Haka is a timeless movie that many consider amazing and we completely agree. From beginning to end, this 88 min movie will keep your heart ensnared in drama and emotion which even after the credits roll will be a feeling you'll keep for days after. Kaze Tachinu and Hotaru no Haka are made by Studio Ghibli but don't be deceived by the release date differences between both. Like most of Studio Ghibli movies, Hotaru no Haka looks stunning with amazing music, strong voice acting and a truly impressive narrative. Pick up a copy of Hotaru no Haka if you can and be prepared with a box of tissues at hand.
Grave of the Fireflies- Official Trailer
---
Any Anime Like The Wind Rises / Any Anime Like Kaze Tachinu ?
4. Giovanni no Shima (Giovanni's Island)

Episodes: 102
Aired: Feb, 2014
Junpei and Kanta are two brothers who are about to face a terrible event on their island Shikotan. Soviet Union soldiers invade the island and the brothers along with their father, a fisherman, leader of the firefighting force on the island and their grandfather lose their home to the occupation. Forced to now live in the stables, they endure the rule of the Soviet forces and must make the best out of their situation. Though at school, Junpei and Kanta meet with Russian children and despite their differences, become friends. Can these children change the course of these events despite the language and belief differences?
Based on true events that happened in the real world, Giovanni no Shima follows the fate of people forced to endure in a situation where language is different and violence is ever looming. We loved how Production I.G—the studio behind the animation of Giovanni no Shima—made a simply gorgeous anime movie that truly looks incredible with unique character art. Like Kaze Tachinu, Giovanni no Shima aims to deliver a message to the audience. In this case, it is that even if language barriers exist, people can somehow make companionship work even during desperate times. Giovanni no Shima isn't always light hearted though and at times this story does contain darker moments of struggle and survival. However, we won't spoil much of Giovanni no Shima as we think you guys need to check it out if you loved Kaze Tachinu but need a different kind of story seen in most WWII anime movies.
Giovanni's Island- Official Trailer
---
5. Kono Sekai no Katasumi ni (In This Corner of the World)

Episodes: 126
Aired: Nov, 2016
Suzu Urano is considered clumsy and aloof but nonetheless has just been married off to a clerk named Shuusaku Houjo. Life for Suzu is tough as a new married woman and that's partially because of the fact that WWII has been hurting Japan in numerous ways. Nonetheless though, Suzu stays strong and settles in with her husband's family despite having to learn a lot of skills she didn't possess before. However, every day the war seems to get closer to home and even with Suzu's passion and heart things seem to grow dire. Can Suzu muster up the strength needed to endure this war alongside her new family? With an inevitable event encroaching quickly, Suzu struggles all the while unaware of the life changing events that will soon befall her.
Kono Sekai no Katasumi ni is deceptively cute and charming just like Kaze Tachinu's beginning. Suzu's story seems to be silly and heartwarming as she becomes the wife she didn't think she could ever be. Unfortunately, Kono Sekai no Katasumi ni makes it apparent early on that there is a clock ticking down constantly as you see the days and months pass that lead to Japan's worst moment ever. Nevertheless though, Kono Sekai no Katasumi ni teaches us to be strong willed even when we think all hope is lost and that is a powerful message to take in. Kono Sekai no Katasumi ni will tear at your heart as you see Suzu and her family endure but it will also stand as an example that no matter who you are or what you lack, you can be a brilliant shining beacon of strength when you need to be as long as you don't lose your heart.
IN THIS CORNER OF THE WORLD- OFFICIAL U.S. Movie Trailer (HD)
---
6. Ohoshisama no Rail (Rail of the Star: A True Story of Children)

Episodes: 79 min
Aired: Jul, 1993
Ohoshisama no Rail tells the events of a young Japanese girl named Kobayashi Chitose as she lives in North Korea during the Japanese occupation seen in WWII. Chitose is forced to see the war take a toll on her family and despite wishing to help them, is ultimately unable to do so. Every moment that passes during the war causes Chitose some harm beginning as something small to something progressively worse. However, the Koreans eventually grow tired of their occupation and begin to rise up to push Japanese soldiers and people out of their country. Chitose alongside her family will now find themselves fighting to reach the safety of a US occupied area before it's too late.
We end our 6 Anime Movies Like Kaze Tachinu with Ohoshisama no Rail. Many anime war movies tend to focus on Japanese struggles but Ohoshisama no Rail is different as it shows the North Korean race dealing with occupation during WWII from a young girl's perspective. Ohoshisama no Rail is truly a great film as it broadens the horizons of many who wish to learn more about WWII and what struggles other areas of Asia endured during the battles. We think you'll like Ohoshisama no Rail if you fancied Kaze Tachinu and the animation style it had. While this isn't a Studio Ghibli work like Kaze Tachinu, Ohoshisama no Rail is helmed by Madhouse and we know that will intrigue many fans out there to check out their earlier works such as Ohoshisama no Rail.
---
Final Thoughts
Anime movies that focus on war can be tough to watch for some. They show moments of pride, moments of joy, moments of crushing loss and the way people had to survive. However, these movies capture war not to scare the viewer but to show that lessons can be learned to avoid future battles and equally show to never give up in fighting for your life and those you love. We loved Kaze Tachinu here at Honey's Anime, and we hope you liked this list that talks about the similar movies to it. Tell us down below if you've seen any of the movies above and your thoughts on them. For more recommendations just like this one, be sure to keep stuck to our hive here at Honey's Anime.