También puedes leer este artículo en:Español
Some of us might remember our childhood with nostalgia. Free from most of the worries in the world, maybe we were able to enjoy nature closer, as well as our hobbies without caring about the time. In those days, we would meet dear friends who probably are not with us anymore. Omoide no Marnie is a classic by Studio Ghibli which captures the joy of those days. Like other movies by this studio, it also highlights childhood and the conflicts of growing up. However, Omoide no Marnie also has place for mystery. What other anime movies capture friendship and memories in such an endearing and dramatic way like Omoide no Marnie? Let's see if we can find out...
Similar Anime to Omoide no Marnie / Similar Anime to When Marnie was There
1. Hana to Alice: Satsujin Jiken (The Case of Hana and Alice)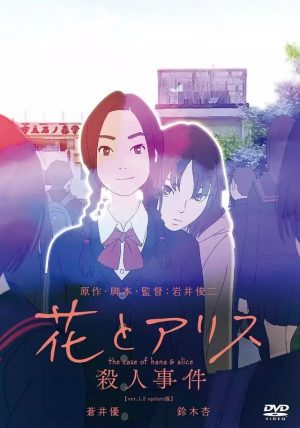 Episodes: 1
Aired: Feb 20, 2015
What would you think or do if you heard a rumor about a murder in your new Middle School? When Tetsuko "Alice" Arisugawa hears it for the first time, she decides to investigate it, discovering that Hana, a girl from her class, might have the clue to solving the mystery. However, she lives in the Flower House everyone is scared to go inside. With a combination of cinematographic animation and watercolor based backgrounds, this movie will capture your attention from the very first scene.
Omoide no Marnie and Hana to Alice put the girls in charge. There is a mystery in both films and they spiral towards drama, although this is not evident at the beginning. However, these two movies know how to balance the blues with lighthearted scenes and appreciation for the daily life. The pace is also slow but comfortable, and the music helps make the movement fluid. If you enjoyed Omoide no Marnie but would like a little bit more grown up version of it, look no more! Watch Hana to Alice.
---
2. Momo e no Tegami (A Letter to Momo)

Episodes: 1
Aired: Sep 10, 2011
Momo Miyaura is an 11 year girl who leaves Tokyo after the death of her father. She moves to a remote island in Seto Inland Sea with her mother, accompanied by the last unfinished letter her father left for her. As a former city resident, Momo has trouble fitting in on the island, but what happens when she finds an old book about youkai in the attic of her new home? Perhaps the magic that Momo so desperately needs in her life will become real…
Omoide no Marnie and Momo e no Tegami start in a pretty similar way, with the protagonists moving to a more tranquil neighborhood. They also encounter old houses and objects, followed by a bit of… could we call it magic? Momo and Anna are also well rounded, realistic girls, with natural reactions. Their adventures are full of sentiment and are relatable. And did we mention the scenic scenes in both movies? If you were looking for quality in animation and storytelling, Momo e no Tegami might be the option for you.
---
3. Coquelicot-zaka kara (From Up on Poppy Hill)

Episodes: 1
Aired: Jul 16, 2011
We invite you to enter Coquelicot manor, a boarding house on the top of a hill, ran by the Matsuzaki family. Umi is on charge in this place, but when she is not there, you can find her in the local high school. This is the time before the Olympic Games of the sixties, and in order to prevent the demolition of an old building, the students are gathering together. This is how Umi meets Shun Kazama and falls in love with him. There is a little problem though, and that is that there are mysteries related to Shun's origins. Therefore, the couple teams up to find out about his past.
Omoide no Marnie and Coquelicot zaka kara are marked with nostalgia. Also, we see young people involved in mysteries that they try to solve by themselves. The struggles of growing up are also present. However, we should warn you that the drama in Coquelicot gets heavy. The ends of both films are also similar, but we can not tell you exactly how because we would ruin the surprises. Better watch them and find out yourselves 😉
---
Any Anime Like When Marnie was There / Any Anime Like Omoide no Marnie?
4. Colorful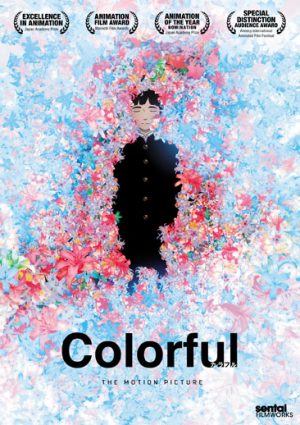 Episodes: 1
Aired: Aug 21, 2010
Warning: this movie has references to suicide. Proceed with caution.
What would you do if you had another opportunity to fix your mistakes once you have died? A guy who falls out of the cycle of reincarnation gets such a chance due to a lottery (he, he). His spirit possesses a 14 year old boy called Makoto Kobayashi and starts on a journey to understand humanity better. While he collects the memories of Makoto, he realizes how reality sometimes gets in the way to create real connections with others.
Did someone say drama? Omoide no Marnie and Colorful have an atmosphere that invite you to observe, absorb and reflect about real issues in life. They are uplifting, hopeful and sad at the same time. They also play with a dreamlike state, and their art fits masterfully with their stories. If you like more mature themed anime that draw you into their plots without losing the freshness of innocence and youth, these two movies are up to the game.
---
5. Sennen Joyuu (Millennium Actress)

Episodes: 1
Aired: Sep 14, 2002
This is the story behind the great star behind the Ginei Studio, which is soon to be demolished. An ex employee finds the famous Chiyoko Fujiwara and asks her to tell her life story for a documentary. Inspired by the real actresses of the Showa Period, this movie narrates the story of Japanese cinema through Chiyoko, and how it highlighted the joys, sorrows and aspirations of a nation devastated by the Second World War. Thousands of years are condensed into a moving story of impossible love the actress lived.
Omoide no Marnie is not a conventional movie, as it tells the story of one of the characters in a unique way, in a somewhat similar fashion to Sennen Joyuu. These characters are so charismatic and important to the plot, that the others gravitate around them, pretty much like the viewers themselves. The point of view is mostly feminine in both films. Did we mention that the atmosphere is also full of drama? The main difference is that Sennen Joyuu talks about love birds, while Omoide no Marnie is more about friendship between two girls.
---
6. Koe no Katachi (A Silent Voice)

Episodes: 1
Aired: Sep 17, 2016
Warning: this movie also has references to suicide. Proceed with caution.
Bullies can be found everywhere, and they tend to pick on the most different among us. That is why it was not surprising when a deaf girl named Shouko Nishimiya is bullied by Shouya Ishida and others as soon as she transfers to their school. However, Shouya is blamed for the bullying and pays the price, becoming isolated throughout elementary and middle school. As our protagonist grows up, he feels so conflicted that he attempts suicide. Fortunately, he decides to find Shouko to fix his wrong doings instead. And that is only the beginning of this wonderful movie!
Memories can be as harmful as poison or a window to the future in Omoide no Marnie and in Koe no Katachi. Some characters actively seek them, while others hide them or forget them. Regrets are also present, but Marnie and Shouya leave us with a sensation of hope. Both movies show us how the bonds between youngsters can be magical, building up to great codas.
---
Final Thoughts
Whether you have great memories of your childhood or not, Omoide no Marnie and other similar anime movies invite us to immerse ourselves in the lives of other young people around the world and in different times. Memories are truly alive in these films! Throughout the protagonists adventures, we get a glimpse on their troubled lives and how they struggle to come on top of them. Above everything else, these movies remind us that we are never alone, and that we can always get second chances in life if we seek them enough. Have you had any encounter with a special Marnie in your life? Which other movie like Omoide no Marnie have you watched? Don't forget that we are open to all your comments and suggestions. See you soon!