Mimi wo Sumaseba, aka Whisper of the Heart, is a well-loved work from the ornery director Hayao Miyazaki. Simple and sweet, it takes us on a journey with Shizuku who sees a peculiar thing one day. Next to her on the train is a cat. Intrigued, Shizuku follows it as it gets off and it leads her to a violin maker shop. There she meets Seiji, a boy who likes the same books she does. Before they know it, fate pulls these two closer together, while introducing the audience to the song "Country Road," as a beautiful romance blossoms. Then she realizes that her heart is whispering to her to give her inspiration that she needed. If your heartstrings were tugged as hard as ours were by this movie, or if you just love anime movies centered around coming-of-age stories and romance, then this is the list for you. Stick with us as we look at six more unforgettable journeys that are sure to be as enjoyable as Mimi wo Sumaseba/Whisper of the Heart.
Similar Anime to Mimi wo Sumaseba / Similar Anime to Whisper of the Heart
1. Toki wo Kakeru Shoujo (The Girl Who Leapt Through Time)

Episodes: 1
Aired: July 15, 2006
Makoto is a third-year high school student with a conundrum; she has no idea what to do with her life! While trying to balance a social life and her studies, she stumbles across her ability to leap through time. Excited, Makoto starts to play with it and have a fantastic time exploring her powers. However, Makoto learns that by doing so, her powers come at a price and life is not that simple. Can she make an irreversible decision?
First, I'm not crying; the room is just full of water. Both movies are incredibly heartwarming and inspiring. While Toki wo Kakeru Shoujo is a bit more dramatic and obviously has the sci-fi element of time jumping, the core issue of someone realizing their responsibility/duties as well as a coming of age story is present in both. The biggest theme that the two movies share, other than the female lead main character, is that they both have to learn, in one way or another to let go.
The Girl Who Leapt Through Time Trailer:
---
2. Kotonoha no Niwa (The Garden of Words)

Episodes: 1
Aired: May 31, 2013
Koto no Ha no Niwa follows Akizuki who dreams of becoming a shoemaker. One day though, he skips class to go draw shoe designs while sitting in a beautiful garden. There, he meets a bewitchingly mysterious woman named Yukari. Akizuki offers to make Yukari a pair of shoes so that they can continue to meet. That is how it starts, but after a bit, they realize that what was hidden deep within themselves was something that needed to be expressed, but they didn't know how to. Now their relationship is put to the test as they still have issues that they are dealing with.
As this is a Makoto Shinkai film, it's not surprising that this is incredibly well-liked. Shinkai is rapidly making a name for himself, more so thanks to Kimi no Na wa, but still you get the point, and his style is in some ways similar to Ghibli especially with the love of dramatic romances. We had to stop ourselves from using the exact phrase "their heart whispers" as that is exactly what happens in both movies. While Koto no Ha no Niwa may be slightly more dramatic, there are still shared elements of romance, slice of life, fantastic art, and of course, a love that forces the main characters to be honest with themselves.
The Garden of Words Trailer:
---
3. Omoide Poroporo (Only Yesterday)

Episodes: 1
Aired: Jul 20, 1991
Taeko Okajima is an office worker for an office in Tokyo when she gets burnt out and decides to go visit her brother in law. There, she starts to see how life is like again outside of the madness that is Tokyo. While she is there, so many memories come flooding back to her including when she was young. Inexperienced at many things, she struggled with mathematics, adolescence, and of course, romance.
If you have a thing for movies with a decently strong female lead, then Omoide Poroporo will also be right up your alley. Both really will rally to tug at your heartstrings, and even if they do not, they still will succeed in keeping your attention. You may think, "why is this so serious and engaging!?" But you will not be able to stop while watching either because they are so enjoyable. Also it should be noted that this is a Studio Ghibli movie as well, so get ready to get lost in another Ghibli fantasy.
Only Yesterday Trailer:
---
Any Anime Like Whisper of the Heart / Any Anime Like Mimi wo Sumaseba?
4. Coqueliot-zaka kara (From Up on Poppy Hill)

Episodes: 1
Aired: July 16, 2011
Get ready for another dramatic romance here again with Coqueliot-zaka kara! Umi Matsuzaki lives in a manor where other people are boarders. She diligently does her chores while studying. However, her high school is facing a crisis. One of the oldest buildings on campus is slated to be demolished in order to revitalize the town. However, it's beloved by the student body. So, while many clubs come together to try their best to renovate it, Umi works in the newspaper club to get the information out and fight those who want to destroy the building. While doing this, she meets a boy hazy on his past. His name is Shun. She tries to help him search for his past while spreading as much information about the school's demolition plans as possible.
Full disclosure: Coqueliot-zaka kara is also a Studio Ghibli movie, but it should not be overlooked. A fantastic coming-of-age story plays out in both of these movies along with that sweet and tender romance. If you found Toki wo Kakeru Shoujo a bit too Sci-fi, then this is for you. The romance is touching, the drive of the characters is fantastic, but be prepared, the ending will really get you.
From Up on Poppy Hill Trailer
---
5. Neko no Ongaeshi (The Cat Returns)

Episodes: 1
Aired: July 20, 2001
Come on, you know that this had to come on this list! Neko no Ongaeshi is about Haru, a young girl who sees a cat crossing the road one day and follows it. That simple decision kicks off a series of events connected to a fantastic adventure which takes her to meet a prince; in fact, he's the prince of cats! He is going to marry her, but it's more or less against her will! She now has to struggle to not only save herself, but also prevent herself from becoming a cat. Digging deep, she has to listen to herself and summon immense courage to live on.
So, Neko no Ongaeshi is actually set in the world of Mimi wo Sumaseba. Both stories feature fantastic art and soundtracks because they are both Ghibli works! Of course, much like Shizuku, Haru learns about the importance of not only being honest with herself, but also listening to her heart. Another fun tidbit is the cat statues seen in Whisper of the Heart are part of The Cat Returns as well!
The Cat Returns Trailer:
---
6. Umi ga Kikoeru (Ocean Waves)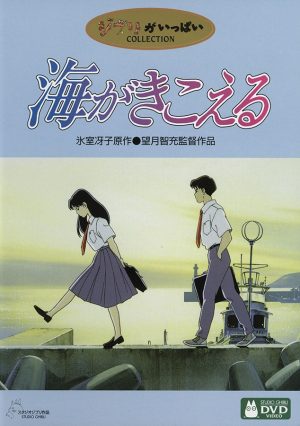 Episodes: 1
Aired: May 5, 1993
Finally, we head to the beach. Well… the beach in Japan that is! School life is alright for Taku and Yutaka until a new girl named Rikako transfers into the school. While not that great at getting along with others, this miffs her classmates and they begin to stop talking to her. Yutaka likes Rikako, but when Taku and her start to spend time together, rumors fly wild as both try to figure out what is going on. The rift divides these two boys to the breaking
An oldie, but goldie, this is a less well-known Ghibli movie, this is yet another fantastic coming-of-age story. Both inject drama as well as innocent romance that has blossomed out of something else within the story. However, it's never too much or overbearing. If you want to reminisce about your first romance but set in a high school, both Mimi wo Sumaseba and Umi ga Kikoeru are great places to start if you have not seen both already.
Ocean Waves Trailer:
---
Final Thoughts
With that, our list draws to a close. Now we did want to keep as much variety as possible, but it also is very difficult when Studio Ghibli does such a fantastic job of creating great romance and coming-of-age stories. Whether you want a little more drama, a little more breathtakingly good art, or just another genre like sci-fi or fantasy, these six movies are great pick-ups that are sure to help feed not only your anime addiction, but also ensure you will have a great time doing so. Are there any other movies that you feel would make great additions? Be sure to let us know down below if so!