INTRODUCTION / OPENING PARAGRAPH
In video games, who doesn't love having freedom? The ability to run around causing mass destruction and hang with friends while doing so is just a boundless amount of enjoyment. That is what fans—us included here at Honey's Anime—love about the Grand Theft Auto series and in particular, Grand Theft Auto V. Now, while Grand Theft Auto V never gets old, at times you do want to maybe play other games, maybe even similar games that offer similar themes. That's why we here at Honey's Anime arebringing you 6 Games Like Grand Theft Auto V.
Free roam, multiplayer, single player, action and plenty of explosions from guns or other means, these are the concepts you'll find in any game like Grand Theft Auto V. As we crafted this list of amazing titles we knew that while they may not have the same level of detail or sheer volume, they still contain elements that make them all amazing in their own rights. Whether you're exploring a giant island or riding horseback, these games give players a feeling of freedom not found in many video games out there. That's why we know you're going to love this list of 6 Games Like Grand Theft Auto V as much as we loved making it for you amazing readers. Alright, let's explore this list of games like Grand Theft Auto V, shall we?
Similar Games to Grand Theft Auto V
1. Just Cause 3

System/Platform: PS4, Xbox One, PC
Publisher: Square Enix Holdings
Developer: Avalanche Studios
Release Date: Dec 1, 2015
The country of Medici has just been overtaken by a new crazed dictator and seeing as how this is Rico Rodriguez's homeland, he's not about to let this stand. Rico gears up and heads out alone into his now deadly country, but luckily he has allies in the form of a resistance that agree this dictator needs to be taken out. With connections, plenty of weapons and plenty of vehicles as per usual, Rico is about to cause a ton of mayhem. Are you ready for an explosive new war? Then get ready to enter the world of Medici in Just Cause 3.
Let's start off this list with a literal bang, shall we? Just Cause 3 is all too similar to Grand Theft Auto V, giving players an armada of weapons and vehicles to create literal explosion after grand explosion. Once more you're able to freely explore an even bigger new landscape and whether you're on land, sea or air you can freely do what you want and when you want. Developer Avalanche Studios did an epic job of packing more than ever into this new installment in the already amazing Just Cause series and we're sure you'll appreciate it just as much as we did. For those who love Grand Theft Auto V, you'll surely find a lot to love—and blow up—in Just Cause 3.
Just Cause 3 Trailer at E3 2015 (Official Trailer)
---
2. Red Dead Redemption

System/Platform: PS3, Xbox 360
Publisher: Rockstar Games
Developer: Rockstar San Diego
Release Date: May 18, 2010
Poor John Marston is just trying to escape his outlaw past but finding that very hard to do. As John settles down with his family, he is quickly approached by the Bureau of Investigation asking John for a pretty big favor. In return for John's past deeds to be completely wiped clean, John must hunt down all of his former buddies from his outlaw gang. Picking up his weapons, John Marston begrudgingly heads to the south leaving his family behind to do a deed that can finally remove his past once and for all. Time to saddle up and get ready for some old fashioned gun battles.
Red Dead Redemption is developed by Rockstar—in this case, the San Diego studio—so you can already expect this to be similar to Grand Theft Auto V. Players can either play the solo story which focuses on John Marston or play online with friends. Regardless how you choose to play, your adventure is filled with tons of freedom thanks to a huge open world filled with various quests and stories. While Red Dead Redemption isn't set in a world filled with rocket launchers and airplanes, it still contains plenty of ways to cause mayhem and destruction for those who love that element of games like Grand Theft Auto V. Now let's hope the sequel is released soon so we can enjoy some more great western gameplay.
Red Dead Redemption- Launch Trailer (Official Trailer)
---
3. Mafia III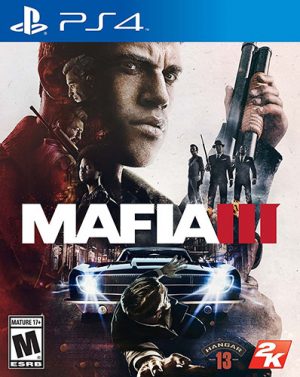 System/Platform: PS4, Xbox One, PC,
Publisher: 2K Games
Developer: Hangar 13
Release Date: Oct 7, 2016
Lincoln Clay has just returned from the Vietnam War to hopefully get some peace. However, he learns that his surrogate Father Sammy and his brother Ellis are engaged in a turf war in New Bordeaux. Lincoln learns that Sammy's gang is in serious debt to another group and Lincoln decides to rob a bank for money to pay them off. Things go very astray, however, when the heist is successful but Sammy and Ellis are murdered. Lincoln is also attacked but survives thanks to a friend named Father James. Now, Lincoln seeks revenge for his family and is about to enter a new war he didn't see coming.
Mafia III doesn't have an online concept like Grand Theft Auto V, but that doesn't mean it's any less similar. Players can explore a very similar 1960s version of New Orleans all while getting into plenty of gunfights and while exploring a life-like city. With a strong story and solid third person gunplay, Mafia III has clearly learned from the past titles to make an even bigger and better entry in this awesome series. We here at Honey's Anime loved our time with Mafia III and have found ourselves revisiting it many times even after completion like Grand Theft Auto V. Mafia III harkens to the greatness that is Grand Theft Auto V and we know fans of the Grand Theft Auto series and Mafia series will fully embrace Mafia III with open arms.
Mafia III-Worldwide Reveal Trailer | PS4 (Official Trailer)
---
Any Games Like Grand Theft Auto V ?
4. Watch Dogs 2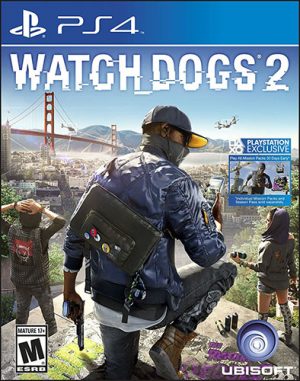 System/Platform: PS4, Xbox One, PC
Publisher: Ubisoft
Developer: Ubisoft Montreal
Release Date: Nov 15, 2016
Chicago had been the first to use the ctOS system or Central Operating System and now it's being installed in San Francisco. However, for Hacker Marcus Holloway the new updated ctOS 2.0 system isn't anything good as it claims he committed a crime that he didn't do. Soon Marcus learns that the ctOS 2.0 is actually causing people of San Francisco to be labeled as criminals on purpose, and now it's up to Marcus to stop this system from getting any more out of hand. Luckily, Marcus isn't alone and has hacker friends alongside him ready to put an end to ctOS 2.0 using any means necessary. However, those behind ctOS 2.0 aren't about to let Marcus and his allies accomplish this mission that easily.
Maybe you want to create destruction and mayhem not with just guns and vehicles but using the power of technology, well look no further than Watch Dogs 2. Players are given a new city and new means of taking down the system via their in game smart phones for plenty of chaotic fun. Like the first title, Watch Dogs 2 also allows player to go online in multiple modes as well as just to hang out and do missions with one another. Watch Dogs 2 gives those who are more tech savvy a playground like Grand Theft Auto V to unleash their inner hackers. If you loved Watch Dogs 1 and Grand Theft Auto V you'll enjoy Watch Dogs 2.
Watch Dogs 2 Trailer: Cinematic Reveal- E3 2016 [US] (Official Trailer)
---
5. Far Cry 4

System/Platform: PC, PS3, PS4, Xbox 360, Xbox One
Publisher: Ubisoft
Developer: Ubisoft Montreal
Release Date: Nov 18, 2014
Ajay Ghale returns home after his mother dies back to his home of Kyrat. As he heads home, his bus is taken captive by the Royal Army and is imprisoned. Ajay is freed by a commander of the Golden Path who were formed as a rebel force by Ajay's father. Now Ajay must make a harsh choice. Ajay could side with the Golden Path and lead the land of Kyrat back from the oppressive force of the Royal Army or Ajay can join the Royal Army and gain power through force and fear. What side to choose to change the land of Kyrat? The choice is yours in Far Cry 4.
Get ready Far Cry fans, Far Cry 4 brings back the explosive action of the series and adds to it even making this an even better sandbox game than ever before. Players gain a slew of new weapons, new vehicles and plenty of amazing ways to blow enemies up. However, also similar to Grand Theft Auto V, is the impressive story mode which really surprised us. The various characters that are in Far Cry 4 are well voiced and even more so give life to the struggle that is taking place in Kyrat. Honey's Anime gives Far Cry 4 a full recommendation and it's obvious why it's on our 6 Games Like Grand Theft Auto V list.
Far Cry 4 Reveal Trailer (Official Trailer)
---
6. Saints Row: The Third

System/Platform: PS3, Xbox 360, PC
Publisher: THQ
Developer: Volition
Release Date: Nov 15, 2011
Life has been very lucrative for the 3rd Street Saints. Several years have passed since their last exploits and in that time have joined forces with the Ultor Corporation to become one of the bigger media empires ever. The 3rd Street Saints are even making a movie based on their life, things can't get much better than this, right? In an attempt to promote the movie, the gang decides to stage a real life bank robbery but end up captured by some corrupt police officers and are subsequently thrown into prison. However, something like this doesn't stop the Saints, and they prepare a breakout to get the ones responsible for dethroning them.
Now if you have played Grand Theft Auto V, you know at times the story can be a bit outrageous. However, equally, if you have played a Saints Row title, you know these games are usually ten times more outlandish and Saints Row: The Third is certainly no exception. Players once more freely roam around Steelport with even more arms to use than ever before making this one of the largest of the franchise. If you get tired of hitting people with weird purple bats—we know what they are but we do need to keep these articles semi-PG—you can go online and create some damage with friends. With tons of new ways to play and even more customization to make your character your own, Saints Row: The Third is truly a solid way for us to end our 6 Games Like Grand Theft Auto V list.
Saints Row: The Third- Official CG Trailer (Official Trailer)
---
Final Thoughts
Grand Theft Auto V won't be the last of the series but as of now it is easily one of the best to come from it. That's why with the titles above we made sure to only have titles worthy of being comparable to such an epic video game. These producers and developers crafted titles that are considered by fans and Honey's Anime to be the definition of legendary. Now then, unfortunately this list of games like Grand Theft Auto V comes to an end, but we hope you enjoyed it. Let us know in the comments down below and don't forget that while this list is over we're not done yet. Honey's Anime is dedicated to bringing you folks more epic recommendation lists and other articles that we know you'll love, so don't wander too far.
---