Action adventure games at one time were a separate entity, with focus on either or, but now the two popular genres have become a hybrid of excitement for anyone who picks up their favorite title. Action Adventure games are typically all about cruising through various areas of the world, collecting items to assist you on your journey, will battling countless enemies on your way to fight the final boss that awaits you. There's never a shortage of hype when it comes to action adventure titles because you're always finding something new to do, while keeping track of all the information you've gathered to guide you further along in the story. Whether you're scouring the dark underworld in search for your mother's killer in Devil May Cry, to jumping from building to building with very little to hold you back in Gravity Rush, action adventure games most certainly have it all.
10. One Piece: Unlimited Cruise 2

System/Platform: Nintendo Wii
Publisher: Bandai Namco Games
Developer: Ganbarion
Release Date: September 25, 2009
Releasing only in EU and AUS along with Japan, One Piece: Unlimited Cruise 2 unfortunately didn't see a western release but fans of the series could always find ways to grab it if they truly needed it. Releasing back in 2009 for the Wii, One Piece: Unlimited Cruise 2 is the second episode to the Unlimited Cruise series and follows Luffy as he undergoes a transformation as Nightmare Luffy. This new form has made Luffy huge and blue, and so now players must somehow try to bring Luffy back to his original self in this action adventure title.
Those who are in love with the One Piece franchise will most certainly find this title to be intriguing for sure, but if you're not so big on the series it may be hit or miss depending on your tastes. A lot of game has you running around collecting various items while battling random enemies, bringing you one step closer to the final boss of the game. What's great however is that all of the Straw Hat Pirates are playable and through beating the game once, you can swap between your animal costume along with your normal attire you'd find in the story.
---
9. Naruto: The Broken Bond

System/Platform: Xbox 360
Publisher: Ubisoft
Developer: Ubisoft Montreal
Release Date: November 2008
Naruto: The Broken Bond is an action adventure title that was developed and published by Ubisoft, which is quite uncommon since most Naruto games are typically developed by a Japanese company. In spite of that, The Broken Bond takes place shortly after the events of Rise of a Ninja and aligns with specific parts of the anime series episodes 81-135.
For those who played Rise of a Ninja will most likely become familiar with the gameplay and pace that the series is known for, while throwing in all of your favorite characters which all come with their original voice acting from the anime too. The story is expansive, covering well over 20 hours of your time, and allows you to hop online to battle against other players when you feel like the story needs a break. Whatever you found intriguing from Rise of a Ninja is greatly improved in The Broken Bond, such as graphical improvements along with extra gameplay features that beef up the adventure as you battle your way through several of the popular story arcs.
---
8. Ghost in the Shell: Stand Alone Complex

System/Platform: Playstation 2
Publisher: Sony Computer Entertainment | Bandai Namco Games [NA]
Developer: Cavia
Release Date: June 27, 2012
Stand Alone Complex takes you into the far distant future of 2030 where cyber crime has escalated to a dangerous level, and acts of terrorism along with espionage plague this already torn society completely lost in its obsession with technology. Main female lead Major Motoko Kusanagi must now dive deeper into the corrupt underworld to uncover the truth behind the case known as T.A.R.
Players can play as both Kusanagi and male lead Batou throughout the story. Each of their experiences differ as you progress further, using a third person perspective to capture all of the action. With so many weapons at your disposal this game is all about blasting your way through whatever hurdle that tries to stop you, ghost hacking enemies, and using Kusanagi's hyper agility to progress through levels with ease. In Batou's case, it's all about brute force and heavy artillery as he blows up whatever he can to get the answers he needs. With high quality graphics for its time, along with action packed into everything, fans of the series will certainly fall in love with this one.
---
7. Danganronpa Another Episode: Ultra Despair Girls

System/Platform: Windows, PS4, PS Vita
Publisher: NIS America | Spike Chunsoft
Developer: Spike Chunsoft
Release Date: September 2015
Danganronpa Another Episode: Ultra Despair Girls is a spin off of the already popular franchise, which takes place between Trigger Happy Havoc and Goodbye Despair. It's a third person action adventure that focuses primarily on elements pertaining to horror, and you control Komaru as you must destroy the Monokuma Robot clan before they run a muck on the city. Using a unique hacking gun as the weapon of choice, you can take control of enemies on the fly, or beat them over the head with it if that's your style of play.
Furthermore, you can use the hacking gun to hack into certain types of machinery or scan the area for clues pertaining to the story. Danganronpa Another Episode: Ultra Despair Girls is very vibrant in its color palette, using various patterns to get your attention but it's the challenging difficulty that really makes the game stand out. If you decide to take on the harder difficulties, you're left with very little ammunition and fewer chances to get assistance from teammates when you need them. That really brought the thrill to the next level because you now have to rely on clever tactics to race through the horde of enemies that just don't seem to stop approaching you.
---
6. Gundam Breakers 3

System/Platform: PS4, PS Vita
Publisher: Bandai Namco Games
Developer: Bandai Namco Games
Release Date: March 3, 2016
Gundam Breakers 3 is an action adventure title, and the direct sequel to the popular Gundam Breakers 2 which took players into the Gundam universe as you build your own custom Gundam to fight against other Gundams in various modes you can choose from in the game. While there isn't much of a story, it focuses on your character who has just recently moved close to Ayato Shopping Street which going to be redeveloped by the Time Universe Corporation. From there your character meets up with Misa as the two of you form a bond to help revive Ayato Shopping Street and prevent it from being taken over.
With cool modes to choose from such as the newly added Bounty Hunter mode, which allows you to fight against other preloaded custom models, Gundam Breaker 3 is full of excitement as you pretty much have to come up with the best build possible in order to stay afloat, while completing the exciting story mode will unlock the extreme difficulty mode for more fun. The more you progress, the more parts you'll receive which just make the game very immersive and tests your creativity as you race your way to the top as the best Gunpla maker.
---
5. Devil May Cry 4

System/Platform: Multi Platform
Publisher: Capcom
Developer: Capcom
Release Date: January 31, 2008
Nero possesses incredibly strong demonic abilities and is determined to use them against Dante, after finding out that Dante had completely obliterated every demon in his path from the Order of the Sword, along with the clan's leader. Hungry for revenge, you control Nero as you embark through a horde of enemies using close combat attacks, along with weapons and swords.
You can actually play as both Dante and Nero, since they play an important role in the overall plot but much of the gameplay is mainly on Nero. The high octane action is what made this game so hype to play, along with its incredibly challenging missions that made you want to sometimes scream at your TV in frustration. As with most other Devil May Cry titles, you need to complete puzzles and gather important items which pertain to the progression of the story, but even more so is all of the flashy style points you get once you start racking up damage during battle with Devil Trigger. Devil May Cry 4 is arguably the best out of the entire series thus far, simply due to its vast gameplay improvements over DMC3 as well.
---
4. Gravity Rush

System/Platform: PS Vita, PS4
Publisher: Sony Computer Entertainment
Developer: SIE Japan
Release Date: February 9, 2012
Taking place in the city of Hekseville, Kat has lost her memory and eventually runs into a mysterious black cat that grants her the ability to control gravity. She names the cat Dusty and the two embark on a journey to protect people from the incoming threat of the gravity storm, along with the evil Nevi monsters that have tagged along. Along with friends she meets down the road, she must rely on their assistance to bring an end to this danger before it's too late.
Who doesn't enjoy the power to manipulate gravity and use it against your enemy? The sound of that already makes us giddy like school kids, and the fact that you can navigate just about anywhere in the world with it is truly innovative. Using a cell shaded style to further emphasize just how cool this game already is, Keiichiro Toyama wanted to create a unique world where players could have the freedom to navigate anywhere on the map and feel like they could travel anywhere, while obtaining new gravity type abilities to knock enemies out in one blow.
---
3. Okami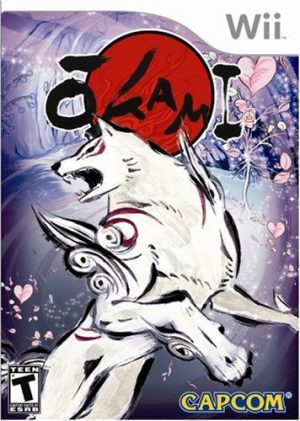 System/Platform: PS2, PS3
Publisher: Capcom
Developer: Clover Studio
Release Date: April 20, 2006
Okami is yet another instant classic that takes place in a mythological world of Japanese folklore, where the sun goddess Amaterasu must restore light back to a dark world that has been plagued with evil demons. As you fight your way through the darkness to come face to face with Yami, also known as The Emperor of Everlasting Darkness, you're introduced to this magical world filled with mystery and intrigue that just takes your breath away each time you become immersed in it.
Okami became known as one of the greatest games ever made because it took your traditional action adventure title, threw in an array of innovations such as allowing players to use the Celestial Brush to wipe out the enemy, but to also paint a picture of positive artistic expression that seemed to lack in most titles at the time. It's gameplay is unprecedented simply because you felt so immersed in this world of Japanese history, and it became more of a game of knowledge and acquisition as you played more of it. The very distinct cel shaded style, which is very reminiscent of the classic Ukiyo-e style paintings is what truly blew everyone away and to this day still does.
---
2. The Legend of Zelda: Ocarina of Time

System/Platform: Nintendo 64, Gamecube, Nintendo 3DS
Publisher: Nintendo
Developer: Nintendo EAD
Release Date: November 21, 1998; June 19, 2011
Hyrule is in trouble as Princess Zelda has been kidnapped by Ganondorf and it's now up to young Link to come to her aid, in this all time classic known as Ocarina of Time. This title paved the way for many other games and is arguably the best Zelda title of all time for various reasons. One major thing to point out was that for its time, Ocarina of Time had showcased some of the best graphics the Nintendo 64 had ever seen, and pair that with an open world unlike no other was just a perfect 10 waiting to happen.
As you travel across the kingdom and vast lands in search for clues as to Zelda's whereabouts, the battles you encounter are just so exciting that you can't put the controller down. The overall story as well was where everything just came together perfectly, because you had this young child who over time matured and became this sword weilding master who could take down just about anyone. It was this slow growth process in Ocarina of Time that truly made the game shine because as you played, you also grew along with Link, going through his struggles and figuring out challenging puzzles to help you progress forward. Such a rewarding experience that can truly never be forgotten and for that reason, it should come as no surprise that Ocarina of Time has made the list.
---
1. Final Fantasy XV

System/Platform: PS4, Xbox One
Publisher: Square Enix
Developer: Square Enix
Release Date: November 29, 2016
All aboard the hype train folks, this one is going full speed ahead! The release of Final Fantasy XV was a long awaited one, ever since we knew it as Final Fantasy Versus XIII way back in 2006 during its early development stage. Right out of the gates came a powerhouse title that fans of the series had been salivating over, and finally got their chance to grind their way through hours of gorgeous gameplay. You don't really need to have any familiarity with past titles since FFXV feels very fresh in its approach, allowing players to traverse around an open world and battle an endless array of enemies.
One great selling point about XV isn't just about its beautiful graphics, but Square Enix really revamped the battle system giving players a more action adventure type of feel, while still retaining the very classic RPG feel that the series is proudly known for. As you travel around the vast world either by car or Chocobo, there's just so much to see and do in this game that you're immediately absorbed and can't take your attention away even if for a brief moment. With over 100+ hours of gameplay locked in with plenty of side quests to take part in, Final Fantasy XV is Japan's best selling PS4 game this year for very good reason, and we hope to see it continuing growing as a franchise for more years to come.
---
Closing Statement
Action adventures are always a tough bunch to place on a top ten because quite frankly, there are just so many amazing titles out there that we'd be afraid to ignore any of them. However that's why you're all here to throw in your suggestions too, so let us know what action adventure title really blew you away and what new titles you're looking forward to for the new year. What did you think of Final Fantasy XV? Was it worth the 100+ hours? Share your opinions down in the comments section below and be sure to stay updated on twitter for the latest articles straight from the bee's nest!
As always, if you want to know about all the latest buzz straight from the bee's nest in Japan, be sure to keep it locked here at Honey's Anime.
---