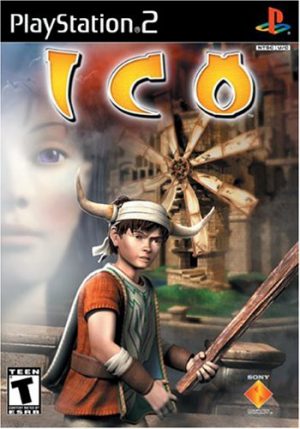 INTRODUCTION / OPENING PARAGRAPH
Games like Ico tend to change the landscape of video games when they release. Ico was a very interesting title thanks to a slew of gameplay mechanics that made it both unique and fun. The concept of relying on another in a video game and revealing a story though use of in game images rather than voice or text—these are elements that Ico incorporated in every fiber of its amazing game. While these elements aren't new ideals, developer Team Ico truly made sure they were done in a unique manner in Ico. Thus like when you realize how to solve a puzzle, we here at Honey's Anime thought of a perfect list to create. Behold our 6 Games Like Ico recommendations list!
Ico was truly ahead of its time in terms of gameplay. Players had to rely on another at times all while learning what it meant to be on your own in equal measure. It's akin to having a safety net then realizing it's gone and that made for some truly memorable moments in game. With our list, we wanted to mix it up—some of these titles have players relying the whole game on another for either banter or help in terms of gameplay and others have the player being alone a majority of the time but exploring narrative that isn't just presented to you. Trust us folks, today's list is a true amalgam of games and we hope you're ready for it. Without any more delay, it's time for 6 Games Like ICO to begin.
Similar Games to Ico
1. Shadow of the Colossus

System/Platform: PS2, PS3
Developer: SCEI
Publisher: Sony Computer Entertainment
Release Date: Oct 18, 2005
Entering a large valley filled with nothing but trees and mountains, a young man takes a young woman in his arms and enters an odd shrine. There, the boy—named the Wanderer—hears voice once he places the woman on an altar in the large shrine. The Wanderer is told that if he wishes for the woman to be brought back to life, he needs to defeat the colossus beings that roam the valley. With only his sword and trusty steed to keep him company, the Wanderer heads off towards the first giant. However, can a young man face beings almost a hundred times larger than himself?
From creator Fumito Ueda and his team who created Ico comes Shadow of the Colossus. It stands to reason that thanks to the team who developed Ico, Shadow of the Colossus captures many of the same elements both in its narrative and gameplay that Ico had. Players will fight only one enemy type in Shadow of the Colossus and that is the gigantic beings known as colossus. To take down these enemies, players will have to climb on them and find specific areas to attack all while avoiding running out of energy to climb these titan like beasts. As we said, like Ico, Shadow of the Colossus doesn't involve much narrative and players will need to pay close attention to what is being shown and heard to piece together what this story is really. We fully recommend Shadow of the Colossus and we know you'll enjoy this masterpiece of a game—though we recommend the PS3 HD remaster of it for the best experience.
Shadow of the Colossus HD: Japanese Trailer (Official Trailer)
---
2. Journey

System/Platform: PS3, PS4
Publisher: Sony Computer Entertainment
Developer: thatgamecompany
Release Date: Mar 13, 2012
No text, no voice and no narration in any form, Journey is truly a title like Ico. Players take control of a being that resides in a giant desert that seems to have no end. The only means of a guide comes from a large glowing like tower in the distant that the player will want to head to. As the being goes around the desert, it begins to notice what looked like societies that once resided in the desert but are now all but gone. However, what isn't gone are robot-like beings that stand to stop the being from making it to their goal.
Journey created by thatgamecompany has to be one of the most impressive titles we've seen and played in some time. Players navigate an endless beautiful desert all while exploring the environment to gain knowledge of the game's lore and setting. With simple mechanics, almost anyone can easily enjoy Journey for its simple gameplay and beautiful musical score. Journey is like Ico; it's less about being told what the story is about and more about learning from your own thoughts and imagination. Journey shows what game developers can do with simple ideas that become large creations.
Journey Launch Trailer | Coming July 21 | PS4 (Official Trailer)
---
3. Rime

System/Platform: PC, Nintendo Switch, PS4, Xbox One
Publisher: Grey Box, Six Foot
Developer: Tequila Works
Release Date: May 26, 2017
Washing up on an island, a young boy searches for a means to escape and find out what caused his predicament. However, the boy isn't alone on this mysterious island. Led by a mysterious fox and a man with a red cape, the boy begins to have flashbacks to what happened before being marooned on the island. If the boy is to survive this island, in his mission to find a means to escape, he will have to persevere. Though this goal might be an overly daunting task for such a young boy…
Rime is all too similar to Ico in its way of presenting a narrative less about spoken dialogue and more about using context clues to piece together the lore. Players will find that like Ico, Rime is also similar in the gameplay mechanics as players explore a large island like setting. Players will have to jump, run, climb and solve puzzles to help the boy reach the destination set before him. At times, players will run into various entities making it feel like the boy isn't fully alone and that provides a nice break from the solo adventure. We were honestly wowed by Rime and we're sure you'll understand why once you play it yourselves.
RiME Launch Trailer (Official Trailer)
---
Any Games Like Ico ?
4. Prince of Persia: The Sands of Time

System/Platform: GBA, PS2, Gamecube, Xbox, PC, Mobile, PS3
Publisher: Ubisoft
Developer: Ubisoft Montreal
Release Date: Oct 28, 2003
What if you could rewind time, fix the mistakes you've made, and try again till you get it right? A young prince will be given this gift but the price he must pay might be quite high. When The Prince and his father's army pass through a place in India where The Vizer foresees his own demise and uses the powers of the Sands of Time to somehow prevent it. During a fight with The Vizer and his army, The Prince gains a weapon called the Dagger of Time and now is able to rewind time. The Prince will need this newly gained power to stop The Vizer all while saving a young woman who he escapes with.
Prince of Persia: The Sands of Time isn't the first Prince of Persia title but it truly created a legendary franchise once it released on the PS2. The epic story and the unique gameplay concepts made this prince's adventure worthy of two more releases on various consoles. Like Ico, the prince relies on his female companion at times in the game but too often, he's alone to deal with the various threats that face him. Thankfully the game provides balance to ensure your adventure isn't always a lonely one and we're thankful for that. If you do decide to pick up this amazing game we recommend the PS3 version as it stands as an HD remaster providing the best look visually to what is now an older title.
---
5. Ratchet and Clank: Up Your Arsenal

System/Platform: PS2, PS3, PS Vita
Publisher: Sony Computer Entertainment
Developer: Insomniac Games
Release Date: Nov 3, 2004
Ratchet and Clank return in another adventure of galactic proportions. When Ratchet learns that planet Veldin, his home planet, is under attack, he and Clank race to the rescue. Posing as Galactic Rangers, the two are somehow able to drive off the Tyhrranoids from completely devastating Ratchet's home. After their heroic actions, the two friends meet with the Galactic President who claims Dr. Nefarious is the one responsible for this sudden attack. Seeking answers, Ratchet and Clank arm themselves and head on yet another adventure, though this one may truly push the duo to the limits.
You might see Ratchet and Clank: Up Your Arsenal on a list of games like Ico and do a double take. We clearly understand why when in Ratchet and Clank: Up your Arsenal is a third person action game with robots and explosions left and right. However, the best elements for us here at Honey's Anime has to come from the banter and camaraderie of Ratchet and Clank. Despite the two friends being so different, they have been together in so many titles and have come to rely on each other in almost all of them. Like Ico, while the boy needs the girl to solve puzzles and other various goals, their friendship—while quiet—has a deep bond that the player can feel. It stands to reason that like Ico, Ratchet needs Clank and vice a versa to truly solve any given situation. That's why besides being an extremely fun game, we have to say that Ratchet and Clank: Up Your Arsenal is indeed worthy of being on this great recommendation list.
---
6. The Last Guardian

System/Platform: PS4
Publisher: Sony Computer Entertainment
Developer: SIE Japan Studio
Release Date: Dec 6, 2016
Our list ends with another title made from the man responsible for Ico. In the Last Guardian, you play as a young boy who wakes up in an odd valley near a giant creature. Saving the creature who has been chained by unknown forces, the boy and the creature named Trico attempt to escape their odd predicament. If these two wish to survive and somehow find freedom they will have to rely on one another. However, this landscape isn't kind and as the two will learn there are forces besides the environment that seem very hostile.
The Last Guardian almost never came out to grace the PS4. Having had multiple delays and many technical issues, it almost seemed as if The Last Guardian wasn't going to release. Luckily players got to experience this adventure platformer thanks to SIE Japan Studio's persistence. All too similar to Ico, players found their cat bird-like creature to be a companion, friend and means of removing the loneliness of the boy in certain areas. It stands to reason why we decided to put The Last Guardian on this 6 Games Like Ico list and we're sure fans of Ico will have much enjoyment playing this incredible game.
The Last Guardian-E3 2016 Trailer | PS4 (Official Trailer)
---
Final Thoughts
We here at Honey's Anime have a great respect for games like Ico and the ones on this list. We know that if you loved Ico you'll enjoy one or all of these games on this list and you should definitely try them out. However, our lists only work if you wonderful people out there enjoy them. Please leave a comment down below to let us know how we did—did we find all the games like Ico or are there more? As always if you do love these recommendation lists, stick around to Honey's Anime for more of them soon to come.
---