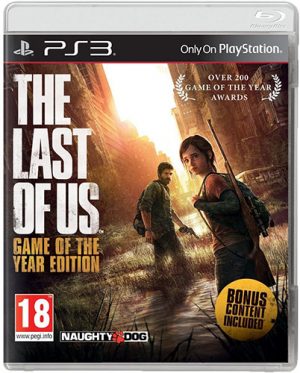 INTRODUCTION / OPENING PARAGRAPH
We here at Honey's Anime truly love video games. When someone asks why we love games we use games like The Last of Us as our prime example. The Last of Us blended great story telling, amazing graphics and solid gameplay. All of these combined to make one of the best video games ever created. Naught Dog truly made a masterpiece and you almost have to wonder, can another game have those same amazing elements. Well after much research we here at Honey's Anime have crafted an amazing list of 6 Games of Like The Last of Us.
The Last of Us was recognized by the gaming community as being a true masterpiece. Melding third person action with survival aspects and infusing a touching story of survival in a post-apocalyptic world was something that has been seen in video games but not on such a caliber. However, we found ourselves venturing into a world in the sky and tales of mystery to capture great gameplay and storytelling just as amazing as The Last of Us. These titles may all play differently than The Last of Us but we feel they truly capture those great elements to make amazing video game experiences. Now then, be prepared for this list of games like The Last of Us, some of these titles have made us cry just as bad.
Similar Games to The Last of Us
1. Tomb Raider: Definitive Edition

System/Platform: PS4, Xbox One
Publisher: Square Enix
Developer: Crystal Dynamics
Release Date: Jan 28, 2014
Lara Croft's story gets a reset and make over in Tomb Raider: Definitive Edition. Lara finds herself excited as she sets sail for the lost kingdom of Yamatai hoping to be able to even find it. However, as Lara and her expedition team get closer to some island a terrible storm destroys their ship and causes them to be marooned. As Lara and the survivors of the transport ship Endurance will soon discover this island isn't normal. Lara wishes to be an explorer who can carve her name in the annals of time, but to do that she must prove that she can handle anything.
Lara's tale has continued for a long while ever since Tomb Raider originally released on the PlayStation one in 1996. Tomb Raider then got a successful restart in 2013 by redoing the formula for a more modern aesthetic. Tomb Raider: Definitive Edition aims to even further enhance the already great Tomb Raider 2013 game boasting improved visuals and better in game systems. The gameplay harkens closely to The Last of Us having players build items to survive against the ever increasing enemies that wish to kill Lara. While Lara's new tale may not leave you in tears, it does have a strong tale of a young girl being forced to grow up if she wishes to stay in her dangerous occupation. Overall, our list of games like The Last of Us starts off on the right foot with Tomb Raider: Definitive Edition.
Tomb Raider: Definitive Edition "Announcement Trailer" (Official Trailer)
---
2. BioShock Infinite

System/Platform: PS3, PS4, Xbox 360, Xbox One, PC
Publisher: 2K Games
Developer: Irrational Games
Release Date: Mar 26, 2013
Booker DeWitt is on a mission to find a young girl named Elizabeth. However, if Booker wishes to successfully pull this off he will find himself heading into a very strange world that lies in the sky. Columbia, a giant city held up by propellers, balloons and many more creations, aims to allow its residents to live a life free of the issues from the world down below. That freedom comes at a price as these residents are very protective of their own rights and Booker's intrusion will not be seen as okay to most of the residents, especially the leader called Comstock. Booker may be doing this to save himself from his past failures, but soon he will learn that his past may not be so simple.
BioShock Infinite truly changed the BioShock universe by removing the sea element and aiming towards the endless sky. One major thing that hasn't changed is the tight first person shooting elements and the various powers that can be used by the player. What makes BioShock Infinite so similar to The Last of Us is the compelling story that not only isn't so simple but has a deeper emotional strength. As the player unfolds the truth of BioShock Infinite's lore, they will learn many hidden truths and plenty of reasons to really care for the characters like Booker and Elizabeth. Just like Joel, Booker's world has already been shattered once, but now he has a new reason to live. Trust us folks, BioShock Infinite has been widely regarded as one of the best games of 2013 and there's a reason for that.
BioShock Infinite—False Shepherd Trailer (Official Trailer)
---
3. Red Dead Redemption

System/Platform: PS3, Xbox 360
Publisher: Rockstar Games
Developer: Rockstar San Diego
Release Date: May 18, 2010
Former outlaw John Marston is trying to finally leave his past in the dust. Now trying to enjoy a life with his family, John seems to finally be free to look towards a bright future. Though that dream is short lived when the Bureau of Investigation hunts down John to ask for his help. They give him a choice, if he wishes for his past crimes to be erased, John must hunt down his former gang members. Once more John must pick up his guns and aim to kill those who stand before him and sweet freedom, even if they were once like his brothers.
On one hand Red Dead Redemption is a fun third person shooter set in the Wild West. However, equally Red Dead Redemption's story is very impactful. The concept of what a man is willing to do to free himself is an interesting and sometimes heart gripping ideal. Then the ending which really took us by surprise makes it a true comparable game to The Last of Us plot and emotional thrill ride. Seriously, while Red Dead Redemption may seem like just another open world type game, the story and gameplay are second to none.
Red Dead Redemption- Launch Trailer (Official Trailer)
---
Any Games Like The Last of Us ?
4. The Walking Dead

System/Platform: Android, iOS, PC, PS3, PS4, PS Vita, Xbox 360, Xbox One
Publisher: Telltale Games
Developer: Telltale Games
Release Date: Apr 24, 2012
Based off the hit TV series and the very popular graphic novels, The Walking Dead created by Telltale Games allows for a new story to be told in The Walking Dead world. Lee Everett is being sent to prison for killing someone. As Lee is being escorted via police car, the police officer dodges what looks like a man in the middle of the road and the two are sent off the road. When Lee awakens he sees the police officer devoured by what appears to be humans and runs away to try to survive. As Lee will soon learn, those humans are actually the dead having come back to life. The tale of Lee Everett survival in a world that is dying begins here…
The Walking Dead has truly been one of the coolest zombie stories ever created having garnered worldwide praise for excellent storytelling and themes. Developers Telltale Games have been able to capture that amazing storytelling with a game that plays like a third person adventure game. Players control Lee as they make interact with the environment and make choices that greatly alter the story. Why a game like this is on our list is for one major reason, the relationship between Lee and a young girl named Clementine. Like Joel and Ellie of The Last of Us, Lee and Clementine aren't related but as the story progresses they rely on each other like a father and daughter. As the events play out in this five installment game, this companionship and relationship only grows to make the player feel for both of The Walking Dead's main pair. If you loved the relationship created in The Last of Us, you'll love the story that The Walking Dead has to tell.
The Walking Dead Story Trailer [HD] (Official Trailer)
---
5. Heavy Rain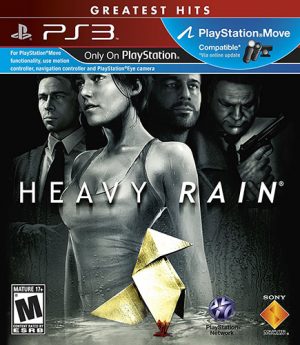 System/Platform: PS3, PS4
Publisher: Sony Computer Entertainment
Developer: Quantic Dream
Release Date: Feb 18, 2010
Heavy Rain tells the story of four characters whose paths are about to interject due to the serial killer known simply as The Origami Killer. Ethan Mars, a loving father loses his child Jason after an accident occurs. Scott Shelby, a PI in charge of looking for The Origami Killer after a mother loses her son. Norman Jayden, an FBI agent who is assigned the Origami Killer case but is dealing with his own attempt to rise in the FBI as well as several internal addictions. Madison Paige a young journalist who believes if she can capture the scoop on the Origami Killer her job can be revitalized. These four may all be strangers, but eventually they will learn that fate wants them together.
Heavy Rain has to be one of our favorite third person exploration games ever. Choices in Heavy Rain dramatically alter the game's narration where characters can even perish if the player fails an event, but unlike most games even if one of the four die the game continues. Narration in The Last of Us is easily one of the most crucial elements to the story being so strong and Heavy Rain relies on that concept as well. Thanks to the strong writing from David Cage, Heavy Rain will truly immerse the players in a game that feels more like a movie being watched and interacted with. The Last of Us and Heavy Rain play on two different worlds but thanks to impressive graphics and an incredible story both are more alike than most think.
Heavy Rain- Launch Trailer | PS4 (Official Trailer)
---
6. Uncharted 4: A Thief's End

System/Platform: PS4
Publisher: Sony Computer Entertainment
Developer: Naughty Dog
Release Date: May 10, 2016
Nathan Drake's long journey finally comes to a climax in Uncharted 4: A Thief's End. Nathan has decided to leave his past spelunking and treasure hunting days behind him to live the life of a married man. Yet, Nathan's brother Sam, who should have died during an event in their lives many years ago, shows up begging for his brother's help. Apparently Sam owes a portion of treasure to a big mob boss and it revolves around a place the brothers once tried to find. With no other choice, Nathan decides to do one more treasure hunting expedition.
Our list ends with a fitting game title that also finds a tale coming to a close, Uncharted 4: A Thief's End. Players once more take control of Nathan in a third person action game. Developer Naughty Dog isn't new to creating great Uncharted titles, and this fourth installment is just as amazing. Seeing as how The Last of Us is also created by Naughty Dog, it's not a surprise that both these titles play almost exactly alike relying on a mix of platforming, exploration and loads of shoot outs. Easily the most fitting way to end a series and a list, Uncharted 4: A Thief's End will blow your mind just as much as The Last of Us and that much we can guarantee. Plus Uncharted 4: A Thief's End has such an incredible ending that fans will need to see to believe.
UNCHARTED 4: A Thief's End (5/10/2016)- Story Trailer | PS4 (Official Trailer)
---
Final Thoughts
Do you need a moment? We won't blame you, some of those titles above truly are tear jerkers. The Last of Us is a game that can only be mimicked by studios that pour their blood and sweat into creating an amazing game title. Hopefully you agree with us with some of these games or at the very least go and take our advice to play some of them. As always we have a comments down below and it's good for us to hear feedback from our amazing readers like you. Make sure you keep us bookmarked and continue reading our sight for great gaming and anime articles plus much more.
---