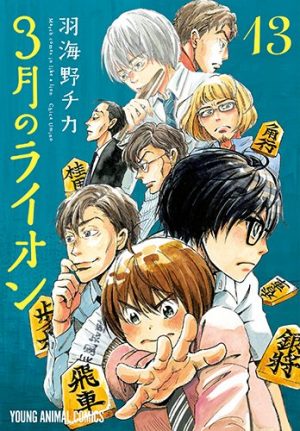 3-gatsu no Lion is a seinen manga born in 2007, from the skilled and talented Chika Umino, author of Hachimitsu to Clover. This overly touching story is about a 17-year-old boy, Rei Kiriyama, who is a professional Shogi player with a difficult past. In fact, due to a car accident, his parents and little sister died, and Rei found himself alone. Soon after, Kouda – a friend of Rei's father – took Rei in, but co-habitating with Kouda's kids became very difficult. That's why, because of the tension building up in his adoptive family, Rei decided to move out and live on his own.
Life can become very hard when you are a lonely teenager, who has to think about adult stuff such as laundry, cooking, and so on. In the darkest moment of Rei's life, the fated meeting with the Kuwamoto sisters – Rei's neighbors – will turn the tables. Akari, Hinata and Momo, with a past as difficult as Rei's, will warmly welcome him in their home, and a miracle happens: the three of them, plus Rei, each coping with their own past, manage to create a solid bond. Rei, drifting among wins and losses as a Shogi player, will eventually face his emotions, while discovering once again the warm feeling of "family".
3-gatsu no Lion became so popular that it got an anime adaption in 2016. We know how much you all loved this sweet story, and we are sure you crave for more. That's the reason why we decided to create this list: in order to provide 6 other manga sharing main themes with 3-gatsu no Lion. Stick with us until the end, we won't fail you!
Similar Manga to 3-gatsu no Lion / Similar Manga to March Comes in Like a Lion
1. Taiyou no Ie (House of the Sun)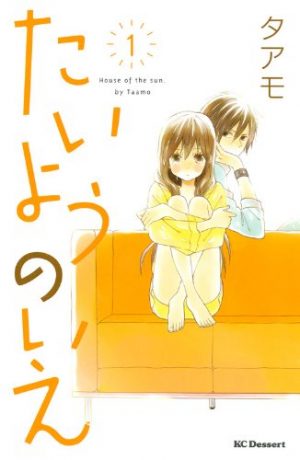 Authors: Taamo
Genres: Romance, Shoujo, Slice of life
Volumes: 13
Published: April 2010 – May 2015
Mao Motomiya is a girl who had a lonely childhood, consisting of an empty house. Her mother betrayed her father, and then abandoned them; Mao's father remarried, but seemingly Mao didn't fit in the new family. One night, when Mao is eating cheap food from the convenience store in a shrine, her childhood friend, Hiro Nakamura, finds her and treats her to a meal. As the conversation goes on, Hiro ends up suggesting Mao move in with him. When she accepts, she surprisingly finds a loving place where to belong!
Taiyou no Ie and 3-gatsu no Lion adapt slice of life with a background able to reach any audience. Both our protagonists, Mao and Rei, carry a difficult past, and share the feeling of not having a place to belong. Throughout the story, both of them manage to find a new place giving them the warm feeling of a family, but that's the moment where they have to face how actually lonely they are. Even though Tayou no Ie tends more toward romance, and 3-gatsu no Lion deals with the Shogi world, these two series share a family drama treated in a very mature, and touching way. If you like one, you'll enjoy the other for sure!
---
2. Chihayafuru

Authors: Suetsugu, Yuki
Genres: Drama, Josei, Romance, School life, Slice of life, Sports
Volumes: 38
Published: December 2007 – ongoing
Chihaya Ayase is a girl who has always lived in the shadow of her older sister, who is a model. When Chihaya meets the new transfer student – Arata Wataya – and he introduces her to the world of karuta – a card game involving physical and mental skills – Chihaya falls in love. Her passion for the game make her wish to become the number one in Japan! Together with Taichi and Arata, their childhood goes by, while playing karuta. Some circumstances, though, separate Chihaya and her friends. Years after, in high school, Chihaya decides to create a karuta team and aim for the Omi Jingu championship. Will she manage to draw people to karuta and realize her dream?
Both Chihayafuru and 3-gatsu no Lion are able to give off a heart-warming feeling, and both feature a Japanese competitive game, karuta and Shogi. The characters are similar, it is enough to think about the similarities between Arata and Rei: both of them considered child prodigies, becoming professional players at a very young age. Plus, both of them with a difficult past involving loss and loneliness. Both these series feature the main theme of friendship and talk about the importance of bonds with others. If you enjoyed the good vibes you found in 3-gatsu no Lion, you are bound to enjoy Chihayafuru, as well.
---
3. Ao no Flag (Blue Flag)

Authors: KAITO
Genres: Drama, Romance, School life, Shounen, Slice of life
Volumes: 3
Published: February 2017 – ongoing
Taichi Ichinose is a third-year high school student. His childhood friend is Touma Mita, who is beautiful and the most popular guy in school. Futaba Kuze has a crush on Touma, and her only chance to get anywhere near Touma is asking Taichi for help. Taichi willingly offers to help her out, but problems arise as he starts to fall for Futaba. Not only that, Touma is already in love with someone else... and things get even more complicated when the person in question is revealed.
At a first glance, by the premises, it may look like Ao no Flag and 3-gatsu no Lion hardly can be considered as similar manga. After all, Ao no Flag is a shounen manga tending towards romance, while 3-gatsu no Lion is a seinen lacking the romance almost altogether. Scratching the surface, though, these two series share the main, essential themes, which is why they give off the same good vibes. Both are coming of age stories, where our protagonists learn about relationships, about the hardships of life, and in both the emotions are well-described and conveyed to the readers fully. Trust us: if you like 3-gatsu no Lion, Ao no Flag can be your next step!
---
Any Manga Like March Comes in Like a Lion / Any Manga Like 3-gatsu no Lion ?
4. Oyasumi Punpun (Goodnight Punpun)

Authors: Asano, Inio
Genres: Drama, Slice of life, Psychological, Seinen
Volumes: 13
Published: March 2007 – November 2013
This story revolves around Punpun Onodera, who is a 11-year-old boy, who is socially awkward, naive and romantic. This innocent boy gradually sees the reality surrounding him change, changing him in the process. With an abusive father, a drunkard mother, and her consequent divorce, Punpun begins to realize how crushing the reality can be. However, it's the meeting with Aiko Tanaka that will teach him how difficult dealing with others can be, and how strenuous growing up is. While looking for a purpose, Punpun will face the daily struggles!
Oyasumi Punpun and 3-gatsu no Lion are both slice of life stories, which are deeply character-driven. In both these stories there's a constant investigation of the human nature, through the big range of characters. Oyasumi Punpun analyzes the darkest side of the human feelings. Staying in a dark light, 3-gatsu no Lion does the same, but in a lighter way, and it gives a ray of hope. Both these stories are well-written character-driven seinen manga, so if you liked 3-gatsu no Lion, you're bound to like Oyasumi Punpun, as well!
---
5. Tsuzuki wa Mata Ashita (To Be Continued Tomorrow, Li'l Flowers)

Authors: Konno, Kita
Genres: Drama, Josei, School life, Slice of life
Volumes: 4
Published: May 2008 – February 2013
Haruka and Saya Fujisawa are siblings, living in a small town. Their everyday lives go by peacefully with their father, but the situation is about to change. In fact, a new neighbor moves in and that peace is bound to end. Strange events begin to happen, one after the other, and what's worse is that they all seem related to Haruka and Saya's mother, who passed away. What is actually going on?
Tsuzuki wa Mata Ashita and 3-gatsu no Lion are both slice of life series, dealing with the daily struggles each person has to face constantly. In both these series we find people who had to deal with the loss of close relatives, who must cope with their pain. Then, new neighbors turn the table, and the situation begins to move forward. Exactly like 3-gatsu no Lion, Tsuzuki wa Mata Ashita, too, is a character-driven manga, so there's a beautifully-made analysis of the situations through their eyes. If you wish to read something as touching as 3-gatsu no Lion, then choose Tsuzuki wa Mata Ashita!
---
6. Kono Oto Tomare! (Stop This Sound!)

Authors: Sakura, Amyuu
Genres: Drama, Romance, School life, Slice of life, Shounen
Volumes: 17
Published: August 2012 – ongoing
The "Koto" is a traditional Japanese string instrument, and when the senior members of the club graduate, Takezou Kurata remains as the only member of the "Koto" club. If Takezou wishes to keep the club alive, the only way is looking for new members. The problem is: who would join such a club, which looks boring and dull? Takezou is about to give up, but it's Chika Kudou – a first year – who changes the situation. He barges in the music club room, asking to become a member. Harsh, scary and a delinquent, Kudou scares Takezou, who will find himself at a loss of what to do!
Kono Oto Tomare! and 3-gatsu no Lion share a lot. Both these series are slice of life, dramatic stories, talking about youth and talent. The personalities of each character are deeply analyzed, so the readers get to know what they truly feel throughout the story. In both these manga, the relationships build up step-by-step are realistic and relatable. The main theme of competition and talent is also very well-described, as both these series feature young boys excelling in a specific discipline. Kono Oto Tomare! and 3-gatsu no Lion are both character-driven, catching stories about what it means growing up and facing hardships, highlighting the importance of bonds.
---
Final Thoughts
And so Kono Oto Tomare! ended our list of six manga like 3-gatsu no Lion. We really hope you enjoyed the ride, as we tried to pick those manga sharing with 3-gatsu no Lion some important, basic traits. All these six manga are character-driven stories, able to steal the readers' hearts, just like 3-gatsu no Lion keeps doing. If you wish to read something that can give off the same good vibes you feel while reading 3-gatsu no Lion, we can guarantee that picking one of these six will be the right choice. As the world of manga is huge, why don't you let us know what other manga could have been a good fit in this list? See you next time!
---