También puedes leer este artículo en:Español
It has been a while since we do not have a manga as suspenseful, romantically intense and full of female fury as Ayashi no Ceres. Based on the legend of a heavenly maiden forced to become the wife of a mortal plus the mother of their offspring, Ayashi no Ceres was one of the most successful hits by Watase Yuu in the nineties. So let's see if we can find more stories that deal with reincarnation, revenge and/or romance between supernatural beings like Ayashi no Ceres. Let's find more manga like Ayashi no Ceres!
Similar Manga to Ayashi no Ceres
1. Sengoku Tsukiyo (Sengoku Nights)

Authors: Kei Kusunoki, Kaoru Oohashi
Genres: Horror, Shoujo, Supernatural
Volumes: 2
Published: 1999 to 2000
Kei Kusunoki is the creator of Bitter Virgin, among many other shoujo manga that tend to be slightly more adult than the usual sugary kind. As for Kaoru Oohashi, he has some experience in mature oriented shoujo as illustrator. They come together to tell us an interesting story about revenge. Everything in your life can apparently be perfect, especially if you are Masayoshi Kurozuka, a high-schooler. That is, until you discover that in your past life, you were a woman who sold her soul to the devil. And how do you discover it? By being attached by the ghosts of the men you killed! Thus, in order to be a normal person again, Masayoshi has to investigate the real nature of what happened between his former self and the devil.
The story of a reincarnated soul full of wrath is highlighted in both Ayashi no Ceres and Sengoku Tsukiyo. In both cases, there is much more behind it than what is apparent (a vicious female spirit, that is). The main characters also have to make a perilous journey to find out how to solve their little problem, while they are pursued by the spirits of the past. The difference between the mangas is that Ayashi no Ceres is more romance oriented.
---
2. Hiraheishi wa Kako wo Yumemiru

Authors: Yuu Okano, Izo Suzuki
Genres: Drama, Fantasy, Supernatural
Volumes: 1
Published: May 12, 2016 to present
Yuu Okano is a new face in the world of manga, who has penned a few fantasy oriented works. As for Izo Suzuki, he has illustrated a few shounen manga about war and adventure. The story of Hiraheishi wa Kako wo Yumemiru follows John Serieux, a soldier who dies just when mankind wins a long war against the Demon King. However, he somehow manages to be reborn back in time, when he was a baby. Therefore, with all his knowledge about the future intact, John starts a crusade to avoid the war against the demons at all costs.
The most interesting twist of Hiraheishi wa Kako wo Yumemiru is that, instead of going from present to past, it literally goes from the future to the past! John is a protagonist who is apparently vulnerable, but possesses impressive abilities, just like Aya from Ayashi no Ceres. They also have allies who believe their stories and fight by their side to avoid the repetition of the mistakes that brought them to that point. The most important difference is that John and company are younger than the gang from Ayashi no Ceres.
---
3. Gate 7

Authors: CLAMP
Genres: Adventure, Fantasy, Shounen, Supernatural
Volumes: 4
Published: Nov 4, 2010 to present
Guess CLAMP does not need introductions, right? They have been quite active in the manga world, sometimes with several series at once. Gate 7 might not be their most brilliant masterpiece, but it still has the distinctive CLAMP seal of quality on it. Mythic creatures, epic battles, a solid base in Japanese folklore and traditions, charismatic characters… Anyway, the story of Gate 7 follows Chikahito Takamoto and Hana. Both are High School students in Kyoto, where the most interesting adventures happen to them, in the realm between the conscious and dreams. Hana and her comrades are yielding a war against elemental beasts, and Chikahito, like it or not, is a part of it!
If what you liked about Ayashi no Ceres was the legend of the Heavenly Maiden and her hagoromo robe, you will find a similar flavor in Gate 7. There are references to temples, gods, goddesses, supernatural creatures in both mangas. Our protagonists are also cute girls who can get deadly serious when danger calls. They have a male sidekick who is frankly hilarious and is a skilled chef, too! The romantic interactions are very fun to read, although romance is more obvious in Ayashi no Ceres. The most obvious difference is the art style, although in both cases, it is impeccable.
---
Any Manga Like Ayashi no Ceres ?
4. Night of the Beasts

Authors: Chika Shiomi
Genres: Action, Adventure, Demons, Mystery, Drama, Romance, Shoujo, Supernatural
Volumes: 6
Published: Oct 1996 to May 1999
Chika Shiomi is not your regular fluffy shoujo mangaka, as her works are full of adventure, fantasy and action. She is the mother of no other than Ragtonia and Canon! In Night of the Beasts, we meet Aria, a High Schooler famous for taking down bullies. Her romantic interest is Sakura, a guy who is possessed by a demon and who can only be healed by her… if Aria is willing, of course.
Some will get the sensation that the roles of Ayashi no Ceres are reversed in Night of the Beasts. Our Aya (Sakura) is trying to find out why he is possessed and how to get rid of his course. Meanwhile, his highly capable girlfriend has to take her own decisions about to which extent she can help him. We get powerful supernatural elements, an intense romance, a similar drawing style and even similar character designs! If you love nineties supernatural manga, you can not miss Night of the Beasts.
---
5. Bokura no Kiseki

Authors: Natsuo Kumeta
Genres: Mystery, Fantasy, Romance, School, Supernatural, Josei, Gender Bender
Volumes: 16
Published: Nov 16, 2007 to present
Natsuo Kumeta has a few works under her mangaka sleeve, devoted mainly to fantasy. In Bokura no Kiseki, we find that having a past life is rather problematic (as always). Minami Harusumi has recurring dreams of Princess Veronica and the perils in her kingdom. However, his classmates are always laughing at him. The discovery of the truth behind the magic and tragedies surrounding Princess Veronica will depend only on Minami.
Bokura no Kiseki is all about reincarnation and the unresolved issues of a troubled past. Minami is our supernatural protagonist, apparently frail but capable, just like Aya in Ayashi no Ceres. Both characters do a good job portraying kindness as an extra strength. The two stories also make their big revelations slowly, as they have enough pages to unfold and develop the secondary characters on the way. The main difference is that Ayashi no Ceres is focused on folktales of Japan, while Bokura no Kiseki deals with a westernized past.
---
6. Fushigi Yuugi: Genbu Kaiden

Authors: Yuu Watase
Genres: Adventure, Drama, Fantasy, Historical, Romance, Shoujo, Gender Bender
Volumes: 12
Published: Mar 15, 2003 to Feb 14, 2013
To end our recommendations with a punch, we decided to talk about another great Yuu Watase manga: Fushigi Yuugi! Oh, but this is not the story of the two friends who entered the Universe of the Four Gods book. This is the prequel, which narrates the story of the first girl who got inside the novel! Takiko Okuda, who is going through a series of hardships, ends up becoming the priestess of Genbu. Her mission is to gather her supernatural warriors and defend the nation of Hokkan, which is in the hands of a dictator.
Several years separate Ayashi no Ceres and Fushigi Yuugi:Genbu Kaiden. However, we can see immediately this is the same author. We are not talking about the illustration, but about the characters. Aya and Takiko are strong willed women who have to mature quickly because they are technically in the middle of war. They have a best friend/sidekick who is dependable and is madly in love with them (Yuuhi and Tomite). And of course, let's not forget the mysterious and mature boyfriend (Tooya and Uruki). There is revenge motivating some of the characters as well. Both stories are full of adventures, plot twists and intense emotions. The end will make you cry if you are sensitive, so bring your tissues when you reach the end of the mangas.
---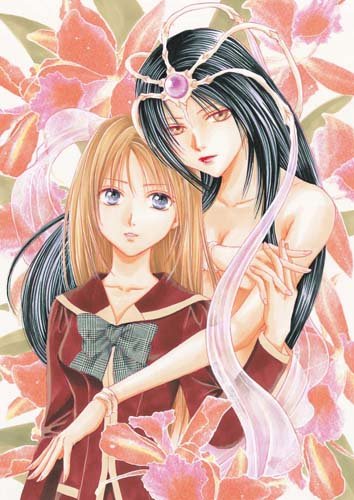 Final Thoughts
Manga like Ayashi no Ceres tend to be classified as shoujo, but despite of having romance, they tend to be mature. The difficult decisions the characters have to make and their conflicts between love and duty keep you interested, as they are realistically portrayed. However, the most important thing is how the heroes have to deal with their desire for revenge and/or justice. In order to find out if what they intend is right, they have to take long journeys to discover the past and ultimately, themselves. Which other manga do you think fit this bill? Don't forget we are open to all your comments and suggestions. See you soon!
---