It's always a pleasure to see variety sprouting out from the manga community, and what better than more shoujo based manga to suit our needs. There's always a constant shift happening in Japan where there'll be a moment of excitement for the shounen genre, and then an explosive comeback by the shoujo community. Whatever your cup of tea, there's certainly a handful to choose from. One of the more prolific mangaka that's really helped the shoujo genre take off is Yuu Watase, whose incredible talent has helped shape the world of shoujo for more than 18 years. While Yuu has also dabbled in the bishounen genre as well, many of her most profitable and most celebrated are from shoujo which to this day are still respected heavily among hardcore fans of her work. In our article we'll be taking a closer look at some of her best works including Zettai Kareshi, Imadoki!, and more, so be sure to find the one that you feel stands out to you after reading!
7. Arata Kangatari

Genres: Action, Adventure, Comedy, Fantasy, Romance, Shounen, Supernatural
Volumes: 24
Published: October 2008 - Present
A new princess must be chosen every 30 years as part of the Hime family tradition to serve the Hayagami. Arata is one of the very few who were born to take over the throne, since time and time again, no female had been able to take the throne. However Arata isn't a female at all, but in fact a male and now he's forced to disguise himself and play the role of the princess until an actual one is found. A shocking turn of events occur as he witnesses the current princess being murdered at a festival and now his own life is in turmoil, as he's been framed for her murder. The real killer is on the loose and so now Arata must somehow convince the Imperial Court of his innocence. Even more of a twist is that another Arata is introduced into his world, and now the two of them are being chased after in this very comedy driven shounen series.
As we stated earlier, Yuu Watase developed much of her reputation around the shoujo genre, but her shounen works have also garnered a lot of attention. Arata Kangatari came out in 2008 and was her first shounen serialized manga which debuted in the Weekly Shounen Sunday. While many were a little skeptical at first as to how the story would pan out, Arata Kangatari managed to woo over a lot her fans and created a lot of buzz among various mangaka in the community. Arata Kangatari is extremely funny because you have a young man posing as a woman who then is framed for a crime he didn't commit, and what's worse is that another Arata shows up to create even more drama. You couldn't ask for a more terrible start to your teenage life, and try to live up to everyone's expectations. The mythical world of Amawakuni is where it all goes down as Arata tries to uncover the truth behind the murder, why this new Arata character shows up, and just how he'll manage to survive with his head being hunted by the entire kingdom.
---
6. Sakura-Gari

Genres: Drama, Historical, Mature, Mystery, Psychological, Tragedy, Yaoi
Volumes: 3
Published: June 2007 - January 2010
This romantic story which takes place in the Taishou Era focuses on the life of Tagami Masataka, as he aims to seek out his life purpose. While preparing himself to become a rounin in school, he encounters a young boy named Saiki Souma, who's the son of a dignified noble, and the two start to create a new relationship as part of the Saiki household.
Sakura-Gari focuses on the life of Tagami and his budding relationship with Saiki, as the two come to learn of each other's pasts and uncover more about their own futures. It's Yuu Watase's first attempt at a Yaoi story which really dives into areas which can be a bit touchy for some, but it's main purpose is to show you just how serious life can be at times. As you read on through this story, you start to discover more secrets behind Tagami's tragic past and just how much hardships he's dealt with, along with learning dark truths about the Saiki family. With so much going on throughout the story, you're led to believe that one particular thing is true, but then your entire mind is blown by a shocking revelation that changes the story again. This psychological maze of mystery is sure to keep you buckled in your seat, as you start to unravel just what's transpiring in this odd household.
---
5. Alice 19th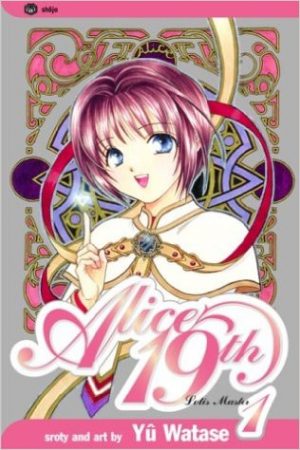 Genres: Comedy, Drama, Fantasy, Psychological, Romance, School Life, Shoujo, Supernatural
Volumes: 7
Published: June 2001 - March 2003
Alice is considered by many to be quite the normal high school girl, as she's a bit shy in her ways, has a crush on a young boy named Kyo, and her older sister is quite popular among many of her peers. However one day, Alice encounters a mysterious looking girl that isn't quite like a normal girl since she resembles that of a rabbit. This encounter changes Alice's life forever as she's now introduced to a new power of the Lotis Words, which was given to her by this rabbit girl and she must use these special abilities to help reshape the world.
This manga is full of laughter because Alice just doesn't seem to know how to control her own powers, and one of the first big mistakes she encounters is making her sister disappear. The Lotis ability uses words to create special spells that affect the world around the user, and can reach the inner heart of others when used properly. Maram Words are the dark counter to the Lotis Words, which took Kyo's girlfriend Mayura and so now she must learn to master this ability so that she can bring her sister back, and team up with her crush Kyo to uncover the dark truth that lies ahead of them. Yuu's take on the fantasy drama proved to be a successful one as she stated this adventure drew inspiration from the famous Alice in Wonderland series, from which she remade her own unique story about Alice Seno. This tale is sure to excite those who enjoy a little slice of unpredictability, as well as a funny love triangle that'll entertain you for some time.
---
4. Imadoki!

Genres: Comedy, Drama, Romance, School Life, Shoujo, Slice of Life
Volumes: 5
Published: May 2000 - July 2001
Tanpopo attends an extremely elite academy in Tokyo but feels that the environment just doesn't suit her. Many of the students at school tease her and claim that she isn't capable of living up to their standards, and even the boy who she had interest in had absolutely no interest in her. All Tanpopo wanted to do was make friends and create a community around the things she loves, so she decides to make a gardening club in order to make her school experience more fulfilling. In this world of elitism and egocentric behaviors, Tanpopo must try to discover herself and hopefully encounter someone special along the way.
This slice of life comedy looks at Tanpopo as she tries her best to fit into a world that she doesn't belong in. Many of her peers accuse her of being unintelligent, while others just don't seem to notice her existence. This determination to find answers is what makes Imadoki so rewarding of a read because, it demonstrates the power of the human mind to overcome obstacles, so long as you continue to strive to achieve what's in your heart. Tanpopo truly wanted to make friends and so the insults and disgraceful remarks didn't deter her from finding people who actually cared. A lot of people in this world will claim to respect you, but then laugh behind your back and make fun of you due to their own insecurities. Tanpopo overlooks all of that and along the way decides that her destiny relies solely on her decisions, and that love will only find her once she starts to accept and love the things she truly enjoys.
---
3. Ayashi no Ceres

Genres: Comedy, Drama, Fantasy, Romance, Shoujo, Slice of Life
Volumes: 7
Published: December 2001 - April 2004
Something just didn't feel right for both Aya and her twin brother Aki, as they thought they'd be celebrating their birthday at their grandfather's home. However the funeral style atmosphere they were thrown into really tipped them off, and they suddenly realize that their birthday gift is a mummified hand which grants them enormous power. This hand awakens mysterious powers that were once hidden in Aya's body, and leaves her brother Aki's body covered in scars. Her grandfather informs her her brother will inherit the Mikage fortune while Aya must perish. With these newly found powers at her disposal, Aya must decide what's right for her and to prevent further catastrophe from developing.
Ayashi no Ceres was well received in Japan and was awarded the 1998 Shogakukan Manga award for best shoujo, which cemented her status as one of the great mangaka. What made Ayashi no Ceres so exciting was that the way it all began seemed intriguing. Aya has this mysterious power that can destroy anything in her path, and it was granted to her through her grandfather of all people. Then these very same powers almost killed her brother, but now she must finish the job to receive the heir. Two of her friends try to come to her rescue but they two face an extremely out of control power that only Aya can tame. You're left curious as to why she needs to be killed, and just how much Aya can endure before she goes nuts and causes more pain which was never her intention to begin with.
---
2. Zettai Kareshi (Absolute Boyfriend)

Genres: Comedy, Drama, Fantasy, Romance, Shoujo, Slice of Life
Volumes: 7
Published: December 2001 - April 2004
For most of her life, Riiko just hasn't had the best of luck when it comes to dealing with men. Her countless efforts to score the right mate ends up in rejection, so she decides to take the next step and signs up for a free trial of a nightly lover figure. By the next day the robot figure arrives at her door, and surprisingly wants to become her boyfriend. All of the traits she had wished for had finally become a reality, and now all she needed was time to spend with him. Unfortunately there's only so much time to spend with him since she needs to return it back, so Riiko must decide what's best for her.
This manga was so popular all throughout Japan that it was turned into a drama series, which also became an extremely huge hit among many. We managed to read and watch both and they really do follow the story to the tee. Riiko's life was just a bore and almost depressing, as she just couldn't find someone who she could love. This is so relatable because we've all been there before at least once in our lives, where constant rejections continue to haunt us and opportunities pass us by. What made this manga so wonderful to read was that it spoke of the truths pertaining to human behavior but reflects on the relationships between humans and robots. Think of this like Chobits but on a more mature and extremely romantic level, and how much it truly captures every detail of Riiko's budding yet humorous relationship. You laugh so hard at her mishaps or when she tries to express her deepest emotions, but you feel her struggles as she tries to get to know more about herself through the entire ordeal.
---
1. Fushigi Yuugi: Genbu Kaiden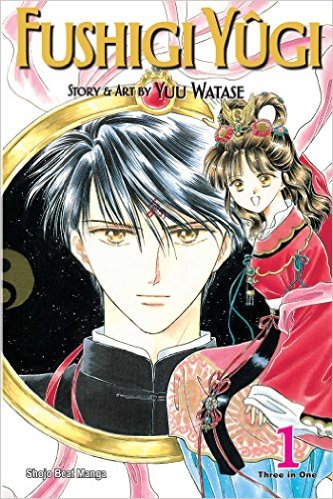 Genres: Adventure, Comedy, Drama, Fantasy, Harem, Historical, Romance, Shoujo
Volumes: 12
Published: March 2003 - February 2013
Fushigi Yuugi has an expansive story that looks at the life of various characters who all get sucked into the Universe of the Four Gods. Much of Fushigi Yuugi looks details the mythology of the four creatures of China. Genbu Kaiden is the prequel to the original series and focuses more on how the Universe of the Four Gods was created, and explains the full backstory of the Princess of Genbu. Takiko had every intent in her body to destroy her father's translation of the Universe of the Four Gods, but is then transported into the world and becomes the Princess of Genbu on a quest to find seven warriors.
We chose Yuu's prequel mainly because it gives readers an opportunity to learn more about the origins of the Universe, and to understand just why Takiko was chosen. Yuu's clever approach to the series is what made it very fascinating since you're initially thrown into the main part of the story with the original, but if you wanted to know how it all began reading through Genbu Kaiden would serve its purpose. This manga is full of so much emotion and tragedy that it'll tear right through your heartstrings once it all escalates. Without giving too much away, Takiko falls in love with Uruki and the two become inseparable, but because of her duties as a princess much of their relationship is back and forth. Takiko works hard to find these celestial warriors and must use her own willpower to overcome deadly obstacles that could potentially prevent her from having her 3 wishes granted. As an extra bonus in the manga, there's a side story to Ayashi no Ceres that details the events after the end of the series, so once you read through Genbu Kaiden be sure to check that out as well.
---
Closing Statement
Yuu Watase will continue to create very emotionally moving manga for many more years to come, as her current collection is enough proof that she can just about anything. With various other works under her belt that we just couldn't get to, we encourage you to check them out to get a better feel for Yuu's ingenious storytelling. Her stories are thought provoking because they delve into topics that are emotionally satisfying, psychologically stimulating, and the messages you receive after reading only help you to understand your own life as well. If you have any favorites from her collection, be sure to let us know in the comments section down below!
As always, if you want to know about all the latest buzz straight from the bee's nest in Japan, be sure to keep it locked here at Honey's Anime.
---