También puedes leer este artículo en:Español
Gintama is a hilariously random manga series, with episodic comedy that masks a deeper plotline. Yet, even among all of the crazy things that happen to Gintoki Sakata and friends, Gintama is still known for having a story that can move its audience. With more than 60 volumes already published and plenty more on the way, Hideaki Sorachi's work is one of the most popular comedy manga in this day and age! The story has touched people and made them laugh for many years, especially after the series gained its first anime adaptation in 2006.
Gintama is set in a world where Japan was invaded by aliens known as the "Amanto." After a brief period of fighting, the Shogun decided to surrender. Thus an uneasy peace was born, one where swords were banned throughout the country and the samurai disbanded. It is in this time that the eccentric Gintoki thrives. A samurai without a master, wielding a wooden sword, Gintoki sells his skills for hire in odd jobs. Accompanied by self-proclaimed disciple Shinpachi Shimura, the strange Kagura and a giant dog named Sadaharu, Gintoki and his crew go on crazy adventures, earning money to get by in their own way.
This manga is one of a kind in many ways, but what should you do when you're all caught up on Gintama? Well, we here at Honey's Anime have a few suggestions for you. We think you'll enjoy these manga just as much!
Similar Manga to Gintama / Similar Manga to Gin Tama
1. Uchujin Tanaka Taro (Taro the Space Alien)

Authors: Nagatoshi, Yasunari
Genres: Comedy
Volumes: 14
Published: Aug. 1998 – Sep. 2004
First up on our list is Uchujin Tanaka Taro, a slightly older manga series. It centers on Takashi Horimachi, an average fifth grade student. One day, Takashi's class gains a mysterious new student by the name of Taro Tanaka. Takashi soon realizes that Taro is actually an alien! On a quest to find out more about Taro, Takashi ends up involved in many misadventures with his new alien acquaintance.
Uchujin Tanaka Taro and Gintama share a few very important commonalities, mainly in the style of comedy that they use. Gintoki and Takashi both find themselves in ridiculous situations, often due to the alien influence in their lives. These ridiculous situations are the basis for the hysterical nature of both series, and the random, crazy scenes are what make the audience come back for more. In addition, the two manga series also share a connection with aliens, as both series' interaction between the two species is the cause for the laughs. If you liked Gintama, Uchujin Tanaka Taro is a great read!
---
2. Angel Densetsu

Authors: Yagi, Norihiro
Genres: Action, Comedy, School, Shounen
Volumes: 15
Published: May 1992 – Feb. 2000
For the next manga on our list, we have yet another hilarious page-turner! Seiichirou Kitano is a kind-hearted boy with one unfortunate feature – his face makes him look like a delinquent. When Kitano joins a new school, he is immediately pegged as a villain and becomes the leader of the school's group of thugs. Yet in actuality, Kitano is rather naïve and ignorant of the world around him, often getting into trouble just because of his appearance! Kitano hates violence and does not want to be involved, but those who look up to him see him as a devious devil. What sort of situations will Kitano find himself in next?
Angel Densetsu and Gintama may seem like two entirely different manga from their individual plots, but the thing that brings them together is the style of comedy that both series use. While it's true that Angel Densetsu has situations less supernaturally crazy than Gintama, this does not make its brand of comedy any less ridiculous. Both Gintoki and Kitano find themselves in unwanted, unwarranted events quite often. The two stories also share a penchant for a much deeper underlying plot, which the hilarious events usually cover on the surface. Overall, these series have the same vibe going on, even in completely different stories. We think you'll love Angel Densetsu if you like the humor in Gintama!
---
3. Hinamatsuri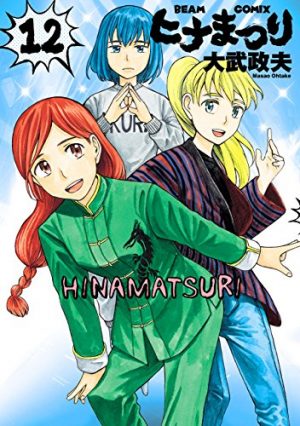 Authors: Ohtake, Masao
Genres: Comedy, Sci-Fi, Slice of Life, Seinen
Volumes: 13+
Published: Jun. 2010 - present
Yoshifumi Nitta is minding his own business, when suddenly a mysterious box lands on his head! Inside the strange box is a girl named Hina, with some unusual powers. Nitta ends up taking her in – and thus begins their most unusual relationship. You see, Nitta is a member of the yakuza! Hina becomes beneficial to Nitta's business, helping in yakuza activities with her powers. However, there is always the chance that Hina could use her power on Nitta, or even end up destroying everything around her!
Nitta appears similar to Gintoki, what with their mutual tendency to work outside the law and their penchant for getting themselves into strange situations. In addition, both protagonists attract some pretty strange characters to work by their side. And of course, there are the crazy, hilarious situations that both Gintoki and Nitta tend to be in, often due to a supernatural outside force. Because of these situations, the series end up having the same style of ridiculous comedy ingrained in them. Gintama has a bit more action than Hinamatsuri, but that doesn't make it any less good! At the end of the day, both manga series are equally as funny.
---
Any Manga Like Gin Tama / Any Manga Like Gintama ?
4. Yankee-kun to Megane-chan

Authors: Yoshikawa, Miki
Genres: Action, Comedy, Shounen, Romance
Volumes: 23
Published: Oct. 2006 – May 2011
The next manga on our list is none other than Yankee-kun to Megane-chan! High school delinquent Shinagawa Daichi just wants to mind his own business and be left alone. But the class rep, Adachi Hana, has other ideas. She desperately wants Shinagawa to go on the upcoming Social Studies field trip, and she is quite persistent. What does Adachi really want? And where will Shinagawa and Adachi's developing relationship lead?
Although Yankee-kun to Megane-chan is often faulted for its disappointing ending, the rest of the manga series is very enjoyable! Just like Gintama, this series is known for the character's hilarious antics. Gintoki also shares a few similar characteristics with Shinagawa, mainly in their outsider/delinquent trope and in the way they both get involved in hilarious situations. In addition, both manga focus on a deeper story underneath all of the comedy, and actually take the time to develop their characters.
---
5. Akaboshi: Ibun Suikoden

Authors: Amano, Youichi
Genres: Action, Comedy, Adventure, Shounen, Historical
Volumes: 3
Published: May 2009 – Nov. 2009
Akaboshi: Ibun Suikoden is set after the time when the Sung Dynasty has taken over control of all China. With all their potential enemies made allies, the land entered a time of peace. Of course, with no one left to satisfy the greed of the conquering nation, the negative energy was turned down upon the common people. And thus another revelation is at hand, led by 108 heroes united under one flag. "Falling Star" Taisou and his fellow heroes set out to change the world!
Akaboshi: Ibun Suikoden and Gintama share the same elements of comedy and action, with deep overarching plots to guide the crazy experiences. Taisou and Gintoki also share some similar traits, especially in their fighting prowess and personality. Both seem to emanate the off-kilter justice of a ronin. In fact, Akaboshi: Ibun Suikoden shares the same vibe with Gintama for another, more logical reason. Youichi Amano was once an assistant to Gintama's author, Hideaki Sorachi! No wonder the two series have such a similar style of comedy.
---
6. Boku to Majo no Jikan

Authors: Arakawa, Shin
Genres: Comedy, Shounen, Supernatural
Volumes: 6
Published: Apr. 2011 – Apr. 2013
Tsuzuri Enji puts a great deal of effort into his fortune-telling. He also trusts fortunes, believing them to be utterly true. So when he is supposed to have a lucky day, he is hopeful that he will run into a girl on the way to school. Unfortunately for Tsuzuri, it is not the kind of day he hoped it would be – he gets hit by a truck and dies! Yet, one week later, he awakens, confused about what just happened. Tsuzuri has many questions. But one of the most common ones rising to the surface is, just who is this strange girl?
Once again, like in Gintama, Boku to Majo no Jikan is all about the random ridiculousness of its comedic situations. Even though the depth of story may differ between the two, the style remains the same, especially in the weird supernatural elements that fuel the hilarity. The development of Boku to Majo no Jikan is considerably less than Gintama. Tsuzuri's story seems to have little basis or effort put into the growth of characters and storyline. But its elements of comedy is where it really shines, making this manga series perfect for those who loved Gintama's style of jokes. If you enjoyed Gintama, you should give Boku to Majo no Jikan a try!
---
Final Thoughts
This brings our list of manga like Gintama to an end. Needless to say, if you loved the random hilarity that Gintama is known for, any one of the manga on this list should satisfy your craving for laughter! There's a reason that Gintama is so popular among fans of comedy, and we hope that you can find something that you will enjoy just as much as the popular shounen series.
Have you read any of the manga on this list before? If so, let us know in the comments below!
---