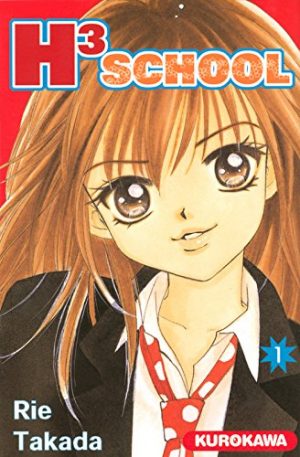 First coming out in 2003, H3 School was the latest manga by Rie Takada. Combining come of the best elements from her previous works, H3 School was a creative story that had everything seen in the average shoujo manga, but managed to be unique in its own way. With so many great elements in the manga, it may be hard to find a manga that captures you the same way as H3 School did. Today we are going to be looking at 6 manga similar to H3 School. Each manga will feature at least one of the main aspects that make H3 School great and we will cover as many different aspects as possible to cover a wide variety of stories.
Similar Manga to H3 School
1. Rockin' Heaven

Authors: Sakai, Mayu
Genres: Drama, Romance, School, Shoujo, Harem
Volumes: 8
Published: Dec 2005 to Jul 2008
As Sawa Konishi was getting ready to enter high school, she wanted to find a school that had a cute uniform. Finally, she decided that she would look the best in the Heaven's Wing Academy uniform. After arriving for her first day of school, Sawa learns that up until the previous year, Heaven's Wing Academy had been an all-boys school. With only one other girl in her class, Sawa has a rough time in class, due to all the boys bullying her, especially the son of the academy's director, Ran Matsuyuki. Some of the bullies decide to throw Sawa's shoes into the school's pool. In the process of trying to get the shoes out the pool, Sawa slips and falls into the pool, but she is saved by none other than her biggest bully, Ran. With Sawa seeing a whole need side to Ran, she begins to develop feelings for him only further complicating her new life in high school.
Rockin' Heaven has a very similar setup to H3 School. Both manga start out with the revelation that the main girl will be going to a school that was previously a boys only school. Although the reason for Hanabi joining the all-boys school is much different from the reason Sawa joined Heaven's Wing Academy, both setups end up having the stories feel very similar at the beginning. This also serves as the reason behind the awkward relationship the main characters have at the start of the manga with both Yasuaki and Ran being rude and standoffish to the girls that are coming to the school. Whether it was the great romance story, comedy, or the quirky characters, everything you liked about H3 School can be found within Rockin' Heaven.
---
2. Venus wa Kataomoi (Venus in Love)

Authors: Nakaji, Yuki
Genres: Comedy, Drama, Romance, Shoujo
Volumes: 8
Published: Nov 5, 1999 to Jul 5, 2004
Suzuna Ashihara has just begun her life as a college student and has started living on her own. After moving into her new apartment, she meets her neighbor Eichi Uozumi, who is also attending her college. At her college entrance ceremony, Suzuna meets up with her friend Hinako Kaji who also happens to be friends with Eichi. After hanging out with Eichi, Suzuna starts to befriend him and she falls in love with Eichi's best friend and love interest, Shinya Fukami. Suzuna continues hanging out with Eichi, Fukami, and Hinako and eventually decides to join their tennis club to grow closer to Fukami. With Suzuna's new college life beginning, she wants to experience everything from joining a club to falling in love, but things are never as simple as they seem.
Venus wa Kataomoi starts out similarly to H3 school with its main character entering a new chapter of their life and the reader gets to experience the start of this new life along with them. Suzuna and Hanabi are very similar characters, with both of them being upbeat, outgoing, and are able to get along with anybody. Both Suzuna and Hanabi are entering into new schools and have had very little experience hanging out with boys and are quick to fall in love. As the stories progress, both girls their relationships, turning their instant crushes into true romantic feelings. Although both manga focus heavily on the romantic aspects, Venus wa Kataomoi has a completely different spin to its romance, but with the similarities between the main character and the major focus on comedy, Venus wa Kataomoi gives off many of the same vibes as H3 School
---
3. Akuma de Sourou (The Devil Does Exist)

Authors: Takanashi, Mitsuba
Genres: Comedy, Drama, Romance, School, Shoujo
Volumes: 11
Published: Jan 1, 1998 to Dec 2002
Kayano Saitou has been enjoying her high school life, but things take a turn for the worse after she accidentally confesses to the wrong person. After she had worked up her courage to confess to her long time crush Yuuichi Kamijou, Kayano wrote a love letter for him, but in the process of giving it to him, she bumped into a different guy. The guy she gave the letter to was Takeru Edogawa, the son of the schools principal and the school's resident ladies man. Embarrassed by the mistake, Kayano asks for the letter back, but Takeru blackmails her with the letter and forces her to be his gopher. After a few days of doing whatever Takeru wanted, Kayano decides she has had enough and will just confess to Yuuichi so Takeru couldn't use the letter to blackmail her, but things are made even more complicated when she learns her mother has just gotten engaged to Takeru's father. Before she can confess, her love letter is posted for the whole school to see and she initially blames Takeru only to find out that it was her jealous underclassmen. Now Kayano's life has been turned upside down with her soon to be bully brother and her crush both starting to show affection to her.
In terms of romance manga, Akuma de Sourou takes a different approach than many of the manga on the list. Although its romance is similar in terms of being the focus of the manga, it goes where H3 School doesn't by incorporating forbidden love and a love triangle. Despite the different styles of romances in the two manga, Akuma de Sourou still has many similarities to H3 School. Both manga have distinct art styles that set them apart from other shoujo manga, and both Kayano and Hanabi are strong female leads that can at times be flustered and act out of character when their love interests pressure them. Both manga also have their romantic relationships build up organically, with the characters at first being at odds with each other, but they build up their relationship throughout the manga.
---
Any Manga Like H3 School ?
4. Fly-High!

Authors: Oouchi, Natsumi
Genres: Oct 2, 2008 to Oct 2, 2009
Volumes: 3
Published: Action, Comedy, Romance, School, Shoujo
At the age of 5, Meru Tachibana was taken into a remote area to train with her father. Now, Meru is 12-years-old and has returned home after her father figured out she was a girl. As she prepared to enter junior high, her mother tried to get her to act and look more like a girl. On her first day, Meru encounters a group of students led by Ichiya Ayuzawa, that make it their duty to harass the student council president and do whatever they want at school. During the entrance ceremony, the standing vice president of the student council steps down due to their bullying. After Ichiya's group targets Meru's first friend, Chiyo Yuuki, Meru decides she will stand up to the group by becoming the student council president. Now, Meru must find a way to stand up for her fellow students without blowing her cover as an average middle school girl.
Fly-High is unlike any manga in the way it is similar to H3 School on this list. Due to its relatively short length, Fly-High doesn't have a lot of time to develop its romantic relationship like H3 School does. The manga focuses more on Meru and her struggles as student council president. Hanabi and Meru share many character traits with both of them being tomboys and being natural leaders with the ability to connect with anyone. Both Hanabi and Meru also join the student council to correct the injustices done to certain groups within their schools. If you're looking for a manga that matches the more comedic and school-life sections of H3 School, Flying-High will give you everything you're looking for and more.
---
5. Wild Act

Authors: Takada, Rie
Genres: Adventure, Comedy, Romance, Shoujo
Volumes: 10
Published: 1998 to 2000
15-year-old Yuiko Sakuraba has been a fan of the late actor Akira Nanae for many years. When a new actor gets an award meant for Nanae, Yukio decides she is going to steal the award out from under his nose. Yukio has spent her free time training to become a thief and when the day finally arrives for her to steal the award, things didn't go as planned. Yuiko gets caught in the act not once but twice, and during her second time getting caught, she injured her leg. Ryu Eba takes a liking to Yukio and tends to her injury. After hearing Yukio out, Ryu agrees to let Yukio have the award if she can steal it from him again. Now, Yukio must find a way to steal the award while also dealing with her amnesiac mother and her budding feelings for Ryu.
The similarities between Wild Act and H3 School are plentiful and stretch from the story to its character designs. Both stories have unique takes on the romance aspects of their stories and incorporate some more serious plot points involving the families of the main characters. The romances in both mangas are creative and there are many twists in the backstories for the Ran and Ryu that go deeper than most romance manga go. Wild Act shares the same mangaka with H3 School giving both manga similar feelings aesthetically. This is also the leading cause for the likeness in both personality and appearance in Hanabi and Yuniko. Wild Act is the perfect manga that captures the same mix of romance and drama that is seen in H3 School.
---
6. Doubt!!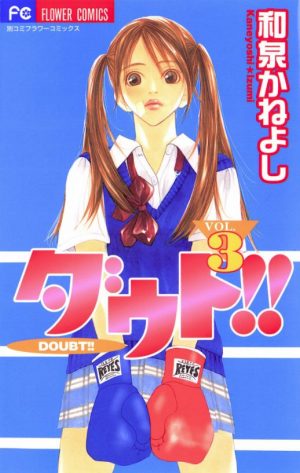 Authors: Izumi, Kaneyoshi
Genres: Drama, Romance, School, Shoujo
Volumes: 6
Published: Aug 24, 2000 to 2002
Throughout middle school, Ai Maekawa was a plain girl who only focused on her studies. As she prepared for high school, Ai decided to reinvent herself and become popular during her high school debut. Ai improved her looks through various methods and upon arriving for her first day of high school, her efforts were instantly rewarded with all the guys being instantly attracted to her, including the most handsome boy in the school So Ichinose. Even though Ai has achieved her dream of being popular, she finds it's not everything she thought it would be, with jealous girls and boys fighting over her. Despite the inconveniences, Ai continues on her quest to find love and make as many friends as possible.
While every other manga on this list includes romantic elements, Doubt!! comes closest to H3 School with its romance. Ai and Hanabi don't share many personality traits, but the way they approach their romance is very similar. Both girls have only dreamt of being in a relationship and have little experience interacting with boys, and once they finally achieve their goals of getting into a relationship, they don't know how to act. As Ai and Hanabi continue in their relationships, they start to grow more confident in their relationships and the way they approach both their personal and romantic relationships. Both manga also include humor and dramatic situations that are more risque than any other manga on the list.
---
Final Thoughts
With so many great aspects, H3 School is an often overlooked shoujo manga. We've included manga that cover all of the best parts of H3 School. With so many great manga, hopefully you'll find one you enjoy. Which manga on this list is your favorite? Are there any manga you think should be on the list? Let us know in the comments below.
---