INTRODUCTION
Lessons, hanging out, making friends and probably tons of homework. That is the sweet innocence of school. School life was perhaps the only time where we all have that momentary break in life. Everything seems so much simpler and carefree back then. Your biggest worry ought to only be turning up an assignment late!
From high school romances to interactions with friends and hanging out to deep story progression through the high school trope, we will showcase 10 school life manga that perfectly represents the high school setting that is sure to make you take a trip down memory lane! These are the mangas that describe the everyday life of a high schooler. Perhaps the only other genre that blends well with the school life genre is romance comedy due to its appropriate setting. However, there are some good mangas on this list that utilizes the school life trope to take the story to a new level which can even include psychological! So enough with the talking, let's get right to it!
10. Watashi ni xx Shinasai

Mangaka: Tooyama, Ema
Genre: School Life, Romance, Shoujo
Volumes: 19
Published Date: May 2, 2009 to Sep 3, 2015
Yukina Himuro is a junior high school student. Known aptly as the Absolute Zero Snow Woman, she has piercing eyes and an icy demeanor. On the other end of the spectrum, Shigure Kitami is a popular guy with good looks and has many fans. Yukina is known online as Yupina, a prolific mobile phone novelist. After her ratings fell, she decided to venture into the genre of romance but do not know how to start. Just as Yukina was pondering how to proceed with her story, she saw Shigure turning down a girl who had just confessed to him. Thereafter, he writes something in a book which eventually ended up in Yukina's hands. She found names of several girls in her class with their names crossed out. She approached Shigure in order to blackmail him and this is how their relationship begins.
Watashi ni xx Shinasai represents the typical high school romance-drama trope. Yukina blackmails Shigure into doing 'Missions' for her to develop her romance novel. Along the way however, her feelings for him change from one of a guinea pig to that of a significant other. In the same way, after being led on by Yukina, Shigure also developed feelings for her. This is a classic example of a blackmail-turned romance manga set in a high school environment that is filled with drama, suspense and comedy!
---
9. Hibi Chouchou

Mangaka: Morishita, Suu
Genre: Romance, School Life, Slice of Life
Volumes: 12
Published Date: Feb 20, 2012 to Aug 5, 2015
Shibazeki Suiren holds the nickname: Flower in a Peak. She can only be described as stunningly beautiful. She has many suitors but remains shy and distant. One day, she was rescued by Kawasumi Taichi from an admirer. But Kawasumi never looked her once in the eye and she was mesmerized by him. This is a sweet tale of the developing relationship between these two...
On the next manga on the list, Hibi Chouchou is yet another sweet romance manga between two individuals that are quiet. It may seem that these two will never get along and for good reasons! Both of them are quiet and taciturn around others. In a typical school life setting, they would be the most unlikely to pair up. If you ever wanted to see two introverts getting together in a youthful way, this school life manga is just the thing for you!
---
8. Denpa Kyoshi

Mangaka: Azuma Takeshi
Genre: Comedy, School Life, Shounen
Volumes: ___
Published Date: Date: Nov 16, 2011 (ongoing)
Junichiro Kagami is a stay at home otaku. Unlike his image however, Junichiro is actually a genius in physics. However, he completely lost interest in the world and instead, devoted his life to anime. This was until his sister had enough of his hobbies and forced him to take a teaching job at his previous high school. Although his teaching methods may be odd, Junichiro ended up being quite popular...
Denpa Kyoshi showcases how the otaku life can be used to impact others. This manga shows Junichiro often unorthodox ways to teach his students. Using terms from otaku culture, it is sure to resonate with you due to its familiarity. One of the more unique features of Denpa Kyoshi would be its perspective of a teacher instead of a student. For once, we get to see the high school life from the eyes of a teacher/otaku instead of the students!
---
7. DICE: The Cube that changes everything

Mangaka: Yun Hyun Suk
Genre: Action, Psychological, School Life
Volumes: ???
Published Date: Jul 1, 2014 (ongoing)
Imagine if you hold in your hands, the power to alter any aspect of your life. Intelligence, Beauty and Strength can all be yours with a single throw of a dice. Dong Tae is one such individual. Talentless, average in looks and in academics. One day, he receives a mysterious die that allows him to alter his 'stats' in the real world. However, the price for altering one's life is compensated with the life of another and it wasn't long before he is thrown into a battle royale competition to gather more dice to further improve him...
This manhwa from Korea shows you just how stressful the high school life can be if you happen to be at rock bottom of the social hierarchy. All of us would always want to change an aspect of our self. This manga explores how modifying ourselves can bring about an easier way of life. At the same time, it shows the repercussion and price for such a change. Just imagine your crush going through the same process of change as you; would you still accept them for who they are now, or who they were before?
---
6. Toki Doki

Mangaka: Komi, Naoshi
Genre: Romance, School Life, Shounen
Volumes: 1
Published Date: Oct 20, 2016
Tempocardy - a disease in which your lifespan is measured by the number of times your heart can beat. It merely means that your lifespan is limited and known to you. How would you continue on with life? How would you plan for your future, knowing that you have not much of a future left ahead of you? This story is between Hato Iijima and Hatsu Takagi and the meaning of living a fulfilling life despite being bound by time.
Even though it's a one-shot, this manga felt very complete and satisfying. The manga covers all bases, leaving no plot holes and doubts, finishing up strongly in a bittersweet fashion. This manga shows how youth and its innocence can be a fulfilling life on its own. Toki Doki will remind you the joys of the high school life and the extent of friendship. Toki Doki encompasses all the essence of high school life surprisingly, in just one chapter. Trust us, it is more than enough.
---
5. Horimiya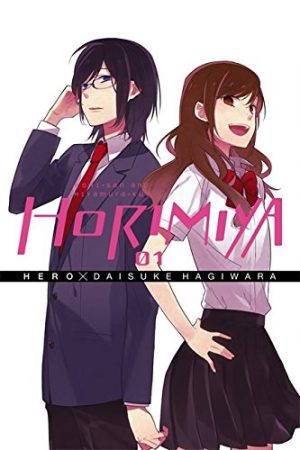 Mangaka: Hagiwara, Daisuke
Genre: Comedy, Romance, School Life
Volumes: ___
Published Date: Oct 18, 2011 (ongoing)
Hori appears to be just like the normal teenage girls that are popular amongst her peers. However, she has to take care of her little brother at home and acts as his caretaker. She does not have much of a social life outside of school and is terrified of her classmates finding out about her life at home. Meanwhile, Miyamura looks like a bookworm and is suspected to be an otaku. However, he has 9 piercings and is quite sociable outside. On the opposite ends of both their lives, these two happened to meet and now, they share half of their life with each other.
Horimiya explores the specific circumstances behind everyone in high school. Not everyone can be as carefree as the other. Obligations take utmost priority in some of us, depriving us of a social life. Horimiya shows just how different each other's lives are in the high school world. Never judge a book by its covers they say, as the people that appears fortunate, may not be as fortunate as you think!
---
4. Aku no Hana

Mangaka: Oshimi, Shuuzou
Genre: Drama, School Life, Psychological
Volumes: 11
Published Date: Sep 9, 2009 to May 9, 2014
Kasuga Takao is a bookworm whose only joy lies in reading books. His favorite book is Les Fluers du Mal. One day, he left his book in the classroom and returned to pick it up. There, Kasuga found the uniform of his crush, Saeki Nanako. His impulses cannot suppress his reasoning and he stole it. Unfortunately, his act was witnessed by Nakamura, a random socially inept girl and she begins to threaten him. The odd tale of a stolen uniform, school life drama and extortion begins.
Aku no Hana shows the blackmail nature of the high school life, heavily dramatizing it. It showcases just how 'unique' some people's perspective can be. Their viewpoints may be different, but everyone is different after all. At certain points in the manga, it may even confound you as to how did the story end up then. Aku no Hana is a rare manga that incorporates the high school genre with the theme of psychological which is usually a dark and thought provoking genre and deserves to be ranked high on this list.
---
3. Yankee Kun to Megane Chan

Mangaka: Yoshikawa, Miki
Genre: Comedy, Romance, School Life
Volumes: 23
Published Date: Oct 18, 2006 to May 18, 2011
A Yankee is a term for a delinquent and Daichi Shinagawa is one of them. Low grades and a bad reputation amongst teachers, he had long forsaken high school. Hana Adachi is a committed class representative who takes notice of Daichi. Although looking responsible, she too has low grades. It wasn't long before Daichi realized that Hana was a former Yankee as well who has seemingly turned for the better. This is the tale of two Yankees and how they survive high school together.
Yankee Kun to Megane Chan revolves around the lives of delinquent students. You can expect tons of action scenes but we assure you, most of the setting takes place in the high school. The manga feels like a slice of life high school manga in which the protagonists try their best to fit into high school and enjoy their time in school. Further into the story, the romance genre starts to kick in, allowing the school life genre to fully blossom, showing its true potential. No doubt, one of the greatest school life manga there is, we rank this manga at No. 3!
---
2. Ichigo 100%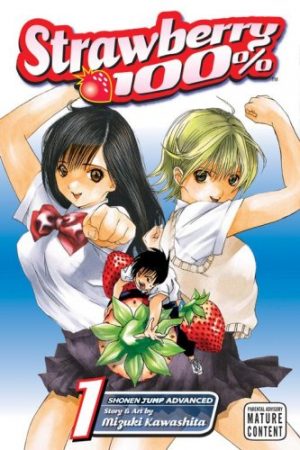 Mangaka: Kawashita, Mizuki
Genre: Comedy, Drama, School Life
Volumes: 19
Published Date: Feb 19, 2002 to Aug 1, 2005
Junpei Manaka is a student and an aspiring movie director. On the roof of his school one day, he met the most beautiful girl of his dreams. She drops a notebook with a masterfully crafted story. Intrigued, Junpei wanted to ask her for her assistance in directing a movie. Though, he cannot remember her face clearly, he only recalled that she was wearing strawberry panties. The name on the notebook was revealed to be Aya Toujo but he wasn't sure if that mysterious girl was her. Concurrently, Tsukasa Nishino, the beauty queen of the school told him that she wears strawberry prints, putting him in a more confused state. In the end, who is his mysterious girl with the strawberry panties?
Ichigo 100% is the classic school life manga. Although the synopsis may sound quite ecchi, the main plot was not a quest for panties but that of finding that one girl, making for an interesting premise. The plot develops through going through school life while Junpei finds the girl of his dreams amongst numerous female candidates. All this while, the mangaka makes it unclear just who will Junpei will end up with. This leaves the readers in perpetual suspense which builds up to the final revelation.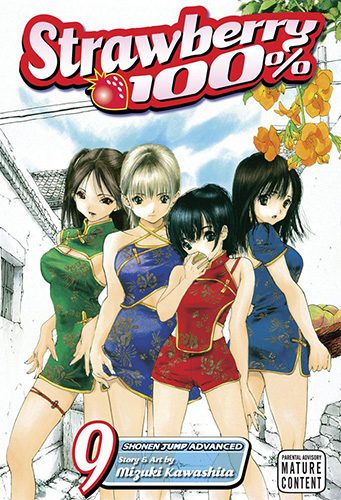 ---
1. Koe no Katachi

Mangaka: Ooima, Yoshitoki
Genre: Drama, School Life, Shounen
Volumes: 7
Published Date: Aug 7, 2013 to Nov 19, 2014
In the past, Shoya Ishida had a deaf classmate named Shoko Nishimiya. Due to her odd nature, she was often teased by him and the others. This escalated to bullying which eventually led to her transferring out. In a poetic justice sense, Shoya found himself to be on the receiving end of bullying after she left. This caused him to be isolated, affecting his future and outlook in life as well. The only salvation for him is the chance meeting of Nishimiya once more, after many years...
Koe no Katachi is a remarkable manga that explores the bullying aspect of high school and it's long term effects of not just the bully, but the bullied as well. It discusses about reconciliation and acceptance. Finally, it culminates in Shoya forging his own life once more and getting himself on the recovery track. This recent manga was critically acclaimed and even got a film adaptation this year. Appropriately named 'A Silent Voice', this touching manga shows just how deaf people can have a voice of their own as well.
---
Final Thoughts
So what are your take on the school life genre? Have a high school story you would like to share that is just like a manga? Or do you escape into the world of mangas because reality just doesn't seem as perfect as the ones in manga? Have you read any of the mangas on this list? Or perhaps you have a manga to recommend to us as well. Let us know in the comments box and we will see you next time!
---