También puedes leer este artículo en:Español
Warning: some of the mangas discussed on this article are unsuitable for all ages. If you are a minor, you can read another of our articles.
Love and human life itself have a hint of a fleeting existence. Japanese have portrayed this well since a long time ago, with the comparison of people to flowers and plants. You know how they bloom in spring and wither in winter. However, this tendency has mixed well with the gothic vibes. Which way is better to celebrate Halloween among shoujo lovers than to remember one of those great seductive and tender mangas? We are talking about Hana to Akuma, of course! Which other mangas capture the vibes of gothic love like Hana to Akuma? Keep reading!
Similar Manga to Hana to Akuma
1. Virgin Blood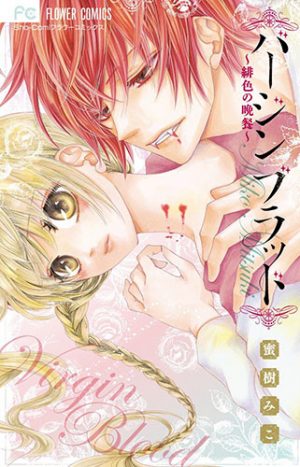 Authors: Miko Mitsuki
Genres: Romance, Shoujo, Vampire, Supernatural
Volumes: 1
Published: Nov 5, 2013 to Jan 15, 2014
Miko Mitsuki has a long experience with shoujo manga. Her stories are always romantic, but sometimes, here characters are deep in the supernatural realm. So, can you imagine how would life be like if you lived in a big, luxurious mansion? All your whims would be satisfied and you would not have any problems. That is just how life is for Mimiko, until she discovers she has been raised up to become food for the handsome vampire Akane!
If you are uncomfortable with incest, it is better not to read Hana to Akuma nor Virgin Blood. Although it is true that our couples are not related by blood, their relationship is that of father and daughter at the beginning of the stories. Mimiko and Hana are the cute, sweet protagonists, while Akane and Vivi are the handsome guys everyone admire. The main difference between the mangas is the style, as Virgin Blood is more detailed and uses lighter screentones than Hana to Akuma.
---
2. Akuma to Dolce

Authors: Julietta Suzuki
Genres: Comedy, Demons, Fantasy, Romance, Shoujo
Volumes: 2
Published: Apr 26, 2005 to Aug 16, 2008
If you don't recognize Julietta Suzuki's name, don't worry! We are here to remind you that she is the creator of Kamisama Hajimemashita. She has always have a dab for girl adventures… and we can also notice a taste for the supernatural, handsome guys, right? Well, in Akuma to Dolce, we meet Ogura Mayuri. The daughter of a demon summoner, she also is great at baking sweet goods. However, things get interesting when she accidentally summons Belzebeaut, one of the most powerful demons ever!
So you like your typical dreamy shoujo girl to fall in love? Yeap, we get that in Akuma to Dolce. An old supernatural guy with a teenage girl? Yes to that, too. Also, the styles of both mangas are very similar, with dreamy, cute sequences followed by imaginative demonic creatures. The main difference between Hana to Akuma and Akuma to Dolce is the presence of sweets in the second one. Akuma to Dolce is ideal for those of you who have a sweet tooth!
---
3. Sennen no Yuki

Authors: Bisco Hatori
Genres: Comedy, Drama, Romance, Shoujo, Vampire, Supernatural
Volumes: 4
Published: Nov 24, 2000 to Dec 10, 2013
Bisco Hatori is another famous mangaka we are featuring. Although she does not have a lot of titles under her sleeve, she already has scored an anime with her Ouran HighSchool Host Club. We can see she likes to create shoujo stories where heroines get the best treatment, right? We get something of the like in Sennen no Yuki, where we get to know Chiyuki Matsuoka. She is constantly hospitalized due to a heart problem and has a very weak health. So, what happens when she meets Touya, a vampire who acts rough but who has anemia? Will he grant her request of living one thousand years by his side?
Yes otakus, we have another relationship between a normal human girl and a supernatural good looking guy. We get all the vampires and the bats here as well! There is also quite a lot of fluff and cute scenes in this manga, and both Hana to Akuma and Sennen no Yuki fall in the category of mid-sized manga. The main difference is how the second story is developed, with just the right amount of comedy and the right amount of serious scenes only when required. Sennen no Yuki will make you reflect a little about life by the end.
---
Any Manga Like Hana to Akuma ?
4. Kainushi wa Akuma

Authors: Eiri Kaji
Genres: Fantasy, Historical, Romance, Shoujo
Volumes: 11
Published: Jun 20, 2012 to Dec 19, 2015
Eiri Kaji is a relative newcomer in the world of shoujo manga. She has three other titles, and two of them have to do with fantasy and historical related stories. Therefore, it is no surprise that we have more of that in Kainushi wa Akuma. Kaji introduces us to Nora, a redhead who is hated in her village because an old legend says redheads are witches. Her life changes when (you guessed it) she meets a mysterious and dangerous guy.
If you like the idea of a demon falling in love with an ordinary human portrayed in Hana to Akuma, you will like Kainushi wa Akuma. We discover that what is called evil sometimes is too much of a stretch in both stories. The mangas also make a good and balanced use of comedy. The main difference is that Kainushi wa Akuma is more grown-up, which is evident at first glance once you look at the illustrations, which are distributed in more dynamic panels. So, if you ever wondered how Hana to Akuma would have been with a less fluffy shoujo vibe, this might be the option for you.
---
5. Hanatsuki Hime

Authors: Wataru Hibiki
Genres: Fantasy, Historical, Romance, Shoujo, Supernatural
Volumes: 2
Published: Dec 10, 2007 to Apr 10, 2008
Wataru Hibiki has some experience with shoujo manga. Half her works have been one-shots, although she does not always focus on romance, but on girl power. Hibiki gives us an interesting twist on the demon and girl tale in Hanatsuki Hime. A girl called Lys was born into this world with heart problems. Thus, her mother makes a contract with a devil, who will lend his heart to Lys until her 16th birthday. She will have to make a journey trying to find a permanent cure for her illness alongside her caretaker, Siva.
A girl raised by a demon? Where have we heard that before? :p Yes, and they fall in love. If what you like about Hana to Akuma is the sweet romance between a teenager and a seductive but charismatic demon, here we have Hanatsuki Hime for you. The main difference is the story setting in the desert, and the travel and adventure style of the plot. This manga is also briefer, so it is perfect for a quick read. If you crave for something a bit different in the shoujo romance department, we can recommend Hanatsuki Hime to you.
---
6. Vampire Knight

Authors: Matsuri Hino
Genres: Mystery, Drama, Romance, School, Shoujo, Vampire, Supernatural
Volumes: 19
Published: Nov 24, 2004 to May 24, 2013
Our final recommendation might sound familiar. Matsuri Hino has a long career in shoujo manga, but so far, her opera prima is Vampire Knight. This manga became an anime in 2008 after all! Anyway, in case you haven't seen it, let's summarize Vampire Knight: this is a story developed mainly in a school called Cross Academy, where the Day Class and the Night Class are conducted. Students in the night class are normal humans, while the Night Class is attended by vampires. Our protagonist and guardian of the school, Yuuki, has her heart divided between Zero (who hates vampires) and the vampire Kaname.
Night creatures? Yes. Seductive and all might? Oh, yes! Romance with a dab of humor? Also yes! However, if something made Vampire Knight a part of our otaku lives was the eternal fight and misunderstanding between vampires and humans. The triangle was an interesting addition that made the story last for quite a long time. So, if what you liked about Hana to Akuma was the gothic atmosphere, you will get even more of that in Vampire Knight. Also, the relationship between Kaname and Yuuki remind us of the protagonists of Hana to Akuma.
---
Final Thoughts
The creatures of the night turn out to not be so scary once you know them a bit better, right? Especially if they become lovers. The concept of the dark, seductive lover who turns out to be kind is so attractive, that we don't doubt there will be even more mangas like Hana to Akuma in the future. Do you know any other manga like it? Don't forget to leave us a comment. See you soon!
---