También puedes leer este artículo en:Español
The quintessential costume that many people often horde halloween shops for is none other than the vampire. Why these people admire this bloodsucking fiend so much is beyond our comprehension, but it seems that vampires are always in the spotlight which is odd because they hate lights. Whether they're out sucking blood, trying to save others from harm, romantically charm their victims, or simply impress everyone with their fangs, vampires will always continue to maintain popularity among many halloween fans. In our top ten vampire manga list list we'll be putting on our capes to see which of our chosen night walkers will claim the number one spot as the best vampire out there.
10. Vampire Hunter D

Mangaka: Kikuchi, Hideyuki
Genres: Action, Adventure, Drama, Fantasy, Horror, Sci-Fi, Seinen, Vampire
Volumes: 8
Published: November 2007 - 2014
In the year 12,090 A.D. the world has been ravaged by destruction and war, which has left humanity with little to survive with, as well as mutants and vampires that have spawned known as the Nobility. Once a person has succumbed to a bite from a Nobility, they become a member of the undead. Now D, a lone mysterious vampire hunter, enters the fray as he was sought out by Doris Lang to save what's left from further ruin. Now he must go out of his way to save the people, but to also rescue Doris Lang from her curse received from Count Lee before it's too late.
This series initially started as a novel before it republished as a manga, but unfortunately the manga had to be cut short due to an injury the illustrator received, preventing him from drawing. The 8 volumes covers a great chunk of the story which is full of sword slashing, and D going out of his way to destroy anything that opposes him. As a rare Dhampir, he doesn't suffer from any normal vampire weaknesses but instead possess godlike abilities that allow him to tear down any enemy with ease, and stay in the sunlight for as long as he needs.
---
9. Junketsu + Kareshi

Mangaka: Shoutou, Aya
Genres: Action, Comedy, Drama, Harem, Horror, Mystery, Romance, School Life, Shoujo, Vampire
Volumes: 10
Published: July 2010 - September 2014
Kana was known to be an extremely athletic girl until a freak accident ended her career, which resulted in losing her scholarship among other things. However one thing seems to be off with everything because despite living what seems to be a normal life, her childhood friend Aki is actually a pureblood vampire who then turns her into his slave one evening by drinking her blood. Even more twisted than that, Aki is taking part in a game to find seven stigmas so that he can revive his twin brother and Kana's other friend Eriya from their slumber.
If you're into romantic tales of vampire love and relationships, then Junketsu + Kareshi is right up your alley. Kana's life was in complete disarray after her serious accident, which left her life in shambles. So Aki comes along to save the day by granting her immortality, but now she must work under his possession. Plot twists are thrown in and a werewolf character makes an appearance adding more flavor to this already juicy plot, which is starting to sound a lot like a popular vampire movie. This love triangle creates a more interesting direction in the story and the ending will leave you speechless.
---
8. Sennen no Yuki

Mangaka: Hatori, Bisco
Genres: Comedy, Drama, Romance, Shoujo, Vampire
Volumes: 4
Published: November 2000 - December 2013
Chiyuki was born with a unfortunate heart condition which prevented her from doing certain activities, and her doctors are telling her that she may not have very long to live. As fate would have it, one day Chiyuki meets Touya, a vampire who's lived for more than a thousand years. Based on his customary practice, Touya is to find a mate with whom he can live another thousand years with, but he can't stand the sight of blood and refuses to take any of Chiyuki's. So the two must now figure out another solution as they build a fond relationship, and see the world in a different light.
The early parts of the manga are quite somber as you come to learn of Chiyuki's misfortunes, but as things progress you start to see a strong development between both Touya and Chiyuki, as their relationship grows. When Satsuki enters the picture it becomes a funny and light hearted atmosphere as Satsuki purposely flirts with Chiyuki to get under Touya's skin, and we come to realize that he's a werewolf. There's a lot of ups and downs that happen throughout the later chapters, so if you're into the lovey dovey halloween romance then be sure to read Sennen no Yuki to find out what happens.
---
7. Blood Alone

Mangaka: Takano, Masayuki
Genres: Drama, Mystery, Romance, Vampire
Volumes: 11
Published: February 2005 - 2014
This crime based vampire fiction looks at the life of Misaki and her strong attachment to Kuroe, an investigative author, as they learn to understand their differences in a world that's unforgiving. Misaki had just become a vampire so she lacks experience in the field, but as her lover Kuroe starts to become a target for other vampires and undead creatures, she feels that the only way to protect the one she truly loves is to turn Kuroe into a vampire himself.
Much of the story is shrouded in mystery as you try to unlock clues to Kuroe's past, and just what type of life he had prior to living with Misaki. The more you read into the story the more you start to piece things together, and come to realize the truth behind it all, but also you'll become more engaged in their deep relationship as vampires. The plot doesn't focus entirely on one area, but rather it takes you in different directions to help you further understand each character's backstory, which in turn makes further chapters much more appeasing and full of intrigue.
---
6. Bloody+Mary

Mangaka: Samamiya, Akaza
Genres: Drama, Horror, Mystery, Psychological, Shoujo, Vampire
Volumes: 8
Published: November 2013 - Present
After hundreds of years of seeking and clue finding, Mary finally finds the whereabouts of Maria, an exorcist that possesses the 'Blood of Maria' that can exterminate him. It turns out that the Maria Mary had been searching for was not the Maria that stood in front of him, but still somehow possesses the same power as the original. Maria is a target for vampires and so Mary makes a proposal to Maria stating that if he can kill him, Mary will protect him from the vampires until the threat is erased.
While the story at times may confuse you due to the appearance of more than one Maria, it will most surely shed light on the truth so that you'll see a much clearer picture after. Basically Bloody Mary wants to die and Maria wants to live, so the two must work together to ensure that their agreements are met before the worst happens. As everything unfolds between the two characters, you start to see just how limited in knowledge these two are, and that they must learn from their past mistakes in order to make the right decisions in the future. Will Bloody Mary get exorcised, and will Maria be saved from the annoying horde of vampires? Be sure to read and find out!
---
5. Vampire Juujikai

Mangaka: Shirodaira, Kyou
Genres: Action, Comedy, Fantasy, Romance, Shounen, Supernatural, Vampire
Volumes: 9
Published: August 2003 - February 2007
Vampire King Akabara Strauss struggled to keep his kingdom in one piece and eventually loses everything, including his queen. Since the queen was quite difficult to get rid of, the humans sealed her away, placing a thousand fake seals around her so that Akabara couldn't find her true whereabouts. Despite being hunted by dhampires, Akabara desperately continues his search to find his queen and bring her back to safety. Things grow much worse when Akabara is confronted by The Black Swan, who has the power to take over another human body of a girl every 50 years, granting her enough power to kill both Akabara and his queen.
As you jump straight into the story you'll more than likely find yourself wondering just what's happening, and why the Vampire King is the main target. Random battles take place and there are so many plot twists surrounding the truth that when you eventually do reach the climax, you'll be in complete shock. There's just something not totally right with the Vampire King and as you dive deeper into each volume, more and more of his past is unraveled that it becomes this emotionally romantic tale of hardships and pain.
---
4. Vassalord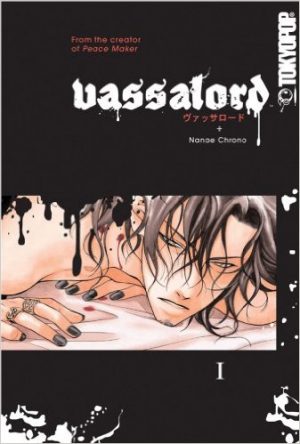 Mangaka: Chrono, Nanae
Genres: Action, Comedy, Drama, Fantasy, Mystery, Shoujo, Shounen Ai, Vampire
Volumes: 7
Published: November 2004 - February 2013
Charley and Rayflo are two separate beings who somehow must work together to track down vampires and kill them. Charley is a cyborg vampire and works for the Vatican, while Rayflo is a vampire who enjoys the playboy lifestyle, but deep down truly cares for Charley. As the two continue to battle crime, they often find themselves in each other's way and scuffle with each other in the most hilarious ways in this action packed vampire drama.
There's a lot that takes place in Vassalord that's always full of laughter and action at every corner. You've got two vampires, one who simply can't control his urge to drink blood, while the other can't seem to stop flirting wherever he goes. Their constant bickering often gets in the way of the more important things like when they have to fight a powerful vampire princess, and deal with a corrupt Unitarian Church. That's just the beginning of this crazy dramatic story, so read on further to see just how heated things get.
---
3. Shingetsutan Tsukihime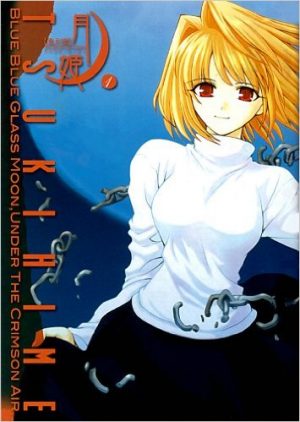 Mangaka: Type-Moon
Genres: Action, Fantasy, Horror, Romance, Shounen, Vampire
Volumes: 10
Published: August 2003 - July 2010
Tohno Shiki had been in an accident that nearly cost his life, but through divine intervention he received a mysterious power which allowed him to perceive lines which covers just about everything around him. Fortunately one day a mysterious young magician enters his life, presenting him with glasses that prevent him from seeing these lines which have been an eyesore for some time. After a serious turn events pertaining to his family and school life, destiny tells him to return home which becomes a series of events that now puts his life on the line, but are somehow connected to his childhood accident and dark unsolved past.
You'll be seeing quite a number of flashbacks throughout the story which pretty much tie things together as you progress through the chapters. It becomes the selling point of the series because of how it adds just the right about of intrigue and suspense to keep you satisfied, but it also ties into the entire plot. You're left questioning the details surrounding Tohno's family, and come to realize just why he's had to struggle and suffer through all the ordeals thus far. If you're wondering where the vampire bit comes in, you'll most likely find it in the mid parts of the chapters, and we simply can't spoil that for you!
---
2. Vanitas no Shuki

Mangaka: Mochizuki, Jun
Genres: Adventure, Comedy, Fantasy, Historical, Mystery, Sci-Fi, Shounen, Vampire
Volumes: 2
Published: December 2015 - Present
Vanitas is a well known doctor who looks after vampires in hopes that he can save them from their pain. He carries around a book of magic known as The Vanitas Grimoire to rid of a deadly curse that corrupts vampires, turning them into blood sucking fiends. Per contra, the very same book that he wields is rumored to be the cursed tome that spawns vampires when the blue moon is full. Noe, a vampire, is now on a quest to seek out the Grimoire to uncover it's true secrets and just who Dr. Vanitas really is.
Mochizuki is notorious for leaving readers in a minefield of unanswered questions, and Vanitas no Shuki is no exception. Within the first few chapters you're already thrown into the shark pit with spoilers directly shown to you, but then just before you think you understand it all, the gears shift and you find yourself wondering if that spoiler even meant anything. It starts off as this wonderful fantasy-centric tale as backstories are developed, and much of the characters are being introduced but then it hits you like a truck towards the end. You're left wanting more and more as your initial intentions of the story have now been scattered, and you'll need to piece everything back together in this exciting vampire shounen series.
---
1. Hellsing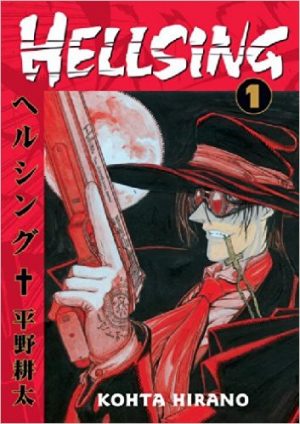 Mangaka: Hirano, Kouta
Genres: Action, Comedy, Horror, Mature, Seinen, Supernatural, Vampire
Volumes:
Published: November 1998 - September 2008
There's only one vampire that can truly hold the throne and that's Alucard with his incredibly godlike powers. This vampire just knows how to handle his business, and does so in such a way that leaves you both mesmerized and full of excitement. Alucard was hired as an exterminator for the British government to help assist Integra's army, who just weren't capable enough to take out all of incredibly strong enemies. Along with his vampire minion Seras Victoria, the two set out to destroy anything in their way and uncover the dark secrets behind the Vatican and a group of mad men who run the corrupt band of madmen known as The Millennium.
From the minute you jump into the story the action has already begun, and you're right in the middle of it all as Alucard kicks some serious tail, and makes it all look easy. Every vampire, zombie, or supernatural being that gets in his way, Alucard simply just annihilates them while Seras is there to pick up the pieces along the way. It's a non stop rollercoaster ride of events as Alucard needs to desperately find clues behind the Vatican and their plans, as well as The Millennium who are terrifying in their own way, and are eagerly trying to obliterate mankind and claim everything. Will their dastardly plans ever see the light of day? Follow Alucard on his adventure to find out more!
---
Closing Statement
It's always exciting to talk about mythical creatures because it's one of those favorite pastimes that you can truly never forget, since it brings back memories of your childhood. Vampires are a staple in the world of halloween culture, and you simply can't speak of the festivities without mentioning vampires at least once in conversation. If you have any other vampire manga that really sucked the life out of you, then be sure to share them down in the comments below! Also, be sure to share, like, and tweet out our articles to help keep this community buzzing!
As always, if you want to know about all the latest buzz straight from the bee's nest in Japan, be sure to keep it locked here at Honey's Anime.
---