También puedes leer este artículo en:Español
Warning: this article is not suitable for minors. It contains references to gender violence, sexual harassment and rape. If you are not comfortable with these topics, you can read another of our articles.
Near the end of the nineties, we were surprised by Shinjo Mayu, a highly active mangaka who enjoys to play with the borderline between romance, passion and yes, abuse. So far, her most famous work has been Kaikan Phrase, the story of the popular pop idol Sakuya and the lyricist Aine. Although the anime version was toned down and dealt more with the members of Sakuya's band, it definitely helped to consecrate Mayu in the otaku hall of fame. It is difficult to find other manga that have such a well balanced act between sweetness and possessiveness, but let's try to find more manga like Kaikan Phrase.
Similar Manga to Kaikan Phrase
1. Get You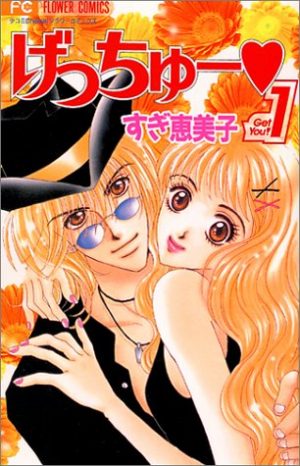 Authors: Emiko Sugi
Genres: Drama, Romance, Shoujo
Volumes: 13
Published: 1999 to 2003
Emiko Sugi has a long trajectory in the world of mature manga. Most of her creations have to do with girls growing up and she also experiments with strong female leads pairing with sensitive guys (like in her most successful manga, Cherry no Manma). In Get You, we meet Anri, a 17 year old girl who only daydreams with a popular singer called Shin. When she gives her virginity to a fake Shin, she swears vengeance on the guy who tricked her! However, Anri will have to go through many hardships to find the guy in question. Will she ever get him? You will have to read this manga to find out.
For starters, the protagonists in Kaikan Phrase and Get You are very similar: we get the sexy super star guy and the average high school girl. The plot gets smutty every chapter, too. Both mangas deploy comedy when needed as well. The main difference is that Kaikan Phrase has much more drama. Although the illustration styles are similar (they are roughly from the same epoque afterall), Get You tends to be a bit more childish.
---
2. Haou Airen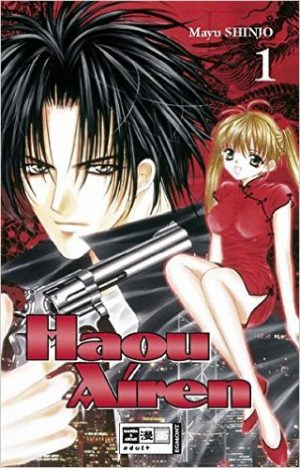 Authors: Shinjo Mayu
Genres: Action, Mystery, Drama, Romance, School, Shoujo, Harem
Volumes: 9
Published: Feb 5, 2002 to Mar 19, 2004
Shinjo Mayu can only be similarly surpassed by Shinjo Mayu herself. That is why we are going to talk about this somewhat disturbing work of hers. The protagonist is Kurumi Akino, a sweet and innocent girl who is the breadwinner in her family. One day after her part time job, Kurumi finds a wounded man and saves his life. It turns out that the man disappears and she is kidnapped and brought to Hong Kong, where the grateful man decides to make Kurumi his mistress. It turns out that she saved Hak Long, the head of a dangerous mafia group.
So, we are talking about Shinjo Mayu here. You can expect her illustrations style and smutty ways. Haou Airen also features an average teenage girl who is generally positive and naive, while the male lead is a cold and more experimented man. The difference is that the cruel world of mafia is not a very cozy place for a shoujo manga… therefore, you can expect that Hak Long will not be kind to Kurumi.
---
3. Yokujou Climax

Authors: Ukyou Ayane
Genres: Drama, Romance, Shoujo
Volumes: 7
Published: Jun 5, 2004 to Jul 20, 2006
We have another veteran here! Ukyou Ayane has a long experience with mature manga, specially in the romance department. In Yokujou Climax, we testify the woes of Mio Omori, who has to work to support her little brother while their mother is in the hospital. So, what will Mio do when a violent guy steals her first kiss? Well, it turns out that the guy is Jinnai, the top student at her school and the son of her landlord! Plus, things get even more complicated when her landlord offers Mio to work in his house.
Mio reminds us of Aine because of her kindness and innocence. However, she also shows she can stand up for herself, particularly in the most difficult moments of the plot. Her relationship with Jinnai is a heated up, smutty romance similar to Kaikan Phrase in the beginning, but later, we find out they share an interesting past together. The illustration style is also similar, although the proportion of the male and female bodies is not as dissimilar as in Kaikan Phrase.
---
Any Manga Like Kaikan Phrase ?
4. Midnight Children

Authors: Shinjo Mayu
Genres: Romance, Shoujo
Volumes: 2
Published: 2007 to 2008
As we have said before, Shinjo Mayu can only be surpassed by herself. That is why we are recommending another title from her. In Midnight Children, the story revolves around a girl who lost her memory. Sumire is found by two twin brothers on a stormy night. They decide to live together, but there will be more than one conflict between the showbiz life of the brothers and Sumire pursuing her lost memories. Oh, and top of that, we have romance.
This is Shinjo Mayu, should we say more? You know what to expect, we have a naive protagonist like Aine who is suddenly pull in the world of fame in Midnight Children. The male protagonists are all handsome and charismatic. There are smut scenes here and there (although not as frequent and in other Shinjo creations), and there is drama enveloping the plot. If you like Shinjo Mayu but would like something shorter for a quick read, Midnight Children might be the right recommendation for you.
---
5. Kaine

Authors: Kaori Yuki
Genres: Mystery, Drama, Shoujo, Psychological
Volumes: 1
Published: 1996
Kaori Yuki is a veteran with several manga which range from romantic, through historical, to phantastic. There is always a certain hint of mystery in her works. Yuki is known for being the creator of none other than Angel Sanctuary and Meine Liebe. However, she also played with the concepts of fame and music. So everyone, meet Shinogu. He recently had an accident where his twin brother, Kaine, passed away. Thus, Kaine's manager decides that Shinogu will replace him for the sake of achieving stardom. Will Shinogu succeed in deceive everyone? What is the truth behind the accident where Kaine lost his life? We are not telling :p
Kaikan Phrase and Kaine will take you inside the world of fame, although it will not be a smooth ride. The main characters have a lot of hard decisions to take, although their lives look glamorous and heavenly from the outside. It is true that Kaine centers more in the mystery behind the death of Shinogu's brother, but several of the stories in this short volume deal with love. Thus, once again, we have an interesting and mature option of a musical manga in Kaine.
---
6. Tenshi Ja Nai!

Authors: Takako Shigematsu
Genres: Comedy, Drama, Romance, School, Shoujo
Volumes: 8
Published: 2003 to present
Takako Shigematsu is a relative new face in the shoujo manga world, if we compare her to the other authors in this list. However, her Tenshi Ja Nai! has been well received by the public. What happens when you find fame in an inopportune moment? Well, it could trouble you to the point of not wanting fame anymore, as it happened to Hikaru Takabayashi. Wishing for a normal life, she transfers to an all-girls school, where she becomes the roommate of the popular TV idol Izumi Kido. Worst of everything is the fact that Izumi is a man in disguise. So yes, want it or not, Hikaru is going back to the spotlight!
Kaikan Phrase and Tenshi Ja Nai! are all about the world of fame. Their male leads are strong, charismatic and complex characters that have their girls head over heals for them. There also is sensuality in both mangas, although, this is more obvious in Kaikan Phrase. Tenshi Ja Nai! chooses to go a bit more for comedy. The illustration style is a bit cleaner and less detailed in Tenshi Ja Nai! as well. However, both do a well job in developing their characters and the romance between them.
---
Final Thoughts
Manga like Kaikan Phrase can be a risky drive into unknown territory, specially for those who enjoy sweet and fluffy shoujo at its best. We can recommend this kind of smutty manga if you want something more mature or harder to read. They definitely are not for those weak of heart :p So, which other manga like Kaikan Phrase do you know? Comment away! See you soon.
---