Many of you manga fans out there may or not know of a lot of mangaka that are still quite popular in Japan, and Shinjo Mayu is one of them. Perhaps for the shoujo connoisseurs they may very well know and have become acquainted with Mayu's works, but for the rest of us out there who are oblivious we'll be providing you with some insight on some of her most credible pieces. Shinjo Mayu made her debut into the scene in 1994 with her first manga titled, Make Love Shiyo!!, which was published in the Shogakukan's then popular Shoujo Comics. Her life was filled with a lot of hardships as she struggled to cope with a stressful environment and legal issues pertaining to her works, but she persevered and managed to maintain her integrity to continue releasing more popular pieces. Unfortunately as of now, Shinjo Mayu only continues to write manga based on BL so be sure to check out our list of her classics to get a taste of her shoujo magic.
8. Love Celeb

Genres: Comedy, Romance, Shoujo, Smut
Volumes: 7
Published: May 2004 - March 2006
Nakazono Kirara has one passion and that's to be a star, and she would do whatever it took in order to land a starring role in a drama. Unfortunately her boss proves her ideals wrong when he places her into a room full of horny producers that just want a piece, but she clearly backs away from it knowing that she's still a virgin. One of the producers, Gin, notices her fear and lets her off the hook but leaves her with his business card as she darts out the room. From that very moment, Kirara's life completely takes a 180 as now she's become the new face of the town, but she's totally unsure as to how.
Shinjo Mayu's approach to manga really dives into the world of social issues, and how various topics are discussed. One of which is sexuality and the role it plays among young women in today's society, and how many women are manipulated through sexual orders to make it to the top. Sleeping your way to the top was the main focal point in the initial stage of Love Celeb, as these perverted men tried to coerce Kirara into performing sexual acts just so that she could land her dream role. However as the story progresses and Gin started to show signs of concern for Kirara's safety, the story starts to take a more romantic turn which leads to a wonderful ending for those who decide to read into it. While Gin's character may come off as possessive, you can clearly see that he's doing what he can to ensure that Kirara doesn't suffer the way she did earlier, and that she can live her dream in a much more civil fashion.
---
7. Heart no Diamond

Genres: Comedy, Drama, Gender Bender, Romance, School Life, Shoujo,
Volumes: 3
Published: August 2009 - April 2010
Himeno has this rare condition where if a boy touches her, her chest begins to throb in pain due to her heart being a diamond. When she was young however, Himeno had two male friends Mamoru and Keigo, who could touch her and not inflict any pain. Both men made a vow that they would always stay by her side to protect her from any evil that comes her way, however they both never knew that her heart was made of diamond. As they all grow older and new experiences come into play, both men continue to stand by her side to ensure that nobody threatens her.
Shinjo's career during the release of this manga was going through a rough patch, as her work environment was starting to become more and more stressful. However she managed to persevere through it all and came up with Heart no Diamond. It's a romance that entails a lot of secrecy but over time, you start to see Himeno's heart become more open to love, and her appreciation for everything around her. Her clumsy ways at times add to her innocent charm, while both boys try to make their move without coming off too blunt. If you enjoy a nice simple romantic comedy with some crossdressing thrown in for fun, then check this one out.
---
6. Haou Airen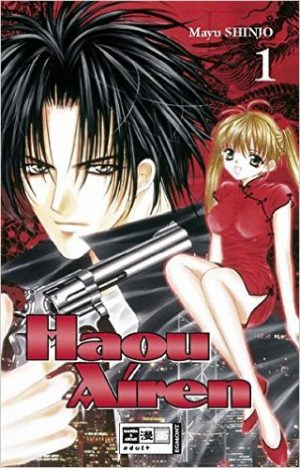 Genres: Action, Drama, Harem, Mystery, Romance, School, Shoujo
Volumes: 9
Published: February 2002 - March 2004
On the way home from work Kurumi discovers a young man who is in desperate need of help, and manages to save his life. After saving him however he mysteriously vanishes and leaves behind only a name, Hakuron, as a reminder. Shocking turns of events start taking place and suddenly Kurumi is kidnapped from school, and finds herself on a private jet with the very same man that she saved now on their way to China. To her surprise, Kurumi had saved the life of a mobster known in Hong Kong, and now he wants her to stay by his side at all costs.
Think of Haou Airen as one of those classic 90's films where the lead female role saves the life of an unknown man, who actually ends up being this ruthless killer and now she must fight by his side while falling madly in love with him. It's an action flick that's been transformed into manga form, which gives fans of the genre some great entertainment on the go. Shinjo was actually quite surprised to learn that Haou Airen had turned into a live action adaptation, but to be honest with a story like this it seemed inevitable. Mafia, underground syndicates, murder, rape, kidnappings, you name it this manga has all of the tricks of the trade which make it a fantastic read. While some may get turned off by some of the more mature and violent themes portrayed in the series, it's worth noting that everything ties together real well to capture a very realistic environment that truly makes you feel like you're in that universe.
---
5. Akuma na Eros

Genres: Drama, Fantasy, Mystery, Romance, School Life, Shoujo, Smut
Volumes: 4
Published: April 2001 - March 2002
Miu prays everyday that the one she loves, Shion Amamiya, returns that very same love back to her. Unfortunately that plan didn't work out so well, so instead Miu relies on a book of magic and tries to cast one of its spells to see what happens. Sadly, not only did the spell not work but it summoned the demon god himself, Satan in the process and he states that as a form of repayment, her virginity must be given up.
You know you've totally screwed up when Satan somehow makes his way into your life, and now asks for your virginity as a form of compensation for summoning him. Akuma na Eros is simply a love story about how the devil forms a human relationship with Miu, as the two get to know each other in the most crazy ways. This is no quick romance either as a lot of the tension is built up in the early parts of the story to keep you hooked, while Miu's innocent ways make you turn into the devil because you just want to see the two of them get it on. Unfortunately Satan has his way with her at times and often becomes possessive, which leads to some abuse along the way but hey, he is the devil; what did you expect? Aside from from those questionable moments, Akuma no Eros is certainly a good read if you're looking for a demon-human romance.
---
4. Ai wo Utau yori Ore ni Oborero! (Ai Ore)

Genres: Comedy, Drama, Gender Bender, School Life, Shoujo
Volumes: 5
Published: June 2006 - 2009
Akira is a young boy who's known to have quite striking feminine features, and one day decides to join an all girl band named Blaue Rosen. Another androgynous individual named Mizuki, the same age as Akira, is also in the band and plays the lead guitar in the band. However things seem to be a little backward as Mizuki is considered by many to be the prince of the all girl school, while Akira is the princess of the all boys school nearby. This romance comedy is sure to fill you with laughs as the two form a very close relationship through their ups and downs in life.
What's really great about Shinjo Mayu is that despite what many critics have to say about her work, she never shies away from the reality that many of us ignore in society. Prejudice towards women is quite predominant, and in this manga she makes sure that it grabs your attention right away. Both Akira and Mizuki go through their tough times having to deal with a lot people bashing them due to their appearance, but their wonderful personality honestly makes things so much better while reading. They both strive very hard to commit to one another, while focusing on the one thing that they both share a love for and that's music. This is also a prequel to Ai Ore!: Danshikou no Hime to Joshikou no Ouji, which we'll get to in just a moment so we recommend that you really get to know Mizuki well before you jump into reading the next one.
---
3. Ai Ore!: Danshikou no Hime to Joshikou no Ouji

Genres: Comedy, Drama, Gender Bender, School Life, Shoujo
Volumes: 5
Published: 2007 - December 2010
As aforementioned Ai Ore!: Danshikou no Hime to Joshikou no Ouji is the sequel to Ai wo Utau yori Ore ni Oborero!, which Shinjo actually decided to continue working on shortly after her departure from Shogakukan. The story continues where the prequel left off and continues to follow the love budding love story between Mizuki and Akira. The two constantly go through their relationship with many conflicts, as the two try to cope with their differences but also learn to respect and love their similarities.
Perhaps what's different from the prequel when compared to this sequel is that Akira just can't seem to control his hormones, and often times manipulates Mizuki into having sex with him. Akira grows insecure of himself and constantly complains about his looks, and would rather just live this life as a handsome man and not have stress himself all the time. So many crazy moments take place within the story as well that greatly affect Mizuki even more, but we don't want to give away all of the interesting parts of the chapters. It's all pretty complicated but in the end you grow to love it because you realize that a lot of people go through a lot of nonsense in their lives, and these two are just part of it all.
---
2. Ayakashi Koi Emaki

Genres: Comedy, Romance, Shoujo, Supernatural, Smut
Volumes: 6
Published: July 2008 - July 2013
Miko is a shrine maiden who just can't seem to get a hang of the job, since she's never really banished any spirits let alone seeing them in person. That all potentially changes when she meets Kagura, a handsome demon with a strong desire to feed off the passion and love of women's feelings. Due to this devilish playboy approach, he's left many girls broken hearted, so to prevent herself from becoming the next victim she immediately casts a spell on him and seals his powers. By her own surprise the spell actually works, but that still doesn't stop Kagura from advancing on her in this hot romance comedy.
Lust, magic spells, possessive lovers, what more can you expect from the smut genre? Ayakashi Koi Emaki has all that you need to keep you sexual imagination stimulated, with some great laughter to keep you coming back for more. Shinjo always seems to create relationships that are somewhat risque, which is quite intriguing because not many manga these days try to push the envelope when it comes to these types of relationships, merely focusing on the action and glorifying other main characters. While this is your standard shoujo smut it still does a good job of ensuring that there's a balance between everything, even though Kagura is a complete perv and sex is certainly involved. Compared to the other more mature smut titles, this one is a little bit more light on the flavoring which is nice for those who are just entering the genre and are looking for something to spice up their manga collection.
---
1. Kaikan Phrase

Genres: Romance, School Life, Shoujo, Smut
Volumes: 18
Published: March 1997 - 2000
It should come as no surprise that Shinjo's most prized work makes it to the number one spot. The story looks at the life of Sakuya, who's the lead singer of a rock band named Lucifer and is a heartthrob to many women who attend his events. Aine, just your typical hard working high school girl, somehow finds herself caught up in all the craze and ends up in Sakuya's life as the two build this budding relationship formed around the love for music.
So if smut is what you truly want, Kaikan Phrase is just the right manga for you to check out, because it comes with all the bells and whistles of what you'd expect from the genre. There's a lot of sex, in fact there's so much of it that you may have to put the book down for a little bit to cool yourself off. The romantic journey that these two have is quite remarkable considering how fast they hit it off, but then in your typical smut style everything seems to come crashing down at some point and then reality kicks in. Portrayal of rape, jealousy, and possessive behavior starts to kick in and then you finally come to your senses that perhaps this wasn't so rockin' after all. Nevertheless Kaikan Phrase takes you on a wild adventure full of lust, passion, and music and it's certainly a journey worth embarking on.
---
Closing Statement
Despite all of the hardships that Shinjo had to put up with in her early years, she's managed to make a name for herself in an industry that's known for being very competitive and often times unforgiving. We tip our imaginary hat off to her and wish her all the best on her successful mangaka journey. If you loved Shinjo's works then be sure to leave your comments down below, and let us know what other works of Shinjo Mayu's works you admire.
As always, if you want to know about all the latest buzz straight from the bee's nest in Japan, be sure to keep it locked here at Honey's Anime.
---