También puedes leer este artículo en:Español
Warning: This article has content unsuitable for all ages. If you are a minor, please choose another article to read instead.
Welcome back to Rumiko Takahashi's theater with 6 manga like Kyoukai no Rinne! Our dear mangaka has been the mother of several praised works like Ranma ½ and InuYasha, which haven't been forgotten by the otakus. Kyoukai no Rinne was not going to be the exception to the rule. The story of Sakura Amamiya, a teenager capable of seeing youkai, and Rinne Rokudo, a shinigami who helps spirits go to the other side, gets otakus in all the mystery, romance and comedy Takahashi has to offer. The ongoing manga has 35 volumes, but just in case that you get impatient with future releases, here we have some similar manga like Kyoukai no Rinne for you!
Similar Manga to Kyoukai no Rinne (Rin-ne)
1. Watashi ni Uso wo Tsuite

Authors: Gosho Aoyama
Genres: School, Supernatural, Psychological, Seinen
Volumes: 1 chapter
Published: 2007
Do you like Detective Conan or Magic Kaito? Well, here we have their creator. Aoyama has been a mangaka for a while, with stories of various lengths centering on the lives of young people and their many adventures and tribulations. However, his most famous and long work is still Conan. Perhaps you have imagined how life would be if you knew when people lie to you. No more secrets! Sounds great, right? Well, Terumi Arai knows such a gift comes with its courses and blessings. In this one shot, Aoyama introduces us to the intriguing world of a girl who can read minds in the middle of a suspenseful situation.
Terumi might not be capable of seeing spirits, but she surely has her share of unusual adventures like Sakura. Although both are confused in the beginning, they manage well on their own. Also, the story has a good balance between mystery and comedy, which are trademarks of Aoyama and Takahashi. The main difference is well, the length and the nature of the opponents on this case: humans.
---
2. Yamamoto Zenjirou to Moushimasu

Authors: Youko Maki
Genres: Drama, Romance, Shoujo, Supernatural
Volumes: 5
Published: Feb 2007 to Aug, 2011
Youko Maki is sister of another mangaka called Aki Mochida (Hiromi Fuke). This means that her debut was at a young age (17), and since then, Maki has offered us several romantic and adventure stories. So, perhaps Kyoukai no Rinne appeals to you but you would not mind something mellower with a more shoujo vibe. How about Yamamoto Zenjirou to Moushimasu? This is the story of a girl called Hotate who can see spirits, so, she does what is natural in a kind person: help them pass to the next life . Everything is ok while Hotate lives with her grandmother, but when she moves in with her uncle, she is nervous about whether she will fit in. Little does she knows that her world will become even more supernatural.
In this manga, we have a heroine who embodies the best qualities of Sakura and Rinne together. Hotate even has the same mission! The difference is her innocence and sweetness, which make more sense given that she is a small girl. Also, Maki´s drawing is suitable for shoujo, with her expressive, big eyes. She will make you feel comfortable while you read Hotate's adventures.
---
3. Defense Devil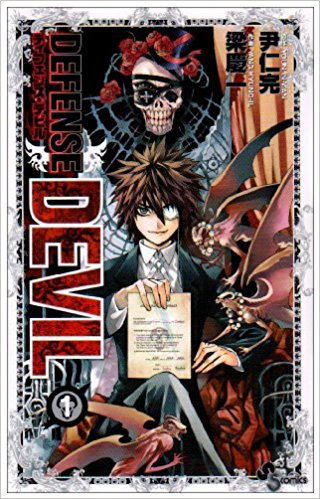 Authors: In-Wan Yoon and Kyung-il Yang
Genres: Action, Comedy, Demons, Mystery, Drama, Ecchi, Romance, Shounen, Supernatural
Volumes: 10
Published: Apr 22, 2009 to Jun 10, 2011
In-Wan Yoon is a Korean author who has written a few manhwa. However, most of his works have been manga published in Japanese magazines. His work ranges from slice of life to adventure with strong female characters. Yoon's frequent partner is the Korean illustrator Kyung-il Yang, whose manga ranges from romantic one shots to action and horror oriented stories. Together, they offered us a manga about lawyers and devils, who usually get along well. In the case of the demon Mephisto Bart Kucabara, he decided to be a lawyer to be able to return to his dear world. Now, he will help the souls of sinners condemned to hell, defending them from the shinigami.
In Defense Devil, we have a story that deals with the normal life of the mortals and the transition to the next one, just like in Kyoukai no Rinne. Sakura has her parallel in Idamaria, a nun who can see spirits, while Rinne would be Mephisto, the supernatural hero. The key difference is that Mephisto is a demon against shinigamis. Also, the drawing tends to be more shoujo, full with details and layers of shadows and patterns.
---
Any Manga Like Kyoukai no Rinne (Rin-ne) ?
4. Zero: Kage Miko

Authors: Shin Kibayashi
Genres: Horror, Supernatural
Volumes: 6
Published: Jul 18, 2014 to present
Shin Kibayashi is a true legend in the manga world. He has a large portfolio of works, usually centered on crime and mystery. However, Kibayashi's detective saga Kindaichi Shounen no Jikenbo is the most known and loved. On this occasion, he offers us Zero:Kage no Miko, which could be considered as the opposite from Yamamoto Zenjirou to Moushimasu. If what you like about Kyoukai no Rinne is the emotion and supernatural elements, but if you wonder how would it be with more horror, you can try this manga. Zero:Kage Miko is based on a video game called Fatal Frame, which belongs to the survival horror style. The manga adapted some elements to tell the story of Sara Washizuki, a girl who can see spirits and lives a "haunted" life.
What makes Sara similar to Sakura beyond their ability to see spirits is that something in their past is missing. Thus, they have to discover it while the stories unfold. There is also a connection to traditional Japanese supernatural beings. The main difference is the dark undertone of this manga, suitable for horror fans. Even the colors are largely absent in the watercolor illustrations.
---
5. Yuragisou no Yuura-san

Authors: Tadahiro Miura
Genres: Comedy, Ecchi, Romance, Shounen, Harem, Supernatural
Volumes: 5
Published: Feb 8, 2016 to present
Tadahiro Miura is a relatively new mangaka who has been publishing since 2012. His small but varied portfolio has anything from romance, adventure and supernatural, spiced up with ecchi. So, you believe that seeing spirits would be ok if the spirits are pretty girls? Think again. Fuyuzora Kogarashi is a guy who, due to poverty, has to live in a boarding house infested with ghosts. His roommate is none other than the beautiful Yuna Yunohana, who he promises to help to pass to the other side. The problem is that the other ghosts also want help...
A guy is taking the role of both Sakura and Rinne in Yuragisou no Yuura-san, although we could say that Yuna is taking the role of Rinne as supernatural being. If what you like about Kyoukai no Rinne is the adventure, comedy and occasional romantic remarks, you will find all that in this manga. The ecchi side is more emphasized, though. Just observe how Miura draws girls 😉
---
6. Natsume Yuujinchou (Natsume's Book of Friends)

Authors: Yuki Midorikawa
Genres: Drama, Shoujo, Supernatural
Volumes: 21
Published: Jun 10, 2013 to present
Although Yuki Midorikawa does not have many titles under her sleeve, she has had her share of success since the nineties. Midorikawa also created none other than Hotarubi no Mori he, which was adapted to a movie. Now, meet Takashi Natsume (in case you didn't know him yet). This guy has been able to see spirits since he was a child. Natsume inherited the Book of Friends from his grandmother and decides to release the spirits it contains. However, he will not do this alone. Natsume counts with the great spirit Madara (a.k.a Nyanko-sensei) to help him in his adventures, although the spirit might have ideas of his own...
We had to mention this awesome manga, which has been adapted to an ongoing anime series and several OVAs. Natsume is like Sakura and Rinne combined, while he interacts with the most varied spirits. Some of them will go where they belong, some others will keep wandering and perhaps some others will come back? Everything is possible in the magical world of Natsume. The drawing is also full of a sense of calmness and nostalgia, with an emphasis on natural environments.
---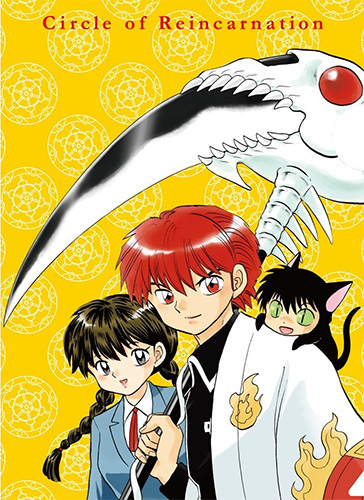 Final thoughts
The supernatural will always be fascinating for Japanese, especially due to their rich cultural heritage of ghost stories. If we add the conservation and mix of the Shinto and Buddhist traditions, we get interesting and diverse thoughts about the afterlife. Kyoukai no Rinne and other similar manga like Kyoukai no Rinne play with these assumptions, choosing certain perspectives and including the personal touch of the mangaka. As we can see, many manga with such topics tend to be long, so we will have many options to read for a good time 🙂 Tell us, which other manga like Kyoukai no Rinne do you know? Don't forget that we are open to all your comments and suggestions. See you soon!
---