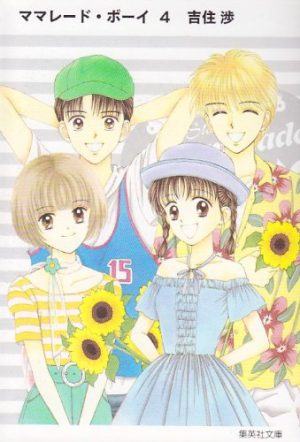 Wataru Yoshizumi is an amazing manga artist, who gave us a lot of shoujo and josei manga, loved and appreciated around the world. She is probably one of the best manga artist of these genres out there, but we can consider Marmalade Boy her absolute masterpiece. Marmalade Boy was born in 1992 and it gained a huge following with fans of the shoujo genre, so much so that in time, it became like a milestone among shoujo manga. In 1994 its popularity was so high that it received an anime adaption for 76 episodes.
Marmalade Boy's success is all thanks to an out-of-the-ordinary premise, a cute art style and, of course, a plot with amazing characters struggling during their teenage years. It revolves around Miki Koishikawa, Yuu Matsuura and their eccentric parents. In fact, the story begins with Miki and Yuu, who have just become step siblings, as Miki's mother remarried Yuu's father, and Yuu's mother remarried Miki's mother.
What would you expect, by these premises? Well, exactly! Living together as mere siblings turns out to be very hard for Miki and Yuu, as soon enough they start to have feelings for each other; then, other characters will intervene to wreak havoc in their already messed up lives!
Marmalade Boy is absolutely lovable, as it has comedy – a lot of gags to make the readers crack up – and it has drama too to make readers shed some tears. We are sure that whether you read it a long time ago, or just recently, the craving for something similar to Marmalade Boy won't stop. That's why we created this list. Stick with us until the end and discover six other wonderful manga, sharing with Marmalade Boy one thing, or another!
Similar Manga to Marmalade Boy
1. Omoi, Omoware, Furi, Furare

Authors: Sakisaka, Io
Genres: Drama, Romance, School life, Shoujo
Volumes: 7
Published: June 2015 – ongoing
Let's get this list started with Omoi, Omoware, Furi, Furare, the most recent manga by Io Sakisaka. You all remember her for masterpieces like Ao Haru Ride, or Strobe Edge. Omoi, Omoware, Furi, Furare revolves around two girls who meet by chance: Yuna and Akari. Akari is blunt and honest, and she thinks about love in very realistic terms. Yuna is shy and cheerful, and she thinks about love as something like a fairy tale. These two opposite girls will become good friends and face the teenage hardships together!
If you feel like reading something very recent, but very similar to Marmalade Boy, Omoi Omoware is what you're looking for. Akari faces the exact same situation as Miki: she finds herself living under the same roof as her stepbrother, Rio, who has a crush on her, and things get complicated. On the other side, Yuna is very similar to Meiko – Miki's bestfriend – as she is shy and thinks highly of love. Love triangles, comedy parts and drama are to be expected, exactly like in Marmalade Boy!
---
2. Kodomo no Omocha (Kodocha: Sana's Stage)

Authors: Obana, Miho
Genres: Comedy, Drama, Romance, School life, Slice of life, Shoujo
Volumes: 10
Published: July 1994 – October 1998
Let's talk about another masterpiece appreciated around the world! Kodomo no Omocha revolves around a child actress, Sana Kurata, who is outgoing, friendly and cheerful. Her tendency to correct all the surrounding problems is what irritates Akito Hayama – her bullying classmate – the most. While Hayama hates that side of Sana, at the same time he likes it. The same goes for Sana, who will try to make the gloomy Hayama smile more. Step by step, these two kids will come to know each other more, and face some hardships together... Will their friendship turn into something deeper?
Even though the premises differ, Marmalade Boy and Kodomo no Omocha share a lot. First of it all, they're both two shoujo manga which can be considered as milestones of the genre. The age of the characters is different, but we can consider Kodomo no Omocha as the middle school version of Marmalade Boy. In both these series we can find family drama and darker theme, but what catches the eye is how the main couples resemble each other. Yuu is gloomy and teases Miki, who gets flustered: the same happens between Hayama and Sana. What's more, both the couples will have to face a lot of hardships in order to obtain their happy ending. If you feel like reading something with Marmalade Boy's vibes, but with younger protagonists, choose Kodomo no Omocha!
---
3. Honoka ni Purple (A Hint of Purple)

Authors: Saitou, Chiho
Genres: Drama, Romance, Shoujo
Volumes: 3
Published: December 1985 – April 1987
Honoka ni Purple – A Hint of Purple is a manga revolving around Shino and Akio. One day, Shino is at the library, waiting for her date, who doesn't seem to come. The legends going around on that library say that when two people meet there, they're destined to fall in love. But Shino is waiting in vain, and some time later, instead of her date, she meets Akio – a football player – who happened to take refuge in the library. Their meeting is fated, for sure, as they discover that their parents are about to remarry, and they're about to become step siblings...
Did the plot ring a bell? We bet it did! Marmalade Boy and Honoka ni Purple are both shoujo manga sharing the same premises. Firstly, we find two step siblings living together, and Akio, exactly like Yuu does with Miki, teases Shino. Step by step, though, teasing becomes friendship, and friendship gets deeper and the two step siblings fall in love. Similarly, as in Marmalade Boy, in Honoka ni Purple, too, we can find a lot of drama, and love triangles to mess things up! If you want to relive Marmalade Boy's good vibes, we think Honoka ni Purple can satisfy you.
---
Any Manga Like Marmalade Boy ?
4. Cherry Juice

Authors: Fukushima, Haruka
Genres: Comedy, Romance, School life, Shoujo
Volumes: 4
Published: June 2004 – March 2006
Cherry Juice revolves around two step siblings, Minami and Otome. They lead a peaceful life as step-siblings, and whereas Minami is a popular high school boy, and the girls fawn over him, Otome is just an average girl. There's just one problem, though: Otome is in love with Minami's best friend, Amane. Everything's just fine, and Minami can live with that notion. Well, at least until Amane confesses to Otome and Otome is so incredulous that she's at a loss of what to do!
Once again, we find the same premises as in Marmalade Boy. Cherry Juice, too, is a shoujo manga involving step-siblings who don't start off on the right foot. While initially not exactly on good terms and busy with teasing each other, step by step Minami and Otome get closer. Just like in Marmalade Boy, outsiders will try to break them apart, so you can expect love triangles, drama, and a male lead who is unable to understand his own feelings. It's not a stretch to say that Marmalade Boy and Cherry Juice share a lot, and if you liked one, you'll enjoy the other all the same!
---
5. Akuma de Sourou (The Devil Does Exist)

Authors: Takanashi, Mitsuba
Genres: Comedy, Drama, Romance, School life, Shoujo
Volumes: 11
Published: January 1998 – December 2002
Akuma de Sourou – The Devil Does Exist revolves around Kayano, a shy girl whose high school life is all about not drawing attention to herself. She's in love with Kamijo, a handsome boy, and one day she musters the courage to confess. Because of some circumstances, though, the letter she had written for Kamijo goes to the wrong person: Takeru Edogawa, the school principal's son and a delinquent who starts to bully Kayano. If things could go worse, Kayano's mother tells her that she's about to remarry... with Takeru's father! Kayano and Takeru become step-siblings, and Kayano's hell is only about to begin.
Marmalade Boy and Akuma de Sourou are two shoujo manga revolving, once again, on the main concept of two strangers who suddenly become step-siblings. Exactly like in Marmalade Boy, Kayano and Takeru's cohabitation starts under the worse circumstances, so much so that Kayano considers Takeru as a real devil. Yet, their relationship will soon develop and turn into something else; their antagonism will give way to romance. But the happy ending is far away, as a lot of hardships will try to separate the two of them. As you can see, it's very similar to Marmalade Boy's circumstances, that's why we think you should give it a shot!
---
6. Kareshi Kanojo no Jijou (Kare Kano: His and Her Circumstances)

Authors: Tsuda, Masami
Genres: Comedy, Drama, Romance, School life, Shoujo
Volumes: 21
Published: December 1995 – May 2005
Let's end this list with Kareshi Kanojo no Jijou – His and Her Circumstances! Yukino Miyazawa appears to be a pretty girl, good at whatever she does. The flip side of that facade, is that she's just a narcissist who craves everyone's admiration. Entering high school, Yukino finally meets her match, Soichiro Arima, a popular boy whose brightness shadows Yukino's. While looking for a way to regain her popularity back, Yukino is confessed to by Soichiro, who already knows Yukino's true colors. Seeing how Yukino absolutely doesn't want to let the other know her true self, Soichiro begins to blackmail her...
Marmalade Boy and Kareshi Kanojo no Jijou may differ in the premises, it's true, but these series are two shoujo sharing some important similarities. First of it all, both these manga have a school setting and a couple who is odd, and yet seems to work well. Right when Yukino and Soichiro begin to feel something for each other, past troubles and past acquaintances begin to interfere, exactly like it happens for Miki and Yuu. What's more, both Marmalade Boy and Kareshi Kanojo no Jijou have the right amount of comedy and drama, they can make you laugh a lot, or cry a lot! If you want to enjoy another good shoujo manga, with the same vibes as Marmalade Boy, we think you should pick it up!
---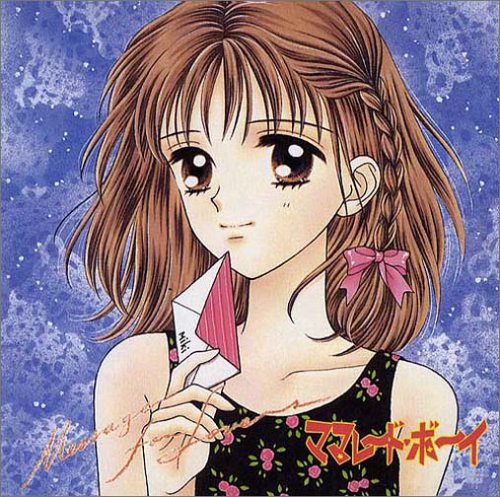 Final Thoughts
And so our list of six manga like Marmalade Boy came to an end. We really hope you enjoyed the ride, and that you'll find it useful somehow. These six manga share with Marmalade Boy the main concept of step siblings living together and falling in love, or the main theme of a teenage love full of hardships, so you can expect six other manga on the exact same wavelength as Marmalade Boy! If you're craving for Marmalade Boy's good vibes, lighthearted atmosphere, and funny gags, pick one of these up, and you won't be disappointed. As always, if you know other manga that could have been a good fit, or want to share your thoughts, leave a comment below! See you next time!
---