Sakae Esuno is an amazing manga artist who has the ability to create action-packed stories, while keeping the readers with baited breath. In 2006, he gave birth to the amazing Mirai Nikki – Future Diary. This story revolves around Yukiteru Amano, a weak-willed boy who is unable to make friends. Right because of his ineptitude, as a bystander he notes down on a cellphone what happens around him.
Yukiteru's life suddenly changes the day he actually meets what was supposed to be his imaginary friend – Deus Ex Machina. That is the Lord of Time and Space, giving Yukiteru the ability to predict future events. If things could be worse, the moment he receives his future diary, he learns how there are other people owning a future diary and all of they will have to join a game where the winner will take Deus Ex Machina's place.
During this bloody game, Yukiteru will have a companion, another future diary holder: Yuno Gasai. Yuno will do her best to protect and save Yukiteru, in the name of love. But is Yuno a real friend, or is she a foe? Yukiteru's new life begins and he will have to watch his back, and crush his weakness for good!
This is a list for those who love Mirai Nikki and action-packed stories involving space and time issues, and crave for some other manga that are similar to it. Stick with us until the end, you won't be disappointed!
Similar Manga to Mirai Nikki / Similar Manga to Future Diary
1. Battle Royale

Mangaka: Taguchi, Masayuki (Art) Takami, Koushun (Story)
Genre: Action, Adult, Horror, Mature, Mystery, Romance, Seinen, Tragedy
Volumes: 15
Published: 2000 - 2005
Let's start with Battle Royale, a popular manga revolving around a survival game. Shuuya Nanahara and his classmates are happy to be going to a graduation trip. They still don't know, though, that they are actually about to start "The Program", a game of life and death broadcast to the world. Shuuya and other 42 students find themselves with collars ready to detonate if they don't do as they're told; they will have to kill each other, and obtain freedom. Shuuya wants to put an end to that madness, and so he needs to come up with a plan. His bloody journey is just about to begin...
Well, if you liked Mirai Nikki, you'll love Battle Royale. These two manga have a lot in common: in both of them we find a survival game where some characters are forced to face their own morals, while some other characters are simply mad and thirsty for blood. Both Battle Royale and Mirai Nikki are psychological thrillers, with a bit of romance between the main characters here and there. The question going on from beginning to end, in both of them is: "who can I trust?" And while reading both, you'll get the exact same vibes. Actually, if you liked Mirai Nikki and want to try something less supernatural, and more splatter, well... It has to be Battle Royale.
---
2. Deadman Wonderland

Mangaka: Kondou, Kazuma (Story & Art) Kataoka, Jinsei (Story & Art)
Genre: Action, Drama, Mature, Sci-fi, Shounen, Supernatural, Tragedy
Volumes: 13
Published: April 2007 – July 2013
Let's go on with another class field trip ending in tragedy. Ganta Igarashi and his classmates were supposed to go to a prison amusement park, called Deadman Wonderland. There, the convicts perform dangerous acts for the onlookers, and things collapse when all of Ganta's classmates are brutally killed. After the tragedy, because of some circumstances, Ganta is framed for the incident... and he is sentenced to death. His new, terrible, scary life begins: he will have to win prison games, in order to slow down the lethal collar on his neck, threatening his life by the minute.
Mirai Nikki and Deadman Wonderland may have a different setting, but they share the action-supernatural elements. Yukiteru and Ganta are very similar; they are crybabies and somehow weak-willed. Both of them are followed around by a girl – Yuno for Yukiteru and Shiro for Ganta – who are way stronger than them and tries to protect them. Once again, in Deadman Wonderland, too, the constant question will be: "who can I trust?" These two manga are both action-packed to keep the readers with bathed breath, and to make them wonder what actually is going on. Trust us, if you liked the twisted world depicted in Mirai Nikki, you're bound to love Deadman Wonderland all the same!
---
3. Platinum End

Mangaka: Obata, Takeshi (Art), Ohba, Tsugumi (Story)
Genre: Drama, Mature, Mystery, Supernatural, Psychological, Romance, School life
Volumes: 5
Published: November 2015 - ongoing
The golden duo Obata-Ohba gave us this wonderful manga called Platinum End. Mirai Kakeashi is an orphan, left in the hands of abusive relatives. Because his life sucks, and he feels like he has lost everything, the evening before his middle school graduation he attempts suicide. A white girl – Nasse – claiming to be a guardian angel, saves him. Nasse says that she'll bring him happiness, by giving him a supernatural power and a chance to become the new God. Mirai will have to join a terrifying survival game and fight against other 12 candidates, in order to obtain that position!
Does this plot ring a bell? We believe so. In both Mirai Nikki and Platinum End there are 12 candidates running to become the new God. Mirai and Yukiteru are both very frail, and constantly saved by their counterparts – Nasse and Yuno. Another similarity is that in both Mirai Nikki and Platinum End's universes God is disappearing, and someone else has to succeed. For that purpose, every candidate will have to put their lives on the line. Well, the 12 candidates in Platinum End are all suicidal people, while the 12 candidates in Mirai Nikki are all people who are psychologically damaged. We can safely say that if you enjoyed Mirai Nikki, you can't lose this ongoing rare gem from the Obata-Ohba duo – their names are a guarantee.
---
Any Manga Like Mirai Nikki (Future Diary) ?
4. Doubt

Mangaka: Tonogai, Yoshiki
Genre: Horror, Mystery, Shounen, Tragedy
Volumes: 4
Published: December 2007 – February 2009
Doubt is a horror manga revolving around a game, called "Rabbit Doubt". It is a popular game, in which all the players are rabbits, part of a colony. Among these rabbits, one of them is chosen to be the "wolf". The wolf has to kill one rabbit per round, and the other rabbits have to discover who the wolf is. Six of these players – Yuu, Mitsuki, Eiji, Hajime, Haruka and Rei – decide to meet in person once, only to discover that one of them has already been a wolf. So, who is the mole? Doubt worms its way in our protagonists' minds... They will have to stop the wolf, and end the Rabbit Doubt for good!
Mirai Nikki and Doubt share the same creepy feeling making the readers wonder who can be trusted. While it's true that Mirai Nikki is more action-packed, it's even true that these two manga have the exact same atmosphere. In both, due to the circumstances that are very hard to swallow, all the characters would like to have someone to put their trust into, but they all keep wondering "will I regret it?" because the betrayal is always behind a corner. Mirai Nikki and Doubt are on the same wavelength, but Doubt wields a strong horror trait that Mirai Nikki doesn't. As long as you liked Mirai Nikki because of the suspense, we think Doubt will be your piece of cake!
---
5. Re:Birth – The Lunatic Taker

Mangaka: Im, Dal Young (Story) Lee, Soo Hyun (Art)
Genre: Action, School life, Drama, Ecchi, Mature, Romance, Seinen, Supernatural
Volumes: 7
Published: May 2009 – October 2011
Re:Birth – The Lunatic Taker is an action manga revolving around your average high school student, Reiji Tachibana. Lately in Reiji's hometown. there have been a lot of suicides. Some people believe it to be the urban myth of the "death accessories". This urban myth says that if you pick up one of the death accessories, you will die right after. Reiji doesn't believe urban myths and stuff, so he finds himself picking up a bracelet on the road... and that's when his life changes for the worst! He is forced to form a contract with his bracelet, and in order to remain alive, he will have to kill all the other death accessories holders. Along with him, his sister Ayaka, ready to protect her little brother.
Mirai Nikki and Re:Birth – The Lunatic Taker share a lot of action and a supernatural trait. Yukiteru and Reiji are somehow similar, and they are followed around by their two yandere counterparts – Yuno and Ayaka. In both these series we find a lot of suspense, violence, strategy and this sense of having to trust someone, but the circumstances make it the hardest task. Of course, both Mirai Nikki and Re:Birth have the survival game background, and that's what connects the most these two manga. It's not a stretch to say that you will like Re:Birth, if you enjoyed Mirai Nikki... Oh, and beware of some ecchi scenes!
---
6. Psyren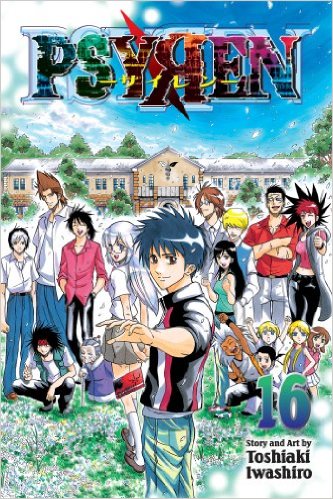 Mangaka: Iwashiro, Toshiaki
Genre: Action, Adventure, Drama, Romance, School life, Sci-fi, Shounen, Supernatural
Volumes: 16
Published: December 2007 – November 2010
Ageha Yoshina is a self-confident high school student. He lives his normal teenage life, until he finds a calling card with the word "Psyren" on it. When Ageha finds out that his classmate – Sakurako Amamiya – holds the same calling card, he asks her for explanations, but Sakurako is cryptic, and Ageha remains full of doubts. Then when Sakurako goes missing, Ageha decides to use that calling card, only to find himself involved in a survival game. He's sent to a strange world, where there are some monsters called "Taboo". How can Ageha save Sakurako? And what is Psyren?
Mirai Nikki and Psyren are both shounen manga, with one substantial difference – Psyren is less bloody. In both we find two protagonists – a boy and a girl – who are on the opposite sides, and still they fight together, and try to figure out what's going on by collaborating. Both Mirai Nikki and Psyren involve apocalyptic, superpowers and death game themes. There's a bit of romance in both these series, and readers will be delighted by the huge amount of action. Consider Psyren like a sort of softer version of Mirai Nikki, and you'll love it for sure!
---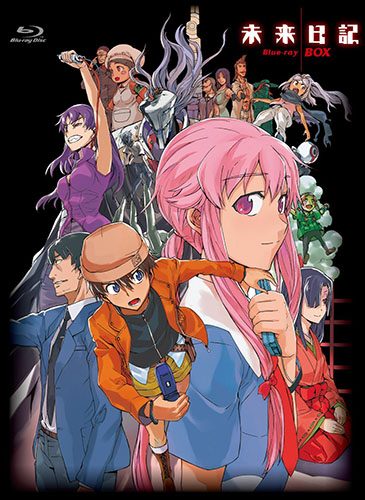 Final Thoughts
With Psyren, our list came to an end. Did you enjoy the ride? We put in this list the most action-packed, bloody, and enjoyable ones. Those sharing with Mirai Nikki the most important elements and subjects. We went from mild-violent shounen, to really cruel seinen, to guarantee that everyone's tastes are satisfied. What do you think? Do you know other manga that could have been a nice fit in this list? As always, don't forget to share your thoughts in the comments below.
---